The Pittsburgh Pirates may have a losing record so far this season, but overall, it's been a nice year for the future of the organization. That was especially evident tonight. Brad Lincoln made a very nice start in his debut at AAA. Pedro Alvarez hit his first homer at AA, carrying over the power we saw in Lynchburg. And in the majors, Andrew McCutchen continues living up to his top prospect hype.
I got to thinking about a few players in our system, and figured I would do some player comparisons over the next few days (because there's nothing I love more than getting three days worth of posts done in one night, then rolling them out a day at a time). The first player I'll look at is Jose Tabata.
Tabata was signed by the Yankees at the age of 15, and started his professional career at the age of 16. Along the way he drew comparisons to Manny Ramirez, which is something every Pirates fan wants to hear now that he's in the system.
In 2008, Tabata drew the wrong Manny comparisons, being such a headcase that he fell from grace in the Yankees system, opening up the possibility for the Xavier Nady trade (his .248 average with the Yankees also helped). Tabata caught fire once he joined the Pirates, hitting for a .348/.402/.562 line in 89 at-bats. He struggled this season with a hamstring injury, causing him to miss some time, but is hitting .250/.355/.357 since returning.
When I was younger I used to buy baseball cards all the time. Recently I started collecting a 2009 Bowman set (I landed a Gift Ngoepe World Baseball Classic card). Tonight I decided to buy a box of packs of older cards, from the 80s and 90s. That led to two discoveries:
1. I got two packs of 1989 Topps with the chewing gum in the pack. The gum is slightly older than my brother. Yet for some reason I'm eventually going to try it, and it will probably taste exactly the same as it did in 1989.
2. In researching some of the cards I got, I came across this picture of a younger Manny Ramirez: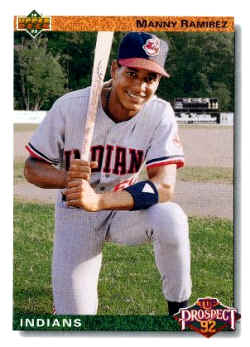 I was drawn back to the Jose Tabata/Manny Ramirez comparisons, especially this picture from the Pittsburgh Post-Gazette:
The one thing that was always hard for me to picture was the 5'11" Tabata being a 40+ home run hitter like Manny Ramirez. That's mostly because I can only picture Manny as the big, goofy, dreadlocked player he is right now. I forget that he was once just a 5'11", skinny prospect with upside.
Looking at the card above, it would be hard to imagine that Manny would start hitting 30-45 homers a year just three years later. Manny was just 20 in that picture, playing in high A ball.
Tabata is currently 20 years old (turning 21 in August), and playing in AA ball. Looking at the picture above, especially focused on the arms, it's clear that while Tabata is 5'11", he has much more power potential than other 5'11" guys, like Andrew McCutchen for example.
Tabata hasn't shown the minor league power that we saw from Manny. Manny had 13 homers in 291 at-bats in A+ ball, 17 homers in 344 at-bats at AA, and 17 homers in 145 at-bats at AAA. The good thing is that Tabata has shown flashes of being an elite player, like his 2008 time in Altoona. His career minor league line is .293/.363/.395. The average is solid, and the on-base percentage is also great. That goes up to .305/.375/.418 if you take out his 2008 with New York.
So far we've seen that Tabata can hit and get on base (he has a .307 average and a .377 OBP in our system). The only thing left is the power surge. He's only 20 years old, and in no way is he finished developing. How nice would it be for the future of the Pirates if he comes anything close to Manny Ramirez?
The MVP Tracker
The MVP Tracker is updated through the 6/23 loss. Here are the big performers from tonight's win:
1. Zach Duke: .131 WPA
2. Adam LaRoche: .111
3. Jason Jaramillo: .069
4. Jack Wilson: .064
5. Brandon Moss: .051
Prospect Watch
The Prospect Tracker is updated with tonight's results:
-Brad Lincoln had a great first start for Indianapolis. Lincoln went 6.2 innings, with 2 hits, 1 run (scored after he left in the 7th), 4 Ks and 3 walks. Lincoln threw 99 pitches, 63 for strikes.
-Pedro Alvarez went 1 for 5 with his first homer at AA. Alvarez scored three runs, and had two strikeouts, giving him five in nine at bats so far for Altoona.
-Jose Tabata went 0 for 5 with a run and two strikeouts.
-Gorkys Hernandez went 0 for 2 with a strikeout. He left after the strikeout, which was a called third strike. He was removed by the manager for his actions after the strikeout. Not sure if that means he didn't care, or he threw an excessive fit.
-Tony Sanchez went 1 for 4 with a walk, a double, and a run. This was the last game in State College for Sanchez. He will play his first game for West Virginia on Saturday.
Other Stuff
-The Pirates made a trade, acquiring first baseman Brian Myrow from the Chicago White Sox for a PTBNL or cash considerations. This move is most likely to fill the hole that Steve Pearce left at first base at AAA.
-John Perrotto posted yesterday that the Pirates were interested in Luis Ayala. Today he elaborates on that, saying the interest is only there if Minnesota picks up the bulk of the $700 K due to Ayala.
-Dejan Kovacevic reports that Ian Snell will make his next start. Also, Charlie Morton won't make his next start, scheduled for Friday. Virgil Vasquez will most likely get the call from AAA, either to start, or to go to the bullpen while Jeff Karstens gets the start.
-I will be at the Lynchburg Hillcats game tomorrow, which is Chase D'Arnaud's first start. I'm hoping Bryan Morris will be on the mound (it's the first game of the second half, and six days since his last start, but no official word yet). Whoever is on the mound will probably be the same pitcher I see on Tuesday. I'll be providing Twitter updates from the game.