boxscore (photos by NancyZ)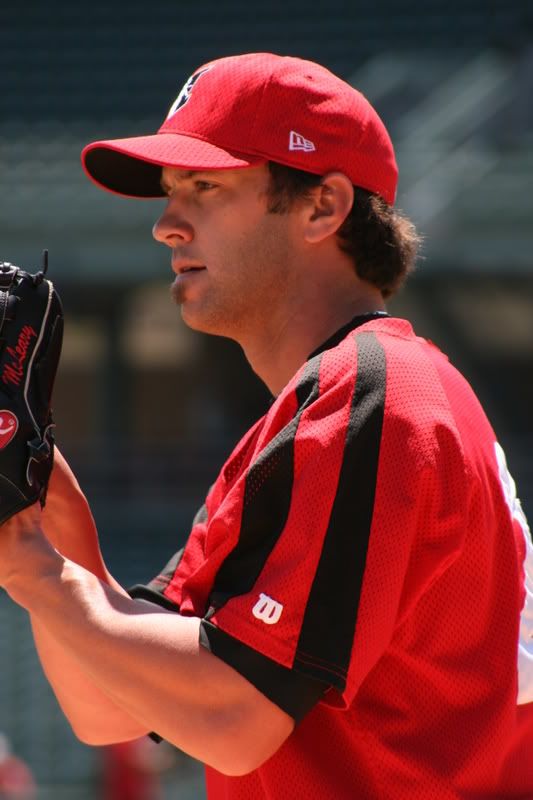 Tonight's game between the Indianapolis Indians and the Toledo Mud Hens at Victory Field was a series of Good News — Bad News combinations.
Good News: Tribe Starter Marty McLeary (photo) got his first decision in more than a dozen starts.
Bad News: The decision was a Loss, his 7th of the season.
Good News: McLeary had one of his best outings of the season, and set down 15 batters in order.
Bad News: That streak of 15 outs came after he gave up a run in the first inning, on a double to lead-off hitter CF Andres Torres, who moved to third on a sacrifice bunt and scored on a single by SS Omar Infante.
Good News: McLeary got out of the first inning by inducing the dangerous hitter LF Timo Perez to hit into a double play.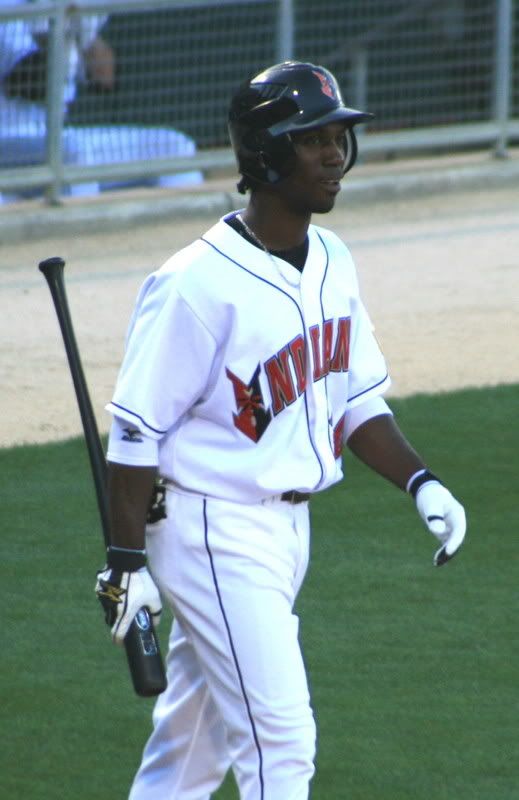 (photo– Andrew McCutchen)
Bad News: McLeary ended the 15 out streak by walking Andres Torres in the top of the 6th.
Good News: McLeary was apparently quite annoyed at having Torres on base, after several innings of no base runners — so he promptly picked Torres off first base to end the inning.
Bad News: Torrential rains came down twice.
Good News: The rain only lasted for a short bit each time, and the game had to be halted only the second time.
Good News: The rain delay lasted only 26 minutes, and the ground crew and the tarp crew at Victory Field do such a good job that the field needed only a little raking of the mound and a little Diamond Dry at home plate, and it was ready to go in just a few minutes.
Bad News: Even though they thought Marty McLeary would be able to come back and continue his interrupted inning after the short rain delay, it did seem to have an effect on him. He had just given up a single to 2B Henry Mateo when the rain started. After the delay, Mateo stole second base, moved to third on Omar Infante's second (of three) hit in the game, and scored on a deep sacrifice fly by Timo Perez.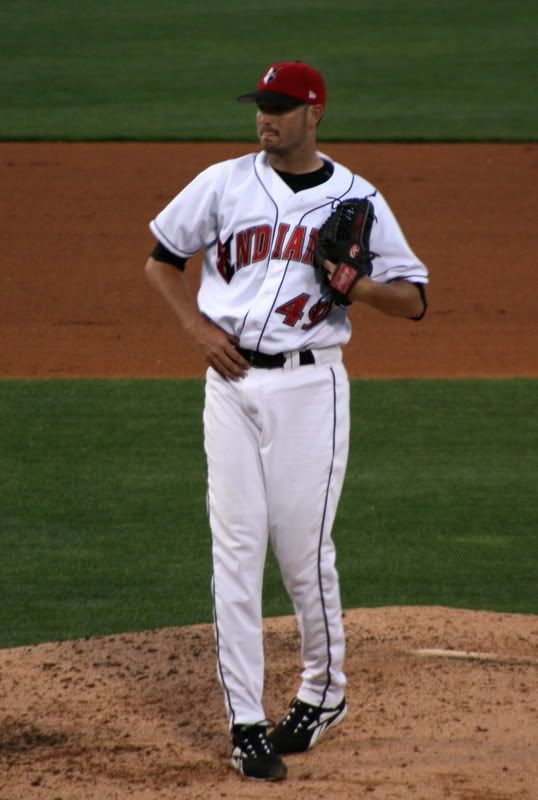 Good News: Marty McLeary gave up only those two runs.
Bad News: Toledo's starter Dennis Tankersley gave up only one run.
Good News: Reliever Brian Rogers (photo) pitched two scoreless innings.
Bad News: Toledo's bullpen, specifically Vic Darensbourg, Anastacio Martinez, and Aquilino Lopez, pitched 2.1 scoreless innings also.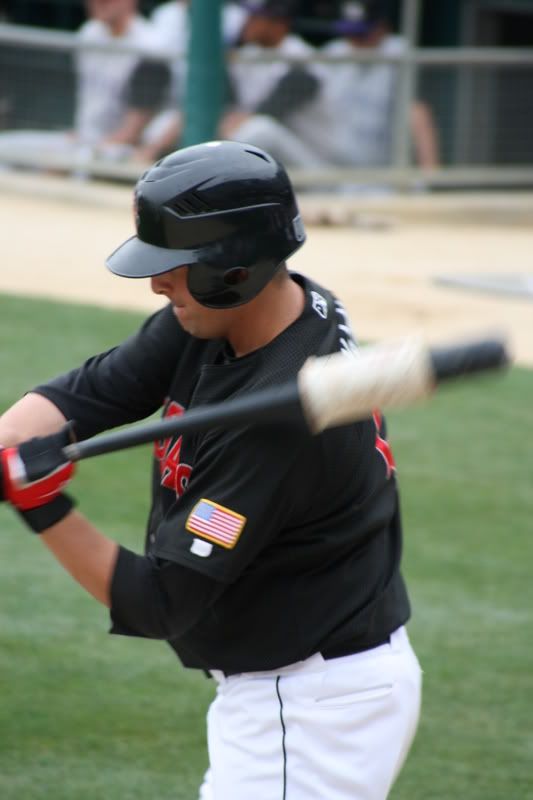 Bad News: Brian Rogers had runners on first and third bases in the 8th, on a walk and a single. A walk and a single in the 9th put runners on second and third bases.
Good News: Rogers stayed calm and got himself out of the jams: a ground out ended the inning in the 8th, and two strikeouts and a spectacular catch of a fly out by Nyjer Morgan finished off the 9th.
Good News: The Indians did not have a single 1-2-3 inning at the plate in the game.
Bad News: They got runners on base, but couldn't get them to cross the plate — 10 runners left on base.
Good News: Three hits, including a double by DH Michael Ryan (photo); a single and a double by 2B Don Kelly; 10 hits for the Tribe overall.
Bad News: Those 10 runners left on base, and only one run scored.


Bad News: RF Brad Eldred was hit by a pitch on the left knee. He stayed in the game, limping his way down to first base.
Good News: On the very next pitch, Eldred stole second base. Easily. The gentleman sitting next to me was laughing so hard that I thought he was going to fall out of his seat. Eldred showed no sign of a limp when he jogged out to right field to start the next inning. (photo — Eldred slides into second)
Good News: The Tribe batters had several innings with small threats with two runners on base. In the 2nd inning, 3B Neil Walker and 2B Don Kelly had back-to-back singles to lead off the inning. In the 4th, Eldred was hit by the pitch, and LF Nyjer Morgan walked. In the 5th, SS Brian Bixler and DH Michael Ryan had back-to-back hits.
Bad News: In each case, Hens' starter Dennis Tankersley got out of the inning without allowing a run to score — fly outs, a double play.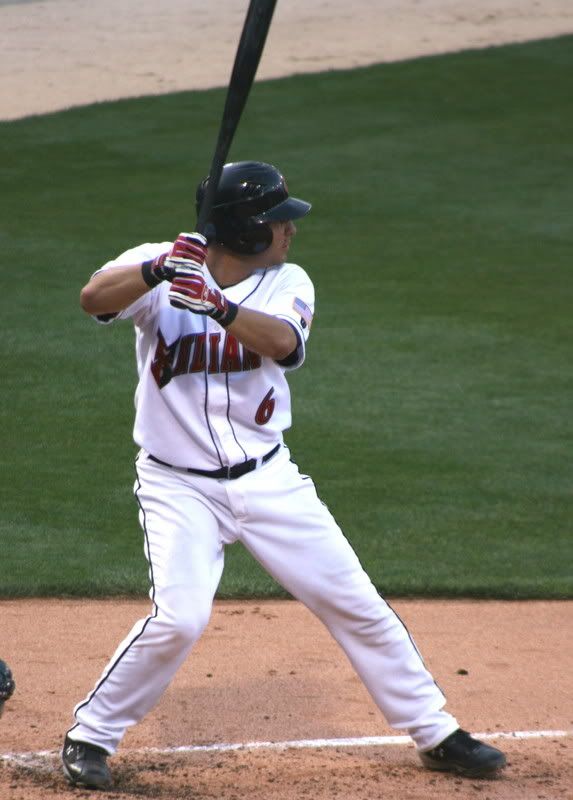 Good News: In the 7th inning, Nyjer Morgan led off by being hit by a pitch (he was ok). He took third on a single by C Milver Reyes (photo). CF Andrew McCutchen grounded to the shortstop, and the Mud Hens started to turn a double play. Reyes was out at second, but the speedy McCutchen was able to reach first before the throw. Morgan scored on the play.
Bad News: Brian Bixler struck out and McCutchen was picked off second base to end the inning without any further scoring.
Good News: In the 8th inning, with reliever Anastacio Martinez pitching for the Mud Hens, Michael Ryan led off with a single. 1B Steve Pearce followed with a grounder to deep short, and the throw from Hens' SS Omar Infante went wide of first and down near the Hens' bullpen. Pearce was credited with a hit, and then went to second base because of the throwing error. Meanwhile, Ryan had taken off with the pitch, and was already at second base when Infante made his throw. Ryan headed for third when the throw went wide, and manager Trent Jewett waved Ryan on home as the ball bounced around down by the bullpen. Ryan went flying for home…..
Bad News: Um, well, Ryan doesn't fly as fast as some others on the team, and the throw to home was on target. Ryan was out at home.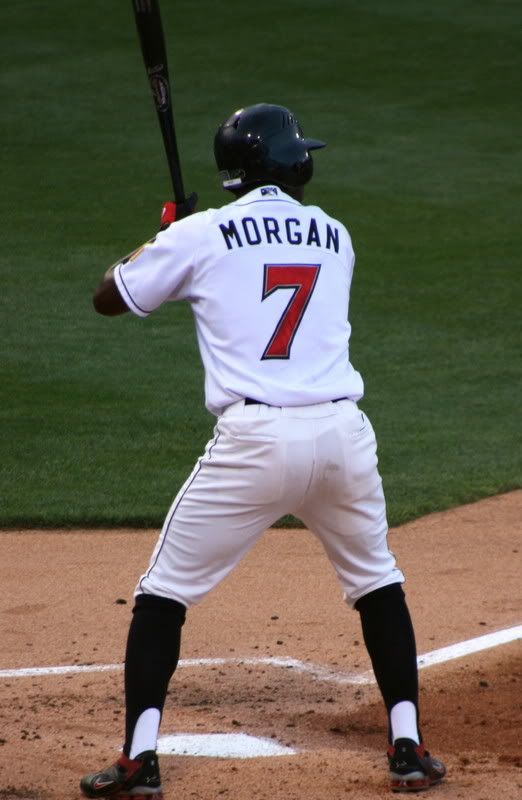 Good News: Nyjer Morgan (photo) is back with the Indians.
Bad News….. wait, there is no bad news about that!
Indians' OF Michael Ryan is also excited about Morgan's return.
Read More