boxscore (photos by NancyZ)
The Indianapolis Indians out-hit the Toledo Mud Hens tonight, at Fifth Third Field in Toledo, OH. Sounds great, right? Unfortunately, the winner is decided by the number of runs crossing the plate, not the number of hits. The Mud Hens' batters crossed the plate twice. The Indians did it only once, falling just short in the 9th inning as the game ended with Tribe runners on the corners, just 90 feet from tying it up. Final score: Mud Hens 2, Indians 1.
Indians' starting pitcher Michael Tejera (photo) got the loss, despite pitching quite well. He pitched 5 innings in 90-degree heat, and threw 51 pitches (35 strikes). He gave up two hits, no walks, and struck out one. The two hits were a single to DH Erick Almonte in the 3rd inning, and a solo home run to 3B Mike Hessman in the 5th inning.


Toledo's starting pitcher, former Indian (2005-06) Ron Chiavacci also had an excellent start, earning his 12th win of the season. He threw 6 innings, scattering 6 hits and one walk, while striking out 4 Tribe batters. Two Indians batters, CF Andrew McCutchen and SS Brian Bixler (photo), who had each singled, were picked off base.
The Mud Hens picked up an insurance run in the 7th inning. Dave Davidson relieved Michael Tejera to start the 6th inning. After a quick and perfect 6th, Davidson got into trouble in the 7th. A walk to 2B Henry Mateo, and back-to-back singles by SS Omar Infante and LF Timo Perez loaded the bases with no outs. Manager Trent Jewett went to the bullpen again, and brought in Mark Corey, fresh off the disabled list, to replace Davidson. Corey struck out RF Brent Clevlen looking. Then he hit Mike Hessman on the forearm with a pitch, forcing in a run. (But that was only one run, and not the 4 that would have come across if Hessman had hit another home run.) A pop out by 1B Chris Shelton and a running catch by Tribe CF Andrew McCutchen of Erick Almonte's fly out ended the inning.
"I had been working Hessman inside throughout the whole at-bat," said Mark Corey in an interview after the game. "I came in a little too far and he leaned in to take the hit….I feel pretty good about my performance tonight. Unfortunately, I let one run score by hitting [Toledo 3B Mike] Hessman in the seventh. I am happy with how I worked my way out of the
bases loaded jam (in the seventh) and with how I got three quick outs in the eighth."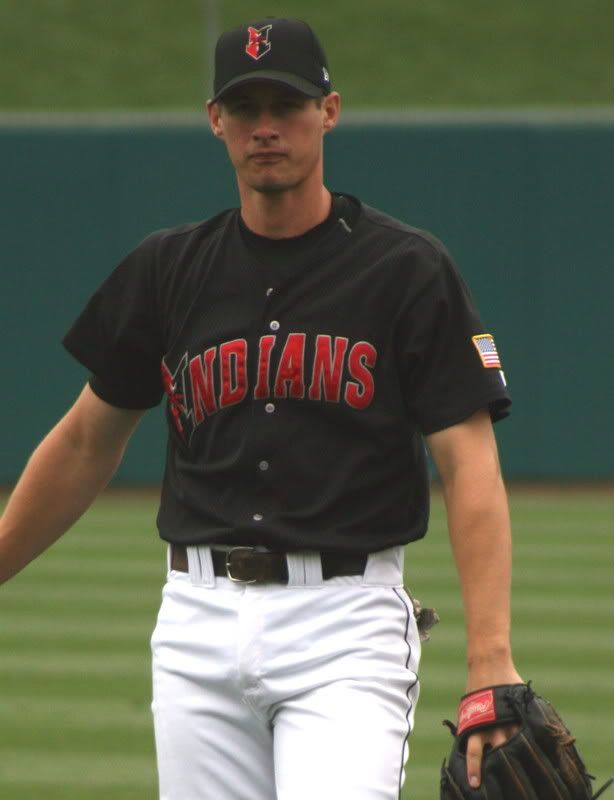 Jason Karnuth came into the game in the top of the 7th to relieve Ron Chiavacci. Karnuth went two innings, giving up just one hit, a line drive single by Brian Bixler in the 8th inning.
The Indians only run and only serious threat came in the 9th inning. Reliever Aquilino Lopez came in to pitch for the Mud Hens. 3B Neil Walker greeted Lopez with a double into right field. Lopez got two strike outs, and then 2B Don Kelly (photo) grounded to the SS Omar Infante. It looked like the third out — but Infante's throw went high and wide of first base, allowing Walker to score, and leaving Kelly safe at first base. Pinch hitter Michael Ryan (photo below) singled on a soft bloop into right field, moving Kelly to third base. Nyjer Morgan, in his first day back from a thumb injury, came in to first base to pinch-run for Ryan. Two out, the tying and go-ahead run at the corners…….Andrew McCutchen stepped to the plate, having gone 1-for-4 already in the game. But McCutchen popped up to second base to end the game.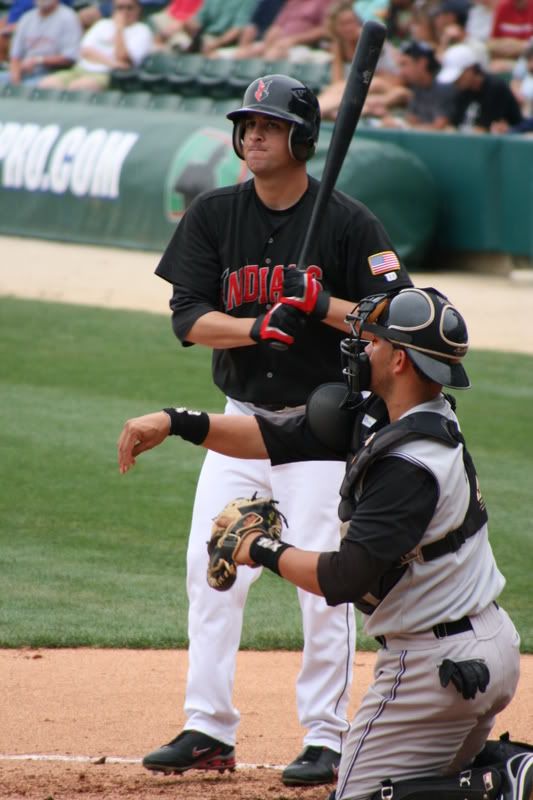 The Indians had 10 hits in the game, including two singles each by Brian Bixler and Steve Pearce, and Don Kelly. The Tribe also left 9 base runners stranded on base, while the Mud Hens had 4 hits and left 3 runners on base.
Indians' hitting gems of the game: Neil Walker's double and Don Kelly's single in the 9th inning, getting a rally started to at least score one run.
Indians' defensive gem of the game: In the bottom of the 7th inning, with bases loaded and two out, Erick Almonte hit a ball that looked like it was going to drop into short center field, scoring at least one more run and maybe two. CF Andrew McCutchen came running in, and made the catch for the out, keeping any further runs from scoring and ending the inning.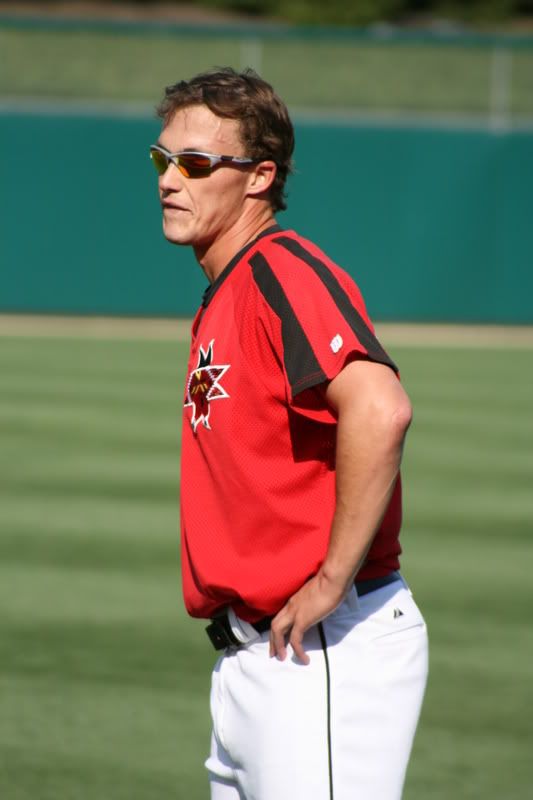 NOTES:
Roster Notes: (as reported earlier)
OF Nyjer Morgan was reinstated from the disabled list.
INF Luis Ordaz was placed on the disabled list, with an ankle sprain. It's bad enough that it is going to take him 3 – 4 weeks to recover and rehabilitate, so this ends his season.
Relief pitcher Jonah Bayliss (photo) was placed on the disabled list with a rib injury.
Relief pitcher Mark Corey was taken off the disabled list, and pitched in tonight's game.
The Indians return to Indianapolis for their last home stand at Victory Field beginning tomorrow. There are 10 more home games in the next 9 days (double header on Monday)– 3 against Toledo, 5 against Columbus, and 2 against Louisville. The last two games of the season will be in Louisville on the Sunday and Monday of Labor Day weekend.
Go Tribe!
Read More