boxscore (photos by NancyZ)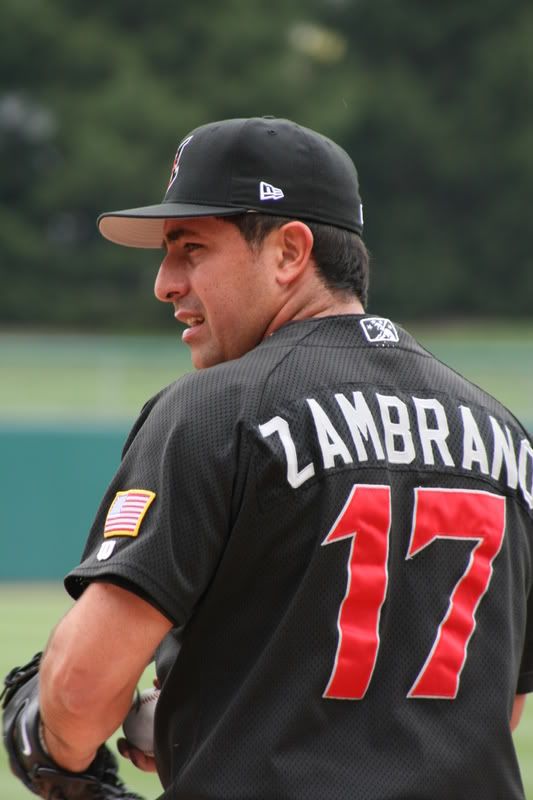 Luis Ordaz's third home run of the year may have been his biggest. In the bottom of the 11th inning, he blasted a 0-1 pitch from Louisville Bats' closer Ricky Stone over the left field wall and onto the grass berm, giving the Indianapolis Indians a 3-2 walk-off win at Victory Field this afternoon.
Both the Indians and the Bats had several opportunities to break the tie. There were a total of 20 base runners left stranded over 10.5 innings, as neither team was able to capitalize on their own hits and the other team's mistakes.
Victor Zambrano (photo) made his second start since joining the Indians. He was aided by his infielders, who turned three double plays in the first four innings. (They turned a fourth double play in the 11th inning.) He started the first inning by blowing three strikes past Bats' lead-off hitter 3B Anderson Machado. But trouble followed immediately, as SS Paul Janish, LF Joey Votto, and 2B Jorge Cantu got three consecutive hits, with Janish scoring. CF Jay Bruce hit a fly ball that would have scored Votto anyway, but the ball bounced off Tribe RF Brad Eldred's glove, putting runners on the corners. Zambrano was rescued when 1B Jesse Gutierrez bounced a grounder right back to him. He whirled and threw to SS Brian Bixler covering second, who in turn threw on to Steve Pearce at first base (1-6-3) for the Tribe's first double play.
A double play also got Zambrano out of trouble in the second inning. RF Jeff Bannon led off with a single to left, and C J.C. Boscan walked, putting two runners on base. Bats' starting pitcher Tom Shearn laid down a bunt that rolled toward third base faster than he'd intended it to. Zambrano pounced on the ball and without hesitation fired to third base to force out Bannon, and Indians' 3B Yurendell de Caster still had time to fire to first base to get Shearn at first for the double play (1-5-3).

Zambrano seemed to settle a bit after that. He faced only one batter over the minimum for the next three innings. He gave up a single to Joey Votto, but Votto was thrown out trying to steal third base. He hit Jesse Gutierrez with a pitch (on the back of the helmet, but he was ok and stayed in the game), but a third double play, started with a lunging catch by de Caster (5-4-3), erased Gutierrez. J.C. Boscan hit a pitch right back at Zambrano, which bounced off his glove and landed where neither Zambrano nor de Caster could get to it quickly, but Boscan was left stranded on base. At the end of Zambrano's 5 innings, he had thrown 81 pitches (49 for strikes) and given up 2 runs on 6 hits and 2 walks, with 5 strikeouts.
Bats' starter Tom Shearn pitched 6 innings, also giving up 2 runs, on 5 hits and one walk, with 4 strikeouts. Over the first three innings, he gave up only one walk, to lead-off hitter 2B Don Kelly. The Tribe broke through in the 4th inning. SS Brian Bixler led off with a single into right field, and 1B Steve Pearce followed with a double down the left field line, which allowed the speedy Bixler to score all the way from first base. Pearce moved to third base on a ground out by LF Michael Ryan, and he scored on a bloop hit into left field by Yurendell de Caster (de Caster's 46th RBI of the season).
The Indians had at least one hit in each inning for the rest of the game, but until Ordaz's smash, the Tribe could not get any of the base runners across the plate. Pinch hitter Chris Aguila, in his first at-bat since returning from the disabled list, had a single off Shearn in the 5th, and Steve Pearce had his second hit off Shearn in the 6th. Reliever Brad Salmon came in to pitch the 7th inning, and he gave up a walk to 2B Luis Ordaz and a hit to Don Kelly (who had moved to right field on the double-switch that brought Ordaz into the game), but struck out Brian Bixler to end the inning. Reliever Marcus McBeth pitched the 8th inning, gave up a single to Yurendell de Caster, and promptly stranded him on base.
Mark Corey, who also had just returned from a stint on the disabled list, relieved Zambrano to begin the 6th inning. Manager Trent Jewett had only planned to have Corey pitch one inning, to ease him back into working in game-situations. Corey gave up a single to Jay Bruce and a walk to Jeff Bannon, but got out of the jam by striking out J.C. Boscan, dashing the Bats' scoring hopes again. Josh Sharpless followed Corey, and he pitched two perfect innings, including 3 strikeouts.
The Tribe squandered a bases-loaded situation in the 9th. Luis Matos and Luis Ordaz both singled off Marcus McBeth with one out. Jon Coutlangus replaced McBeth, and his first four pitches were balls, walking Don Kelly to load the bases. The Bats escaped that situation by getting their only double play of the game, when Brian Bixler grounded to third base. Anderson Machado had to merely take two steps to touch third base, forcing out Ordaz, and then throw to first base for the second out on Bixler. That sent the game into extra innings.
Jonah Bayliss was the 4th pitcher for the Tribe. He pitched a perfect 9th, and then teased the Bats with a single and a walk in the 10th — but ended the inning with those two Bats stranded on base. There was a scary moment, when Paul Janish came to the plate with one out and CF Chris Dickerson on second base, after a single and a steal. Janish hit a hard liner right to 3B Yurendell de Caster, and de Caster realized that he had a chance to double Dickerson off second base. He fired to Luis Ordaz, who was moving toward second base from the right as Dickerson was moving to the bag from the left. Ordaz had to reach to get the ball, and tried to jump over Dickerson to avoid running into him. Dickerson is 6'3″. Ordaz is… not. Ordaz was certainly the biggest man on the team today, but that does not refer to his height. At the top of his leap, Ordaz's knee struck Dickerson's head, and both men went down, and the ball rolled free. Dickerson did not appear to lose consciousness, and he was up first, and remained in the game. Ordaz took longer to get up, and he later said he'd hurt his knee and his lower back, but he continued to play.
The bottom of the 10th inning also brought disappointment for the Tribe. Steve Pearce's third hit of the game, and a double by Mike Ryan put runners on 2nd and 3rd bases with no outs. Jon Coutlangus struck out Yurendell de Caster, and pinch-hitter Michael Tejera (as manager Trent Jewett was running out of bodies), and then got Luis Matos to fly out, ending the inning with Pearce and Ryan still perched on the bases.
Brian Rogers came in to pitch the 11th inning for the Tribe. Back-to-back singles to Jon Coutlangus (Bats' manager Rick Sweet was also running out of bodies) and Jesse Gutierrez gave the Bats some hope. The Indians' fourth double play of the game, Bixler to Ordaz to Pearce (6-4-3), erased Gutierrez and moved Coutlangus to third base. J.C. Boscan hit a liner that looked like it was going into right field to score Coutlangus. Luis Ordaz tested his bruised knee and back by leaping up, and while he didn't make the catch, he knocked the ball down, and then quickly picked it up and fired to first base just in time to beat Boscan and end the threat.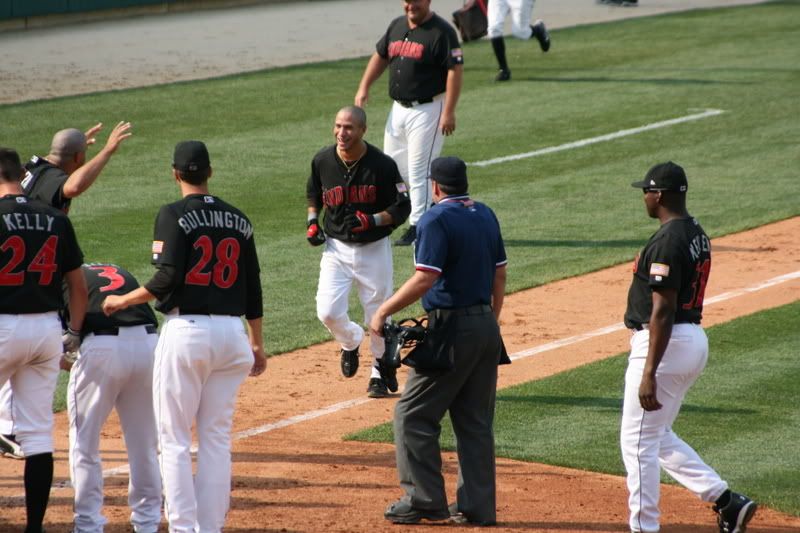 That set the stage for Ordaz's heroics in the bottom of the 11th. Ordaz had a homer, a single, and a walk in his 3 plate appearances. Yurendell de Caster had two singles, and Steve Pearce had two singles and a double. Brian Rogers got the win for the Tribe, his second for the season. Bats' Ricky Stone took his second loss in two days.
Indians' hitting gem of the game: Luis Ordaz, of course, with his game-winning home run in the 11th inning. "It was a really good pitch, a change-up at the letters," Ordaz said in the post-game interview. "But I read it very well, and the ball flew out of the park."
Indians' defensive gems of the game: The infield, along with pitcher Victor Zambrano, with four double plays.
NOTES:
Roster Move:
As expected, the Indians added a catcher — Milver Reyes was promoted from Altoona and was with the team today. He had a short visit with the Indians earlier in the season, with appearances in two games.
What is the Indians' record for the most double plays in a game?
On May 14, 1998, against the Pawtucket Red Sox, the Indians turned 5 double plays.
Go Tribe!
Read More