Boxscore (photos by NancyZ)
If the Indians had a genie in a lamp, they would make a wish to eliminate the fourth inning from tonight's game.
A pitching duel between starting pitchers Bryan Bullington and Virgil Vasquez, with later assistance by Tribe relievers Brian Rogers and Josh Sharpless, ended with Vasquez pitching a 2-hitter complete game shutout, and the Toledo Mud Hens beating the Indianapolis Indians by a score of 4-0. In an interview after the game, Indians' managwer Trent Jewett praised Vasquez's winning effort: "(Virgil) Vasquez certainly dominated the game. You have to tip your cap to a guy who pitches that well. He kept our guys off balance the entire night. That's the name of the game –throwing strikes and keeping the opposition off balance."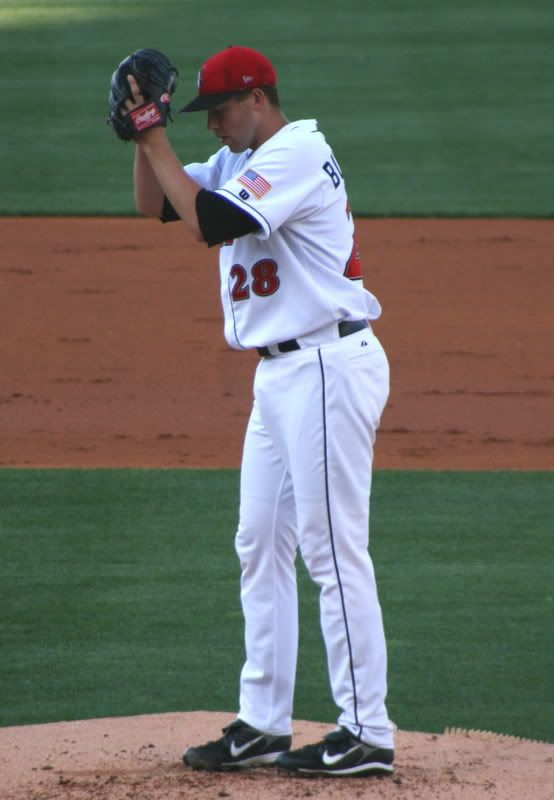 Starting pitchers Bullington (photo) and Vasquez kept a scoreless tie going for the first 3.5 innings of the game. Vasquez gave up a single to CF Andrew McCutchen, and struck out 4 Tribe batters. Bullington gave up a single to DH Timo Perez, and he struck out 2 Mud Hens' batters.
Things changed for Bullington in the bottom of the 4th inning. With no score and one out, Timo Perez doubled, and advanced to third base on a throwing error by Tribe RF Yurendell de Caster. LF Jason Perry grounded to Tribe 2B Brian Bixler (photo below), who fielded the ball and fired to C David Parrish, who easily tagged out Perez as he tried to score, on what clearly appeared to be a baserunning blunder. Bullington walked both RF Brent Clevlen and 3B Mike Hessman, loading the bases. 1B Chris Shelton then cleared the bases with a grand slam, giving the Mud Hens a 4-0 lead.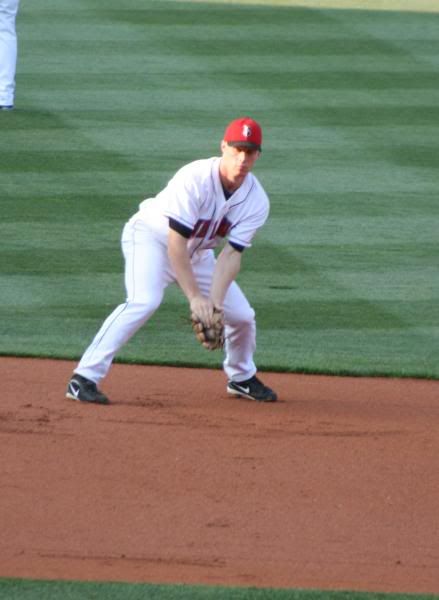 Bullington had the bases loaded again in the 5th inning. With one out, CF Andres Torres tripled into center field. A ground out, and two more walks, to Timo Perez and Jason Perry, loaded the bases with two out. This time, Bullington got out of the jam, striking out Brent Clevlen to end the inning.
Bullington threw 89 pitches (54 strikes) in his 5 innings. He gave up 4 hits, including the grand slam, and 4 walks, while striking out a total of 5 batters. "Outside of the fourth inning, I thought Bullington pitched well," said manager Trent Jewett. "That fourth inning was a tough one. We made a mistake in the outfield. Toledo made a mistake on the base paths. Then, it looked like we'd get through the frame without any damage, but Toledo's hitters did a nice job working counts and (Toledo 1B Chris) Shelton had the big grand slam."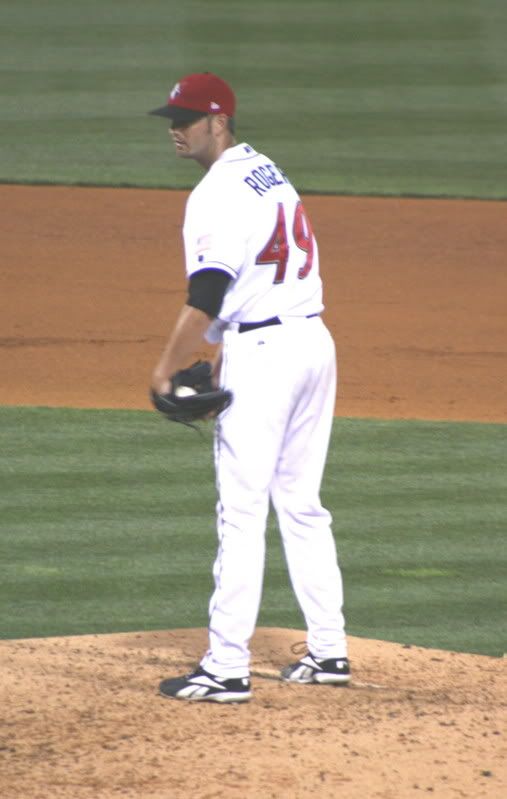 Meanwhile, Virgil Vasquez was busy keeping the Indians off the basepaths for nine innings. He gave up a walk to 2B Brian Bixler, and two singles to CF Andrew McCutchen. And that was all. McCutchen got as far as second base, once on a subsequent ground out, and once on a throwing error on Vasquez's pick-off attempt, and Bixler moved to second base on defensive indifference in the 9th inning. No Indians got as far as third base.
Reliever Brian Rogers (photo) took over for Bullington in the 6th inning. He pitched two scoreless innings, giving up only one walk while striking out two. Josh Sharpless pitched the final inning, giving up a double to Brent Clevlen and striking out one.
Indians' hitting gems of the game: Andrew McCutchen's two singles were the only hits the Indians had, but that doesn't mean they weren't good hits. McCutchen is hitting .429 in his first 5 games with the Indians. Manager Trent Jewett is very pleased with McCutchen's work: "McCutchen seems to be making the transition — from Double-A to Triple-A– quite well. He's had a strong first week, and we hope that continues through the end of the season."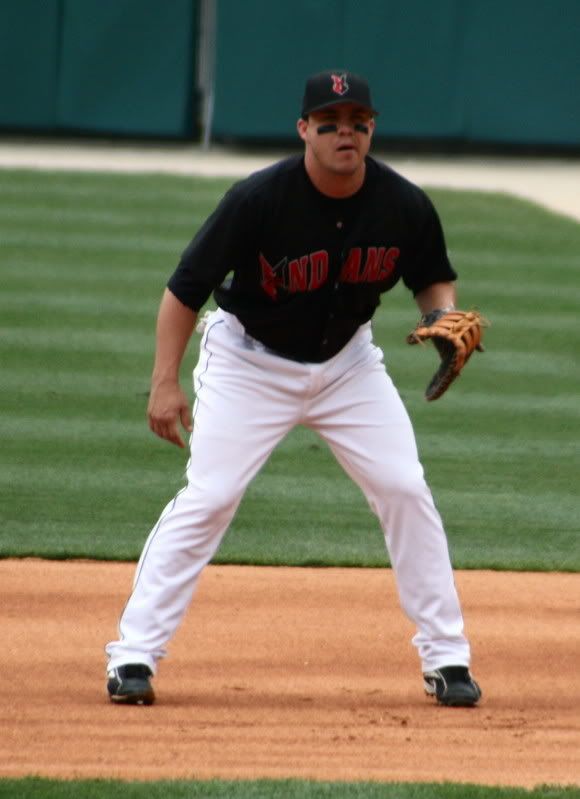 Indians' defensive gem of the game: In the bottom of the third inning, Andres Torres put down a bunt towards the first base side of the infield. When Bryan Bullington stumbled as he came off the mound, 1B Steve Pearce (photo) came in to field the ball. 2B Brian Bixler saw Bullington having trouble and Pearce snatching up the ball, and he dashed over to first base to take the throw from Pearce, and slid into first base, to beat Torres to the bag for the out.
Go Tribe!
Read More