boxscore (photos by NancyZ)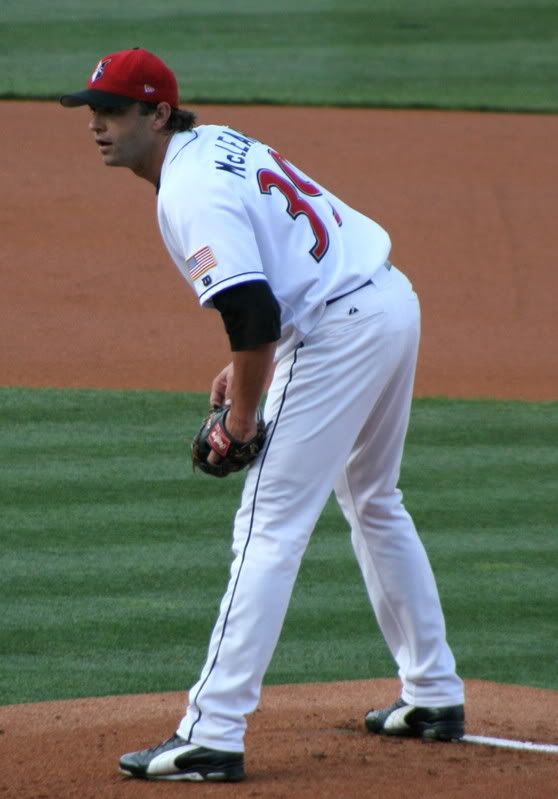 The Charlotte Knights hit two home runs, and starting pitcher Heath Phillips earned his 11th win of the season, as the Knights beat the Indianapolis Indians by a score of 7-1 in Charlotte this afternoon.
The Knights jumped right out to a good start against Tribe starter Marty McLeary (photo). Lead-off hitter CF Alex Sanchez opened the bottom of the first inning with a solo home run, putting the Knights on the board right away. 2B Jason Bourgeois walked and stole second base, and LF Ryan Sweeney also walked. 3B Earl Snyder singled, driving in Bourgeois, and a safety squeeze sacrifice bunt by SS Tomas Perez scored Sweeney. After 1B Casey Rogowski popped out, a single by DH Kevin Perez scored Snyder, giving the Knights a 4-run lead.
Two singles, by Tomas Perez and Casey Rogowski, followed by a home run by Kenny Perez gave the Knights 3 more runs in the 3rd inning. The single by Perez bounced off McLeary's leg, but after a few practice pitches, he convinced manager Trent Jewett and trainer Jose Ministral that he was fine, and he continued to pitch. McLeary gave up only one more hit over the next three innings, exiting the game after 6 innings, and 92 pitches. He gave up 7 runs on 8 hits and 2 walks, with 6 strikeouts, and he took the loss, his 6th of the season with the Indians.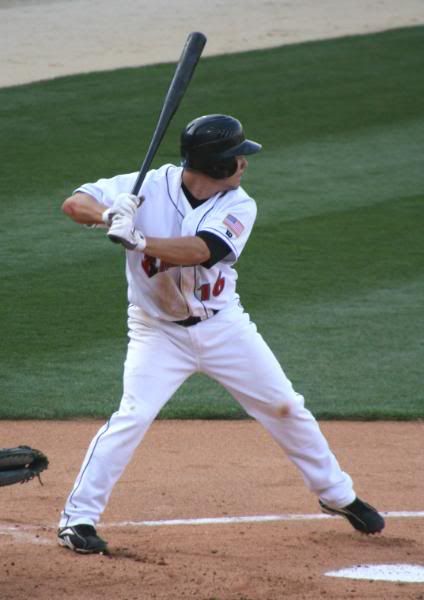 Knights' starter Heath Phillips scattered three hits and two walks over the first four innings against the Indians' batters, and at the end of four innings, the score was 7-0. DH Jose Hernandez and 1B Steve Pearce (photo) each doubled, and CF Andrew McCutchen singled. The Indians got on the board in the 5th inning, when McCutchen bashed a solo homer over the left field wall. Phillips went 7 innings, giving up only that home run, on 6 hits and 2 walks, with 4 strikeouts.
Josh Sharpless came in to pitch for McLeary in the 8th, and threw a perfect inning. Bret Prinz pitched the 9th inning. He gave up two singles, to Tomas Perez and pinch-hitter Adam Ricks. A fielder's choice force out by Kenny Perez put runners on first and third bases, but a pop out and a fly out ended the inning without further runs scoring.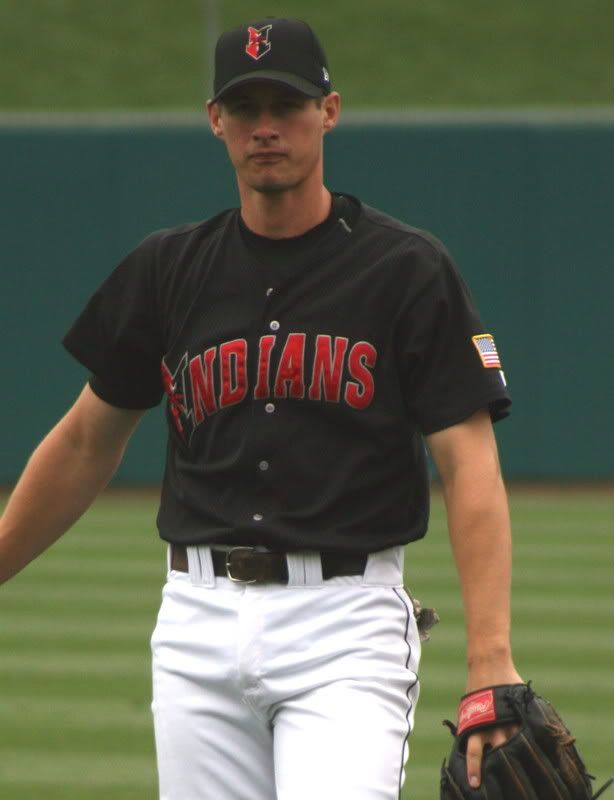 Former Indian Jason Childers (2002-04) relieved Phillips to start the 8th inning, and he gave up a double to SS Don Kelly (photo) and a walk to Steve Pearce. Both runners were left stranded on base. Dewon Day pitched the 9th inning for the Knights, and easily got three fly outs to end the game.
Indians' hitting gem of the game: Andrew McCutchen's home run, the only run the Tribe scored, in the 5th inning.
Indians' defensive gem of the game: In the 8th inning, Thomas Collaro hit a bloop into short right field, that looked like it was going to fall in for a hit, bringing in another run. But 2B Luis Ordaz (photo below) ran back, keeping his eye on the ball, and made an over-the-shoulder catch for the out, saving a run.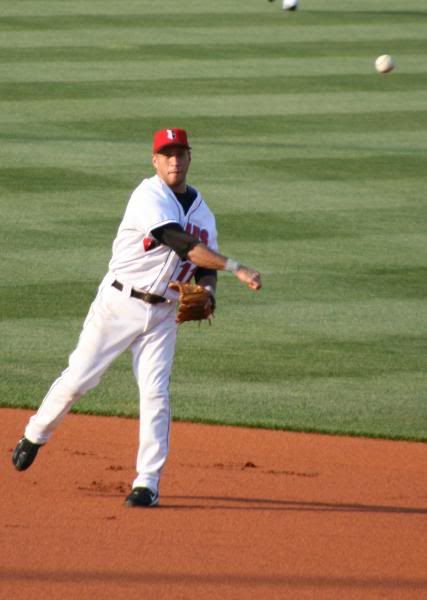 NOTES:
Andrew McCutchen is having fun with the Indians: "I've really enjoyed my first three days at the Triple-A level, and I'm getting more comfortable each time I hit the field. This clubhouse has a lot of experienced guys, and that will only help me. A good percentage of my teammates have played in the big leagues, and I know there are a lot of things they can teach me." His batting average after 3 days is .333 — that's 12 at-bats with a homer, a double, and two singles. "Most of the pitchers at this level have been to the big leagues. That isn't necessarily the case in Double-A. Triple-A pitchers do a much better job of hitting their spots, and exposing the batter's weaknesses. You can be in trouble if they find a spot or pitch that you can't hit."
OF Nyjer Morgan has started a rehab assignment with the GCL (Bradenton) Pirates. In last night's game, he started in center field, where he made two fly ball catches. He had three at-bats, with one ground out, and two strikeouts. Pirates' centerfielder Chris Duffy, who is rehabbing a sprained ankle, also played in that game. As the DH, he had a double and two ground ball outs, and was hit by a pitch.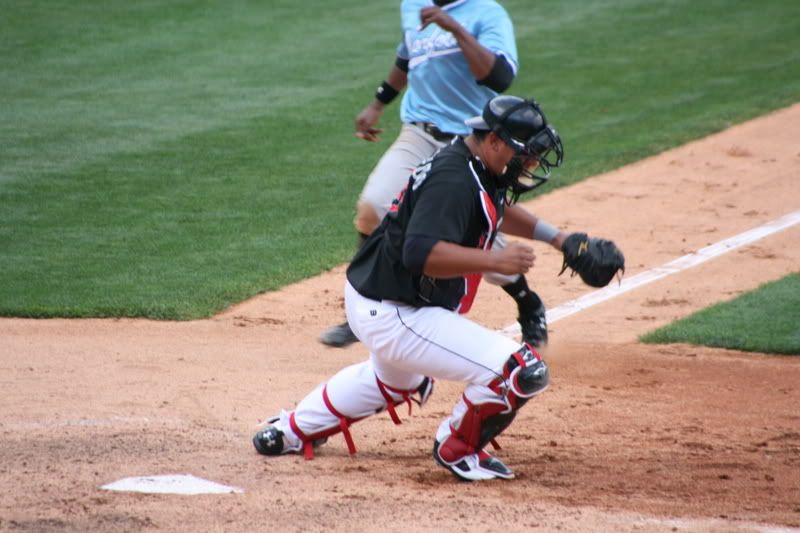 C Carlos Maldonado (photo) had his first 2007 start with the Pittsburgh Pirates today. He struck out in his first at-bat, then was intentionally walked. He was removed in favor of pinch-hitter Josh Phelps in the 7th inning, when the Pirates had their big 7-run rally. Two former Indians appeared in the game for Philadelphia: C Chris Coste (2004) went 0 for 2 with an intentional walk and was hit by a pitch; Wes Helms (2003-04) pinch hit and grounded into a double play.
Go Tribe!
Read More