boxscore (photos by NancyZ)
Indianapolis native Brian Bullington earned his 11th win of the season as he held the Durham Bulls to one run on 6 hits, and his teammates put up 9 runs on 8 hits, giving the Indianapolis Indians the 9-1 victory at Durham Bulls' Athletic Park in Durham, NC. Bullington's run support came courtesy of six RBI by Steve Pearce and three Indians' home runs, one by Chris Aguila and two by Steve Pearce. The Bulls' lone run also came on a home run.
The first homer of the game came in the top of the first inning. Bulls' starter J.P. Howell struck out the first two batters, LF Chris Aguila and SS Brian Bixler. Howell thought he was out of the inning when DH Jose Hernandez grounded to third base, but Bulls' 3B Evan Longoria made an errant throw to first base, allowing Hernandez to reach base safely. 1B Steve Pearce smashed a long fly ball over the left field wall, for two (unearned) runs, his 5th homer with the Indians.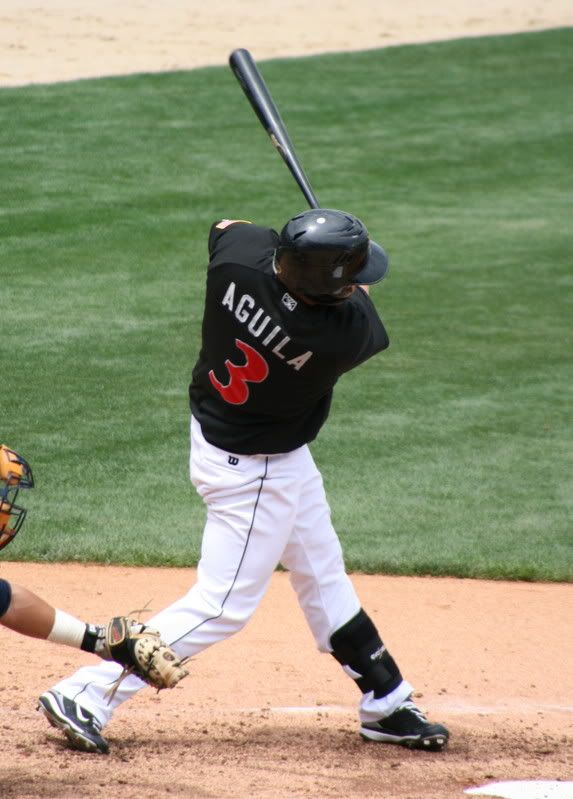 The Indians had two homers in the 3rd inning. With one out, Chris Aguila (photo) deposited the first pitch he saw over the left field wall for a solo homer. Jose Hernandez walked, and he was again on base when Steve Pearce blasted his second two-run homer of the game over the wall in left-center field.
The top of the 5th inning began with J.P. Howell facing five Tribe batters without recording an out. Three consecutive singles by C Miler Reyes, Chris Aguila, and Brian Bixler loaded the bases. Reyes scored and Aguila and Bixler both advanced on base on a wild pitch from Howell. Jose Hernandez walked to load the bases again. Steve Pearce had his third hit of the game, when he lined a double into left field, bringing in both Aguila and Bixler. That sent Howell to the showers, and reliever Calvin Medlock entered the game to try to clean up the mess. 3B Yurendell de Caster hit a fly ball into right field, deep enough to allow Hernandez to tag up and score the 4th run of the inning. A pop up and a ground out ended the inning, with the Indians leading 9-0.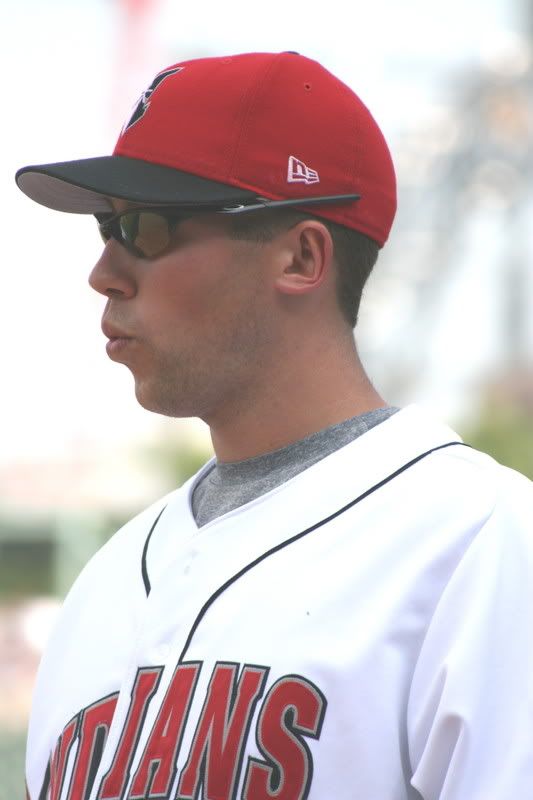 Meanwhile, Indians' starter Brian Bullington (photo) was throwing an excellent game. He kept his infielders busy over the first three innings, as 8 of the 9 batters he faced in those innings grounded out. (The one remaining batter struck out.) The Bulls loaded the bases against Bullington in the 4th inning, on back-to-back singles to CF Jason Pridie and LF Justin Ruggiano, and a walk to Evan Longoria. Bullington got out of the inning by inducing yet another grounder, by 1B Joel Guzman for a force out at second base. Bullington did let one of his outfielders play too, finally, as the second out came on a fly ball to CF Luis Matos.
Ground balls got Bullington out of a smaller jam in the 5th inning also. RF Jeremy Owens singled, and was promptly erased when C Michel Hernandez grounded into a double play. Former Indianapolis Indian, SS Jorge Velandia, doubled into left field, but he was left on base when a ground ball back to Bullington ended the inning.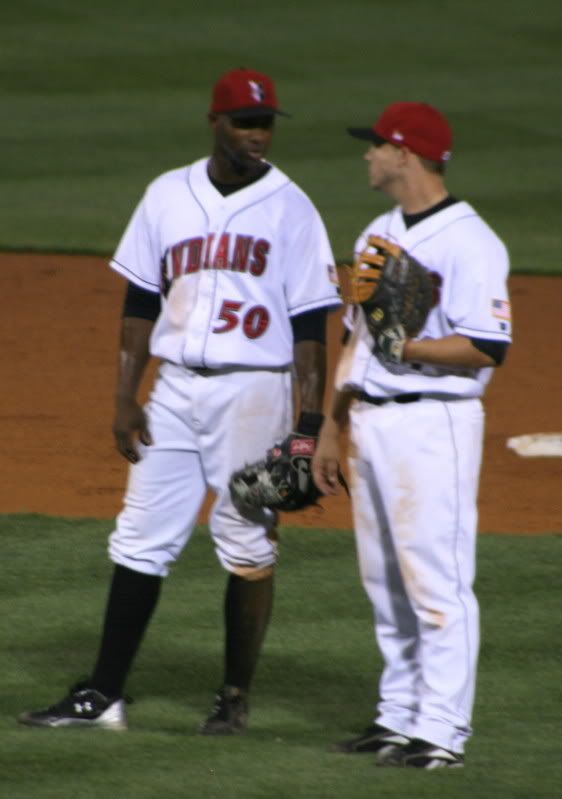 (photo– Yurendell de Caster and Steve Pearce)
After putting the Bulls down in order in the 6th, Bullington gave up the Bulls' only run in the 7th inning. Evan Longoria led off the inning by hammering a solo homer to left field. Bullington gave up a walk after the homer in the 7th, and a lone single in the 8th, before being relieved by Jesse Chavez for the 9th inning.
Bulls' reliever Calvin Medlock pitched two more scoreless innings after finishing the 5th inning for J.P. Howell. He walked two batters and hit Yurendell de Caster with a pitch, but gave up no hits. Jeff Ridgway also pitched two scoreless innings to finish the game, giving up only one hit, to Brian Bixler.
Indians' hitting gems of the game: Three home runs, two by Steve Pearce and one by Chris Aguila, in his first start since returning from the disabled list. Pearce's two homers and double gave him 6 RBI.
Indians' defensive gem of the game: In the bottom of the 4th inning, with bases loaded, Joel Guzman grounded to Yurendell de Caster, who fired to Luis Ordaz at second base, to get the force out to end the inning and keep a run from scoring.
NOTES:
OF Andrew McCutchen, 3B Neil Walker, and relief pitcher Dave Davidson have been promoted from Altoona to the Indianapolis Indians. They are expected to join the Indians in Durham tomorrow.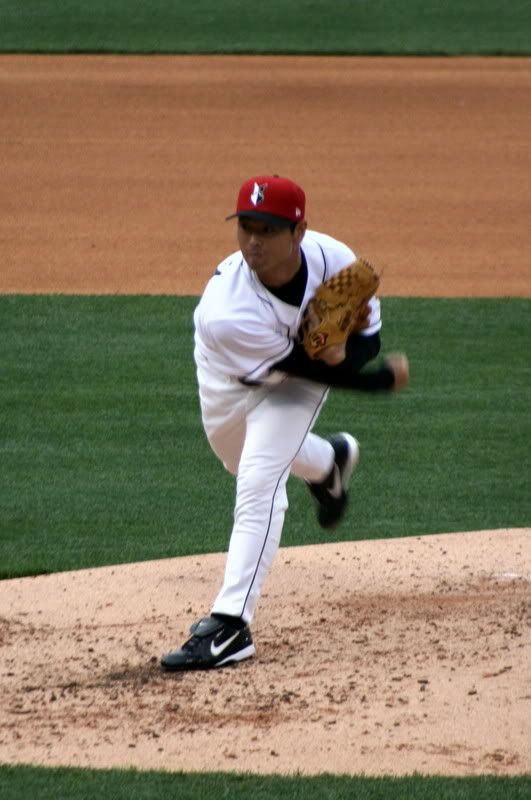 Pitcher Masumi Kuwata(photo), who was designated for assignment by the Pirates, has decided that he will not report to Indianapolis to play again for the Tribe. His family has been visiting from Japan this past week, and he will return to Japan with them, and take his time deciding what he will do in 2008.
Dejan Kovacevic in the Pittsburgh Post-Gazette reports that SS Brian Bixler, relief pitcher Jesse Chavez, OF Andrew McCutcheon, and 1B Steve Pearce will be the Pirates' prospects playing in the Arizona Fall League. They will be part of the Phoenix Desert Dogs team. AFL games begin October 9th.
Also, former Indian OF Nate McLouth and OF Nyjer Morgan are slated to play winter ball with Mazatlan in the Mexican League.
Read More