boxscore (photos by NancyZ)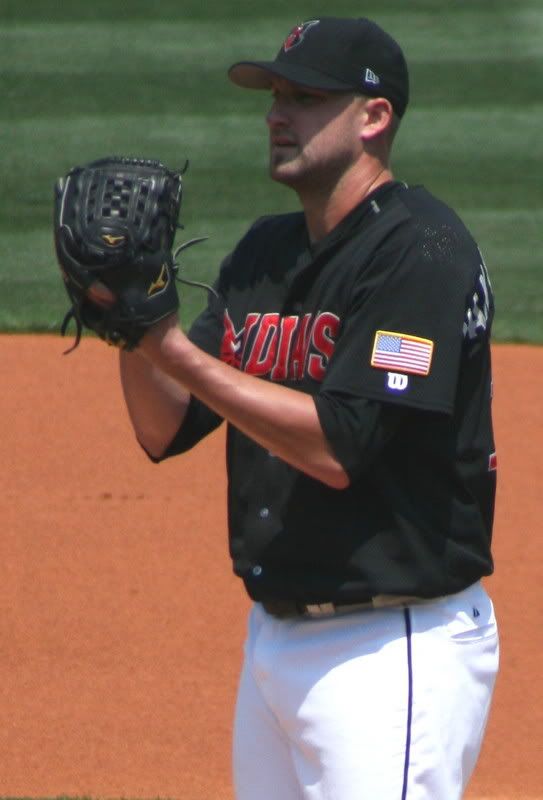 For the second day in a row, the Indianapolis Indians and the Toledo Mud Hens battled in a well-pitched game. This time, though, the Indians came out ahead, beating the Mud Hens by a score of 4-2 this afternoon at Victory Field. Indians' starter John Van Benschoten (photo), in his 15th start for the Indians, gave up only one run in 6.2 innings, dropping his ERA to 2.21 in his winning effort. Mud Hens' starter Anastacio Martinez pitched a complete game, though he took the loss.
In a post-game interview, Tribe LF Michael Ryan had praise for his teammate: "John [Van Benschoten] did a nice job of pounding the strike zone. He got the Toledo hitters out of their game plan. Any time your starter puts you in a position to win it?s nice to back him up with some runs. That?s what we did today.?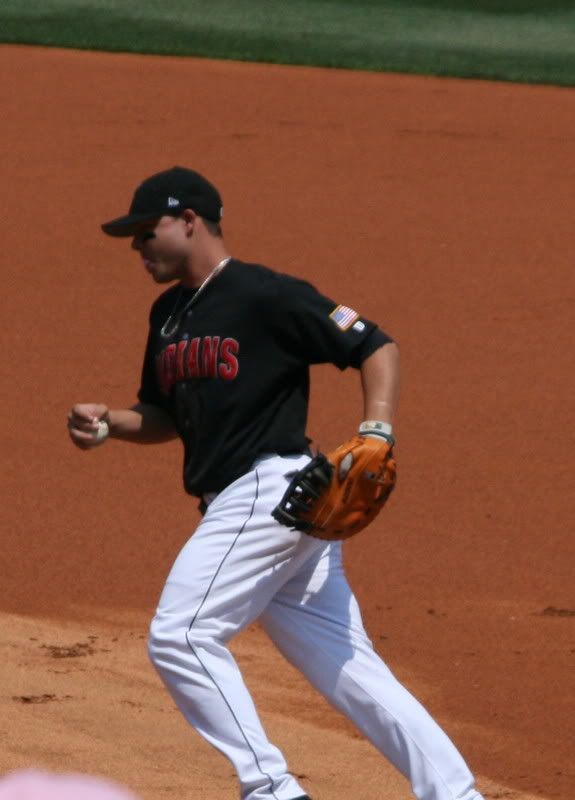 The only run Van Benschoten gave up came in the 3rd inning. Toledo 2B Henry Mateo led off the inning with a hit that bounced over Tribe 1B Steve Pearce's (photo) shoulder and into right field for a single. CF Andres Torres' triple deep into the left-centerfield alley brought Mateo home for the first run of the game. The Indians avoided further damage in the inning on two strong plays by Tribe 3B Jose Hernandez. SS Ramon Santiago came to the plate with Torres at third base, and he slapped a grounder to Hernandez at third. Hernandez looked Santiago back to the bag, and threw on to first base for the out. LF Timo Perez dropped a bunt toward third base, which Hernandez charged, scooped up, and fired to first base in time to get Perez and end the inning without another run scoring.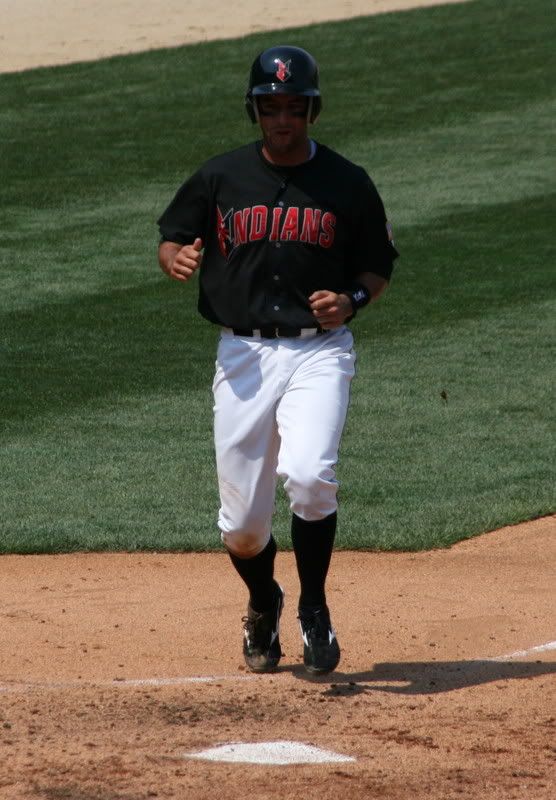 The Indians answered with a run of their own in the bottom of the 3rd inning. With one out, RF Matt Kata (photo) doubled into right field. He remained at second base when SS Brian Bixler grounded to shortstop. Then 1B Steve Pearce hit a little dribbler just in from first base. Hens' 1B Chris Shelton fielded the ball, and flipped it to pitcher Anastacio Martinez covering first base. But Martinez missed the catch, and the ball went into foul territory, back by the rolled up tarp. Pearce was safe at first, and Kata, who had been running from second to third, didn't even slow down at third base but charged for home, and scored on the error to tie the game. ?It was a tough read off the bat," said Kata in his post-game interview. "I heard [Manager] Trent [Jewett] yelling at me right away to go. It was just one of those balls that you have to take a chance on and we lucked out.?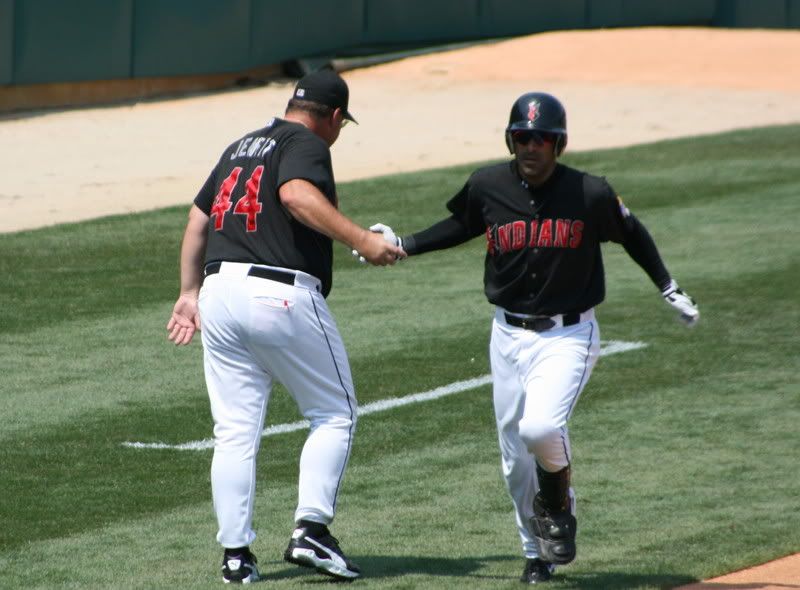 The Indians took the lead in the next inning, when 3B Jose Hernandez (photo, with manager Trent Jewett) hit his 10th homer of the season. The fly ball seemed to move very slowly toward left field (picture a bird trying to fly against a very strong wind, flapping its wings furiously but not moving very fast). At first, the ball looked like it would barely make it to the outfield…. then it looked like an easy outfield catch…. then LF Timo Perez started moving back to make the catch at the base of the wall…. and then the ball fell, but not into Perez's mitt but onto the grassy berm just beyond the top of the wall.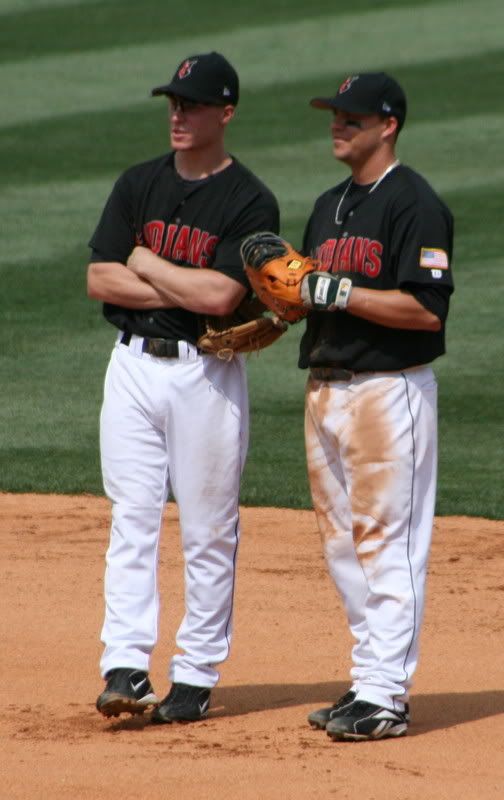 (photo — Brian Bixler and Steve Pearce)
The top of the batting order came through with two insurance runs in the 5th inning. With one out, Matt Kata again doubled, this time into the gap in right-center field, with the ball hitting the wall on one bounce. SS Brian Bixler, who has struggled against the Mud Hens, singled on a grounder deep into the hole at shortstop. Hens' SS Ramon Santiago kept the ball from going into left field with a diving stop, but when he scrambled to his feet, it was clear that any throw would not be in time. 1B Steve Pearce dropped a bloop single into short right center field, just out of reach of both the center fielder and the second baseman, and Kata easily scored on the hit. LF Michael Ryan followed with a fly ball to deep center field — not far enough to make it over the wall, but far enough for Bixler to score on the sacrifice fly, and make the score 4-1.
Anastacio Martinez pitched three perfect innings to finish the game. He threw 93 pitches, giving up 6 hits, and 3 of the 4 runs he allowed were earned. He walked only one (Michael Ryan, in the first inning), and struck out 4 Tribe batters.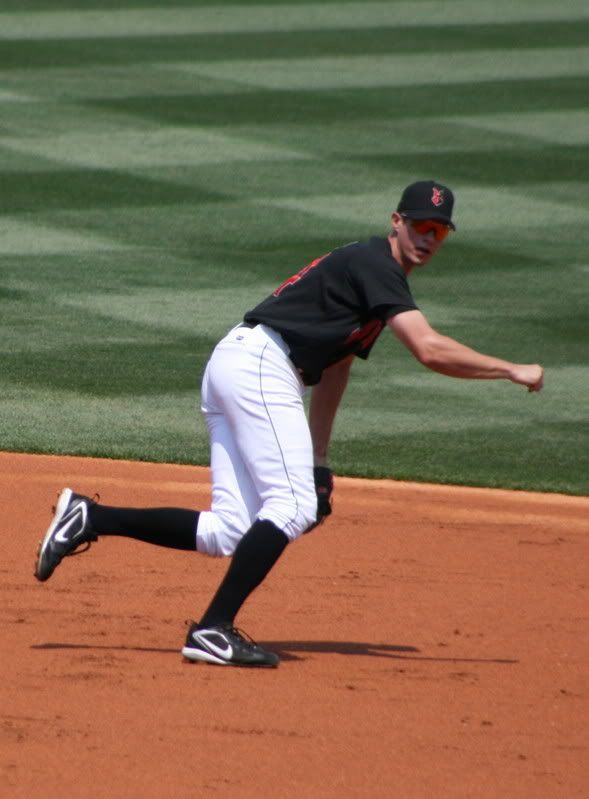 After the 3rd inning, John Van Benschoten settled in for the next three innings, giving up only one walk and one hit. The hit, a single by Ramon Santiago, was quickly erased by a slick 4-6-3 double play: 2B Brian Bixler to SS Don Kelly (photo) to 1B Steve Pearce. The Mud Hens threatened in the 7th inning. With one out, Hens' DH Erick Almonte walked. RF Brent Clevlen grounded to Bixler, who flipped to Kelly, to start another double play. But Almonte slid hard (but clean) into second base as Kelly was about to throw, and he disrupted Kelly enough to make the throw go wide and past Pearce at first base. Luckily for the Indians, the wide throw bounced back toward the field, and Clevlen did not attempt to advance to second base. There was no error charged because Almonte was out at second base, and it can't be assumed that a double play will always be made. Henry Mateo worked a full count from Van Benschoten, and then walked. That put Van Benschoten at an even 100 pitches, and manager Trent Jewett felt that he'd had enough. Josh Sharpless entered the game, and struck out C Andrew Graham on three pitches to end the inning.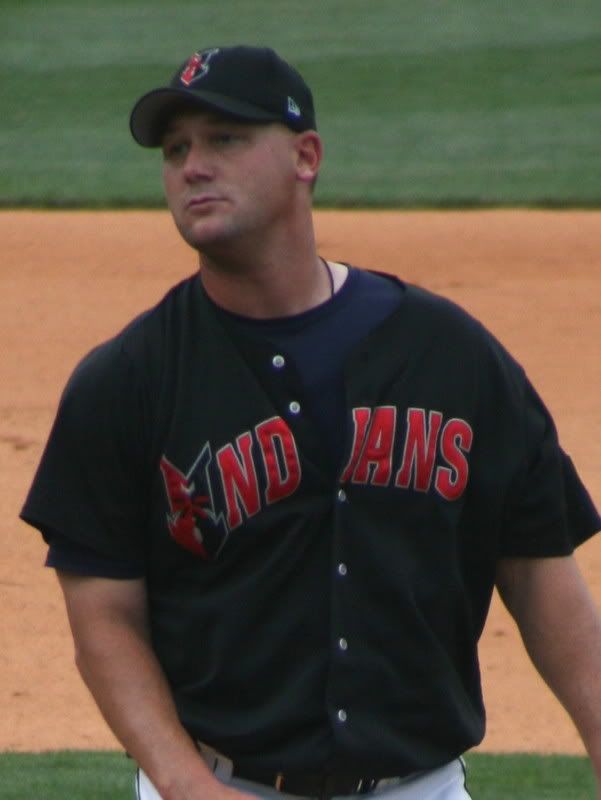 Sharpless pitched a scoreless 8th inning, giving up only one walk, and striking out two more batters, including the always-dangerous Hens' 3B Mike Hessman. (Van Benschoten had also struck out Hessman twice.) Bret Prinz (photo) pitched the 9th inning, and gave up one run as the Mud Hens tried to catch up with the Indians. With one out, there was a little de ja vu: Erick Almonte walked again, and Brent Clevlen again grounded into a fielder's choice. Almonte was again forced out at second base on the toss from Brian Bixler to Don Kelly. This time the relay throw to first base was on-target, but Clevlen just beat it out. Henry Mateo singled into right-center field, moving Clevlen to second base, and pinch-hitter David Espinosa hit an RBI single, scoring Clevlen. Andres Torres lifted a fly ball into left field, and the people in the crowd held their breath — until LF Michael Ryan appeared at just the right place to make the game-ending catch.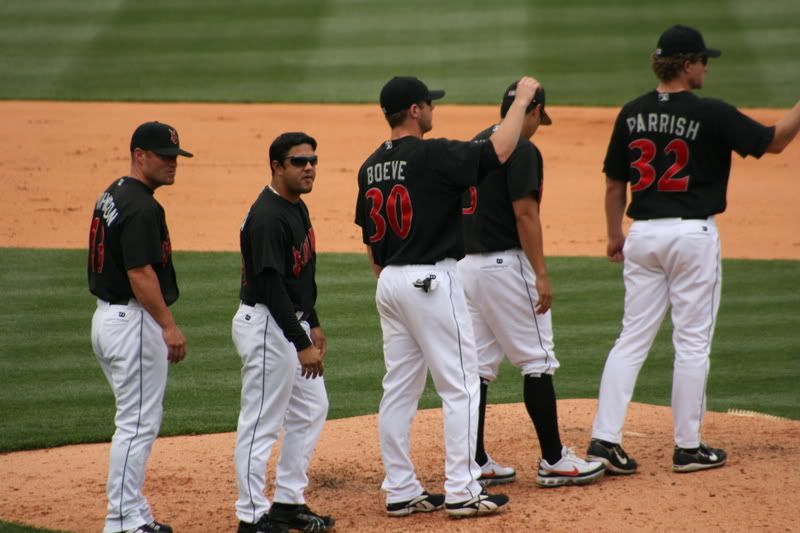 Matt Kata and Steve Pearce each had two hits in the game, with both of Kata's being doubles. Michael Ryan also had a single and Jose Hernandez homered.
Indians' hitting gem of the game: Jose Hernandez's 10th home run of the season, which was the tie-breaking run at the time.
Indians' defensive gem of the game: Jose Hernandez can do it all. His two consecutive fielding plays in the top of the 3rd inning were excellent. He kept Andres Torres from scoring by looking him back to third base and then throwing to first base in time to make the out on Ramon Santiago, and then again kept Torres from scoring when he scooped a bunt and made the off-balance throw to first in time to get Timo Perez out. And he made it all look easy.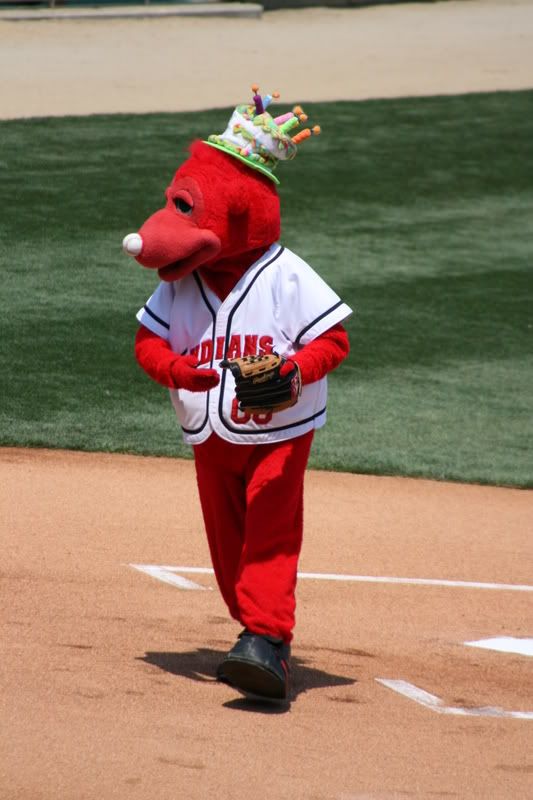 NOTES:
It was Indians' mascot Rowdie's birthday today. I can't imagine wearing all that "fur" in 91+ degree heat.
Thanks to Scott McCauley for mentioning our site on the radio broadcast!
Go Tribe!
Read More