boxscore (photos by NancyZ)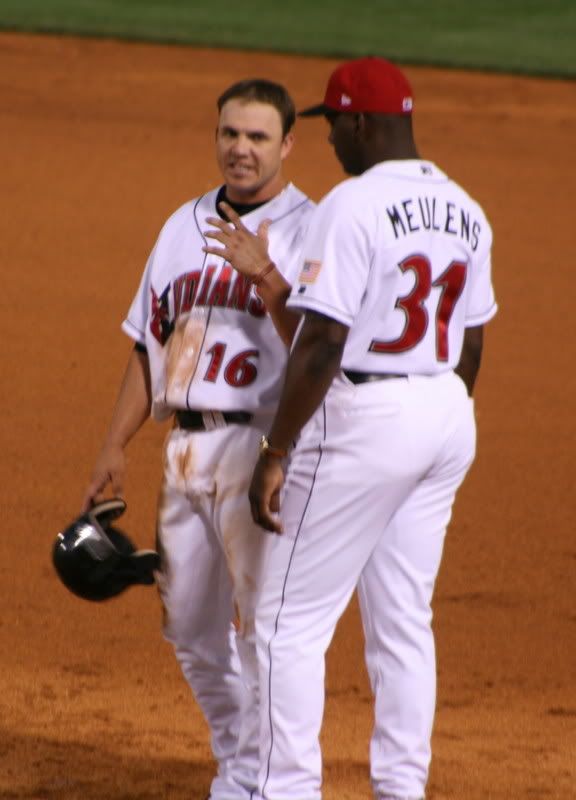 (photo — Steve Pearce and Hensley "Bam Bam" Meulens)
The Indianapolis Indians and the Louisville Bats must have used up all their surplus hits over the past two nights, because they didn't seem to have many to spare in tonight's game at Louisville Slugger Field in Louisville, KY. The Indians had put up 23 hits in the past two games, but only could manage 5 hits tonight. The Bats had a total of 27 hits over the last two games, but they could only come up with 4 in tonight's game. The one hit advantage tonight was not enough for the Tribe, though, as they lost to the Bats by a score of 4-2.
The Indians also featured a new teammate tonight. Starter Victor Zambrano had not pitched since early July, when he was released by the Toronto Blue Jays. He has been with the Indians, throwing side sessions and getting ready to pitch again. Tonight he had his first appearance with the Indians.
Zambrano started off by walking the first batter, LF Chris Dickerson, and then giving up a single to RF Josh Hamilton, which moved Dickerson to third base. 1B Joey Votto grounded into a double play, erasing Hamilton, but Dickerson scored from third base on the play (no RBI for Votto). 3B Aaron Herr ended the inning with a pop out.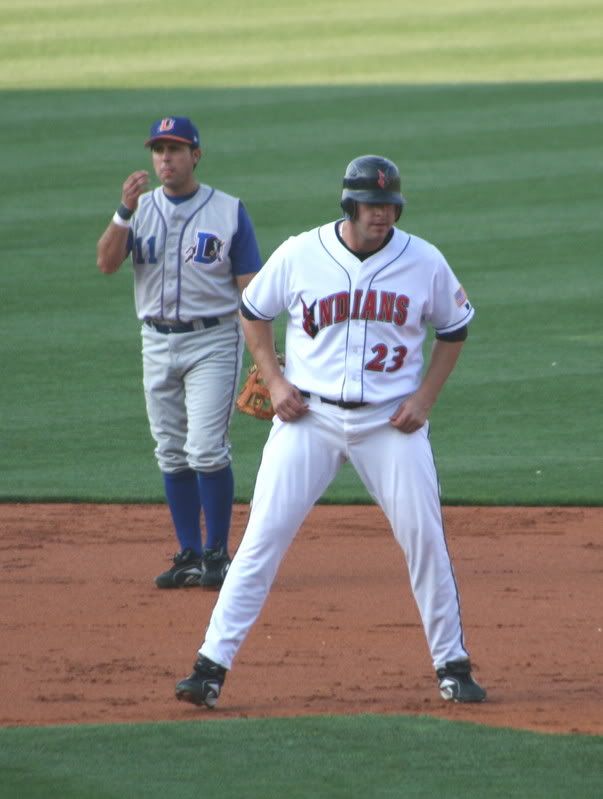 The Indians came right back in the top of the 2nd inning. RF Brad Eldred (photo) lined a ball into left field, which bounced for a ground rule double. Yurendell de Caster singled, and then moved to second base on a wild pitch by Bats' starter Tom Shearn. CF Luis Matos hit a sacrifice fly to bring in Eldred to tie the game. De Caster, who had moved to third on the sacrifice fly, scored when Shearn threw another wild pitch that went all the way to the backstop, and the Indians took the lead.
Victor Zambrano set the Bats down in order in the 2nd and 3rd innings, but gave up an unearned run in the 4th inning. Josh Hamilton reached base safely when Tribe SS Don Kelly misplayed a ground ball. He stole second, and moved to third base when Joey Votto grounded out. Another fielding error, this one by 3B Jose Hernandez when a grounder bounced off his glove and over toward shortstop, put Aaron Herr on base, and allowed Josh Hamilton to score. Zambrano struck out CF Jay Bruce, and then 2B Jorge Cantu was out on a running catch of a line drive by Tribe LF Michael Ryan to end the inning.



(Photo — Yurendell de Caster)
That was the extent of Zambrano's first outing. He threw 55 pitches (34 for strikes) in 4 innings, giving up two runs (one earned) on only one hit and one walk, while striking out 5 Louisville batters. Juan Perez entered the game in relief, and pitched on inning. He gave up two hits and one walk, for two runs in the 5th inning. C Ryan Jorgensen led off the inning with a walk, and SS Paul Janish doubled. Perez got two quick outs, a line out and a strikeout, then a single by Josh Hamilton scored both Jorgensen and Janish. Perez struck out Joey Votto to end the inning.
Tom Shearn pitched 7 innings for Louisville, giving up those two 2nd inning runs and 4 hits, while striking out 6. After that shaky second inning, Shearn settled down. He put the Tribe batters down in order in several innings, and allowed only two more hits, to Jose Hernandez and Steve Pearce. Hernandez was left stranded, and Pearce was erased on a double play.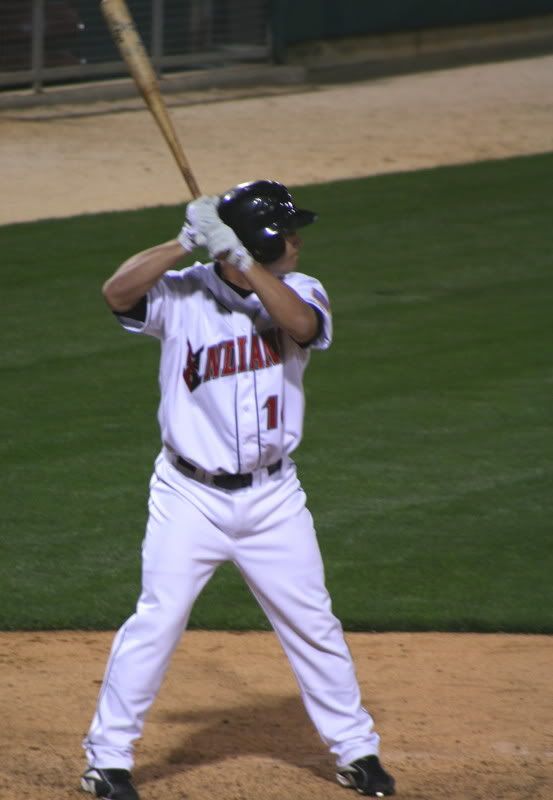 Marcus McBeth pitched a perfect 8th inning for the Bats, and Ricky Stone came on to pitch the 9th inning. The Indians tried to make it interesting in the 9th, as Steve Pearce (photo) got his second hit of the game with two out, on a fly ball to LF. It wasn't clear at first whether or not Bats' LF Chris Dickerson had come up with the ball, and Pearce wasn't sure either — he hesitated after rounding first base. Dickerson had caught the ball but then immediately dropped it, and then picked it up again, and Pearce was safe at second base. Tribe LF Michael Ryan ran the count full, and then grounded out to end the inning, with Pearce still on second base.
Jesse Chavez pitched the 6th and 7th innings for the Tribe. He faced only one batter over the minimum, when Paul Janish singled. Bret Prinz came in to pitch the ninth, and he struck out three straight batters on 18 pitches (lots of foul balls).
Tom Shearn earned the win, lifting his record to 6-10. Ricky Stone earned his 12th save of the season. Victor Zambrano pitched well in his first appearance with the Indians, though he did not factor into the decision, as the score was tied when he left the game. Juan Perez took his second loss of the season.
Indians' hitting gem of the game: Steve Pearce, with two of the Indians' five hits, a single and a surprise double in the 9th inning.
Indians' defensive gem of the game: Michael Ryan made a spectacular catch in the bottom of the 4th. With two out and one runner on base, Jorge Cantu stroked a liner into left field. Ryan came running in, and made a sliding back-hand catch, for the third out of the inning.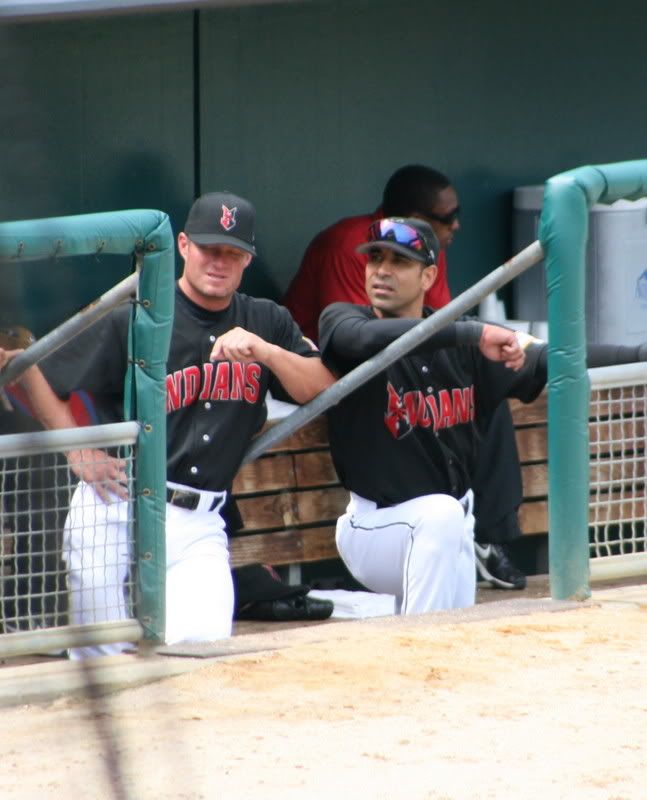 (photo — Russ Johnson and Jose Hernandez)
NOTES:
Victor Zambrano was added to the Indians' roster today, though he's been with the team for a few days.
Last night's emergency pitcher/infielder Russ Johnson was placed on the Disabled List, making room on the roster for Zambrano.
Go Tribe!
Read More