GAME 1
boxscore– Game 1
(photos by NancyZ)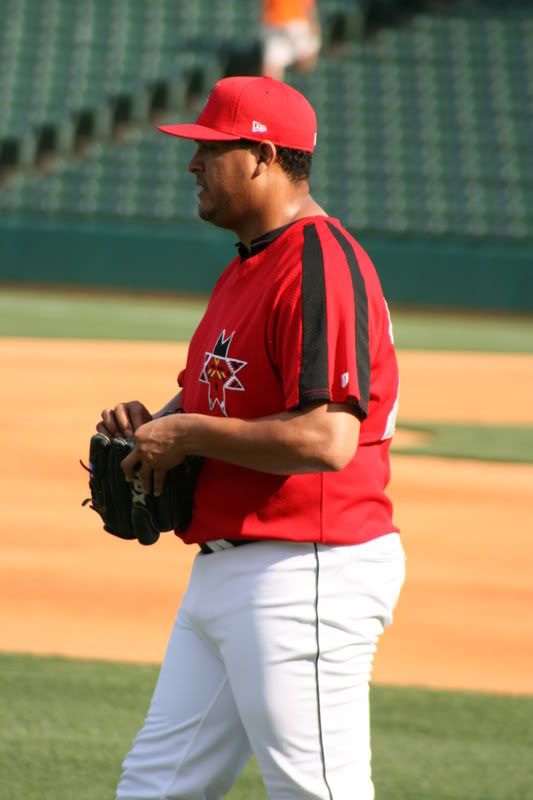 Well, at least it was only a 7-inning game.
The Richmond Braves scored at least one run in each of the six innings they batted, to beat the Indianapolis Indians by a score of 11-1 at The Diamond in Richmond, Virginia tonight. The Braves also outscored the Indians 16-6.
Indians' starting pitcher Runelvys Hernandez (photo) took his 7th loss of the season, and his second loss with the Indians. He gave up 13 of the Braves' hits in 4 innings, and was responsible for 9 runs, 8 of which were earned. He did not walk a batter, and he struck out two. Trouble found Hernandez very quickly in the bottom of the first inning, as the Braves sent 8 batters to the plate. CF Pete Orr led off with a triple. 2B Martin Prado was hit by a pitch, and LF Brandon Jones scored Orr on a sacrifice fly. Brayan Pena singled, and a fielder's choice by RF Doug Clark put runners on the corners and Pena out at second base. Clark stole second base, and a single by SS Brent Lillibridge scored Prado and moved Clark to third base. Lillibridge also stole second base, and both Clark and Lillibridge came across the plate when 3B Wes Timmons doubled. Finally a ground out by C Iker Franco ended the inning, with the Braves ahead 4-0.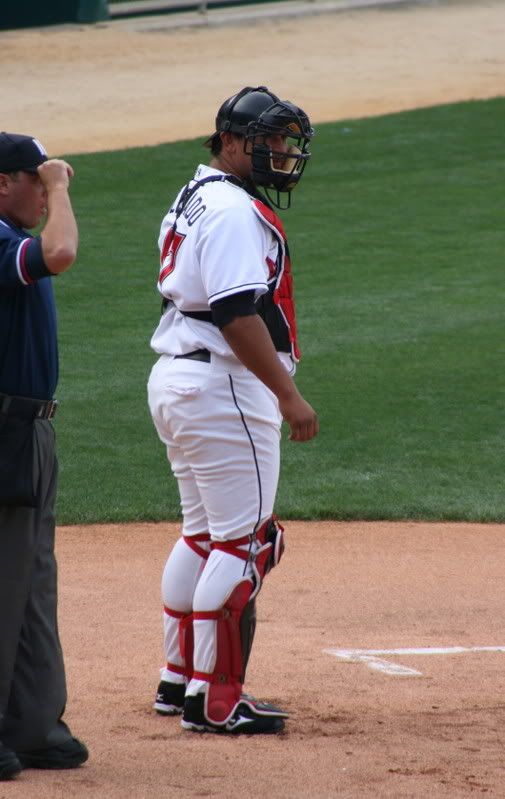 The Braves' run in the second inning was unearned. Pete Orr singled, and Martin Prado grounded to 2B Yurendell de Caster. But the hoped-for double play turned into only a fielder's choice on SS Brian Bixler's errant throw to first base, and was further complicated when Prado reached second on the error. A single by Brandon Jones scored Prado.
The Tribe made the Braves work a little harder to score a run in the 3rd inning. Doug Clark tripled and Brent Lillibridge singled on a swinging bunt back to Runelvys Hernandez, and Clark could not score. Wes Timmons grounded to 3B Jose Hernandez, who threw to 2B Yurendell de Caster to get Lillibridge out at second. Then de Caster fired the ball home, and C Carlos Maldonado (photo) tagged Clark out for the double play. Unfortunately, Iker Franco doubled, scoring Timmons, and a run scored anyway.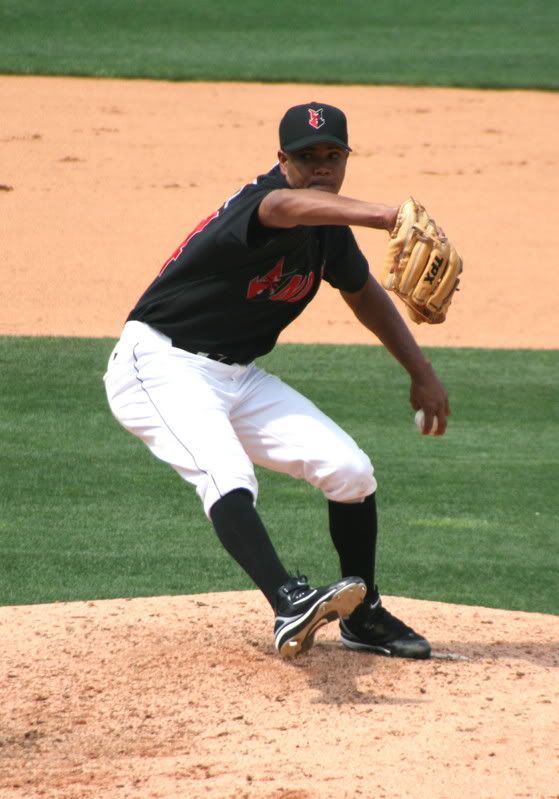 The Indians then made it easy for the Braves in the 4th inning. Pete Orr singled again, and scored when LF Michael Ryan bobbled Martin Prado's fly ball.
Two homers brought in three runs for the Braves in the 5th inning. Doug Clark's lead-off single set up Brent Lillibridge for a two-run blast. That sent pitcher Runelvys Hernandez to the showers. Lefty Juan Perez (photo) entered in relief, and was greeted by another home run, a solo shot by Wes Timmons. Perez then got Iker Franco to fly out and struck out both Kevin Barry and Pete Orr to end the inning. Perez gave up one more run in the 6th inning, on a single by Brandon Jones and an RBI double by Brayan Pena.
The Indians scored their only run in the 4th inning. 1B Steve Pearce grounded a single up the middle, and stole second base — his first stolen base as an Indian. A single by CF Luis Matos pushed Pearce across the plate.
Braves' starter Kevin Barry pitched 6 innings, giving up just that one run on 6 hits and walking only one Tribe batter, while striking out six. Reliever Buddy Hernandez pitched the 9th inning for the Bulls, getting all three Tribe batters he faced to hit the ball into the air for easy fly and pop outs.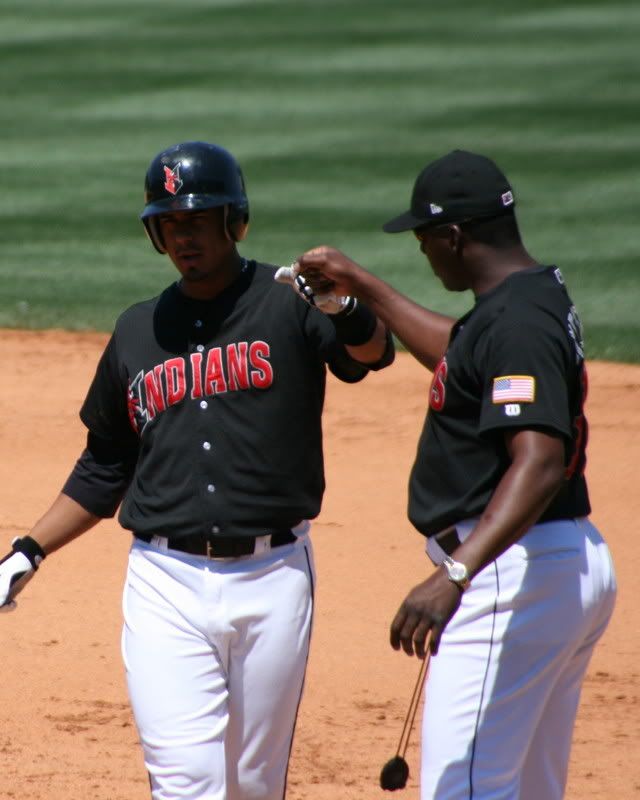 The Indians only other "threats" came when they put two base runners on in the first and third innings. In the 1st, Brian Bixler walked and Michael Ryan singled, but both were left stranded when Steve Pearce popped up and Jose Hernandez struck out. In the 3rd, back-to-back singles by Runelvys Hernandez and Yurendell de Caster put two runners on again. A strikeout by Bixler and a double play ended that inning.
Indians' hitting gems of the game: Luis Matos's (photo, Matos and Hensley "Bam Bam" Meulens) RBI single in the 4th inning to score Steve Pearce; and Runelvys Hernandez's single in the 3rd inning — always fun to see the pitcher get a hit.
Indians' defensive gem of the game: The double play in the bottom of the 3rd inning: 3B Jose Hernandez to 2B Yurendell de Caster to C Carlos Maldonado (5-4-2). Maldonado tagged out Braves' Doug Clark to keep that run from scoring.
GAME 2
boxscore — Game 2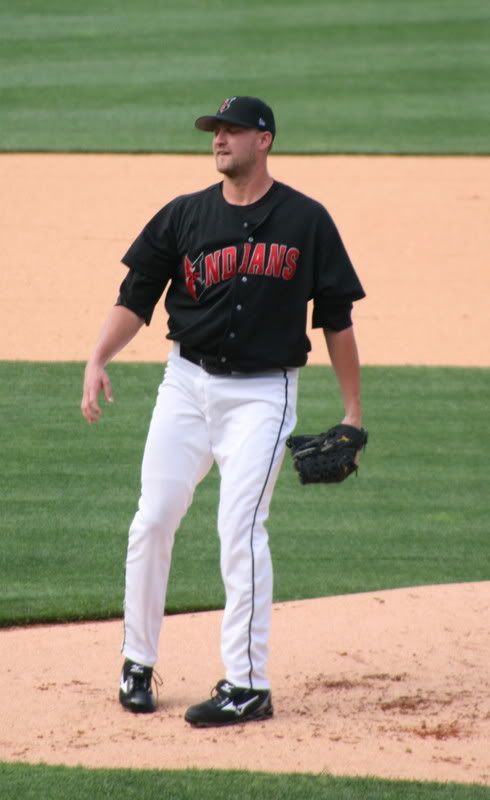 The Indians got some revenge in the nightcap. Steve Pearce hit his first home run as an Indian, to start the scoring, and the Indians went on to beat the Richmond Braves 7-1. Indians' starter John Van Benschoten pitched 6 shutout innings, giving up only 4 hits and 4 walks while striking out three Braves, to earn his 7th win of the season.
The Braves' only serious threat against John Van Benschoten came in the 5th inning. 1B Barbaro Canizares singled to lead off the inning. 3B Wes Timmons flied out and pinch hitter Jonathan Schuerholz lined out to shortstop. C Iker Franco singled and 2B Martin Prado walked to load the bases. Then Van Benschoten got LF Brandon Jones grounded into a force out to end the inning without a run scoring.
The only run scored by the Braves came in the 7th, as Franquelis Osoria came in to relieve Van Benschoten. Jonathan Schuerholz, who remained in the game to play second base, led off the inning with a solo home run over the left field wall, to prevent the shutout. Osoria proceeded to put the next three batters down in order to end the game.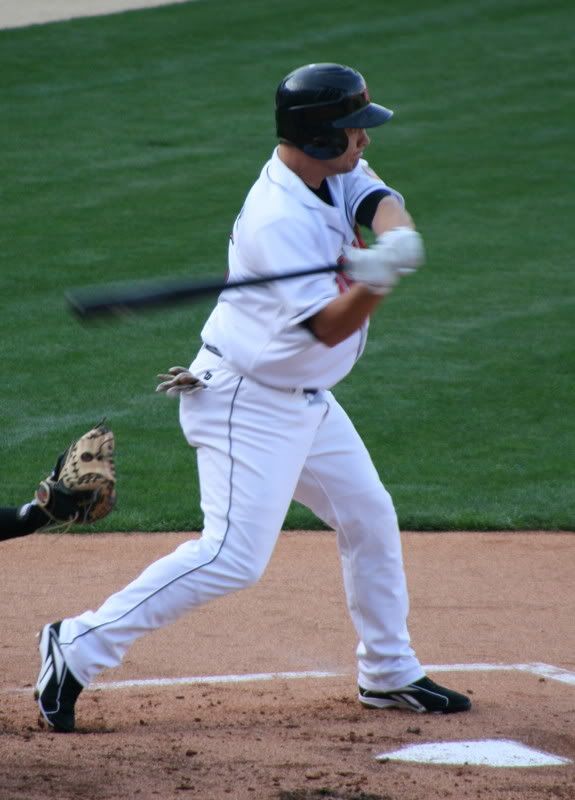 Braves' starter Brad Nelson held the Indians scoreless for the first three innings, holding them to one hit during those innings, a single by 3B Russ Johnson. In the top of the 4th inning, Steve Pearce hit his homer, a blast over the left field wall. "The home run swing felt real good," said Pearce after the game. "It was a fastball up in the zone, and I got all of it."
The Indians tried to add more runs in the 4th. RF Brad Eldred and Russ Johnson both walked, and 2B Luis Ordaz singled to load the bases. But C David Parrish grounded into a double play to end the inning.
The Tribe did get those runs in the next inning, though. John Van Benschoten started the rally with a walk, and Adam Boeve was hit by a pitch. SS Don Kelly put down a sacrifice bunt, but pitcher Brad Nelson's throwing error allowed Van Benschoten to score, and put Boeve on third base and Kelly on second base. LF Michael Ryan hit a sacrifice fly to plate Boeve, and another error, this one by Braves' CF Doug Clark, moved Kelly to third base. Kelly scored when Steve Pearce lined an RBI single into left field, and Pearce scored on Russ Johnson's RBI double. The inning ended with the Indians ahead, 5-0.
The Tribe wasn't done yet, though. They added two more in the top of the 7th inning. With one out, reliever Manny Acosta threw a wild pitch on the third strike to Brad Eldred, allowing Eldred to reach first base. Russ Johnson walked, and both runners advanced when Acosta balked. Luis Ordaz's RBI single brought in Eldred and moved Johnson to third base. Johnson scored on David Parrish's ground out.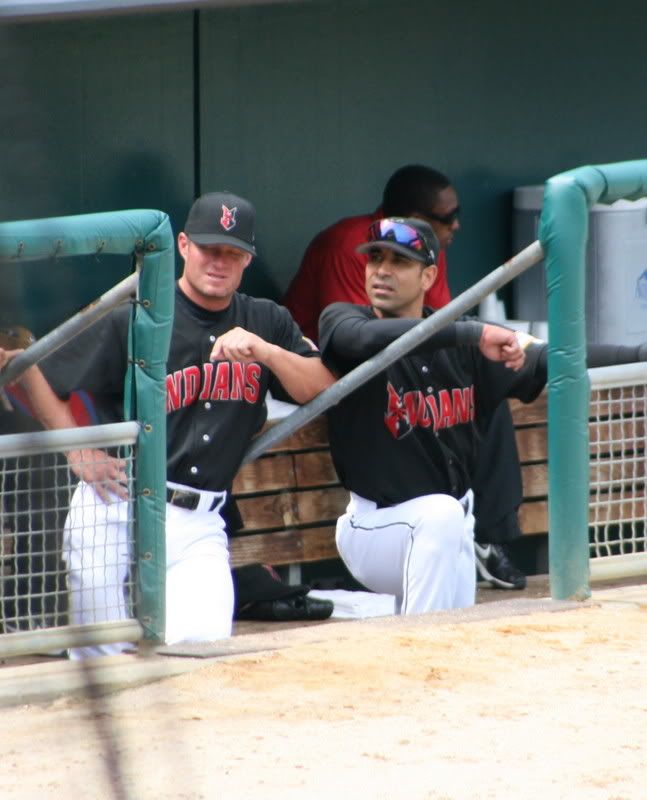 (Photo — Russ Johnson and Jose Hernandez)
Indians' hitting gem of the game: Steve Pearce, who hit his first AAA homer, and then hit an RBI single. "It was an RBI situation, so I went up there hacking," said Pearce after the game. "I've been able to drive in a lot of runs throughout the season, but I have to prove myself at the AAA level. I am still hungry because I feel like I can contribute at this level. It's all about showing people what you can do, and I did that in game two tonight."
Indians' defensive gem of the game: In the bottom of the 3rd inning, with Pete Orr on first base, John Van Benschoten threw wide on an attempt to pick Orr off first base. Orr took off, rounding second and heading for third base. Brad Eldred in right field was able to pick up the ball and fired a perfect strike to third base, where Russ Johnson tagged Orr out.
NOTES:
Baseball America has named Indians' manager Trent Jewett as the International League's Best Managerial Prospect. Jewett has won more than 900 games in his managerial career and over 200 games as the Indians' manager. The Tribe has been over .500 in 98% of the time that Jewett has been the manager. Read the full article on the Indians' website
P Luis Munoz has been moved to Altoona – but only on paper. He remains with the Indians in Richmond, and may start another game for the Tribe later in the week.
Rajai Davis, who was traded from the Pittsburgh Pirates to the San Francisco Giants yesterday, is the starting center fielder in the Giants' game against the Los Angeles Dodgers tonight. Davis popped out in his first at-bat, and grounded out in his second at-bat. In the top of the 5th, he reached base on an error, and was stranded there at the end of the inning. In the 8th, he beat out a bunt for an infield hit, and then (no surprise to Indians' fans) he stole second base. He went to third base easily on a wild pitch, and scored on Bengie Molina's single. He also made some very nice catches in the outfield, and threw a bullet to second base to allow a tag out on a baserunner who was trying to stretch a double. Joe Morgan and Jon Miller were just gushing over Rajai's speed.
Go Tribe!
Read More