boxscore (photos by NancyZ)


The Rain was the winner tonight, twice delaying the game between the Indianapolis Indians and the Norfolk Tides at Harbor Park in Norfolk, Virginia. The first delay, in the first inning, lasted for 51 minutes. Another delay in the 8th inning, lasted for about 30 minutes before the game was called, shortly before 10 pm eastern time. The game will remain a tie, and won't be resumed.
The Indianapolis Indians jumped right into it in the top of the first inning. SS Brian Bixler (photo) walked, and promptly stole second base. LF Yurendell de Caster lined a single into right field, which scored Bixler, and made that stolen base look very good. Two ground outs ended the inning.
The bottom of the 1st brought Tribe starter Bryan Bullington out to the mound, to face lead off batter CF Tike Redman. Redman walked, and RF Val Majewski came to the plate, and fouled off Bullington's first pitch. Then a bolt of lightning and a simultaneous boom of thunder — and the rain came pouring down.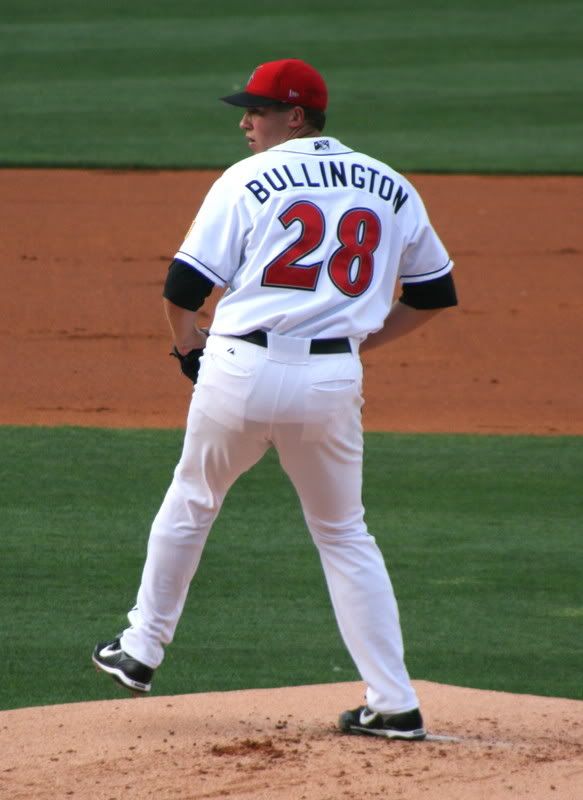 (51 minutes later….)
When the game resumed, Bryan Bullington (photo) returned to the mound, and continued where he left off. He had only thrown 6 pitches before the break, and apparently the feeling was that he would be able to continue after another warm-up. Bullington walked Majewski, but then ran into some good luck as the Tides had the first of three basepath blunders. 1B J.R. House fired a liner right to Tribe SS Luis Ordaz, who threw to 2B Brian Bixler, doubling Tike Redman off second base for a double play. A fielder's choice grounder ended the inning.
Bullington pitched 5 scoreless innings, giving up only 3 hits and walking 4 batters, while striking out two. He threw 81 pitches (75 after the rain delay), 45 for strikes. A single by DH Mike Cervenak in the 4th inning was erased when LF Jon Knott grounded into a double play, 3B Russ Johnson to 2B Brian Bixler to 1B Jose Hernandez. The bottom of the 5th brought another base running problem for the Tides. With one out, 2B Bo Hart smacked a ground-rule double that bounced over the center field wall, and SS Cesar Crespo singled, moving Hart to third base. But Crespo was thrown out trying to steal second, on a right-on-target throw from C David Parrish to 2B Brian Bixler, and a fly out by Tike Redman ended the inning.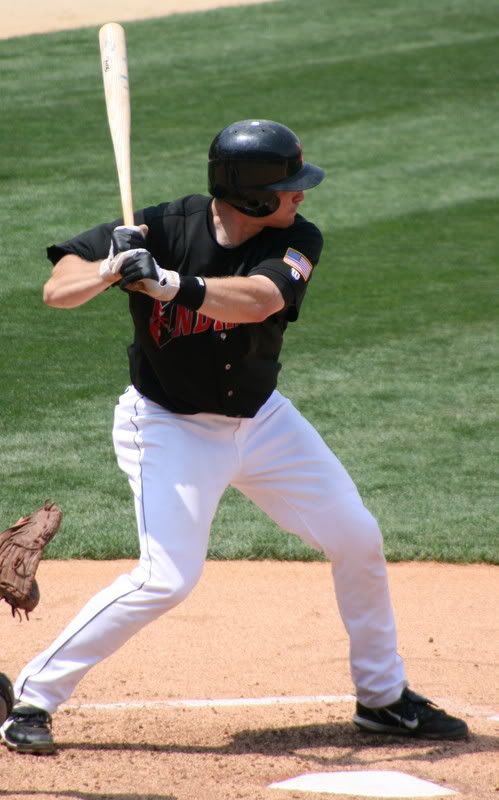 Norfolk starter Garrett Olson did not return to the mound after the 1st inning rain delay. Instead, the Tides had to go to a reliever-a-thon. Tim Kester entered the game, and pitched 4 innings for the Tide, scattering 4 hits and striking out three. He gave up one unearned run, in the top of the 5th inning. With one out, Luis Ordaz lined a double to left field, and then advanced to third base on a passed ball by Tides' C Alberto Castillo. An RBI single by David Parrish (photo) brought in Ordaz for the Indians' second run of the game. Parrish stole second base, his first steal of the season with the Tribe, but he was left there on second as the inning ended.
Reliever Jim Miller took over for Kester, and pitched the next two scoreless innings. Miller gave up only one hit, a line drive double to left field by Russ Johnson, for his second hit of the game. Victor Moreno was next to take his turn, and he pitched the 8th inning for the Tide. He gave up a single to Brian Bixler, but Bixler was thrown out trying to stretch it to a double, and Moreno retired the side.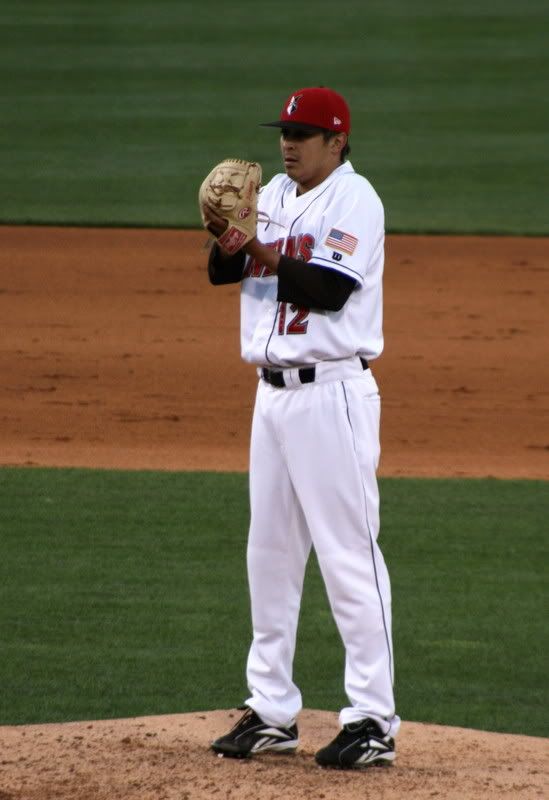 After Bryan Bullington pitched his 5 innings, reliever Jesse Chavez (photo) came in to start the bottom of the 6th inning. That was when the Tides had their third baserunning problem. With one out, J.R. House and Mike Cervenak hit back-to-back singles. The first pitch to Jon Knott bounced in the dirt, and House took off for third base. But the ball bounced right to C David Parrish's bare hand, and Parrish fired down to second base, with House caught between second and third. House was caught in a fast run down, and was out: Parrish to Bixler to Johnson to Bixler (2-4-5-4). Cervenak didn't even have time to move from first base, and the inning ended with a ground out.
As the rain, which had resumed a few innings earlier, began coming down even more heavily, the Tides were able to tie up the score in the 7th inning. Jesse Chavez struck out 3B Terry Tiffee to start the inning, but then gave up a single to Alberto Castillo, and an RBI triple to Bo Hart, scoring Castillo. Juan Perez came in to replace Chavez, and Perez struck out Cesar Crespo, before giving up a liner into center field to Tike Redman, for an RBI single that brought in Hart. Redman stole second and Val Majewski walked, but then Perez got J.R. House to fly out and keep the score tied, 2-2.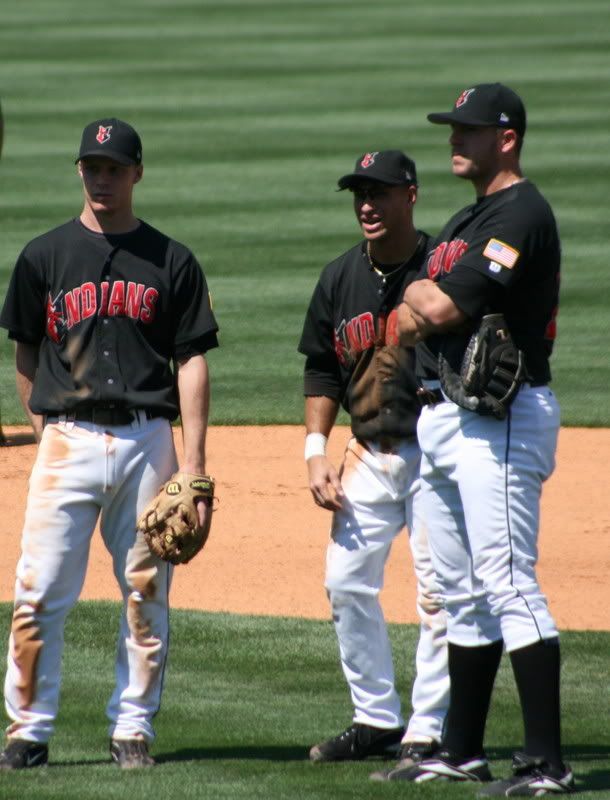 (photo: Brian Bixler, Luis Ordaz, and Brad Eldred)
At this point, the rain was getting very heavy, and the players seemed to hesitate coming out of the dugouts to begin the 8th inning, as if anticipating another rain delay. They did play the top of the 8th, but as Indians' reliever Runelvys Hernandez came to the mound and started his warm-ups to begin the bottom of the 8th, the rain was coming down harder than it had been during the earlier rain delay. Play was again halted by the umpires.
About a half hour later, the announcement was made saying that the game had been called. Because it was already into the 8th inning (as opposed to in the first 5 innings when it wasn't even an "official" game yet) and the score was tied, and because this was the last scheduled meeting between Norfolk and Indianapolis for the season, the game will be stay as a tie, and will not be counted toward the two teams' standings in their respective International League divisions. All players' records (hits, RBI's, steals, etc.) will be counted towards their season's totals. If the game had been called before it was an official game, then all those at-bats, hits, strikeouts, etc., would have vanished.
No pitcher got either a win or loss, though because of the tie, neither starting pitcher would have gotten credit for a win or been charged with a loss. Jesse Chavez was credited with a "hold", and Juan Perez was charged with his second blown save. The Indians put up 7 hits, with RUss Johnson leading the attack with a single and a double. Steve Pearce and Luis Ordaz also doubled, and Brian Bixler, Yurendell de Caster, David Parrish had singles.
Indians' hitting gem of the game: David Parrish's RBI single in the 5th inning to bring in the Tribe's second run of the game.
Indians' defensive gem of the game: In the 6th inning, David Parrish handled a pitch in the dirt, barehanding it and firing it to Brian Bixler at second base, to start a run-down, Parrish to Bixler to Johnson to Bixler, to get out J.R. House, who had gotten too excited and started running for third when he saw that pitch in the dirt.
NOTES:
With his double tonight, Luis Ordaz has a 7-game hitting streak.
Dejan Kovacevic in the Pittsburgh Post-Gazette reports that OF Nyjer Morgan, who has been rehabbing his broken thumb, could be "back on the field" this week — not clear if that means back for fielding and batting practice or back for playing in games, though I think it's the former.
The Indians have an off-day tomorrow, as they fly back from Norfolk and then take a bus south to Louisville.
Go Tribe!
Read More