boxscore photos by NancyZ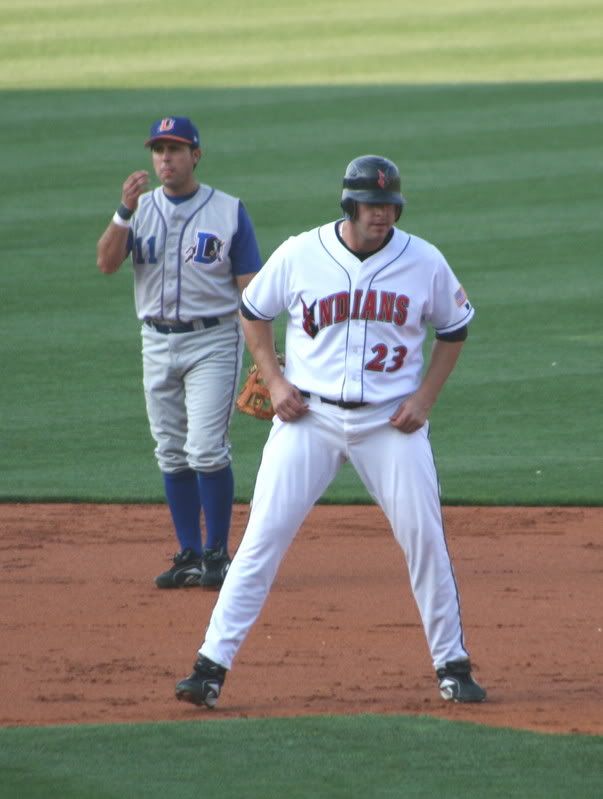 Durham Bulls' relief pitcher Brian Shackelford threw one pitch. Indianapolis Indians' pinch hitter Jose Hernandez saw that one pitch, and lifted it over the left field scoreboard for a two-run walk-off homer, to give the Indians a 5-3 win at Victory Field tonight. It was the Tribe's third homer of the inning, with Michael Ryan posting a solo homer, and Brad Eldred putting up a two-run shot, as the Indians ended their home stand in dramatic fashion.
(Photo: Brad Eldred takes his lead off second base, with (former Indian) Bull's shortstop Jorge Velandia behind him.)
The Indians didn't offer much drama in the early innings of the game. Bulls' starting pitcher J.P. Howell dominated through the first seven innings. He allowed the Indians only two hits, a double by RF Brad Eldred to lead off the 2nd inning, and a single by 1B Steve Pearce in the 7th inning, for his first AAA hit. Pearce was able to advance to second base on a passed ball, and then to third base on a wild pitch, but was stranded there. In the first inning, Howell walked LF Michael Ryan and hit Pearce with a pitch (photo below). Those were all the base runners Howell allowed. He struck out 12 batters, and struck out two batters in most innings.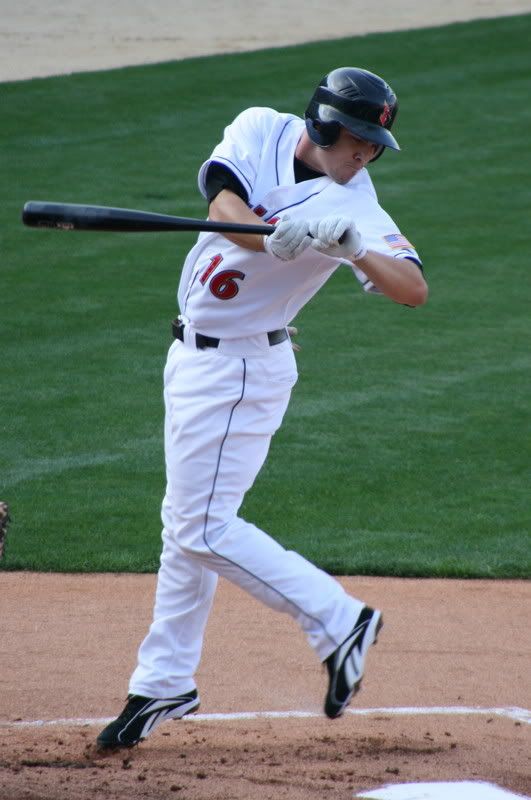 Tribe starter Bryan Bullington pitched 7.1 innings, and was perfect in 5 of those innings. It was in the other innings that the Bulls scored their runs. In the second inning, Bulls' LF Jon Weber (who managed to hold on to his bat tonight) led off with a triple that bounced off the left-center field wall. He scored on DH Wes Bankston's sacrifice fly. After 1B Joel Guzman flied out, 3B Brent Butler lined a single into right field. C Josh Johnson lined a ball off the left field scoreboard, and Butler tried to score from first base. He didn't take Tribe LF Michael Ryan into account, though. Ryan fired the ball in to the infield, where SS Brian Bixler relayed it to C David Parrish, who tagged out Butler before he could cross the plate, ending the inning.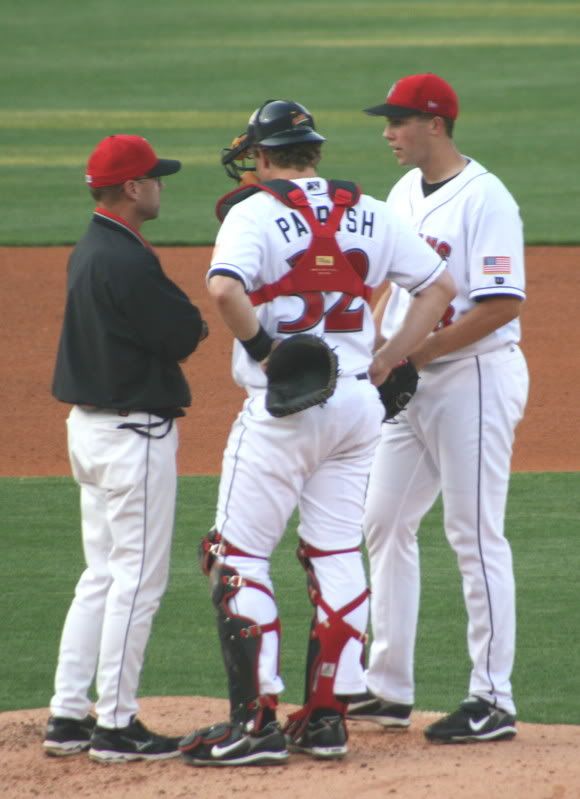 The Bulls scored again in the 5th inning. With one out, Brent Butler lined a single into center field, and Josh Johnson followed with his third homer of the season, to give the Bulls a 3-0 lead. Former Indianapolis Indian (2005) SS Jorge Velandia and 2B Elliot Johnson followed by hitting back-to-back singles. Indians' pitching coach Jeff Andrews made a visit to Bullington on the mound (photo), and after that little chat, Bullington struck out the next two batters to end the inning.
Bullington started the 8th inning, and retired the first batter, but then walked CF Jason Pridie and hit RF Justin Ruggiano with a pitch. That was the end of Bullington's outing. He had thrown 105 pitches (68 for strikes), and gave up 7 hits, with 4 strikeouts and one walk. Reliever Brian Rogers entered the game and ended the inning for Bullington with a strikeout and a line out. Rogers also pitched a perfect 9th inning, including two more strikeouts.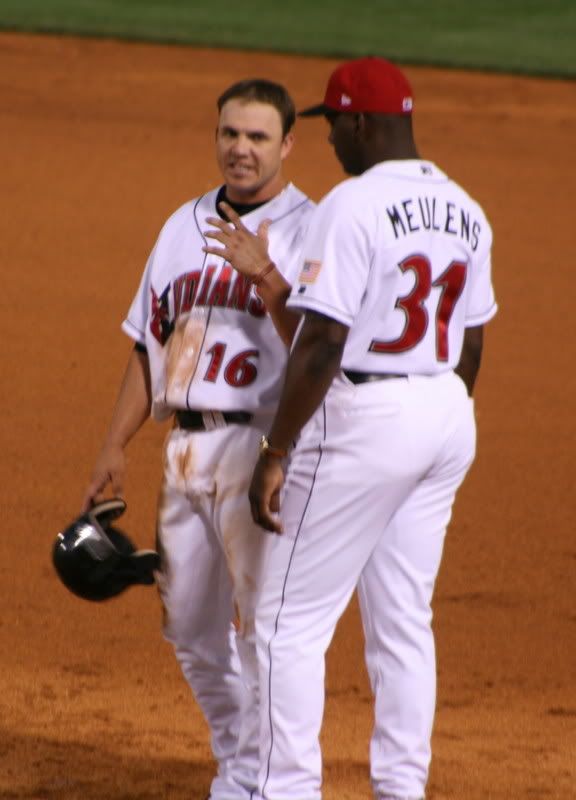 Bulls' reliever Chad Orvella came in to pitch in the 8th inning, after J.P. Howell left the game. Orvella gave up a hit to 2B Luis Ordaz, but retired the other three batters.
Then came the bottom of the 9th inning. The Indians were losing 3-0, and down to their last three outs. The faithful in the stands had turned their caps inside out and backwards in hopes of a rally. Michael Ryan led off the inning by blasting a solo homer that just cleared the top of the right field wall, at about 360 feet. Steve Pearce (photo, with Hensley "Bam Bam" Meulens) got his second AAA hit, a solid single into left field. 3B Yurendell de Caster hit a screaming liner — but right to Bulls' left fielder Jon Weber, for one out. Brad Eldred was up next. Eldred fell behind in the count 0-2, plus two foul balls, and then he crushed a towering homer just inside the right field foul pole, to tie the score. CF Luis Matos grounded a double down the left field line, and that sent pitcher Chad Orvella to the showers. Jose Hernandez was announced as the pinch hitter, as lefty Brian Shackelford was brought in to relieve Orvella. Shackelford threw one pitch, and that was the end.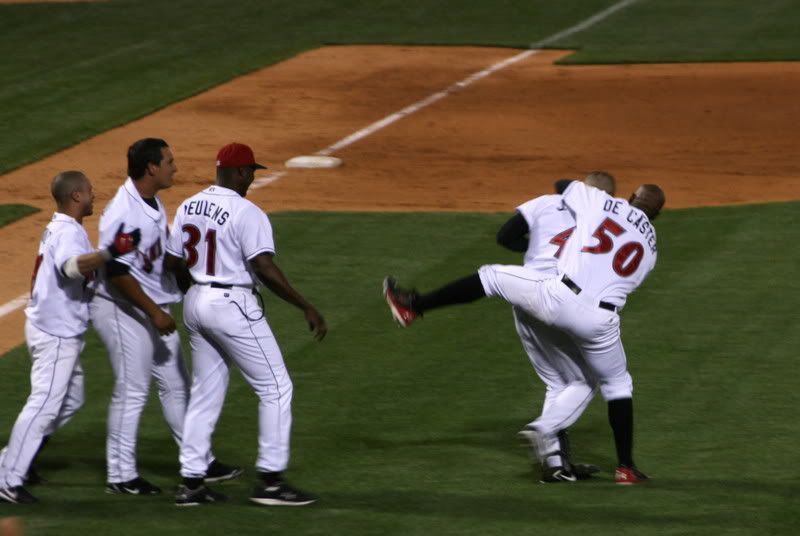 ?I?ve taken the first pitch in every at-bat for the last two weeks," said Hernandez in an interview after the game. "Tonight, I decided to take a chance on the first pitch. He (Shackelford) threw the ball over the middle of the plate, and I was fortunate enough to hit it out….It is amazing to get the chance to win a game. When the whole team is waiting at home plate, you know you?re going to get jumped. It?s a great feeling to see them waiting on you.?
Indians' hitting gems of the game: Three home runs in the 9th inning: Michael Ryan, Brad Eldred, and Jose Hernandez.
Indians' defensive gem of the game: In the top of the 2nd inning, Bulls' Brent Butler was thrown out at home as he tried to score from first base: LF Michael Ryan to SS Brian Bixler to C David Parrish, who applied the tag before Butler could cross the plate.
NOTES:
Roster moves:
Last night's starter Luis Munoz was assigned to Altoona, though this was reported as just being a move "on paper", and Munoz is still here in Indianapolis. This move was to make room for:
John Van Benschoten was officially added to the active roster today. He is expected to start in the second game of tomorrow's double header in Richmond.
Rajai Davis has been traded to the San Francisco Giants. His 21-game hitting streak can't be extended now. If the Giants should send him to their AAA team (Fresno Grizzlies), that is in the Pacific Coast League, and the PCL stats are separate from the International League stats.
An article by Paul Meyer of the Pittsburgh Post-Gazette about Steve Pearce.
He (Pearce) will play first base for Indianapolis, with incumbent first baseman Brad Eldred concentrating more on being a designated hitter and a right fielder.
Go Tribe!
Read More