Boxscore (Photos by NancyZ)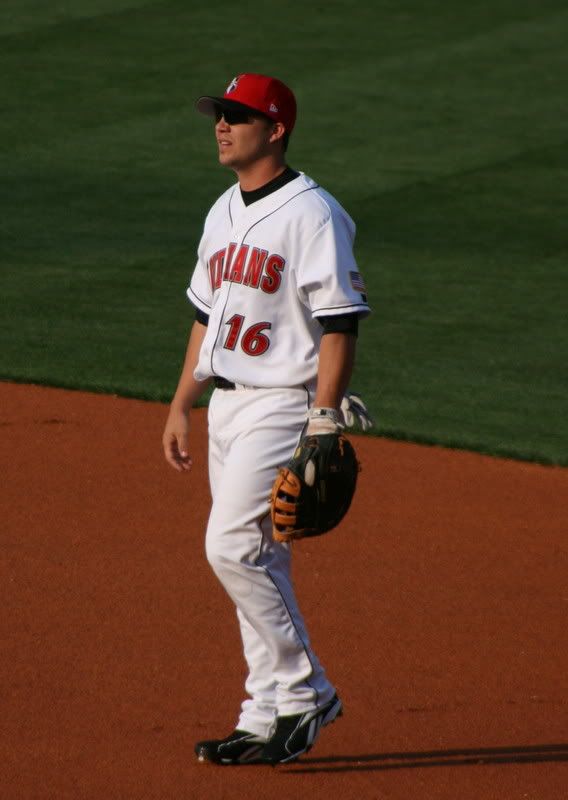 The Indianapolis Indians managed only 5 hits against Richmond Braves' pitching tonight, though two of those hits were solo home runs, by Adam Boeve and Luis Ordaz. The Braves put up 16 hits, 5 doubles and 11 singles to score 9 runs, as Marty McLeary took his 4th loss of the season at The Diamond in Richmond, Virginia. The final score was 9-2. It was the last meeting of the Indians and the Braves for the 2007 season
The Braves got things started right away against Tribe starter Marty McLeary, scoring two runs in the bottom of the first inning. After two quick outs, LF Brandon Jones reached first base safely on a grounder toward the right side of the infield. Tribe 2B Luis Ordaz waved off 1B Steve Pearce (photo), and Ordaz was able to field the ball and throw to McLeary covering first base, but the throw was not in time, and Jones had a single. RF Doug Clark followed with a walk, and 1B Barbaro Canizares knocked both baserunners in with a line drive double into center field. Canizares went to third when SS Brent Lillibridge singled, but both were left on base when McLeary induced 3B Wes Timmons to fly out to end the inning.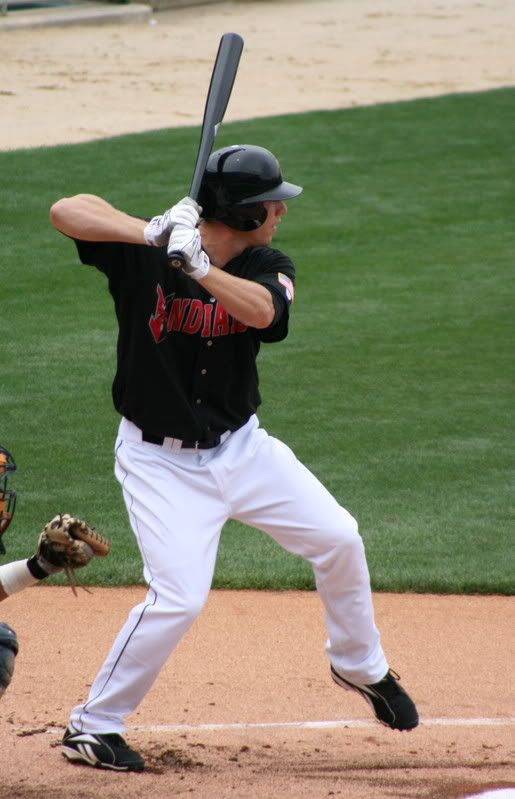 The Braves' scheduled starting pitcher, Lance Cormier, was called up to the parent Atlanta Braves today, and the Braves had to turn to right hander Jeff Bennett to make a spot start. It was Bennett's third start of the season for the Braves. He pitched 5 innings for the Braves, giving up only three hits — a single to 2B Luis Ordaz in the 5th inning, a double to SS Brian Bixler in the 4th inning, and a solo home run to RF Adam Boeve (photo) in the second inning. He also walked one (Bixler) and struck out three Indians.
The bottom of the 5th inning brought a rally for the Braves. Marty McLeary started off by striking out Brandon Jones, but then walked Doug Clark, who promptly stole second base. Barbaro Canizares singled, moving Clark to third base. SS Brent Lillibridge doubled, bringing in Clark, and Wes Timmons was intentionally walked to load the bases, in hopes of a double play. But C Iker Franco didn't cooperate with the Indians' plans — instead he singled into left field, scoring Canizares and Lillibridge. That was all for McLeary, and Josh Sharpless entered the game in relief. Sharpless got pinch hitter Dan Smith to strike out, and then got CF Pete Orr to ground into a force out. The Braves had the lead, 5-1, a lead they would not give up.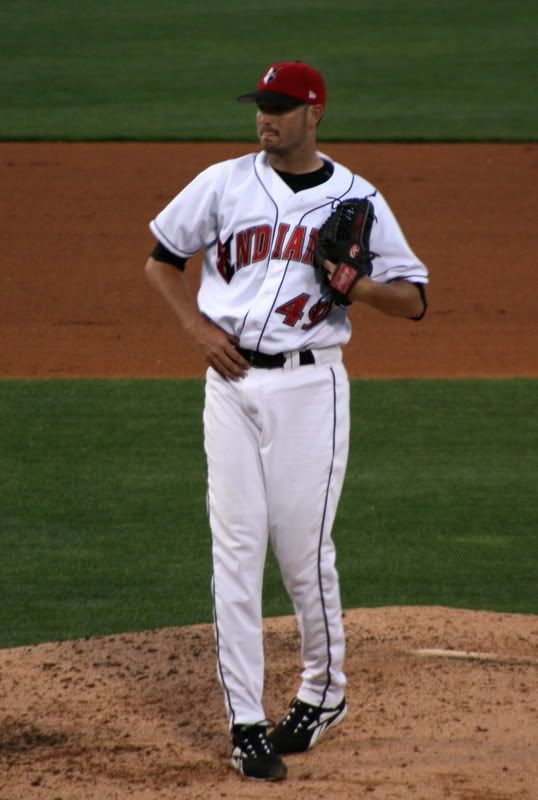 The Braves added two more insurance runs in the 6th inning. Brandon Jones walked, stole second, and advanced to third base on Josh Sharpless's wild pitch. With two out, Barbaro Canizares got his 4th hit of the game, a line drive double into left field, scoring Jones. Canizares scored on Brent Lillibridge's third hit of the game. When Wes Timmons also singled, Sharpless was lifted in favor of reliever Brian Rogers. Rogers (photo) threw three pitches, getting Iker Franco to ground into a fielder's choice to end the inning, with the score standing at 7-1.
Richmond struck again in the 8th inning for two more runs. Reliever Jesse Chavez came in to take over for Brian Rogers, who had allowed one hit in 1.1 scoreless innings. With one out, Barbaro Canizares doubled for his 5th hit of the game, and Brent Lillibridge doubled for his 4th hit of the game, scoring Canizares. A wild pitch by Chavez moved Lillibridge to third base, and Wes Timmons pushed Lillibridge across the plate with a single.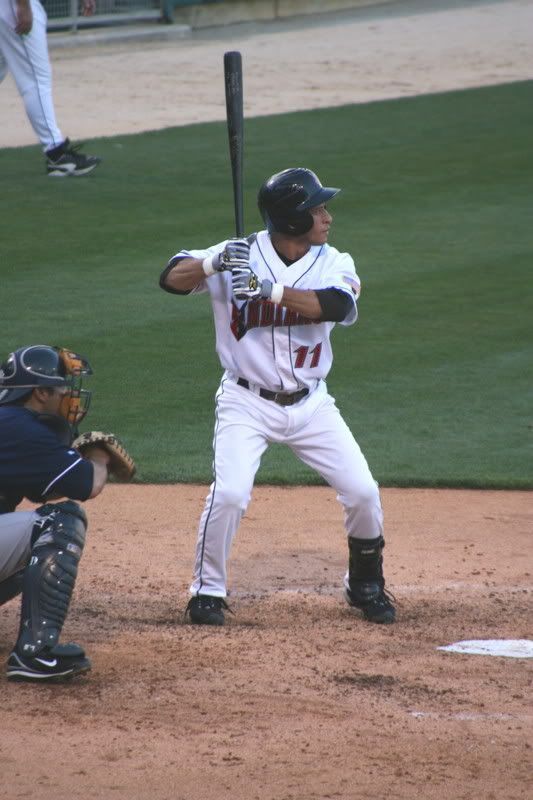 Ryan Basner pitched the final 4 innings for Richmond. Like Jeff Bennett, Basner also gave up a solo home run, this one to Luis Ordaz (photo) in the 8th inning. Adam Boeve had the only other hit off Basner, a single in the 7th inning. Basner also struck out three Tribe batters. Bennett earned the win, his first with the Braves. Basner earned his first save for the Braves.
Indians' hitting gems of the game: Home runs by Adam Boeve (his 4th with the Indians and 18th overall for the season), and Luis Ordaz (his 2nd of the season).
Indians' defensive gem of the game: A double play in the 3rd inning. With Brandon Jones on first base, Doug Clark grounded to 2B Luis Ordaz, who relayed to SS Brian Bixler, who in turn threw to 1B Steve Pearce (4-6-3).
NOTES:
An unusual occurrence: Brian Bixler was thrown out trying to steal second base in the first inning. It was only the 4th time Bixler has been thrown out in 24 attempts.
Marty McLeary's last win occurred on June 4th — that's 11 starts since his last win.
Go Tribe!
Read More