boxscore photos by NancyZ


The Indianapolis Indians could not make up for the Durham Bulls' 3-run first inning, and lost to the Bulls by a score of 6-3 at Victory Field.
Indians starter Luis Munoz, in his second start with the Indians, found things to be a bit different than his last start, which came on July 4th. There was a smaller crowd at Victory Field (though 11,000 is pretty big, it still isn't the nearly 15,000 sell-out on Fourth of July). This game started an hour later, and he had to contend with shadows moving across the mound and the field. On July 4th, the sky was overcast, and there were no shadows at all. On July 4th, he did give up two runs in the first inning, on back-to-back home runs, but then his teammates picked him right up by scoring 4 runs of their own in the bottom of the inning, also using back-to-back homers (by Brad Eldred and Russ Johnson). This time when he gave up runs in the first inning, his teammates were not able to bounce right back with as many or more of their own.


Durham's CF Jason Pridie got the first hit off Munoz in the top of the 1st inning, and he stole second base. DH Jon Weber walked, and 1B Wes Bankston followed by grounding an opposite-field double down the right field line, scoring Pridie. 3B Joel Guzman hit a fly ball into the right field corner, for a bases-clearing triple, and the Bulls had a 3-run lead.
DH Adam Boeve (photo) wasted no time in starting a rally for the Tribe. He grounded a single through the infield and into left field. Bull's starting pitcher Jeff Niemann threw one pitch, a ball, to Indians' SS Brian Bixler, and then signaled to his manager. Niemann was removed from the game as a "precaution" for shoulder stiffness, and right-hander Calvin Medlock, who had just been acquired by the Bulls in a trade from the Cincinnati Reds' organization (Louisville), entered the game. With Bixler still at the plate, Boeve stole second base, and then advanced to third base when Bixler singled. LF Michael Ryan drove Bixler home with a sacrifice fly — Ryan's 41st RBI of the season.

Luis Munoz returned to the mound and pitched 3 scoreless innings. He gave up a single and a double in both the 3rd and 4th innings, but both times worked himself out of the jam. In the 5th inning, the Bulls scored again. LF Justin Ruggiano grounded a single up the middle. He stole second base, and moved to third base when the throw to second from C Carlos Maldonado sailed high and into center field. Jon Weber walked, and Wes Bankston's sacrifice fly scored Ruggiano. The inning ended when Joel Guzman grounded into a very smooth double play, SS Brian Bixler to 2B Don Kelly to 1B Brad Eldred (6-4-3).


After the 1st inning, the Bulls' near-starter Calvin Medlock pitched two more scoreless innings, allowing the Indians only one baserunner, when Carlos Maldonado (photo) walked. Medlock was relieved by lefty Jon Switzer to start the 4th inning. RF Yurendell de Caster led off with a walk. He advanced on Brad Eldred's single to left, and scored on Maldonado's RBI single. Switzer pitched two more scoreless innings, giving up a lone hit in each, to Michael Ryan and 3B Jose Hernandez.
Luis Munoz was relieved to begin the 6th inning. In his 5 innings of work, he gave up 4 runs (only the 3 runs in the first inning were earned), on 8 hits, while walking 2 and striking out 4 batters. Jesse Chavez pitched a perfect 6th inning for the Tribe, but had trouble in the 7th inning. With one out, he gave up back-to-back singles to Jason Pridie and Justin Ruggiano, then a 2-RBI double to Jon Weber. A fielder's choice by Wes Bankston forced out Weber at second, with Bankston safe at first. Joel Guzman added another single before the inning ended when Chavez struck out RF Jeremy Owens for Owens' third strikeout of the game. Those two runs increased the Bulls' lead to 6 – 2.


The Indians scored one more time in the 8th inning. Yurendell de Caster led off with a towering blast down the right field line, which landed just inside the right field foul pole for a solo home run. Durham reliever Jeff Ridgway immediately got back his control, though, and struck out the next three Tribe batters.
The 9th inning held a bit of excitement for Tribe fans. Carlos Maldonado led off against Jeff Ridgway with a single to left field. Then infielder Steven Pearce (photo below), who just joined the Tribe from Altoona, pinch hit for 2B Don Kelly for his AAA-level debut. Pearce ran the count full and fouled off an additional pitch before striking out. Two more quick outs sealed the save for Ridgway.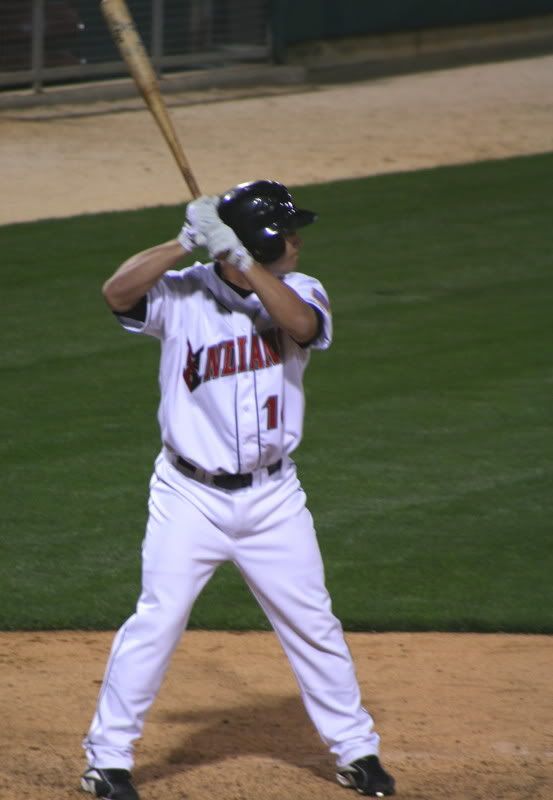 Josh Sharpless pitched the last two innings for the Tribe. He gave up a double and a walk in the 8th, but held the Bulls scoreless. Luis Munoz took the loss, his first with the Indians. Durham's Calvin Medlock earned the win, for a good start with his new team.
Indians' hitting gem of the game: Yurendell de Caster's solo home run in the 8th inning. It was his 8th of the season and his 42nd RBI.
Indians' defensive gem of the game: In the top of the 6th inning, Bulls' C Michel Hernandez lifted a fly ball to right-center field. Tribe CF Luis Matos ran to his left, and made a running, diving catch, to come up with the ball for an out.
NOTES:
Roster moves from today:
RHP Luis Munoz was promoted from Altoona (obviously).
C Milver Reyes was returned to Altoona.
INF Steven Pearce was promoted from Altoona. In 100 games this season (19 with Lynchburg and 81 games with Altoona), Pearce was hitting .337, with 25 HR and 96 RBI.
C David Parrish was promoted from Altoona. Parrish spent about 6 weeks with the Indians in May and June, and hit .212 with 2HR and 5 RBI.
OF Chris Aguila was placed on the Disabled List.
Summary of Roster moves from the past 10 days:
7/19- RHP Ricardo Rodriguez activated from the DL and released.
7/20- LHP Michael Tejera sent to Altoona;
RHP John Wasdin cleared waivers and was sent to Indianapolis.
7/21- RHP Kip Bouknight sent to Altoona;
LHP Michael Tejera recalled from Altoona.
7/23- RHP Mark Cory placed on the DL.
7/25- INF Don Kelly cleared waivers and was sent to Indianapolis.
7/26- RHP John Wasdin placed on the DL (right wrist injury);
C Humberto Cota placed on the DL.
7/27- C Milver Reyes promoted from Altoona;
RHP Bret Prinz signed by the Pirates as a minor league free agent and sent to Indy.
7/29- RHP Jonah Bayliss recalled to Pittsburgh.
John Van Benschoten was in the dugout and in uniform, though not mentioned on the official roster as yet.
Bulls' DH Jon Weber had his bat slip out of his hands while swinging three times tonight. The first time, the bat landed harmlessly behind the plate. Twice, though, the bat sailed into the stands behind the Durham dugout. Luckily, no one was injured. A man sitting in the row in front of me and two seats over caught the bat one of those times, keeping several other people from getting hit. Apparently last week, when Durham was at Victory Field, Weber also sent a bat sailing into the stands down by first base.
Go Tribe!
Read More