boxscore
(photos by NancyZ)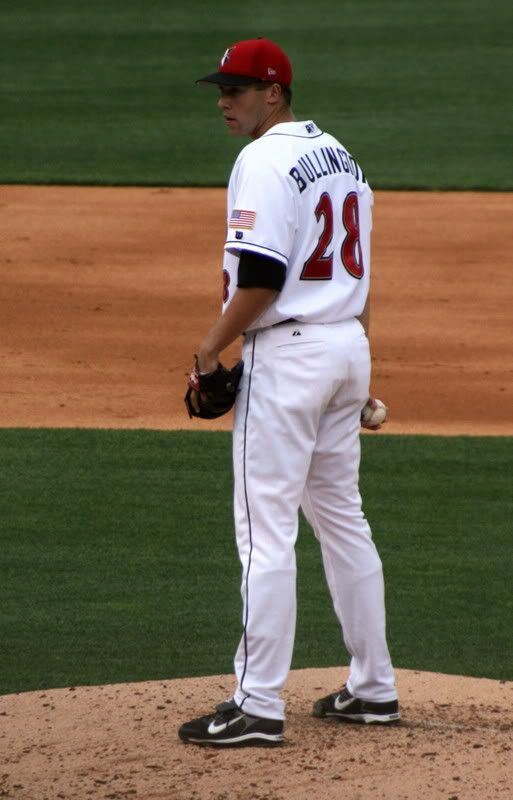 This is a strange feeling: being happy that Mike Hessman and Brandon Moss have hit home runs.
The International League All-Stars displayed some early fireworks, and then used the power of pitching to hold on to their lead, beating the Pacific Coast League All-Stars by a score of 7-5 tonight in Isotopes Park in Albuquerque, New Mexico. Indianapolis Indians' representatives to the International League team, starting pitcher Bryan Bullington, shortstop Brian Bixler, and infielder Yurendell de Caster, all got into the game.
The International League All-Stars jumped out to a big start in the top of the first inning. Rochester's Matt Tolbert was hit by a pitch, Toledo's Timo Perez doubled to score Tolbert, and then Toledo's Mike Hessman and Pawtucket's Brandon Moss hit back to back home runs. That gave IL starting pitcher, our own Bryan Bullington (photo), a 4-run stake when he took the mound in the bottom of the inning.
Bullington struck out the first two Pacific Coast League batters. Then Tacoma's Adam Jones doubled to center field, and Albuquerque's Val Pascucci homered to left field, cutting the IL's lead to two runs. Bullington struck out the next batter, to end the inning.


Brian Bixler (photo), starting shortstop for the IL team, led off the top of the second inning with a single off the glove of the PCL's shortstop, Colorado Springs' Clint Barmes. Bixler did what he's been doing in Indianapolis all season — he stole second base. Columbus's Brandon Watson, who set a new IL record with his 43 game hitting streak last month, doubled into left field, scoring Bixler.
Bullington returned to pitch a scoreless bottom of the 2nd inning, the first half-inning of the game in which runs were not scored. He gave up a walk to Nashville's Vinny Rottino, but left him stranded on base, and struck out Salt Lake City's Terry Evans in the process. Bullington threw 33 pitches (21 for strikes) in his two innings, giving up 2 runs on 2 hits and one walk, with 4 strikeouts.

Brian Bixler led off the 4th inning as well, and added an insurance run for the IL. He reached first base safely, when he hit a grounder to PCL third baseman, Albuquerque's Scott Seabol, whose throw to first base bounced near the bag and caromed off. Bixler promptly stole second base again, this time without even drawing a throw from the PCL catcher Rottino. Rochester's Matt Tolbert lined a single into center field, allowing Bixler to score easily from second base. Toledo's Timo Perez also singled, scoring Tolbert, and the score was 7-2 in favor of the IL.
The Pacific Coast League came back with three runs in the bottom of the 4th. Omaha's Craig Brazell homered off another IL pitcher, Pawtucket's Travis Hughes. Terry Evans doubled and Vinny Rottino walked, and a wild pitch by Hughes advanced them to third and second bases. Clint Barmes' sacrifice fly scored Evans, and a single by Iowa's Eric Patterson scored Rottino, lifting the score to 7-5.
Pitching dominated after the 4th inning. IL pitchers struck out a total of 11 batters, and PCL pitchers struck out 8. No pitcher stayed in the game for more than an inning after Bullington's two for the IL in the 1st and 2nd, and the PCL's (Portland) Jack Cassel's two in the 2nd and 3rd.
In the top of the 6th, Brian Bixler came to bat one more time, against Travis Driskill of Round Rock. Bixler struck out, as Driskill set the side down in order. Bixler also struck out on a foul tip in the top of the 9th, against Tucson's Chad Harville.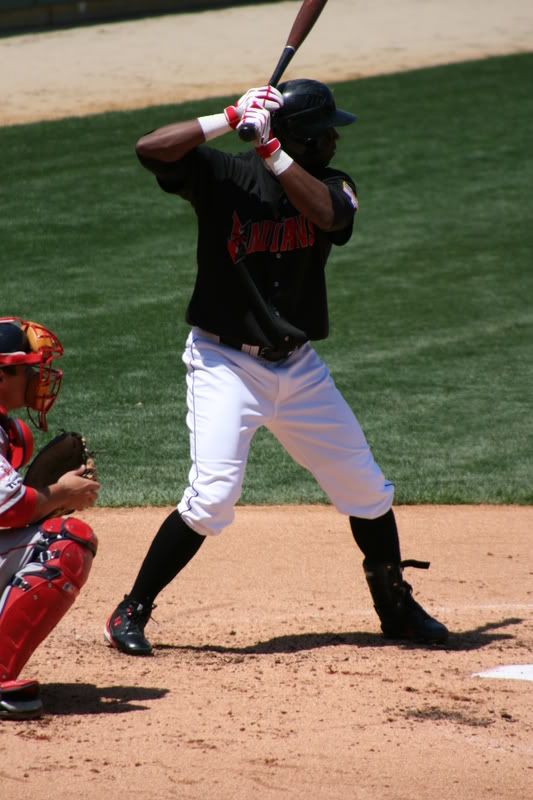 Yurendell de Caster (photo) entered the game in the bottom of the 6th, as a defensive substitution at third base. Two former Indianapolis Indians also entered the game in that inning: Mark Johnson (with the Indians in 2004), now playing for Tucson, batted for C Vinny Rottino (grounded out to second), and stayed in the game to catch for the PCL; Jim Brower, with the Indians earlier this season, and now pitching for Columbus, came in to pitch. Brower faced only one batter, Albuquerque's Robert Andino, and induced a fly out to end the inning.
De Caster got an at-bat in the top of the 7th, and he grounded to the second baseman, for a force-out at second.
The PCL threatened in the 8th inning. De Caster had an assist for the first out, handling a routine grounder to third base. Sacramento's Daric Barton singled, Colorado Springs' Sean Barker doubled, and former Indian Mark Johnson walked. But IL pitcher, Rochester's Bobby Korecky, struck out Robert Andino to end the inning with the bases loaded.
Norfolk's Cory Doyne, the IL leader in saves with 26, came in to pitch the bottom of the 9th for the IL. He got a strike out, a ground out, gave up a single to Tacoma's Adam Jones, and then struck out Albuquerque's Val Pascucci to end the game.
Indians' Bryan Bullington was the winning pitcher. PCL starter, Tacoma's Justin Lehr, took the loss. He pitched only the first inning, giving up 4 runs on one walk and 3 hits, 2 of which were homers. Norfolk's Cory Doyne earned a save. The MVP of the game was Toledo's Timo Perez, who went 3 for 4 with a double and 2 RBI. Indians' Brian Bixler was one of 3 IL All-Stars who played the entire game; also playing the entire game were Timo Perez in left and then center field, and Pawtucket's Brandon Moss in right field. For the PCL, Iowa's Eric Patterson at second base, Tacoma's Adam Jones in center field, and Albuquerque's Val Pascucci at DH all played the entire game.
NOTES:
Oops –ESPN2′s broadcaster Eduardo Perez, in giving the after-game wrap up, said that Bryan Bullington's four strikeouts in two innings should be good news for the "Milwaukee Brewers".
The "Zooperstars", who appeared in last Saturday's game here in Indianapolis, entertained between innings of the game.
Next year's AAA All-Star Game will be held at Slugger Park in Louisville, KY. (Close enough for a road trip?)
Go Tribe!
Read More