boxscore (photos by NancyZ )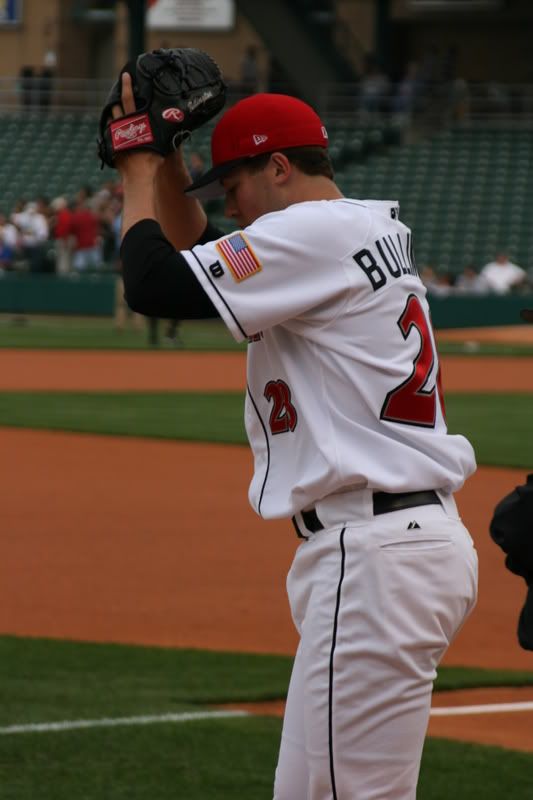 The Indianapolis Indians had to play catch-up ball against the Charlotte Knights in last night's game at Knights' Stadium, but they fell just one run short, as the Knights beat the Indians by a score of 4-3. Perhaps the most worrisome part of the loss was the loss of Tribe starter Bryan Bullington (photo ) after just one inning, due to shoulder soreness.
Bullington started the game by walking Knight's LF Scott Podsednik. 2B Jason Bourgeois grounded into a fielder's choice, forcing Podsednik out at second base, and leaving Bourgeois safe at first base. A double by CF Ryan Sweeney moved Bourgeois to third base, and an intentional walk to SS Tomas Perez loaded the bases. Bourgeois scored when a Bullington threw a wild pitch.
Bullington had thrown only 24 pitches in the inning, but shortly after he came back to the dugout at the end of the inning, pitcher Michael Tejera was seen running down to the bullpen and starting a warm-up. Tejera was given all the warm-up time he needed, and he entered the game to pitch in the bottom of the 2nd inning. The official word came from the Indians' clubhouse: Bullington had been taken out of the game as a precaution, complaining of right shoulder discomfort. Since it is just his first year — first few months — back to pitching after missing a season due to surgery, the Indians and the Pirates want to be very careful with Bullington.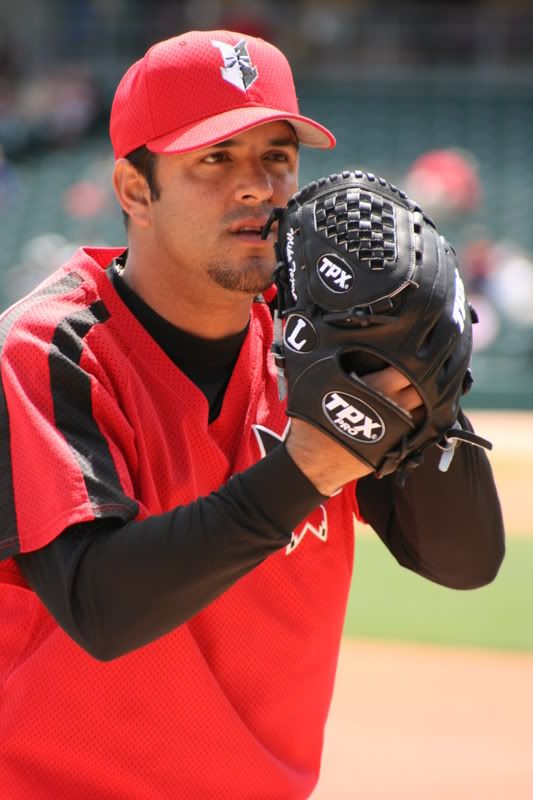 Michael Tejera (photo ) pitched 5 innings for the Indians. He allowed only three hits and didn't walk any Knights. Two of the hits he allowed, though, were solo home runs by 3B Gustavo Molina, one in the 2nd inning and one in the 5th inning.
"(Gustavo) Molina had a really good day at the plate, and you have to tip your cap to a guy like that", said Tejera after the game. "The first home run was a pitch over the middle of the plate, and he took advantage of it. The second home run was actually a pretty good pitch — down and in — and he just got it. Molina really gave Charlotte a big lift today."
Brian Rogers relieved Tejera for the 7th, with a perfect inning. Jesse Chavez pitched the 8th inning and allowed the Knights' final and winning run. With one out, Scott Podsednik doubled, and he scored when Jason Bourgeois singled to left field.
Knights' starter Gavin Floyd held the Indians to 5 hits scattered over 7 innings. He walked 3 and struck out 8 Indians' batters. It took the Indians until the 5th inning to put a run on the board. LF Michael Ryan reached base when Knights' 2B Bourgeois made a fielding error on a ground ball. 1B Chris Truby's single moved Ryan to second, and SS Nick Green's single scored Ryan.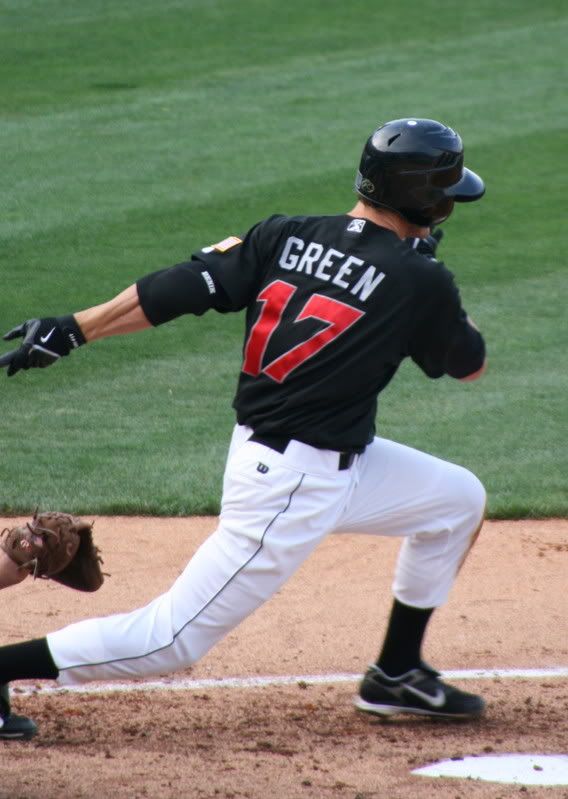 The Indians added another run in the 6th. RF Yurendell de Caster doubled into center field, and advanced to third when 3B Russ Johnson grounded out to shortstop. C Einar Diaz lined an RBI single into center field to bring in de Caster.
The Tribe entered the 9th inning behind by two runs. Things started looking hopeful when DH David Parrish lined a double to left field with one out. Nick Green's (photo ) single to center plated Parrish, and the Indians were only down by one run. But the game ended on an odd double play. With 2B Brian Bixler batting, Nick Green was leading off first, looking as if he was thinking about stealing second base. On the 3-2 pitch, Bixler swung and missed for a strike out. Green broke for second base late, and was caught in no-man's-land about a third of the way from first to second base, and was easily tagged out to end the game.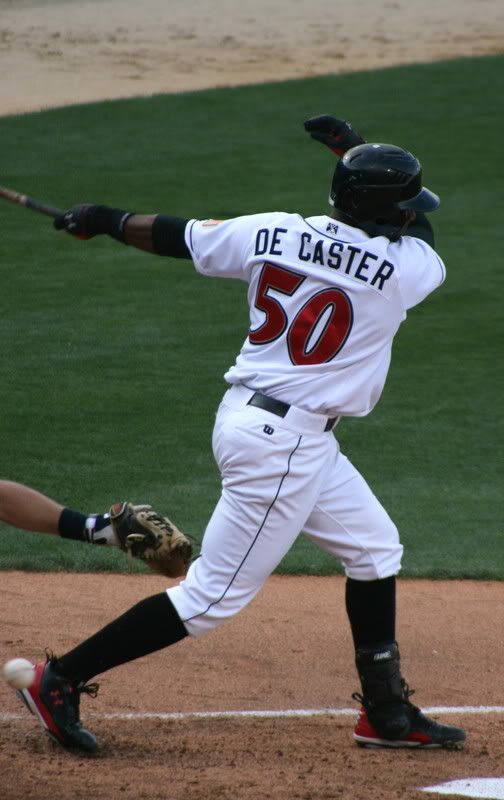 Bryan Bullington took the loss, despite having only pitched one inning. It was his 3rd loss of the season. Bullington still leads the International League with 9 wins. His ERA is not 2.83. Gavin Floyd earned the win, making his record now 4-3, with a 3.58 ERA. David Aardsma, who pitched the last two innings for the Knights', earned his first save.
Indians' hitting gem of the game: Yurendell de Caster and Nick Green each had two hits in the game, with a double for de Caster and 2 RBI for Green. De Caster is currently the International League batting leader, with a .348 AVG. He also has a league-leading on-base percentage (OBP ) of .457. His OPS is .932, fourth in the league.
Indians' defensive gem of the game: The double play by Knights' Craig Wilson to end the third inning, going Nick Green to Brian Bixler to Chris Truby (6-4-3 ).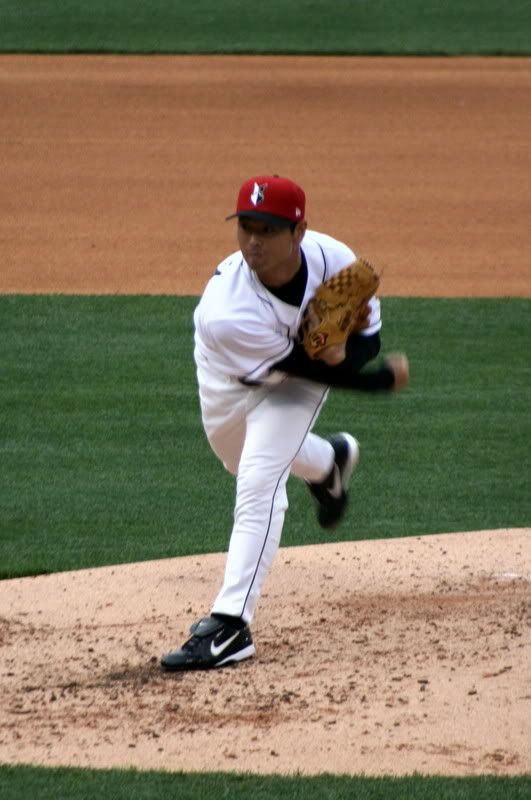 NOTES:
No news yet today (Monday) about Bryan Bullington's shoulder status.
Sean Burnett is expected to start throwing again in the next few days, with the hope that he'll be back pitching before the end of the month.
Dream come true: Masumi Kuwata (photo ) pitched in his first US Major League game yesterday. Wearing #18, the number he wore for 20 years with the Yomiuri Giants, Kuwata pitched two innings for the Pittsburgh Pirates in their game against the New York Yankees in New York. Kuwata pitched a perfect 5th inning. He had some trouble in the 6th inning, though. Kuwata first got Johnny Damon to fly out and Derek Jeter to line out to shortstop. Then Bobby Abreu took a 3-2 pitch for a walk. Alex Rodriguez took the first pitch he saw from Kuwata over the right field wall for a 2-run homer. Kuwata then walked former Yomiuri Giants teammate Hideki Matsui before getting Robinson Cano to pop up to end the inning.


Indians' manager Trent Jewett (photo ) has a blog on the Indianapolis Star site. In his first entry, he talks about Masumi Kuwata being on the team.
Don't forget to vote our Indy Indians onto the International League All-Star Team! Vote at either of these two sites:
www.milb.com
www.indyindians.com
Go Tribe!
Read More