boxscore (photos by NancyZ)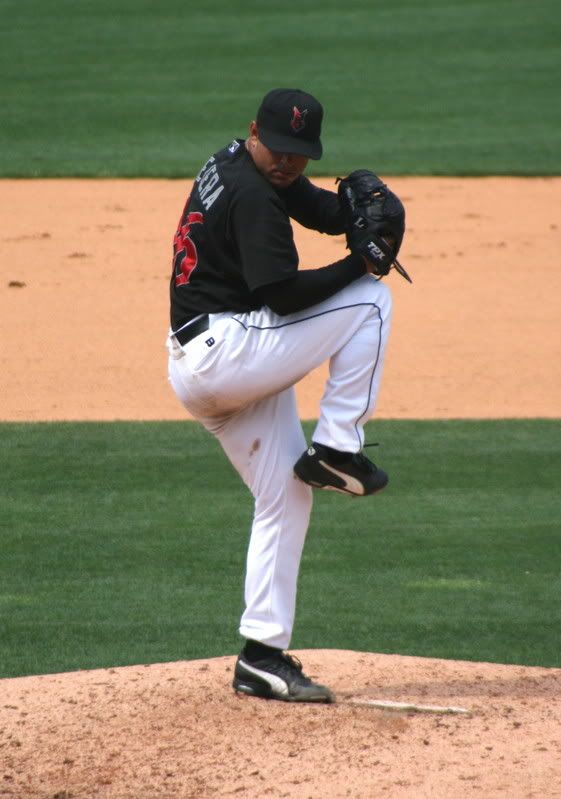 The Indianapolis Indians led from the bottom of the first until the top of the ninth, when the Scranton/Wilkes-Barre Yankees came from behind to score two runs and win the game by a score of 3-2 at Victory Field this afternoon. The Indians have now lost 9 of their last 10 games and are 6 games behind the first-place Toledo Mud Hens in the International League West Division.
Tribe starter Michael Tejera (photo) went 7.2 innings in his 11th start for the Indians. He threw 101 pitches, and gave up 8 hits and 2 walks for 1 run, with 2 strikeouts. The game opened with a spectacular play by Indians' 1B Brad Eldred, who made a leaping stab of Yankee CF Brett Gardner's line drive that looked like it was going into right field, probably for two bases. RF Justin Christian followed with a nearly identical line drive, that Eldred couldn't catch — because he didn't have a ladder in his back pocket. This one sailed about 10 feet higher, over Eldred's head, for a double. Tejera was not bothered, though, and he ended the inning with a quick foul pop out and a grounder.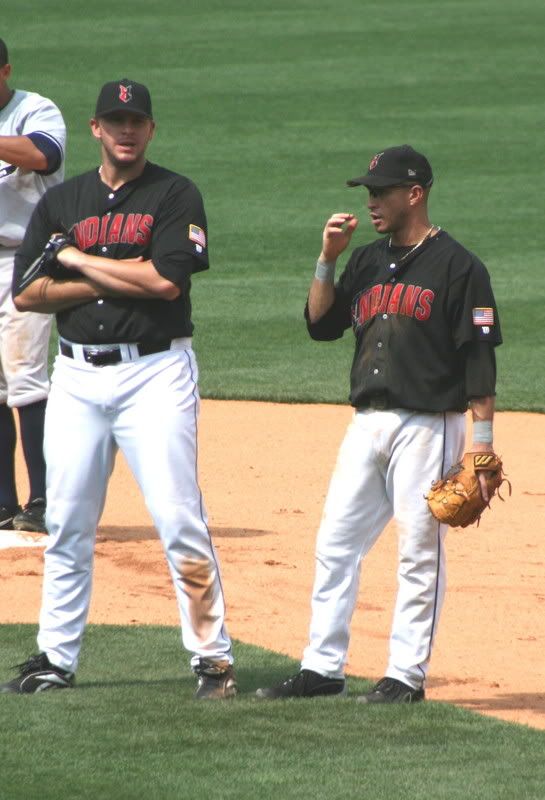 The single run off Tejera came in the second inning, when lead-off batter DH Erubiel Durazo walked and moved to second base on Tejera's wild pitch. A single into right field by SS Angel Chavez moved Durazo to third base, and an RBI single up the middle by 2B Andy Cannizaro scored Durazo. The inning ended when C Omir Santos grounded into a double play, SS Brian Bixler to 2B Luis Ordaz to 1B Brad Eldred. (photo: Eldred and Ordaz)
Tejera then pitched five scoreless innings, three of which were perfect. The closest he allowed the Yankees to come was in the 5th inning, when 3B Chris Basak and Andy Cannizaro led off with back-to-back singles. Omir Santos flied out to just behind shortstop for the first out. A walk to Brett Gardner loaded the bases. But Justin Christian grounded into a double play, also Bixler to Ordaz to Eldred (6-4-3) to end the threat without a run scoring. Tejera got the first two outs in the 8th inning, and then Christian's grounder back towards the mound bounced off Tejera's glove and to the left of Tribe 2B Luis Ordaz, who had been moving to his right. Ordaz was able to change directions fast enough to keep the ball from going into the outfield, but not fast enough to make a play at first base. That was 101 pitches for Tejera, and his afternoon's work was over.
?From a physical standpoint, I feel real strong," said Tejera in an interview after the game. "I?ve been starting for over a month now, so there?s no problem in getting to 100 pitches. I?ve been a starting pitcher and a relief pitcher at different points in my career, and I?ve enjoyed both roles. I?ve had some tough luck with wins and losses this month, but I have to stay focused on the things I can control. I feel like I pitched pretty well today. I just tried to make good pitches, and the defense did a nice job behind me. I just try to give us a chance to win every time I pitch, and I feel like I did that today.?
Juan Perez entered the game in relief of Tejera, to face left-handed batter LF Kevin Reese. Reese ran the count full and then walked. That was all that manager Trent Jewett wanted from Perez, and Jonah Bayliss came in to face righty 1B Shelley Duncan. With runners on first and second, Duncan clearly smelled a big hit. But Bayliss had other ideas, and with the count 1-2, he threw strike three right past Duncan's Casey-at-the-Bat-type huge swing.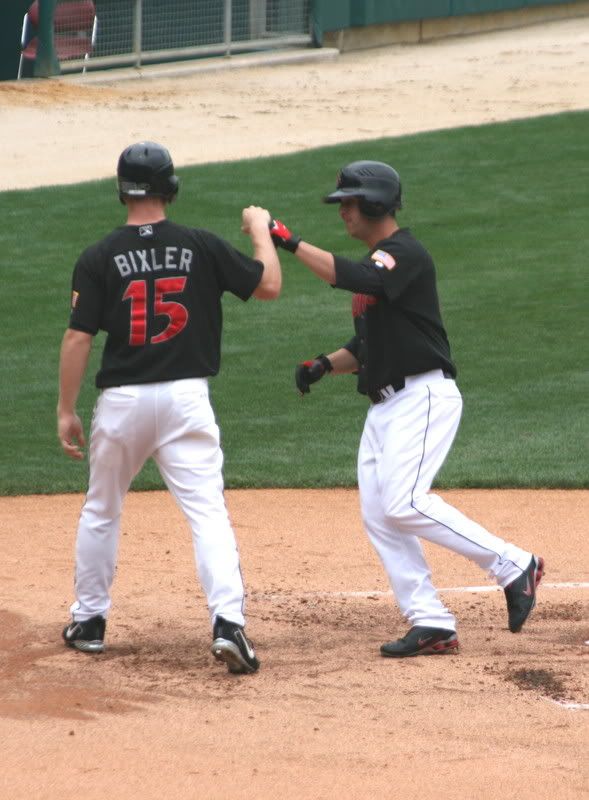 The Indians started off faring better against Yankees' starter Steven White. With one out in the bottom of the first, SS Brian Bixler slapped a single into center field, and LF Michael Ryan followed with a blast over the left-field wall, just to the center-field side of the scoreboard. White hit 1B Brad Eldred on the arm with a pitch, and then hit CF Luis Matos on the left side with another pitch, but he settled down and got two foul pop outs by RF Yurendell de Caster and C Humberto Cota to end the inning.
White pitched five more innings, giving up only three hits, singles to DH Chris Aguila and Brian Bixler, and a double to Michael Ryan. Ryan reached third base on a error when Yankees' RF Justin Christian had trouble picking up the double, but he was left standing there at the end of the inning. In the 5th inning, the Tribe again got a base runner to third base, when Brian Bixler singled, stole second base, and moved to third on a ground out. But he too was stranded when a foul pop out ended the inning.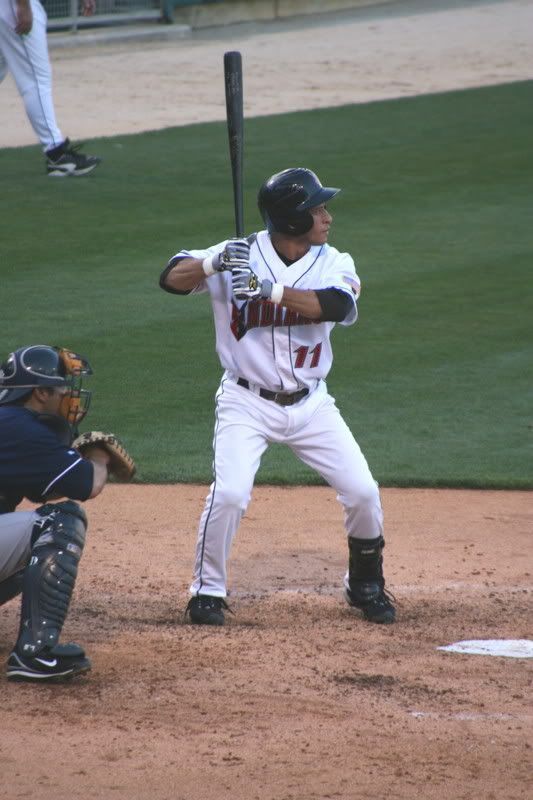 Reliever Sean Henn came in to pitch the 7th and 8th innings. He gave up only a single to Luis Ordaz (photo), who advanced to second base on a wild pitch and tagged up and ran to third on a fly out to deep right field. Ordaz was the third baserunner the Indians left standing on third base, though, as a line out ended the inning without a run scoring.
The top of the 9th brought disappointment for the Tribe. DH Erubiel Durazo walked, and moved to second base on a short infield bounce by SS Angel Chavez. Yurendell de Caster, who had moved from RF to 1B for the 9th inning, bobbled the ball, and was still able to fire to first base to get Chavez, but he had been clearly thinking about a force out at second base. Jonah Baylis struck out Chris Basak for the second out. Andy Cannizaro lined a single into right field, scoring Durazo from second base, to tie the game at 2-2. Eric Duncan pinch hit for Omir Santos, and lifted a fly ball to deep right field that bounced off the top of the wall for a double, missing a home run by a few feet. That brought Cannizaro across the plate with the go-ahead run. Bayliss got Brett Gardner to line out, ending the inning.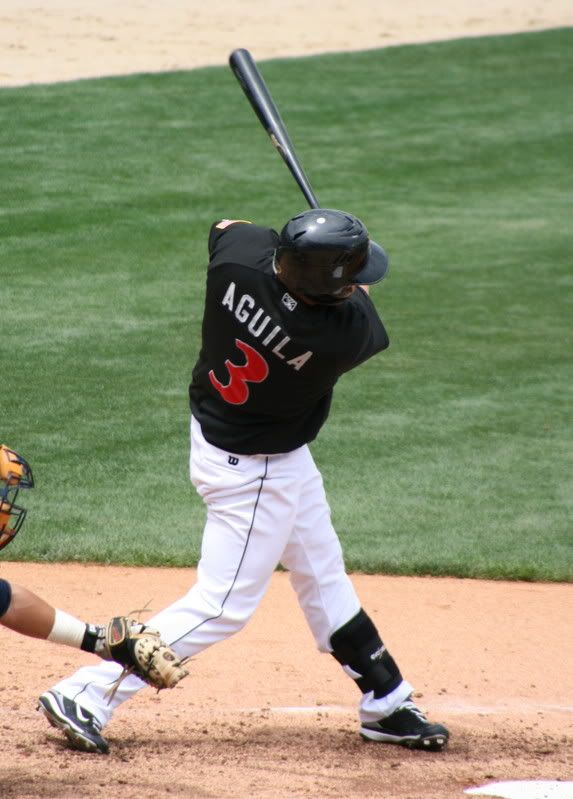 Former Indian Jim Brower came on to pitch the bottom of the 9th inning for the Yankees. The Indians were determined to fight, and they led off the inning with back-to-back singles by Humberto Cota and Chris Aguila (photo). Luis Ordaz tried three times to put down a sacrifice bunt, and he was out when all three attempts went foul. RF Adam Boeve flied out to center field. Brian Bixler hit a high bouncer toward shortstop, and was able to reach first base safely before the bounce came down, for an infield hit. With the bases loaded and two out, Michael Ryan grounded toward second base, for a fielder's choice, forcing Bixler out at second base to end the game.
Yankees' reliever Sean Henn earned his first win of the season for the Yankees, while Jim Brower recorded his 18th save. Jonah Bayliss got the blown save and his second loss of the season for the Indians. Brian Bixler had three singles for the Tribe, and Michael Ryan had a double and a homer. Chirs Aguila had two singles.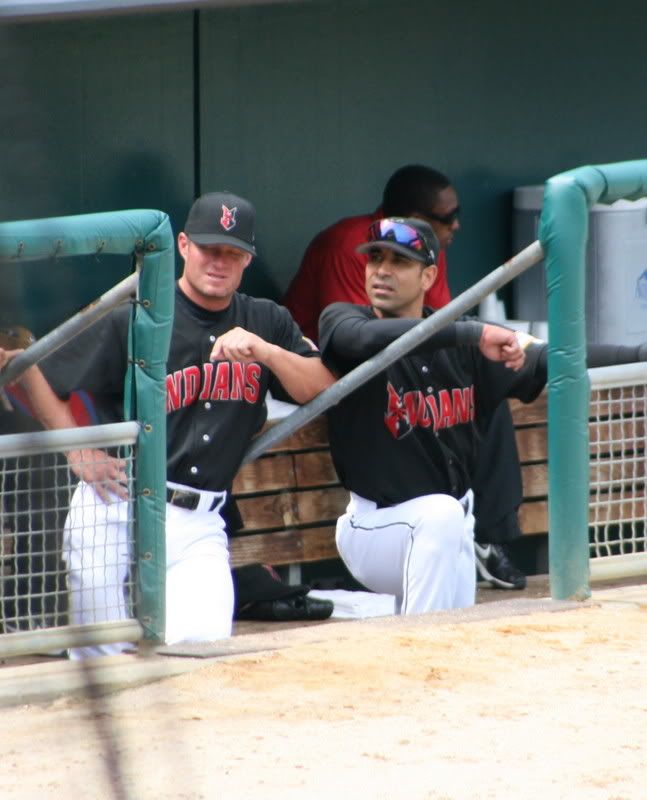 (photo: Russ Johnson and Jose Hernandez in the dugout)
Indians' hitting gem of the game: Michael Ryan's two-run homer in the first inning — the only scoring the Indians had in the game.
Indians' defensive gems of the game: Three timely double plays by the infield. The most important one came in the 5th inning with the bases loaded and one out: Brian Bixler to Luis Ordaz to Brad Eldred. The double play in the second inning came with runners at first and second bases and was also Bixler to Ordaz to Eldred. The one in the 4th inning came with the lead-off hitter at first base and none out, and went Ordaz to Bixler to Eldred.
NOTES:
Brian Bixler's stolen base was his 21st of the season, in 23 attempts. Brad Eldred also stole second base, which was his 4th stolen base in 6 attempts.
The Pirates have signed first-round draft pick Daniel Moskos, a pitcher from Clemson University. His signing bonus is reported to be $2.5 million. Moskos is expected to do some conditioning work in Bradenton, and probably make a couple of starts with Bradenton's GCL Pirates. Then the 21-year old will probably be assigned to Hickory.
The bullpen's socks-up program didn't seem to help, and today most of the relievers were back to wearing their pants long, without their socks showing. Jonah Bayliss and Juan Perez always wear their socks up.
Go Tribe!
Read More