The votes have been tallied — some came in on "comments", some were emailed privately, and some were told to me verbally.
OUR Indians MVP for the first half of the season is….
Yurendell de Caster.
"De" is one of the most versatile players you will ever see. He can play outfield, first base, third base, second base, and in a pinch, he can even catch a bit. He has played more first base than ever this season, and has become very comfortable at that spot. Since Brad Eldred joined the team, De has played more frequently in the outfield, with his usual efficiency.
While he started off the season slowly at the plate, by the third week of April, he was hitting over .300, and hasn't looked back. He is currently leading the Indians with a .317 average, which has him tied for 5th in the International League. He is tied for the league lead in on-base percentage with .426. De has hit 14 doubles, one triple, and 3 homers, with 29 RBI, while walking 40 times. The walk totals are the highest he's ever had in his career (in 2006, he walked 35 times in the entire season). The difference this season has been more patience at the plate which has allowed him to see more hitter's counts at the plate, get more hits, and secondarily, get more walks. His splits show that he hits .365 at home and .276 on the road. De has stolen 10 bases in 16 attempts, so when he does get on base, opposing pitchers can't just ignore him. Read more about De's past seasons here.
For excellence both at the plate and in the field, Yurendell de Caster is our MVP for the first half of 2007.
Um, no, unfortunately there is no plaque or watch or ring or even a beer that goes with this award. Just our thanks and our continued cheering and support.
Runner-up:
Bryan Bullington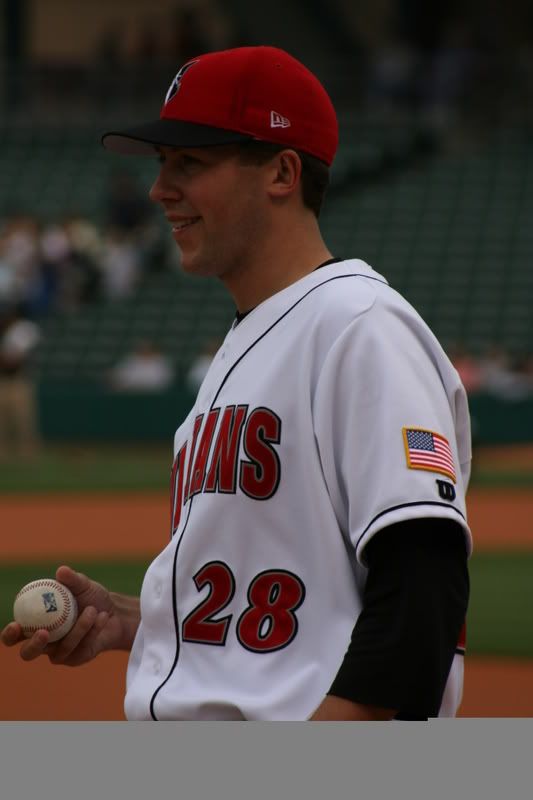 Right-handed starter Bullington is currently tied for the league lead in number of wins on the season, with 9. His overall record is 9-4, in 14 starts, with a 3.43 ERA. Prior to his last two starts, though his record was 9-2, with a 2.75 ERA. He has 47 strikeouts, second highest on the team, and 34 walks. Bryan has a better ERA at home –.292– than on the road — 3.89. He was the Indians' Player of the Month for April. Bryan has had an excellent start to the season, particularly in view of the fact that he missed all of the 2006 season due to surgery.
Read more about Bryan's last couple of seasons here, and read an interview with Bryan.

Also getting votes:
Rajai Davis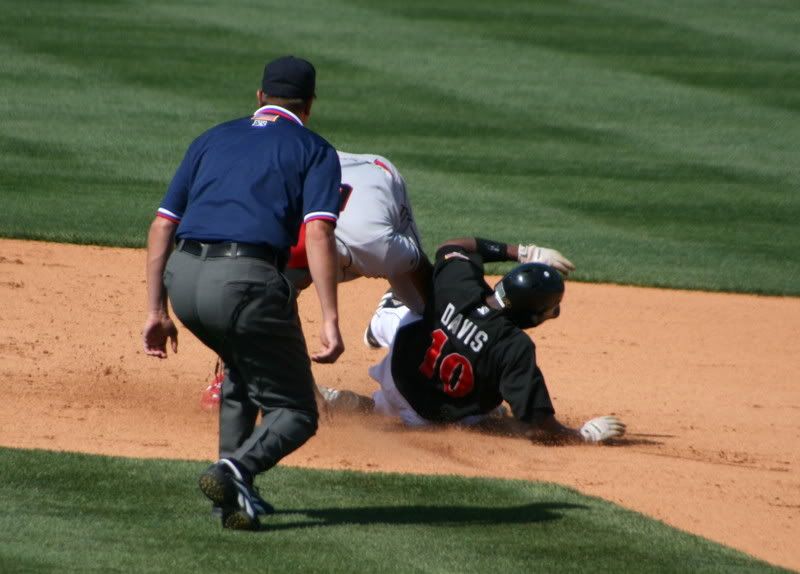 Rajai spent the first two months of 2007 with the Indians. He was hitting .318 with a 21 game hitting streak when he was called up to the Pittsburgh Pirates on June 4th. Rajai had hit 12 doubles, 4 triples, and 4 home runs with 30 RBI at that time. But Rajai's biggest asset is his speed. When he got the call from the Pirates, he was leading the league with 27 stolen bases — more than some entire teams had. It wasn't just that he was taking the bases, either. It was as much how he made the opposing pitchers uncomfortable on the mound. They could never relax with Rajai on base, because they knew he was always thinking of running — they just never knew when. That disruption of the pitchers' concentration led to more hits by the batters following Rajai, and more Indians' runs.
Since being called up to the Pirates, Rajai has appeared in 8 games, and he has a .211 batting average, with 3 stolen bases in 3 attempts. One of his hits was a triple — his speed can create a triple where some other batter/base runners might have to settle for a double.
Read more about Rajai Davis here.
Brian Bixler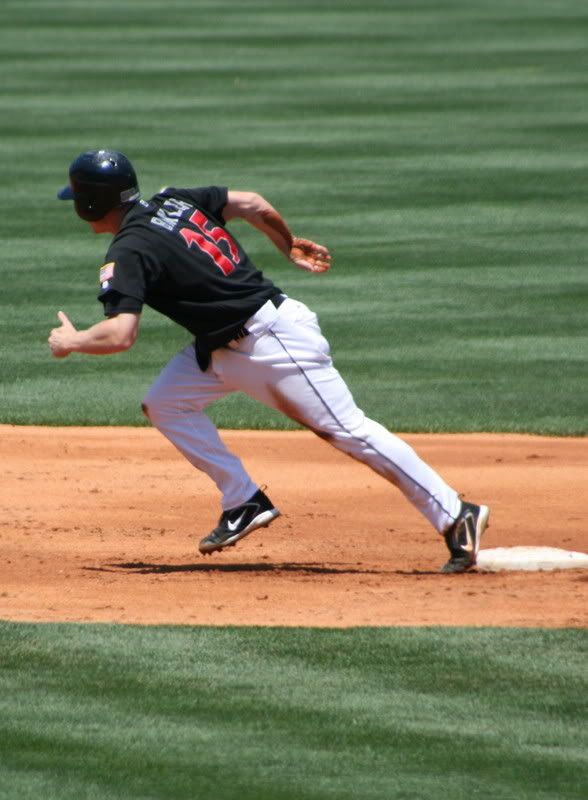 Indians' shortstop Brian Bixler is having an excellent season, particularly since this is his first taste of AAA-level baseball. Brian's batting average is currently .297, though it has been over .300 for most of the season. He leads the team in triples, with 7. He also has 11 doubles and 4 homers, with 30 RBI. Brian's splits are even more interesting. He is hitting .353 against left-handed pitching, and .276 against right-handers. He is batting .347 at home, and .268 on the road, and he's hitting .343 with runners in scoring position. He also has 17 stolen bases, and until just last week he had not been caught stealing at all.
In the field, Brian has been outstanding. He can go deep in the hole and come up with balls that looked certain to get through to the outfield. He can scoop up a ball and start the double play, or make the sure catch and relay throw in the middle of the double play. Bixler has also played a few games at second base, showing his range in the opposite direction.
Read more about Brian here.
Einar Diaz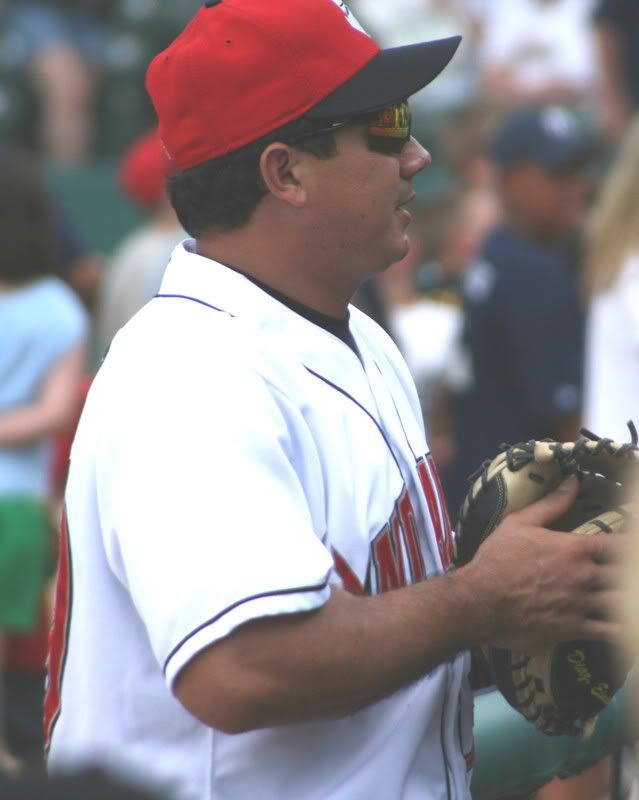 Einar initially joined the team as the back-up catcher, but when Carlos Maldonado broke his hand, Einar stepped up to more regular catching duties. He has appeared in 35 games for the Indians, and is batting .265, with a .331 OBP. He has 8 doubles and 2 home runs, with 13 RBI. Einar is hitting .361 against left handed pitching, and .300 with runners on base. He has also stolen 5 bases this season.
Behind the plate, Einar is known to work well with the pitching staff, and he has the reputation of being able to get to and stop almost any pitch that is thrown — not many get past him. He's always got a smile on his face, and is willing to do whatever the team needs from him. Last year, he even pitched for the Buffalo Bison when an extra pitcher was needed!
Read more about Einar here.
Go Tribe!
Read More