In his last start, Tribe starter Bryan Bullington was able to go only one inning before being removed due to shoulder stiffness and arm tiredness. The plan at this point is for him to miss one start, and then (hopefully) be able to get right back into the rotation. Bullington's record is currently 9-3, with a 2.83 ERA. He is leading the International League in wins, and is third in the league with 76.1 innings pitched. The 26-year old right-hander has given up 63 hits and struck out 46.
Prior to that last start, Bullington had won his last 3 starts, and was particularly tough on his May 31st start, when he pitched 8 innings. A few days ago (but before that last start), Bullington was kind enough to sit down with me and answer some questions.
The game on May 31st was an excellent outing.
BB: Thanks! It was one of the better nights I've had as far as having all my pitches, throwing strikes, and getting ahead of guys… When we're swinging the bat well, you want to get out and back off the field quick so our guys can keep swinging. It was a team effort.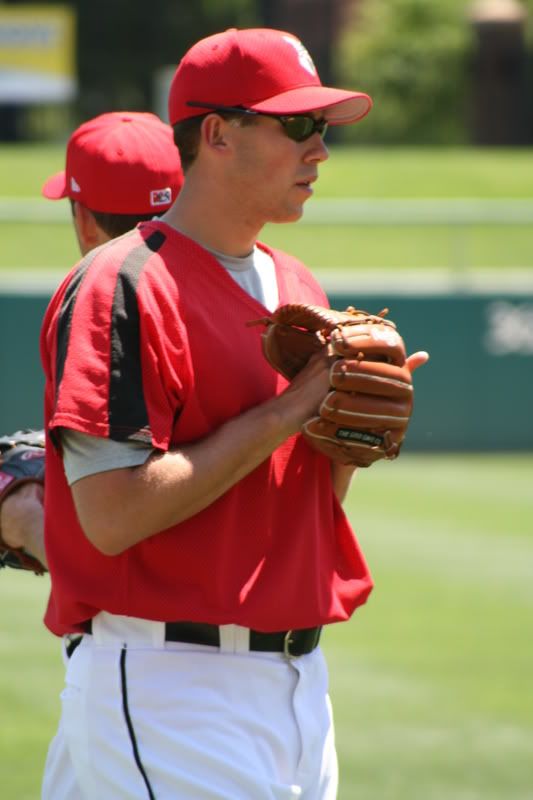 Did you wish you could go out there and swing the bat too?
BB: (laughing) No, I'll let those guys take care of that. That's their job.
How did it feel to face Buffalo outfielder Brad Snyder, who had been your teammate at Ball State?
BB: It was fun. We played at their place (in Buffalo, earlier in May)… We'd gone against each other a few times during fall ball and in college, so this wasn't the first time we'd faced each other in a game situation. He's had a good start to his minor league career these past couple of years, and now he's become a very good player, and has a chance of being a good one in the big leagues as well.
Who has the advantage when you face each other? Does he know what pitches you're throwing?
BB: I don't know…. I'd always rather be in my shoes, because I know what I'm going to throw and what's coming. He's a good hitter, and he's doing a good job at the plate. It's a good challenge. He's seen me pitch a few times, so yeah, he knows what I've got.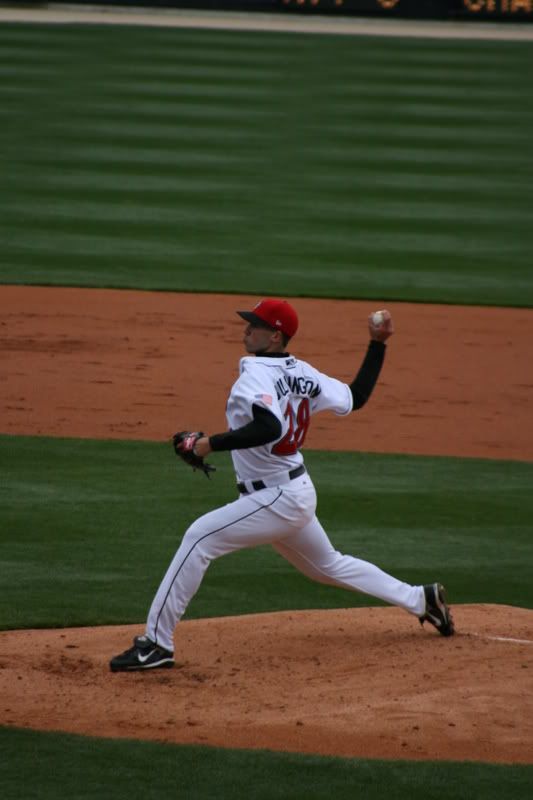 What about these long road trips, and days off on the road?
BB: Long, really long…. it starts to drag on a bit, that's for sure…. Any time you have a day off on the road, it's not a lot of fun. We were able to get out and hit the golf ball a little bit, so it wasn't a lost day.
What do you do on the road, on the bus?
BB: On the bus, it's usually a movie going, listen to music, talk on the phone here and there, catch up with friends and family, hope that time passes. On the road, I try to go to a gym in the morning and get a bite to eat and get to the field. I try to keep myself as busy as possible.
How was it to have Masumi Kuwata on the team?
BB: "Nico" is his nickname. He's a great guy. I got to know him in spring training. He's a hard worker, and he takes his training very seriously… I'm sure he's going to pitch well. I'm sure he's excited about the opportunity.
It won't be long until you get the opportunity to pitch in the majors.
BB: I hope so. I'm going to pitch as well as I can here in Indianapolis, and hopefully force their hand so that they have to make a decision. Keep pitching well, and have the option. We have a couple of guys down here who are throwing the ball really well right now also. Just keep working, keep getting better each time out.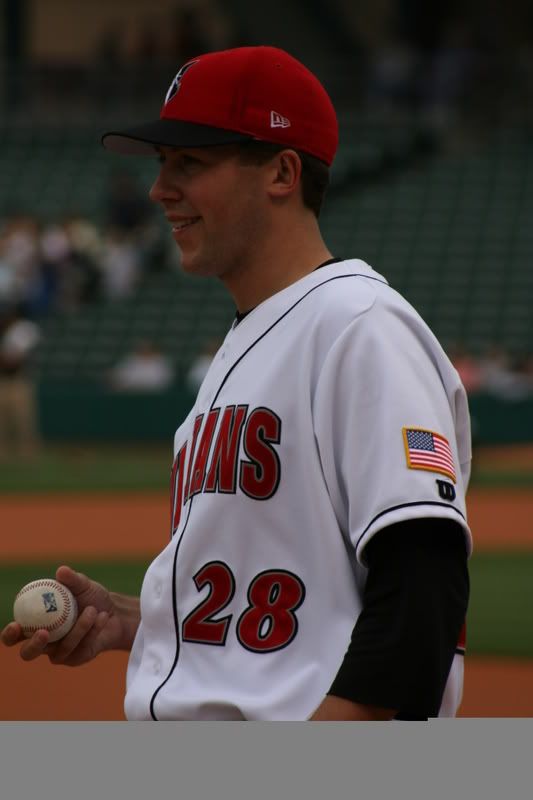 How does it feel to be pitching in Indianapolis, your home town?
BB: It's a fun experience. If you're not going to be in the big leagues, if you're going to be in AAA, then this is definitely the place I'd like to be. My parents live 20 minutes from the ballpark. They get down here to see me start. They are going to get down here during the summer quite a bit. My wife and I had our first daughter in the off-season. So it's been nice. We have a lot of friends and family in the area, so it's been fun.
Does your daughter get to come to the ball games?
BB: She makes it down for the day games, and stays for a couple of innings at some of the night games. It's past her bedtime.
What's your favorite thing about Indianapolis?
BB: We lived here when I was younger, and then my parents moved back here when I was at Ball State. I like it. It's the perfect size town in my mind. There's plenty to do. There's lots of activity. But you don't have the terrible traffic, and you don't have the overpopulation. My wife and I live in Chicago now, so it's a little different. It's a little slower paced (in Indianapolis), which is nice. You have all the activity, plenty of nice golf courses and restaurants, plenty of things to do, so I like it.
Thanks to Bryan for his time!
Go Tribe!
(photos by NancyZ)
Read More