boxscore (photos by NancyZ)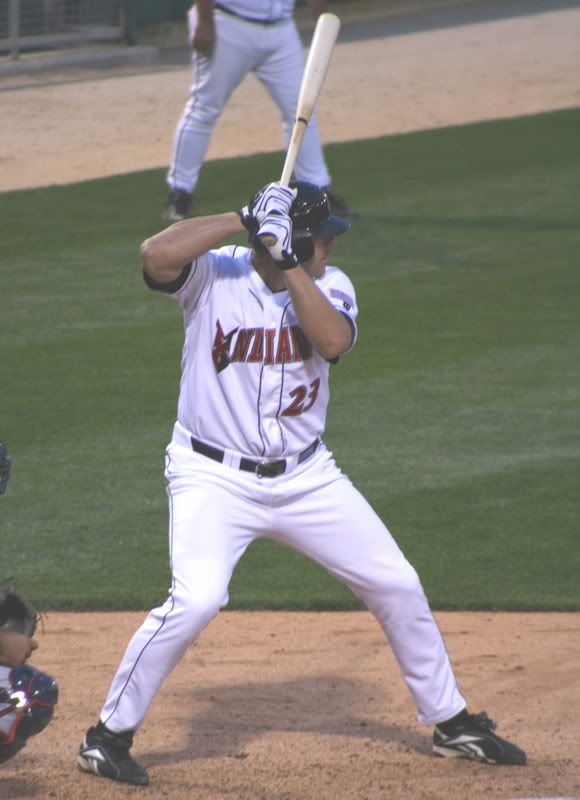 The Indianapolis Indians lost their sixth consecutive game tonight, falling to the Rochester Red Wings tonight at Frontier Field in Rochester, NY. The Indians had a 4-0 lead, but then gave up 8 unanswered runs to the Red Wings, capped by a 5-run 8th inning. The Indians did not slip in the IL West Division standings, since the first-place Toledo Mud Hens and the Louisville Bats both lost their games also. But the Red Wings gained ground on the Indians in the Wild Card race, and now lead the Indians by two games.
Rain delayed the start of the game for 31 minutes. Even after the game started, the rain continued — sometimes harder, sometimes just a drizzle — for most of the game.
Don Kelly led off the first inning for the Indians with a single. Kelly was erased in a double play, and that was the only hit given up by either Indians' starter Marty McLeary or Red Wings' starter Nick Blackburn, until the top of the 5th inning. RF Brad Eldred (photo) blasted a solo homer over the left field wall in the top of the 5th, to give the Indians a 1-0 lead. "I had chased a couple of pitches in my first at bat, so I looked for a good pitch to hit during my second," said Eldred after the game. "The pitcher [Nick Blackburn] left a cutter over the middle of the plate and I took a good whack at it."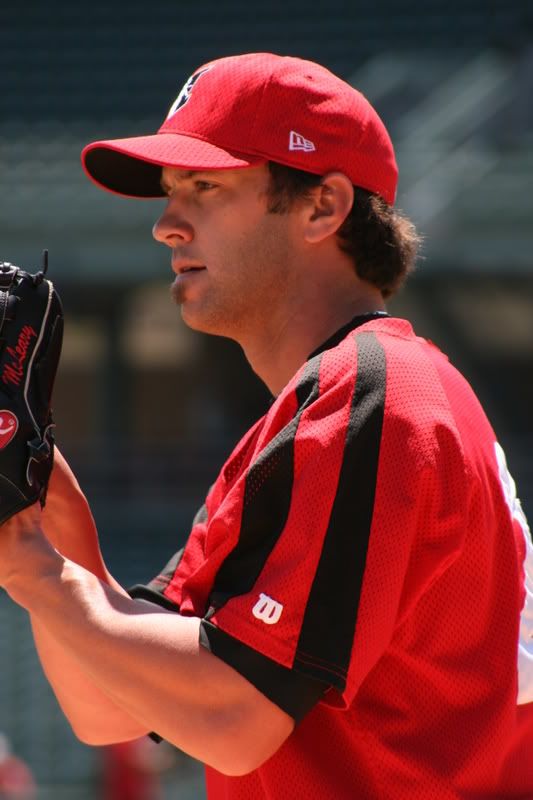 Marty McLeary(photo) did not give up a hit until the bottom of the 5th. With two outs, he gave up back-to-back singles to Red Wings' 3b Brian Buscher and C Jose Morales. McLeary got out of the inning by getting LF Trent Oeltjen to ground out, and the score was still 1-0 in favor of the Indians.
The Indians broke through against Nick Blackburn in the 6th inning. CF Luis Matos led off with a double lined into left field. 2B Luis Ordaz's sacrifice bunt advanced Matos to third base. A squeeze bunt, by 3B Don Kelly brought Matos across the plate, with Kelly reaching first base safely. LF Michael Ryan then homered over the right field wall to give the Indians a 3-0 lead.
Not to be outdone, the Red Wings came right back with three runs of their own in the bottom of the 6th inning. CF Denard Span led off with a triple that bounced off the right field wall. Three consecutive singles by SS Alexi Casilla, 2B Matt Tolbert, and RF Darnell McDonald first scored Span and then loaded the bases. Manager Trent Jewett called to the bullpen and brought in Juan Perez to relieve McLeary. McLeary exited having pitched 5 innings (73 pitches, 48 strikes), and giving up 6 hits and 3 runs, with one strikeout. The first batter Perez faced was DH Doug Deeds, who walked to score Casilla. 1B Glenn Williams grounded into a force out, allowing Tolbert to score. Perez then walked Brian Buscher to load the bases again, but followed with by striking out Jose Morales and then getting Trent Oeltjen to ground out, ending the inning. The Indians were still up by one run, 4-3.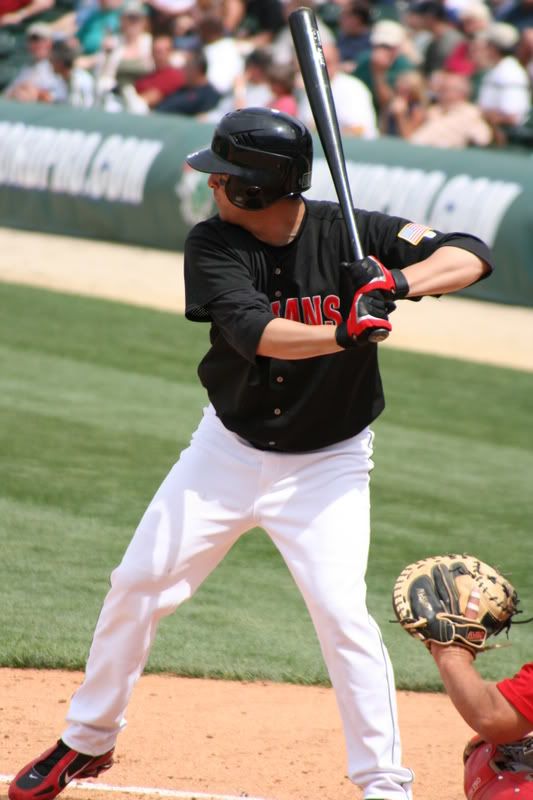 After giving up a single to Brad Eldred to start the 7th inning, Rochester starter Nick Blackburn left the game with an (unspecified) injury to his arm. Brian Bass entered the game, and set the Indians down in order to end the 7th, and returned to pitch a perfect 8th inning.
Josh Sharpless also pitched a perfect inning in the 7th for the Indians, but disaster struck in the 8th, as the Red Wings charged in to take the lead. The inning started with Darnell McDonald reaching base on an error by Tribe 3B Don Kelly, when he bobbled a ground ball. McDonald stole second base and moved to third base on Sharpless's wild pitch. Doug Deeds struck out, and Glenn Williams walked, with pinch runner Tommy Watkins coming in to run for Williams. That was all for Sharpless, and Franquelis Osoria came in to pitch next. Brian Buscher greeted Osoria with a single grounded to right field, scoring McDonald to tie the score. Jose Morales brought the second out of the inning with a strikeout. Then Trent Oeltjen doubled, bringing in Watkins with the go-ahead run. Denard Span plated two insurance runs, Buscher and Oeltjen, with a single. Osoria then walked three consecutive batters, Alexi Casilla, Matt Tolbert, and Darnell McDonald (batting for the second time in the inning), to score Span with the 5th run of the inning. Finally, Doug Deeds grounded out to end the inning.
Brian Bass returned to pitch the 9th inning for Rochester. Michael Ryan (photo above) and Brad Eldred both singled, but Ryan was erased when Jose Hernandez grounded into a double play, and Eldred was stranded on base when Yurendell de Caster grounded out to end the game.
Bass earned the win for the Red Wings, his 3rd of the season. Josh Sharpless took the loss, his 3rd of the season, and Franquelis Osoria had his 4th blown save. Brad Eldred and Michael Ryan accounted for 5 of the 7 Indians' hits. Eldred had three hits, including a solo homer, and Ryan went 2 for 4, with a 2-run homer. Don Kelly also had a single, and Luis Matos hit a double.
"I am ready to end this road trip," said Eldred in a post-game interview. "We need to pick up a win tomorrow so we can carry that vibe home with us. We need to get home [Victory Field] and use it as a turnaround period, so we can have a good start to the second half of the season."
Indians' hitting gem of the game: Two home runs, one by Brad Eldred and one by Michael Ryan.
Indians' defensive gem of the game: Marty McLeary's four no-hit innings pitched.
Go Tribe!
Read More