boxscore (photos by NancyZ)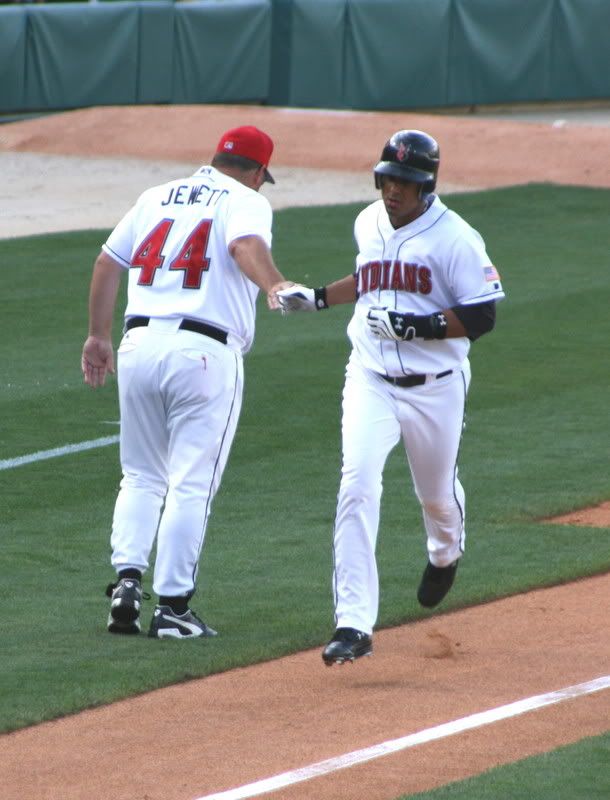 The Indianapolis Indians had the bases loaded four times in three innings, and could only bring one of those base runners home, as they left 13 runners on base in an 8-5 loss to the Scranton/Wilkes-Barre Yankees at Victory Field tonight. The Yankees' batters blasted three home runs, while CF Luis Matos homered for the Indians (photo — manager Trent Jewett congratulates Luis Matos). The loss drops the Indians to 5 games behind the first-place Toledo Mud Hens in the International League West Division.
Indians' starting pitcher Bryan Bullington had a tough first inning. He struck out two batters, but gave up singles to Yankee's RF Justin Christian, who then stole second base, DH Shelley Duncan, and SS Angel Chavez. Duncan's single scored Christian, and Chavez's scored Duncan, to give the Yankees a 2-0 lead.
After the first inning, Bullington settled down. He pitched four perfect innings, including three more strikeouts.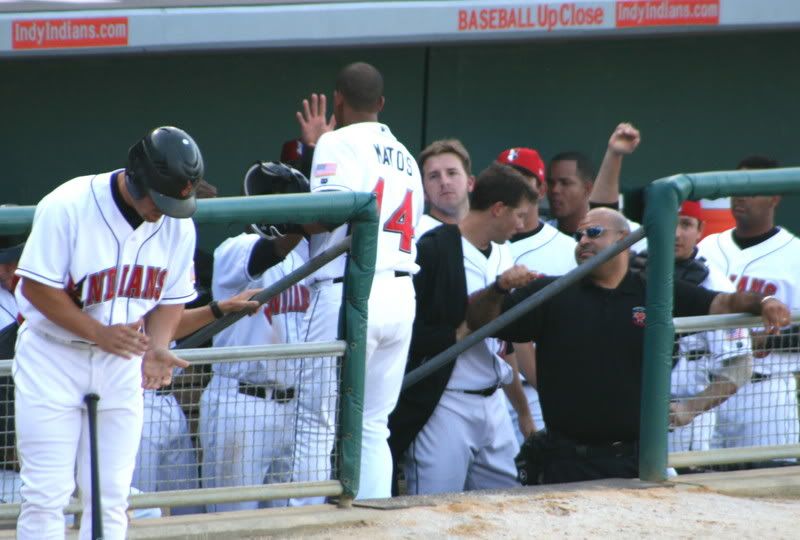 Yankees' starter Tyler Clippard held off the Indians for the first two innings, but the Indians got on the scoreboard in the 3rd inning. CF Luis Matos (photo) led off the inning by smashing a solo home run over the left field wall, over the grass berm, and all the way to the sidewalk beyond. DH Russ Johnson singled into center field and advanced to second base on a Clippard wild pitch. SS Brian Bixler's ground out moved Johnson to third base. LF Michael Ryan lifted a lazy-looking single into center field, which scored Johnson. 1B Brad Eldred also singled, which advanced Ryan to third, and then Eldred went to second when Clippard threw a second wild pitch. A walk to 3B Jose Hernandez loaded the bases with two out. But the Indians couldn't go any further than a 2-2 tie score, as RF Yurendell de Caster, who had a .364 batting average with the bases loaded, ended the inning by striking out.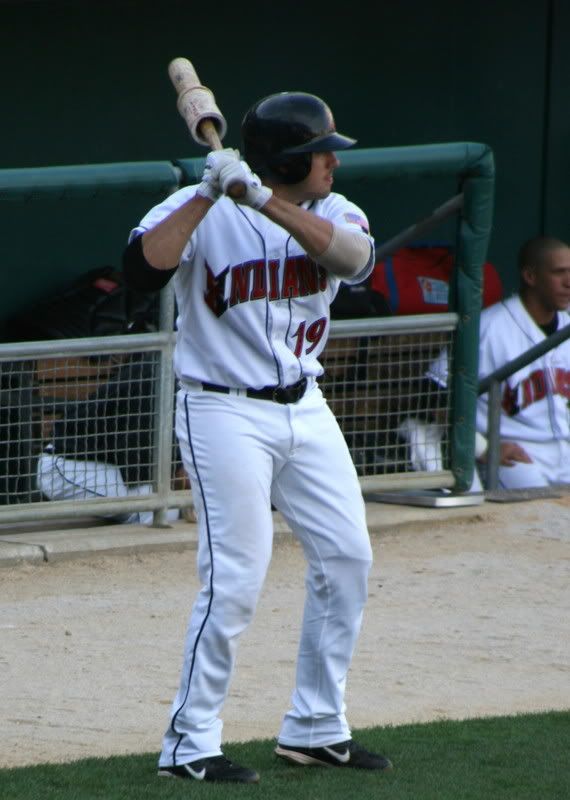 In the 5th inning, the Tribe added two more runs. Yankees' Tyler Clippard gave up back-to-back singles to Brian Bixler and Michael Ryan, then hit Brad Eldred in the left arm with a pitch to load the bases. Jose Hernandez struck out,and then Yurendell de Caster worked a walk, forcing in a run (Bixler). Clippard headed for the showers, and reliever Steven Jackson entered the game, with the bases still loaded and one out. C Humberto Cota (photo) lifted a long fly ball to the deepest part of left-center field (which would have been a grand slam in many other parks) for a sacrifice fly, scoring Ryan and moving Eldred to third base. Luis Matos was hit by a pitch, again loading the bases. A fielder's choice grounder by 2B Luis Ordaz forced out Matos at second to end the inning.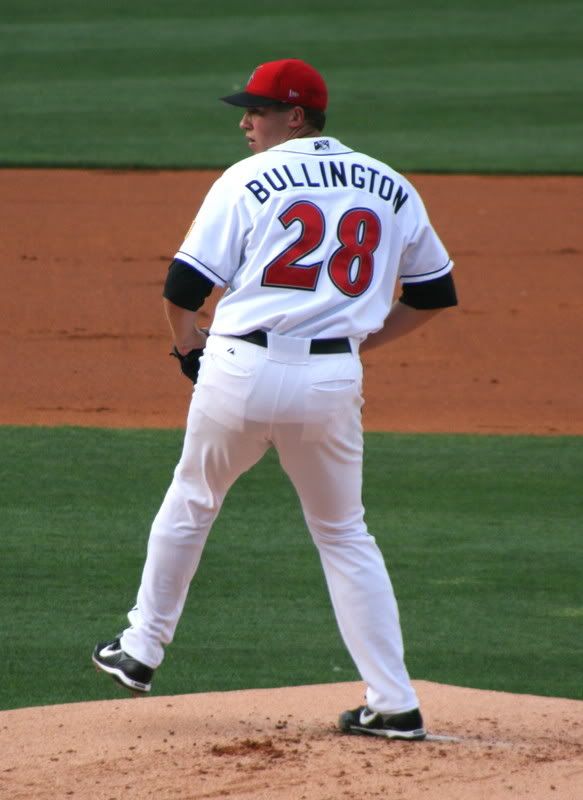 With the Indians sending 8 batters to the plate in the bottom of the 5th, Bryan Bullington (photo) was forced to sit for quite a long time before going out to the mound again in the top of the 6th. Reliever Jonah Bayliss started to warm up in the bullpen as Bullington started the inning. Bullington walked CF Brett Gardner and then gave up a home run to RF Justin Christian, to tie up the score. Bayliss took over, and struck out LF Kevin Reese, but then gave up a solo home run to DH Shelley Duncan before ending the inning, with the Yankees ahead 5-4.
The Tribe tied it up again in the bottom of the 6th. With one out, Brian Bixler and Michael Ryan again hit consecutive singles — Bixler dropped down a perfect bunt and outran the fielders, and Ryan skipped one between infielders and behind Bixler into right field, moving Bixler to third base. Yankees' Chris Britton came in to relieve Steven Jackson, and Britton faced Brad Eldred first. Eldred grounded to SS Angel Chavez, who tried to turn a double play. Ryan was out at second base, but the relay from 2B Andy Cannizaro to 1B Eric Duncan was not in time. Eldred was safe at first, and so Bixler's run scored, and the score was tied 5-5. Eldred stole second base, his third stolen base of the season, with a head-first slide into second. He was left standing at second, though, when Jose Hernandez flied out.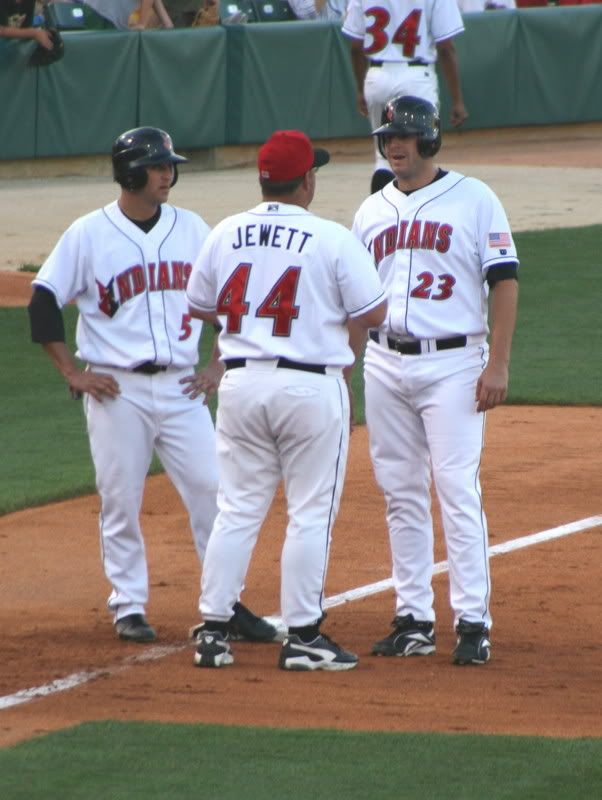 (photo: Michael Ryan, Trent Jewett, and Brad Eldred confer at third base)
Jonah Bayliss was the victim of a miscue in the 7th inning. Yankees' 3B Chris Basak hit a short fly ball to center field. Luis Matos charged in, and got to the ball in time, but the ball hit the palm of his glove and bounced out again, allowing Basak to reach second base safely. Basak moved to third base on Andy Cannizaro's sacrifice bunt, and scored when C Omir Santos smacked a single down the left field line, bouncing high over 3B Jose Hernandez's head.
The Yankees scored two insurance runs in the 8th inning. Josh Sharpless entered the game in relief of Bayliss, and he was greeted by a long blast from LF Kevin Reese for a solo homer to right field. Shelley Duncan followed wtih a single, but was forced out at second base on Angel Chavez's grounder to SS Brian Bixler. Bixler attempted to start a double play, but the relay from 2B Luis Ordaz to 1B Brad Eldred went wide and pulled Eldred off the base, and Chavez was safe at first. Eric Duncan hit a grounder sharply into right field, just between the first base bag and Brad Eldred, who made a dive to his left in an attempt to spear it. That moved Chavez to third base, where he could easily score on Chris Basak's sacrifice fly.
Juan Perez pitched the 9th inning for the Indians, setting the Yankees down in order.


The Indians were not able to do any further damage in their last three innings. Chris Britton also pitched the 7th inning. He gave up a walk to Yurendell de Caster (photo), de Caster's third walk of the game, and a bloop single to Luis Matos, and then ended the inning by inducing Luis Ordaz to hit into a double play.
Former Indianapolis Indian Jim Brower, now the All-Star closer for the Yankees, set his former teammates down in order in the 8th inning. With one out in the 9th, Brower walked Jose Hernandez, hit Yurendell de Caster in the back with a pitch, got Humberto Cota to fly out, and then hit Luis Matos on the hand with a pitch to load the bases. Once again, though, the Indians couldn't capitalize, and Luis Ordaz hit a fly out to end the game.
Yankees' reliever Chris Britton was charged with a blown save, but then later earned the win, his 3rd of the season. Jim Brower (photo below) got the save. Jonah Bayliss, who gave up the unearned run in the 7th inning, took the loss, his first with the Indians this season. Indians' Michael Ryan went 3 for 5 on the night, while Brian Bixler went 2 for 5 and Luis Matos went 2 for 3. Yurendell de Caster walked three times and was hit by a pitch.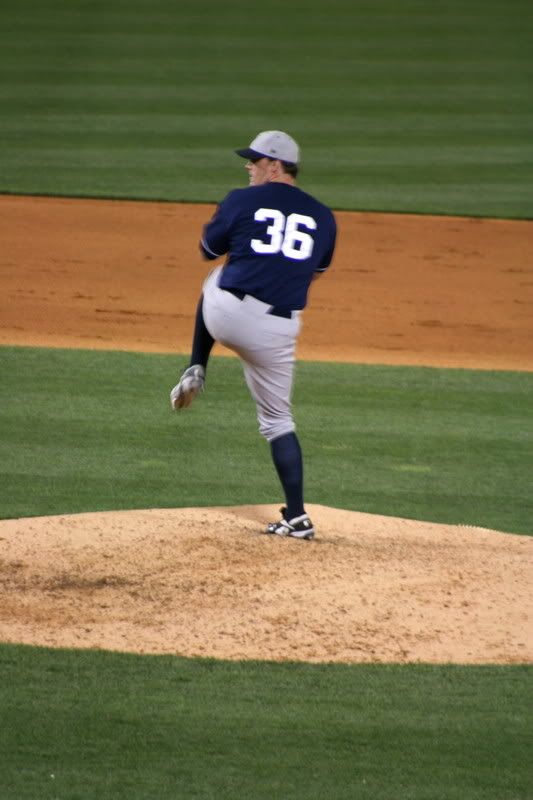 Indians' hitting gem of the game: Luis Matos' solo home run in the 3rd inning — all the way to the sidewalk.
Indians' defensive gem of the game: Bryan Bullington's four perfect innings. That included a leaping catch of a high bounce, off an "oops" swing by Andy Cannizaro in the second inning. Bullington came out of his motion and had to twist and leap towards the third base side of the mound, ending with his back to home plate. Then he turned and threw to first for the out.
NOTES:
Luis Matos was hit by a pitch twice in today's game and once in yesterday's game. That makes 14 times this season he's been hit, leading the league. Brian Bixler has been hit 12 times. In fact, the Indians lead the league with 66 times batters have been hit.
According to Howard Kellman and Scott McCauley, Jonah Bayliss has organized the relievers into a high-sock bullpen. They are all going to be wearing their socks high (or their pants-legs high, depending on how you look at it) until the bullpen as a group is doing a better job in relief.
Go Tribe!
Read More