boxscore
(photos by NancyZ)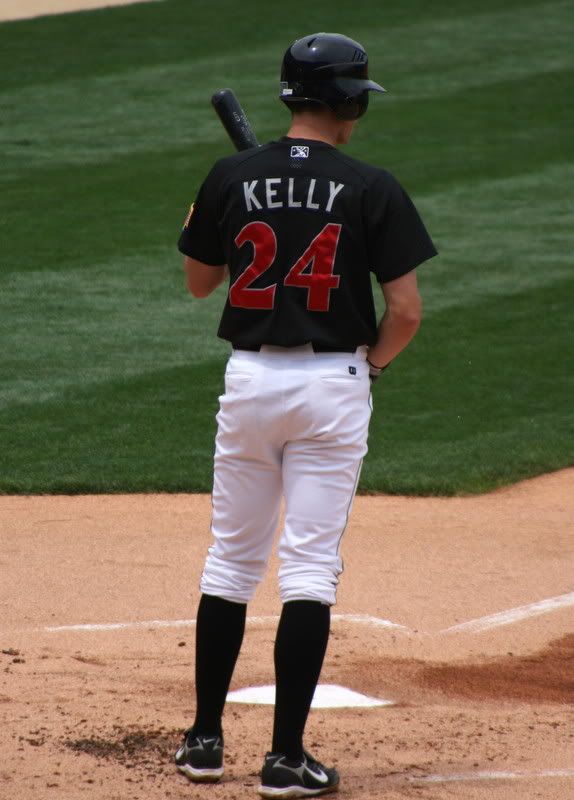 The Rochester Red Wings put up 21 hits on the way to scoring 11 runs, while the Indianapolis Indians could only manage 3 runs on 9 hits, for a final score of 11-3 at Frontier Field in Rochester, NY tonight. The loss drops the Indians to 4 games behind the first-place Toledo Mud Hens, and allows the Louisville Bats to move into a tie with the Indians for second place.
The Indians got things going right away against Rochester's starter Kevin Slowey, when 3B Don Kelly (photo) ripped a line drive into right field for a single. Kelly stole second base, and then scored from second base when DH Jose Hernandez singled into center field.
The Red Wings threatened to come back in the bottom of the 1st inning. Tribe starter Ricardo Rodriguez, in his first start for the Indians, gave up three consecutive singles to Wings' SS Alexi Casilla, 2B Matt Tolbert, and RF Darnell McDonald. Casilla was out at third base, when he challenged Tribe RF Yurendell de Caster's arm on Tolbert's hit. De Caster threw a perfect throw to Don Kelly at third base, who tagged Casilla for the out. Rodriguez then struck out DH Matthew LeCroy and got 1B Glenn Williams to hit into a force out, ending the inning without allowing a run to score.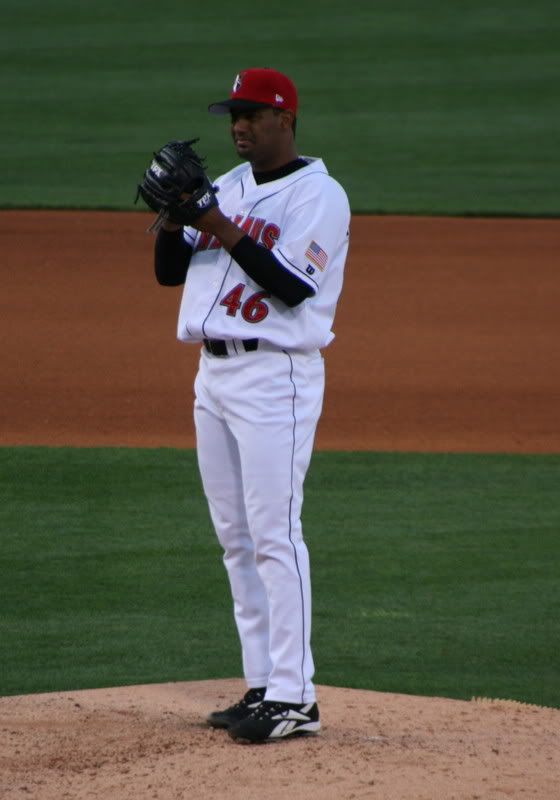 Rochester tied it up in the 2nd inning. 3B Brian Buscher led off by lifting a long fly ball over the right field wall. Buscher repeated the performance to lead off the bottom of the 4th inning, hitting his second homer of the game, this time over right-center. Then Ricardo Rodriguez (photo) fell apart. He gave up singles to C Jose Morales and CF Denard Span. Alexi Casilla grounded into a fielder's choice, which forced Span out at second, but put runners on the corners with two out. Matt Tolbert singled, scoring Morales, and Darnell McDonald doubled, scoring Casilla and Tolbert. That sent Rodriguez to the showers, having pitched 3.2 innings (57 pitches, 35 strikes), giving up 5 runs (all earned) on 11 hits, with one strikeout. Jesse Chavez came in and got Matthew LeCroy to ground out, ending the inning.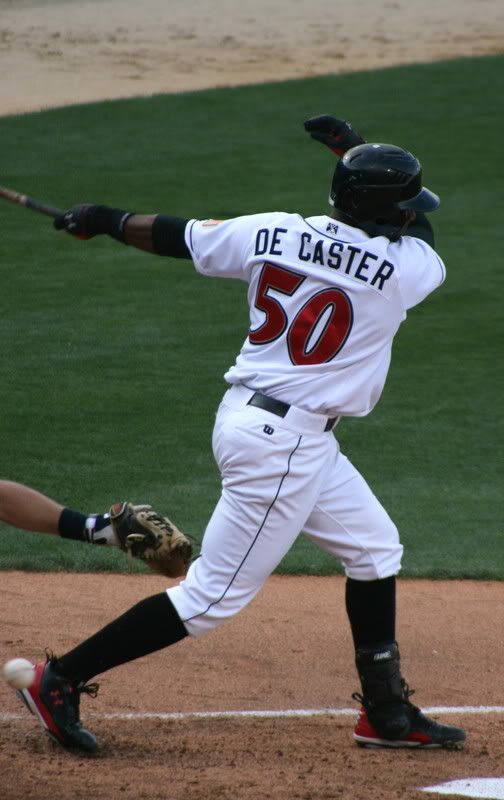 The Indians immediately started chipping away at the 5-1 lead. In the top of the 5th, Yurendell de Caster (photo) doubled, and he scored when 2B Luis Ordaz singled. In the next inning, LF Michael Ryan added another run, when he singled, advanced to third base on Jose Hernandez's single, and scored on Yurendell de Caster's second double of the game. That brought the score to 5-3, still within reach.
Disaster struck again in the bottom of the 7th inning, this time on relief pitcher Brian Rogers. Wings' Matthew LeCroy led off with a single up the middle, and was replaced by pinch-runner Trent Oeltjen. Glenn Williams also singled, moving Oeltjen to second base, and both runners advanced another base when Brian Rogers threw a wild pitch. Brian Buscher was intentionally walked to load the bases. Jose Morales hit a grounder to Tribe 1B Brad Eldred, who fired home to force out Trent Oeltjen — one out, but the bases still loaded. Tommy Watkins' single scored Williams, and Denard Span's fielder's choice grounder to second base forced out Watkins but allowed Buscher to score. Morales scored when Alexi Casilla singled. That was the end of the evening for Brian Rogers. He had pitched only two-thirds of an inning, but gave up 5 runs on 4 hits. Mark Corey replaced Rogers, and he was greeted by a double by Gil Vasquez, who had entered the game to replace Matt Tolbert. That double scored Span and Casilla, making it a 5-run inning for the Red Wings. Corey struck out Darnell McDonald to end the inning.
The Red Wings put up one more in the 8th inning. Trent Oeltjen walked, and moved to second on Glenn Williams' single. A grounder by Brian Buscher advanced Oeltjen to third base, and a single by Tommy Watkins, the 21st hit of the game for Rochester, scored Oeltjen.
Starter Ricardo Rodriguez took the loss for the Indians, his second of the year. Rochester's starter Kevin Slowey earned the win, which was his 7th AAA win of the season. Carmen Cali, Julio DePaula, and Brian Bass each pitched a scoreless inning for the Red Wings, and only Cali allowed a baserunner.
The Indians put up 9 hits, with Don Kelly, Jose Hernandez, Yurendell de Caster, and Luis Ordaz getting two hits apiece. Ordaz had a double, while de Caster had two doubles.
Indians' hitting gem of the game: Yurendell de Caster's two doubles, one in the 5th and one in the 6th inning. He had one RBI.
Indians' defensive gem(s) of the game: Two outfield assists. In the first inning, Yurendell de Caster fired in from right field to get Alexi Casilla out at third base. In the 5th inning, Luis Matos threw a one-bouncer to Carlos Maldonado at the plate, in time to tag out Jose Morales, preventing a run from scoring and ending the inning.
NOTES:
Roster moves:
Chris Aguila was activated from the Disabled List. He has been out with oblique and lat muscle injuries.
To make room for Aguila, Adam Boeve was optioned back to the Altoona Curve. He had hit .333 with one homer in 7 games for the Indians.
Injury report:
C Humberto Cota is feeling better now after he suffered a concussion in a collision at home plate several days ago. Norfolk's Mike Cervenak had been running from second base to home on a hit to the outfield, and when the ball arrived well before Cervenak did, Cervenak barrelled into Cota. Cota came up still holding the ball. He was removed from the game an inning later.
Go Tribe!
Read More