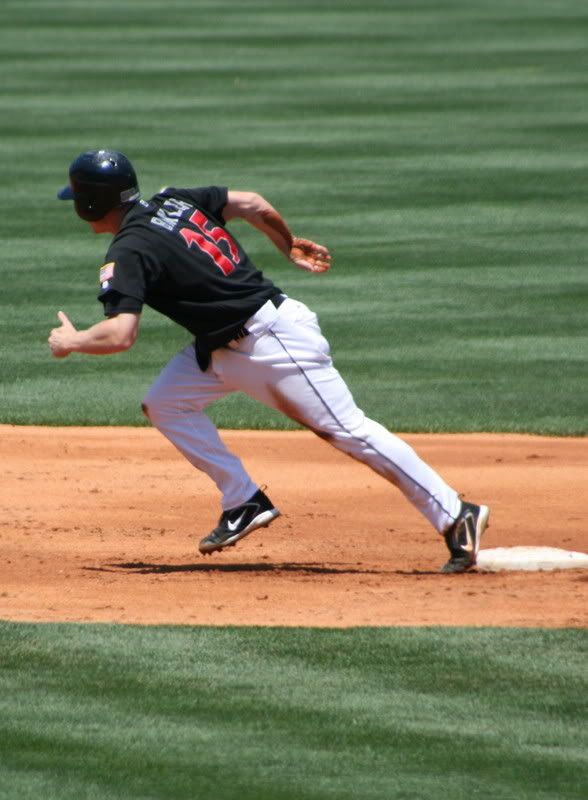 Brian Bixler is spending his three days off this week in New Mexico. No, it isn't a trip home, or a traditional vacation. It's an appearance in the AAA All-Star Game, between the All-Stars of the International League and those of the Pacific Coast League. The 24-year old will represent the Indianapolis Indians and the Pittsburgh Pirates' organization as the starting shortstop for the International League.
This is Bixler's fourth year in the Pirates' organization. He was drafted in the second round of the 2004 draft, and started playing that same season in Williamsport, the Pirates' A-Short-Season affiliate. In 2005, he played the entire season in Low-A Hickory, where he hit a solid .281, with 23 doubles, 9 homers, and 50 RBI. He also stole 21 bases. Bixler started 2006 with the High-A Lynchburg Hillcats. In the first half of the season at that level, he hit .303, with 16 doubles, 5 homers, and 33 RBI, plus 18 stolen bases. That earned him a trip to the Carolina League All-Star game. He was also named to the Carolina League's post-season All-Star Team, even though he had been promoted to AA Altoona mid-season. In 60 games with Altoona, Bixler hit .301, another 13 doubles, 3 more homers and 19 RBI, plus 6 more stolen bases.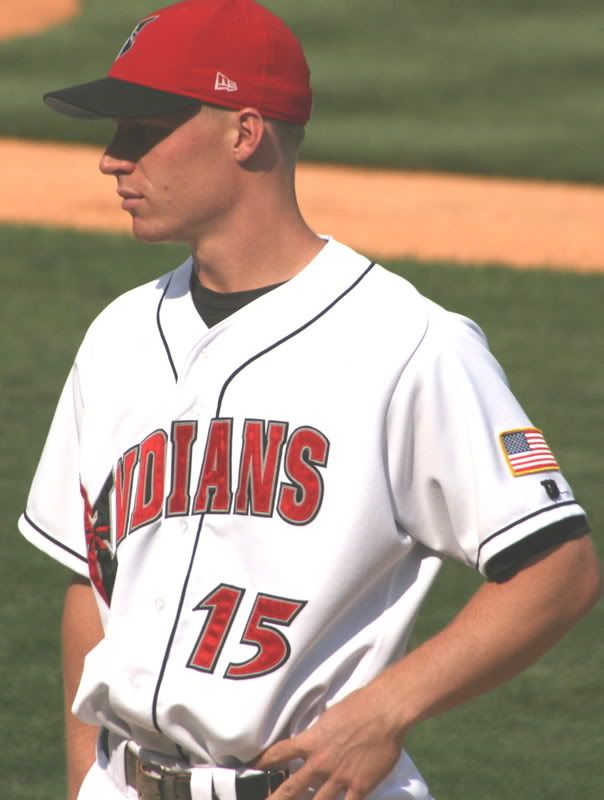 As a AAA-level rookie, Bixler has shone at shortstop and in a few games at second base. Though not on the Pirates' 40-man roster, he is definitely on their radar. He started the season with Indianapolis with a 10-game hitting streak, and has since put together two separate 12-game hitting streaks. The second 12-game streak, which ended just two days ago, had him going 15-for-45, with 7 runs scored and 2 RBI. He currently leads the International League hitters with 9 triples. He is 5th in the league in runs scored (55) and second among active IL players in stolen bases (20). Manager Trent Jewett says that Bixler "has made a very good transition" to the AAA level. He was the Indians' Player of the Month for June, and now is participating in the second All-Star game of his career.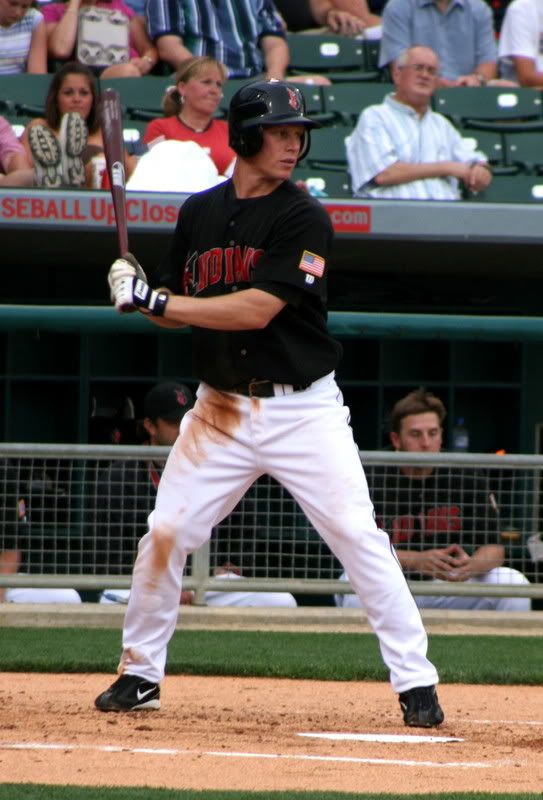 Is there a particular aspect of his game that Bixler has been working on this season? "I'm not trying to target just one thing", said Bixler. "I try to get better at everything, work on getting better overall, and get some experience under my belt. I want to be a better player, and play along with all these guys who have been in the big leagues."
He says that he has always had the running and base-stealing aspect of his game. "I guess I stole bases in college. I don't remember how many I had or anything, but I did run a lot. My speed was good." And what about running this year? "I think I'm running in better situations, getting better timing, and getting a better start."


Bixler grew up in Sandusky, Ohio, where he played baseball, as well as football and basketball. His favorite player when growing up? "Omar Vizquel"
He is very familiar with Cedar Point, the town's big amusement park, and can even recommend his favorite ride. "The best in my opinion is the "Millennium Force", he says. "There are a lot of good ones, but that's the one I like best." Unlike many other kids who grew up there, though, Bixler never worked at the amusement park. "I didn't work too often. I was always playing summer ball, or involved in a lot of stuff, so I never got a job there."
He attended college at Eastern Michigan, where he was the Mid-American Conference Freshman of the Year in 2002, and the Mid-American Conference Player of the Year in 2004 and a Mid-American Conference All-Star in 2004.
"It was a great experience, just to get the opportunity to play," says Bixler. "I really enjoyed myself. I just got a lot of experience there, and it enabled me to get better and grow."


Does he like the city of Indianapolis? "I do, yeah, I do," he says. "It's a good city. It's really clean. I like being here. A lot of good people. It's kind of like a big league stadium. I have no complaints at all. I like it." Another advantage is that it isn't far for Bixler's parents to drive, and they have been able to come to Indianapolis to watch him play.
Playing under manager Trent Jewett this season has also been a pleasure for Bixler. "I like him. He does a great job. He manages well. He's helped me become more familiar with the game, with my game, and what to be looking for as a player out there. He's helped me a lot."
The Carolina League All-Star game last year was a fun experience for Bixler. "It went well. I met a lot of good guys."
And what about the AAA All-Star Game? "I've never been to Albuquerque…. It should be a good time," says Bixler, with a smile. "I'm excited to get there, and see what it's all about."
"I was fortunate to be voted in. There are a lot of good guys who have good numbers. There are a lot of guys who can play."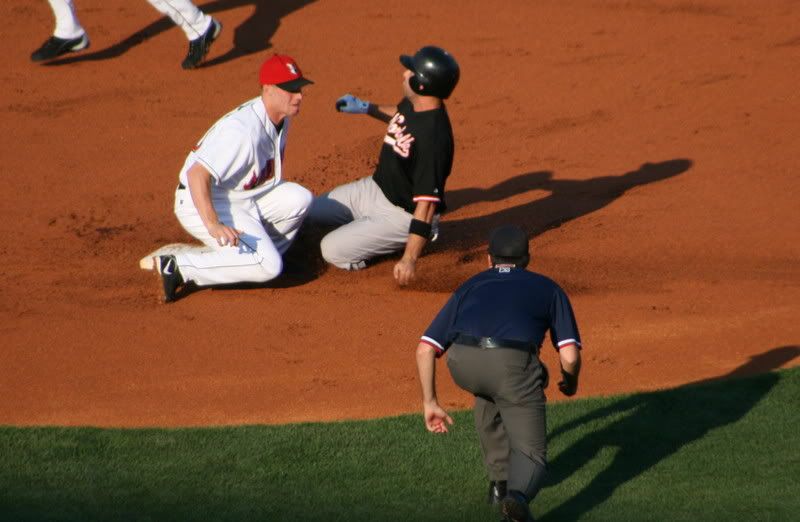 (photo: Bixler makes the tag at second base– photo by EmilP )
Joining Brian Bixler at the All-Star Game, also representing the Indianapolis Indians for the International League, will be starting pitcher Bryan Bullington, and infielder/outfielder Yurendell de Caster. The game will be televised on ESPN2 on Wednesday July 11th at 7:30 pm from Isotopes Park in Albuquerque, New Mexico.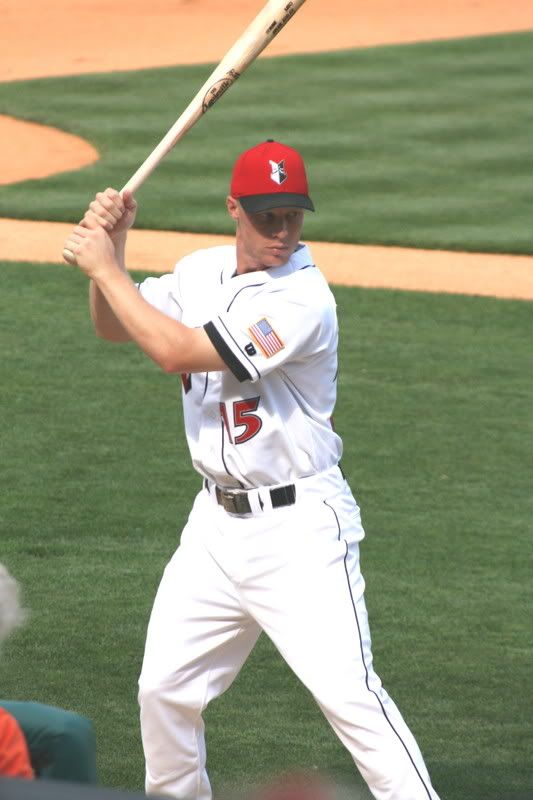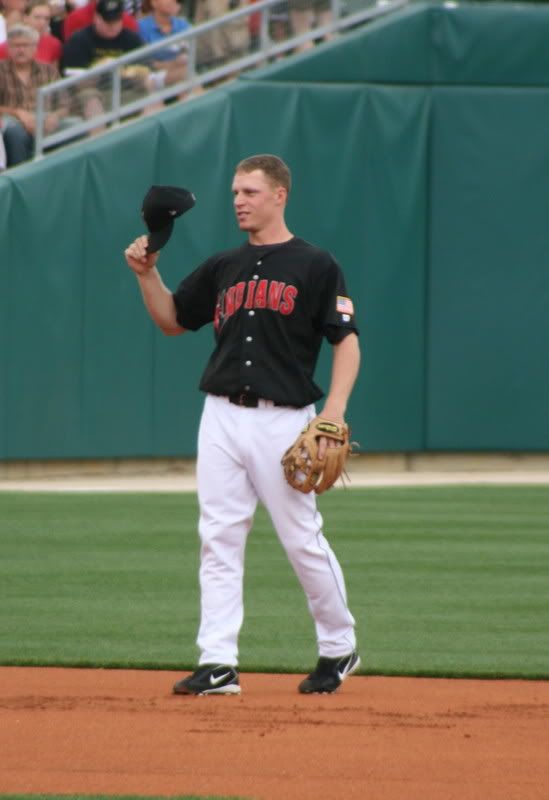 Thanks to Brian Bixler for his time!
(Photos by NancyZ unless otherwise specified.)
Go Tribe!
Read More