boxscore (photos by NancyZ)


The Louisville Bats scored 10 runs over the last 4 innings, to beat the Indianapolis Indians 13-4 tonight at Slugger Field in Louisville, KY. The Bats put up 17 hits, including 3 doubles, while the Indians had one double by Luis Ordaz, and 9 singles.
In Sean Burnett's last start, last Friday in Columbus, he pitched only three innings. This wasn't his fault at all, but the fault of a heavy storm that blew across central Ohio. When the suspended game resumed on Saturday, no one would have expected Burnett (photo) to return to the mound. Today there was a different problem. Burnett started tonight's game for the Indians, and only pitched one inning, throwing 33 pitches, 16 for strikes. He left the game, as it was announced later, due to lower back pain.
The first inning started with Bats' 2B Jeff Keppinger lining a single to center field, and SS Pedro Lopez followed by bouncing a double into left field, scoring Keppinger. 1B Joey Votto grounded out, which moved Lopez to third base. 3B Aaron Herr walked, and RF Jeff Bannon lined a single into left field, sending Lopez home, and moving Herr to second base. Burnett struck out LF Dewayne Wise for the second out of the inning. Then he walked C Ryan Jorgensen to load the bases, and walked CF Chris Dickerson, forcing in another run. Finally Burnett struck out the switch-hitting pitcher Elizardo Ramirez to end the inning. Burnett had allowed 3 runs on 3 hits and 3 walks with 2 strikeouts.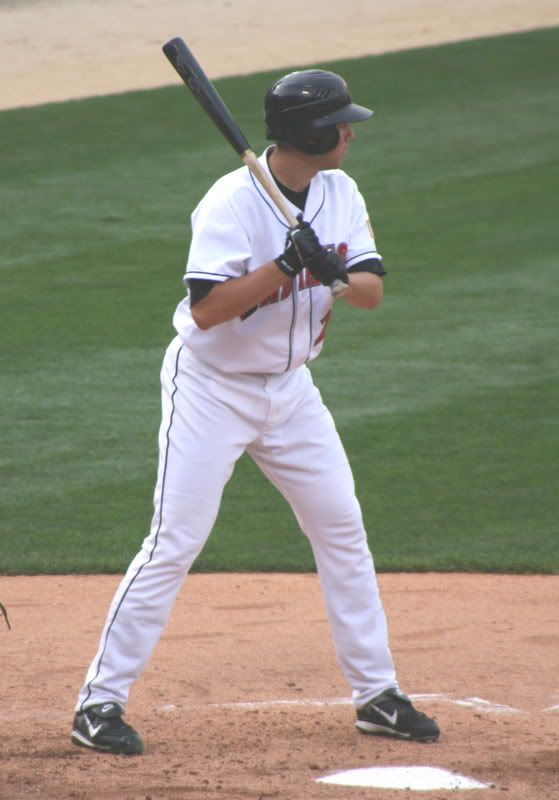 Louisville starter Ramirez had held the Indians scoreless in the first inning, despite a walk to LF Michael Ryan and a single by CF Adam Boeve. In the 2nd inning, 3B Russ Johnson and C Carlos Maldonado both singled. That brought up the pitcher's spot in the batting order, and qith Burnett continuing to have back pain, manager Trent Jewett elected to pinch hit for him. With the bench limited due to injuries, he used a pitcher as a pinch hitter for the third time in four games — this time it was right-hander Bryan Bullington's turn. Bullington (photo) laid down a perfect sacrifice bunt, to move the runners to second and third bases. The inning ended when Don Kelly ground out, and the Indians were not able to put up any runs.
Reliever Jesse Chavez came in to pitch in the 2nd inning for the Indians. Chavez pitched three scoreless innings, giving up only one lone hit to Joey Votto. One other batter, Dewayne Wise, reached base on an error by C Carlos Maldonado, but was quickly erased with a double play.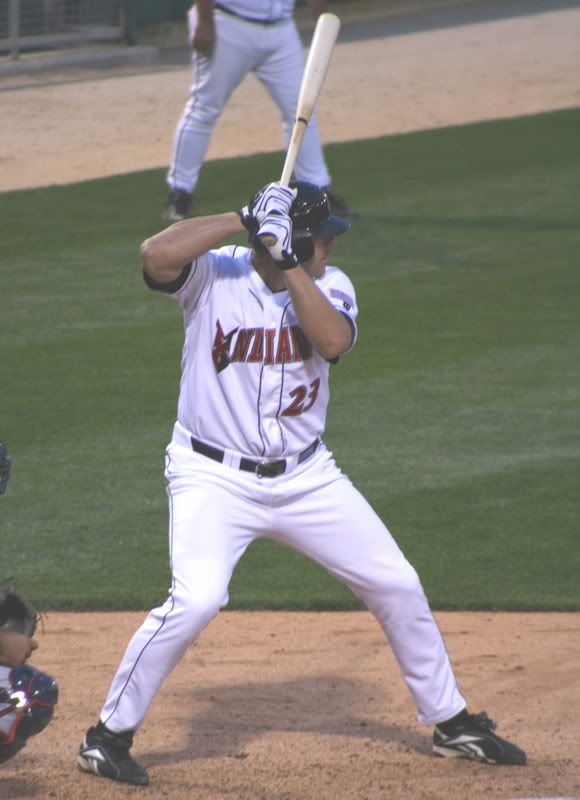 The Indians got on the board in the 3rd inning. SS Brian Bixler hit an infield single, and advanced to second base when pitcher Ramirez's throw to first base went wide. LF Michael Ryan grounded out, moving Bixler to third base. CF Adam Boeve walked, and 1B Brad Eldred (photo) singled, driving in Bixler. 3B Buss Johnson grounded into a double play to end the inning.
The Indians tied it up in the 5th inning. Michael Ryan started off the inning with a walk, and Adam Boeve followed with a single. Elizardo Ramirez got two outs, a strikeout to Brad Eldred and a fly out to Russ Johnson, but then he walked RF Yurendell de Caster. That was the end of Ramirez's evening, and the Bats brought in Julio Manon to relieve him. Carlos Maldonado (photo below) greeted Manon by lining a two RBI single into center field, scoring Ryan and Boeve. Pitcher Jesse Chavez, in a rare plate appearance, grounded into a force out — his first professional at-bat that did not result in a strikeout. That tied the score at 3 runs each.


Louisville did not allow the tie to stand for long, though. In the bottom of the inning, with Tribe reliever Mark Corey in to pitch, Pedro Lopez led off with a triple to right field. Joey Votto singled, scoring Lopez, and putting the Bats ahead 4-3. Corey struck out Aaron Herr and pinch hitter Anderson Machado, and Votto stole second base with the first strike out. When Dewayne Wise singled to right field, Votto rounded third and headed for home. The throw from RF Yurendell de Caster was right on target, and it reached C Carlos Maldonado, who was plunked down on the third base line about two feet from home plate, just before Votto did. Maldonado didn't move and didn't drop the ball, and Votto was out to end the inning, with only one run scoring.
The Bats struck again in the 6th inning. With one out, Mark Corey gave up three consecutive singles, to Chris Dickerson, pinch hitter Jesse Gutierrez, and Jeff Keppinger, with that third single scoring Dickerson. A walk to Pedro Lopez loaded the bases, and Corey was sent to the showers. Lefty Juan Perez (photo below) entered in relief, and he got Joey Votto to slap a grounder that deflected off Perez's glove to 2B Don Kelly, who scooped it up and threw to first for one out, though Gutierrez scored a second run from third base. Aaron Herr struck out to end the inning, with the score 6-3.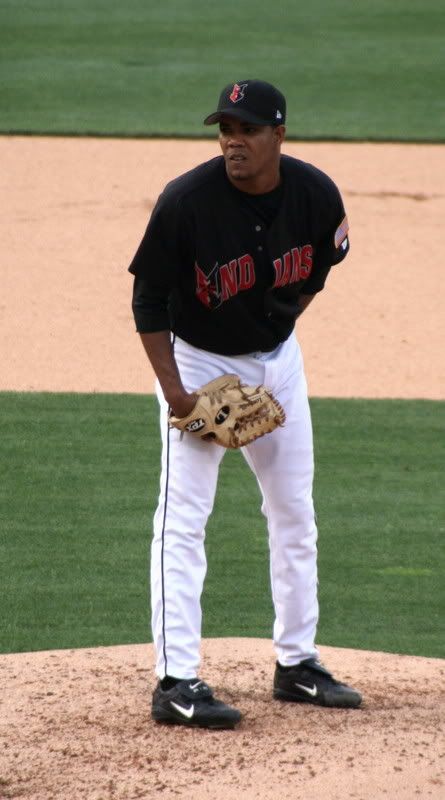 In the 7th inning, Louisville broke it open, scoring three more runs. Anderson Machado led off with a liner just out of Brad Eldred's reach at first base, and down into the right field corner for a triple. Dewayne Wise and Ryan Jorgensen followed with back-to-back singles, the first scoring Machado. Then Chris Dickerson smashed the third triple of the game into right field, scoring both Wise and Jorgensen. Reliever Brian Rogers replaced Juan Perez on the mound, and he got two ground outs, then walked Pedro Lopez, and then struck out the pitcher Calvin Medlock to end the inning, with the score 9-3.
The Indians didn't give up, but came right back at them in the top of the 8th inning. Carlos Maldonado walked, and Luis Ordaz, who had entered the game in a double switch, doubled into right field. Reliever Brian Shackelford replaced Calvin Medlock, and the first thing he did was give up a single to Don Kelly, scoring Maldonado and moving Ordaz to third base. Shackelford then struck out Brian Bixler and Michael Ryan, and ended the inning by getting Adam Boeve to ground into a fielder's choice force out.
Things got worse for the Indians in the bottom of the 8th. With two out, Brian Rogers struck out Dewayne Wise, but his third strike was a wild pitch, and Wise was safe at first. Rogers then gave up a single, two walks, two singles, and another walk. Four runs scored on all that, including two runs walked in. Finally, Jonah Bayliss came in for Rogers, and he got Aaron Herr, the 10th batter in the inning, to hit a grounder to third base, where Russ Johnson forced out the runner. The score: Louisville 13, Indians 4.
Gary Majewski came in to pitch the 9th for the Bats. Russ Johnson hit his second single of the game, but Majewski retired the other three batters to end the game.
Bats' reliever Julio Manon earned the win, and Mark Corey took the loss for the Tribe. Carlos Maldonado went 2 for 3, and Russ Johnson and Adam Boeve both went 2 for 4.
"This one is hard to explain", said manager Trent Jewett after the game. "Louisville outplayed us in every phase of the game tonight. Games like these are very disappointing, but we try to keep things in perspective around here. These results are bound to happen every now and then when you play 144 games each season. You tip your cap to Louisville, but, by the same token, we need to find a way to play better on the road. We've had a lot of success at Victory Field this season, and I hope that continues during this upcoming homestand. I understand Wednesday night's game has been sold out, so it should be a fun atmosphere in front of the home fans."
The Durham Bulls again defeated the Toledo Mud Hens tonight, so the Indians did not lose any ground against Toledo. But the Indians are in danger of having Louisville catch and pass them to take over second place.
Indians' hitting gem of the game: Carlos Maldonado tied up the game in the 5th inning with a single, batting in two runs.
Indians' defensive gem of the game: In the bottom of the 5th inning, with one run in and two outs, Bats' Joey Votto was on second base, when Dewayne Wise lined a single into right field. Yurendell de Caster caught it and fired home, where Carlos Maldonado blocked the plate and tagged out Joey Votto. It ended the inning and at the time, held the Bats to a one run lead.
NOTES:
Roster Moves:
Pitcher Luis Munoz will be promoted from Altoona to pitch for the Indians tomorrow at Victory Field.
Pitcher Michael Nannini was reactivated from the Disabled List, and given his unconditional release. He had pitched in only one game for the Indians, on June 17th in Durham.
Brian Bixler extended his hitting streak to 9 games.
Shane Youman started for Pittsburgh today, and got his first major league win. He pitched 6 innings against the Milwaukee Brewers, giving up 2 runs (both earned) on 8 hits and one walk, with 2 strikeouts. Youman gave up one run in the first inning, and then a solo home run to Kevin Mench in the 4th inning.
Go Tribe!
Read More