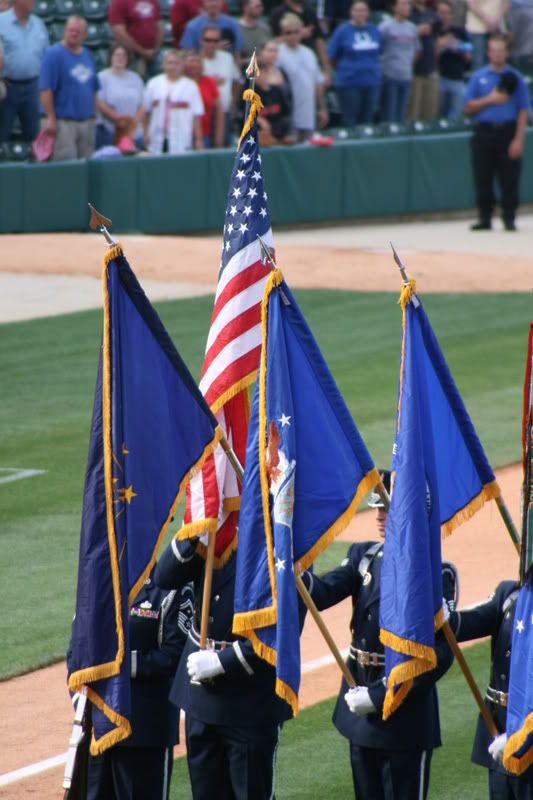 boxscore
The Indianapolis Indians' pitchers combined to hold the Buffalo Bison to six hits and one run, as the Indians slipped by the Bison by a score of 2-1 at Victory Field tonight. Indians' starter John Van Benschoten earned his 5th win of the season to push his record to 5-3 and drop his ERA to 2.56. Van Benschoten pitched 6.2 shutout innings, giving up only 3 hits and walking 4 while striking out 5 Bison batters.
Tribe pitching coach Jeff Andrews praised Van Benschoten after the game.
"I really believe this was the best that 'Johnny V' (Van Benschoten ) has thrown all season. I was happy because he battled through a hiccup in the second inning. It's not easy to keep the opposition off the scoreboard when you walk three guys in the same frame. It was nice to see him re-group, and throw five strong innings after that.
"He had six terrific outings in a row, followed by two starts that were not his best. The nice thing is that he hasn't lost his focus, confidence, or competitive edge."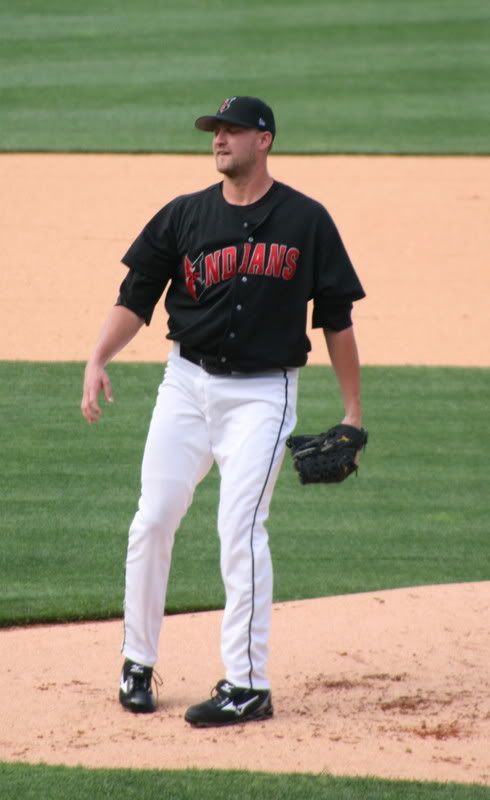 The "hiccup" Andrews referred to occurred in the second inning. Van Benschoten (photo by NancyZ) started the inning by walking former Indian and Bison 3B Keith Ginter. 2B Hector Luna grounded to second, where Tribe 2B Nick Green fielded the ball within two steps of second base, quickly stepped on the bag, and then threw to first to complete the double play. Van Benschoten walked the next two batters, 1B Ryan Mulhern and RF Brad Snyder. The first two pitches to the next batter, C David Wallace, were also balls. Jeff Andrews popped out of the dugout and had a brief conference with Van Benschoten and C Einar Diaz. Whatever Andrews said was all it took to get Van Benschoten back on track, though. His next three pitches were strikes to strike out Wallace and end the inning.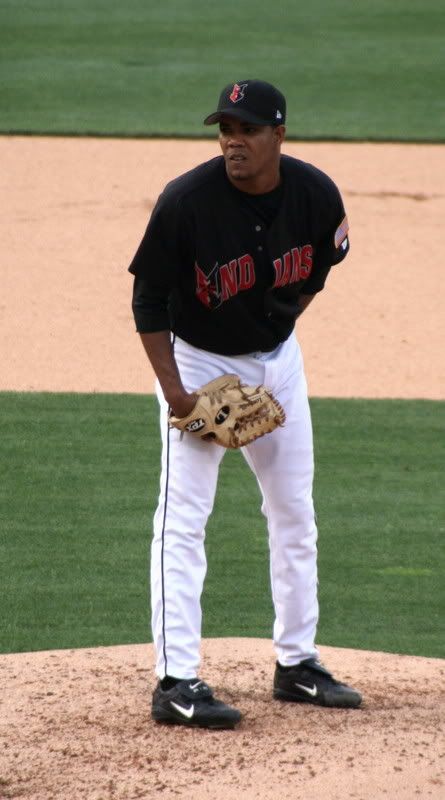 Van Benschoten walked only one more batter after the second inning, and he allowed only two hits over the next 4.2 innings. Van Benschoten threw 94 pitches, 55 of them for strikes. He was relieved in the 7th inning, when manager Trent Jewett decided to bring in a left-handed relief pitcher, Juan Perez (photo by NancyZ ), to face left-handed Bison slugger Brad Snyder. Snyder is batting .338 against right handers, but only .211 against left-handed pitchers, and 4 of his 5 home runs this season have come against right-handed pitching.
Juan Perez entered the game, and promptly struck out Snyder on four pitches. Perez went on to pitch in the 8th inning also. After one out, he gave up three consecutive singles, to CF Franklin Gutierrez, SS Luis Rivas, and DH Shin-Soo Choo. Choo's single scored Gutierrez, for the only run the Bison would get. Perez then struck out LF Ben Francisco.
Jewett elected to go back to a right-hander, Brian Rogers, to finish up the 8th inning against the right-handed hitting Keith Ginter. Rogers struck out Ginter on four pitches to end the Bison's rally. Rogers also pitched to two batters in the 9th inning, getting Hector Luna out on a grounder that bounced off Roger's glove and over to Tribe SS Brian Bixler, who had to hurry to pick up the carom and throw on to Brad Eldred at first for the first out. Rogers then walked 1B Ryan Mulhern.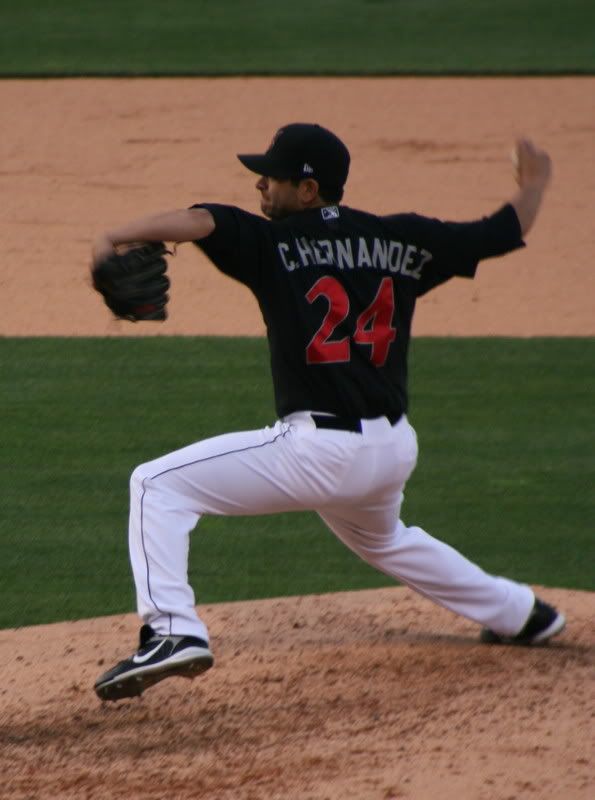 Again Jewett went with the percentages and brought in left-hander Michael Tejera to face Brad Snyder again with one out in the 9th. Snyder lofted a fly ball to left, near the foul line, but Tribe LF Luis Matos ran it down and made the catch for the second out. Snyder was the only batter Tejera faced. Righty Chris Hernandez (photo by NancyZ ) came in to face right-handed batter Trent Durrington, another former Indy Indian, who had entered the game in place of C David Wallace. Durrington ran the count to 3-2, plus a couple of foul balls, before taking the third strike for the final out. Hernandez got the save, his 3rd of the season.
Bison starter Aaron Laffey pitched a complete game (8 innings ), but got his 3rd loss. He scattered six hits and gave up 2 runs, both earned. He struck out 3 Tribe batters. The Indians' runs came in the 5th inning. With one out, LF Luis Matos walked — the only walk Laffey gave up. C Einar Diaz singled on a grounder up the middle, advancing Matos to third base. CF Rajai Davis's RBI triple into right-center field scored both Matos and Diaz.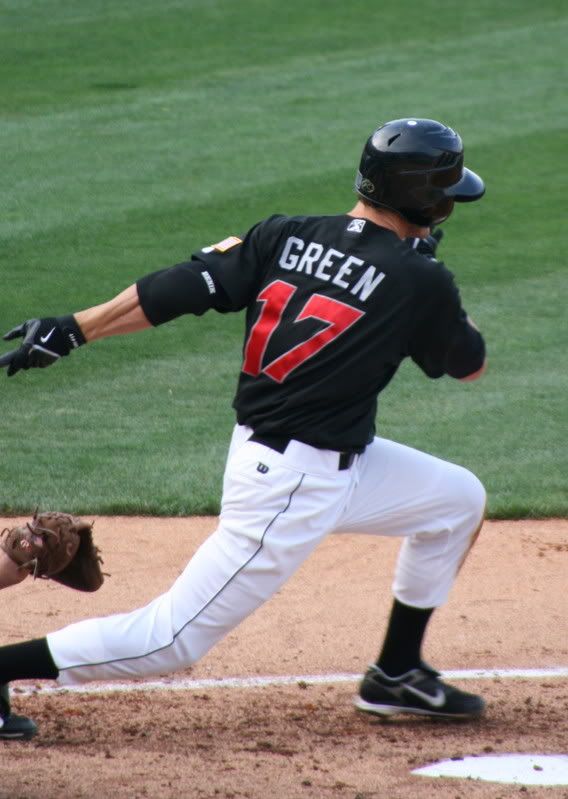 Rajai Davis and DH Yurendell de Caster each had two hits for the Indians. 3B Jose Hernandez and Einar Diaz had the Tribe's other two hits. Nick Green (photo by NancyZ ), who was playing his first game at Victory Field since joining the team last week, and Brad Eldred, who also joined the team last week, were hitless tonight.
Indians' hitting gem of the game: Rajai Davis's RBI triple, which batted in the Tribe's only runs. He also had the only extra base hit for the Indians tonight.
Indians' defensive gem of the game: Pitchers John Van Benschoten, Juan Perez, Brian Rogers, Michael Tejera, and Chris Hernandez, who held the Bison to one run and only 6 hits, and showed outstanding poise in tough situations.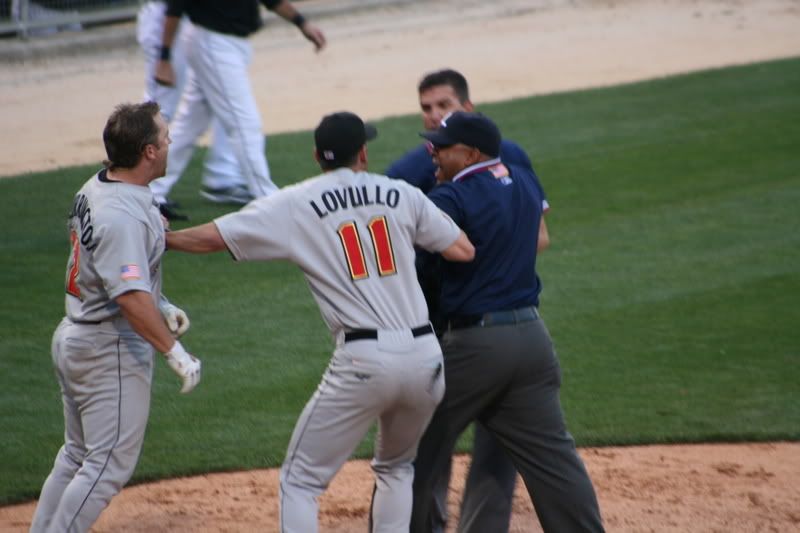 One more bit of excitement at the end of the game: The last Bison batter, Trent Durrington, has always been known to have a short fuse, including when he played for the Indians in 2004. After he ran the count to 3-2 in the 9th inning, and fouled off a couple more of Chris Hernandez's pitches, he took what he thought was ball four, and started to take a few steps towards first base. But, umpire Josh Carlisle didn"t see it that way — he called strike three. Durrington's temper got the best of him, and he had to be restrained by his teammates. (photos by NancyZ )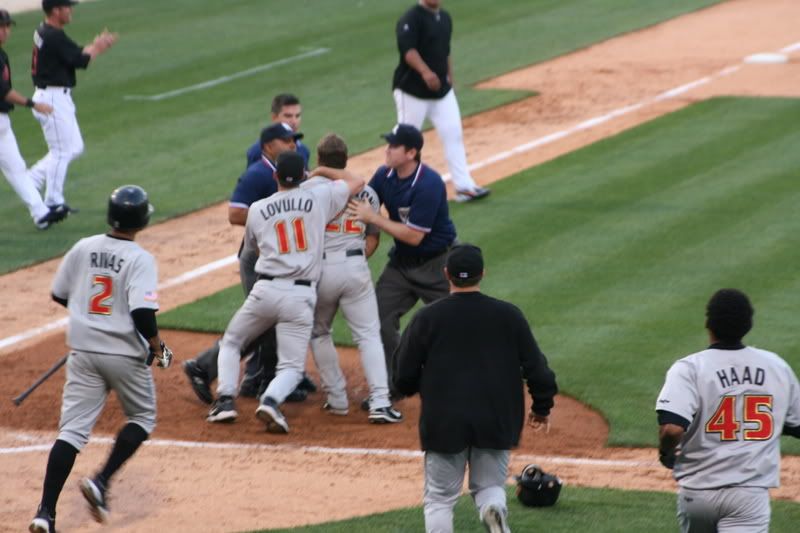 NOTES:
Rajai Davis increased his hitting streak to 15 games.
Michael Ryan did not get a hit tonight, so his hitting streak ended at 10 games, his best in several seasons.
Carlos Maldonado, on the DL because of a broken bone in his hand, now has his hand out of the splint.
Kevin Gryboski is doing better and working out after having had arthroscopic surgery on his knee to work on torn cartilage.
Go Tribe!
Read More