boxscore (photos by EmilP)


The Indianapolis Indians started strong, but gave up runs in the late innings, and lost to the Norfolk Tides by a score of 4-3 tonight at Victory Field. The Tides have now taken two of the first three games of this series, and the Indians will be trying to finish the series 2-2 tomorrow. The loss drops the Indians to 3 games behind the first-place Toledo Mud Hens in the International League West Division.
Left-hander Michael Tejera (photo) started the game for the Indians, and pitched 5.1 innings. He set the side down in order in the first inning, and worked his way out of a jam in the second. Norfolk's DH Jon Knott led off the second inning with a tremendous belt to deep left-center field, and raced around the bases to make it a triple. 3B Terry Tiffee popped a fly ball to right field, but too short for Knott to tag up and score. LF Luis Montanez bounced a short grounder back to Tejera, who looked Knott back to third, and then threw to first for the second out. RF Adam Stern walked, and then with former Indy Indian (2005) Cesar Crespo at the plate, Stern was picked off first base and then thrown out at second, Tejera to Tribe 1B Yurendell de Caster to SS Brian Bixler, to end the inning — leaving Knott still standing on third base.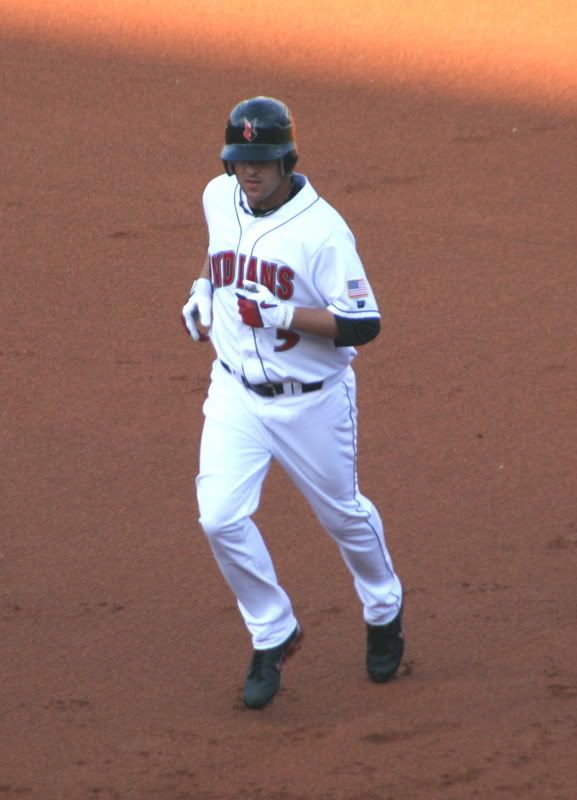 The Tides did get to Tejera for one run in the 3rd inning. C Ryan Hubele, in his first AAA at-bat since being promoted from AA two days ago, smashed a double to the center field wall. He scored when CF Tike Redman singled up the middle.
The Indians were still leading, though. Norfolk's Andy Mitchell, a reliever making only his 6th career start, had a shaky first inning. Lead-off hitter RF Adam Boeve lined a single into left-center field. He moved to third base on SS Brian Bixler's ground out. Then LF Michael Ryan (photo) blasted a homer over the right field wall, to give the Indians a 2-run lead. It was Ryan's second first-inning home run in three days, and the Indians' 5th first-inning homer in four days.
?(Brian) Bixler did a great job moving (Adam) Boeve to third", said Ryan after the game. "I was just trying to stay up the middle. I got a pitch over the plate, and was able to put a good swing on it….. We?re not much of a power team, so, when the home runs come, it seems like they come in spurts.?

After the first inning, the sidearmer/submariner Mitchell held the Indians to only 2 hits over the next five innings.
In the 6th inning, Norfolk tied the score. With one out, 1B Mike Cervenak blooped a single into left-center field, in front of Tribe LF Michael Ryan who had been playing deep. That was the end of Michael Tejera's night. He exited after having thrown 87 pitches (56 strikes), and giving up 2 runs on 6 hits and one walk, with 2 strikeouts. Reliever Jesse Chavez entered the game, and was greeted by DH Jon Knott's double to center, which scored Cervenak to tie the score. Chavez ended the inning by striking out Terry Tiffee and getting Luis Montanez to ground out.
Chavez gave up one run in the 7th inning, when Adam Stern tripled, and scored on a sacrifice fly by Ryan Hubele, to put Norfolk up by one run. Juan Perez came in to pitch the 8th, allowing two hits, one of which was a solo homer by Mike Cervenak, who continues to hit over .500 against the Indians. Josh Sharpless pitched a perfect 9th inning for the Indians.
The Tides' Andy Mitchell left the game after pitching 6 innings and giving up 2 runs on only 4 hits, with 5 strikeouts. Reliever Victor Moreno came in and pitched a scoreless 7th inning. The Tribe got their only run in the 8th inning. 3B Don Kelly led off with a walk. Adam Boeve flied out and SS Brian Bixler struck out. With Michael Ryan at the plate, Don Kelly stole second base, putting him into scoring position. That made it possible for him to score on Ryan's liner up the middle for a single. That was all the Indians could get, though. Tides' reliever Cory Doyne earned his league-leading 26th save by pitching a scoreless 9th. He gave up a walk to C Carlos Maldonado, and Humberto Cota came in to pinch-run for Maldonado, but the inning ended with a ground out by 2B Luis Ordaz.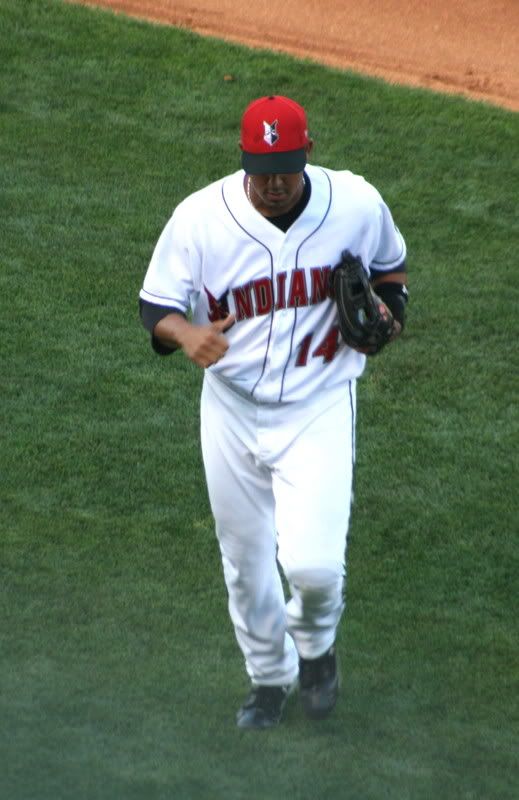 Indians' hitting gem of the game: Michael Ryan's two-run homer in the first inning.
Indians' defensive gems of the game: In the top of the first inning, Tides' Mike Cervenak hit a long, long fly ball to center field. CF Luis Matos (photo) turned his back to the infield and ran… catching the ball on the warning track without turning around, just over his shoulder, for the 3rd out of the inning. Then, he did it again in the 5th inning, on a fly ball off the bat of Tike Redman. That one was nearly as long, again for the 3rd out, and this time with a runner on base who would certainly have been able to score if the ball had dropped in for a hit. Both times Matos got a big hand from the crowd as he came back to the dugout.
NOTES:
Brian Bixler's hitting streak came to an end at 12 games, since he didn't get a hit tonight.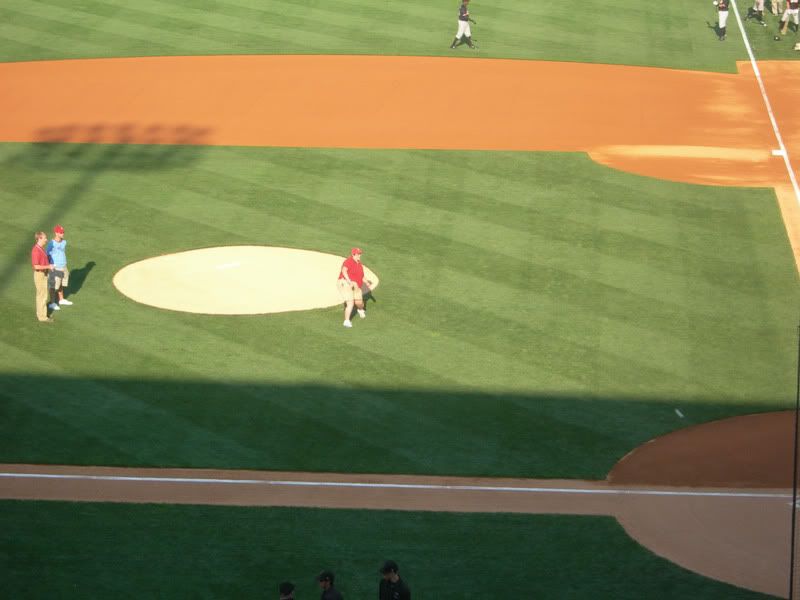 Pre-game:
(photo by BillMcN)
A certain crazy Indy Indians' fan/writer threw out the first pitch at tonight's game. Was it a fastball? A curve? No, it was a sinker. It sank really, really fast. Right into the dirt. Many thanks to Russ Johnson, who is, of course, quite adept at picking up a grounder. And he didn't even laugh.
Go Tribe!
Read More