boxscore (photos by NancyZ)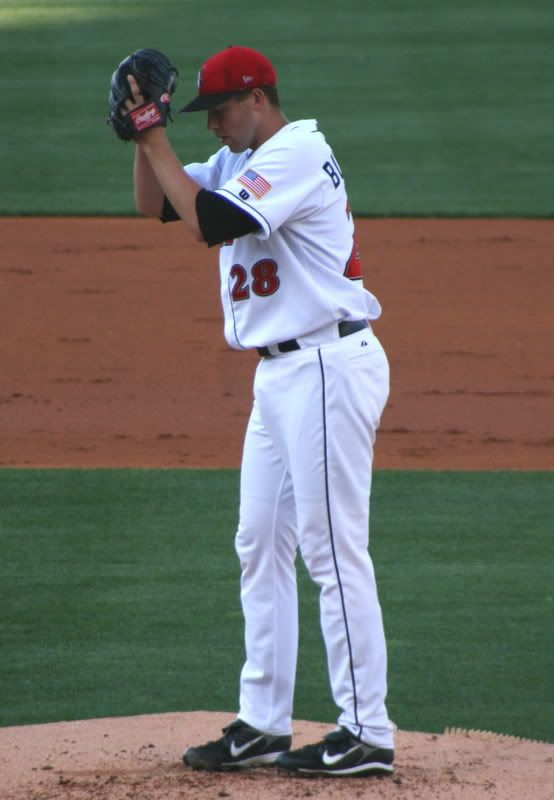 Yurendell de Caster broke his 0 for 22 streak by belting a grand slam to lead the Indianapolis Indians to an 11-7 win over the Norfolk Tides at Victory Field tonight. Indians' starter and Indianapolis native Bryan Bullington (photo) earned the win, giving him his 10th win of the season.
The game started with the Tides putting up their first run. With two outs in the top of the 1st, Bullington gave up a single to Tides' 1B Mike Cervenak and a double to RF Jason Dubois, which plated Cervenak. When Dubois pulled up at second base, he was holding his knee. He was removed from the game, though he was able to walk off the field without assistance. Jon Knott replaced Dubois as a pinch runner, and then remained in the game to play outfield. With just that one run in, Bullington struck out 3B Terry Tiffee to end the inning.
For the second night in a row, the Indians got right down to business in their half of the first inning, with back-to-back homers. In fact, they hit four consecutive long fly balls off Norfolk starter Jim Johnson. With one out, SS Brian Bixler got the rally started by hitting a 1-2 pitch to the wall in straight away center field. With Bixler's speed, he easily reached third base, with his league-leading 9th triple of the season. 3B Jose Hernandez, in his first game back in the line-up since having his leg lacerated by cleats on a sliding play last Saturday, ran the count full and then lifted another fly ball to deep center field for a double. That scored Bixler to tie the game. LF Michael Ryan then blasted a very long fly ball to straight away center field, which landed in the ground cover in front of the pine trees, for a two-run homer. 1B Brad Eldred followed with a homer of his own, a long fly ball over the left field wall. That gave the Indians back-to-back homers on back-to-back days.
In the top of the 2nd inning, Bryan Bullington looked like he might be getting into trouble again. With one out, Tides' CF Adam Stern singled up the middle, and moved to second when RF Luis Montanez executed an effective hit-and-run play, singling into right field through the hole created when Tribe 2B Don Kelly moved to his right to cover second base. The middle infield came to Bullington's rescue, though, as SS Luis Hernandez grounded to Brian Bixler at shortstop, who started a 6-4-3 (Brian Bixler to Don Kelly to Brad Eldred) double play to end the inning.
Bullington had smooth sailing for the next three innings, facing only one batter over the minimum and giving up one hit and one walk. The walk was erased by another timely double play.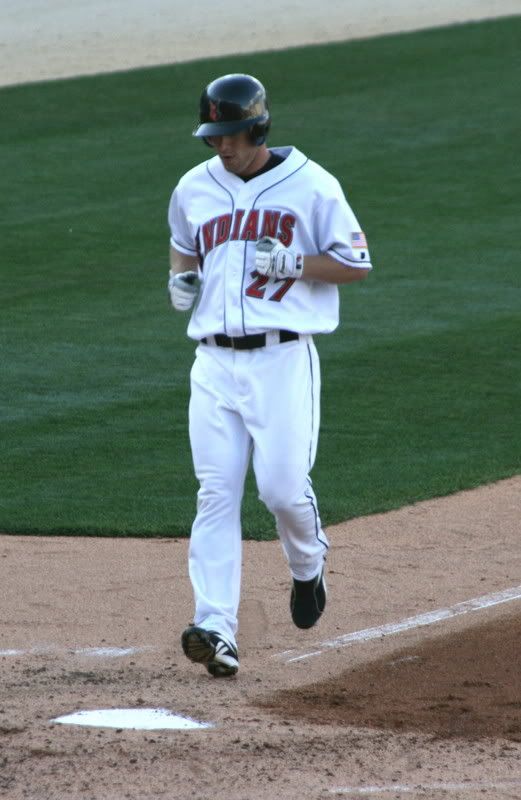 Norfolk starter Jim Johnson had not-quite-as-smooth sailing for the next three innings. He also gave up a walk and a hit, and hit Brian Bixler with a pitch. However, the hit he gave up was another home run, a liner blasted down the left field line and into the grass berm by RF Adam Boeve (photo). It was Boeve's first homer with the Indians this year, and his 13th homer overall this season, giving the Indians a 5-1 lead.
The Indians added to their lead in the 5th inning. Brian Bixler led off with a liner to right center field for a double. He moved to third on a fly out by Jose Hernandez. Brad Eldred smacked a double into left field, which bounced off the wall , scoring Bixler. That sent starter Johnson to the showers, and brought in reliever Jim Miller. Miller walked Adam Boeve and then gave up a bloop single into right field to CF Luis Matos, which scored Eldred from second base. A fly out to DH Yurendell de Caster ended the inning, with the Tribe leading 7-1.
Bryan Bullington went back out to pitch the 5th inning, but he looked tired despite having thrown only about 60 pitches to that point. He gave up 4 consecutive hits, singles to 2B Eider Torres and 1B Mike Cervenak, and doubles to LF Jon Knott and 3B Terry Tiffee. That brought in 3 runs. A ground out and a walk later, Bullington was done for the evening. Juan Perez came in to relieve Bullington. Perez gave up a single to RF Luis Montanez, to score Tiffee. Then with SS Luis Hernandez at the plate, Perez made a move to first base that was called a balk — moving Montanez to second base and "balk-ing" in CF Adam Stern from third base. The inning ended with the score 7-6.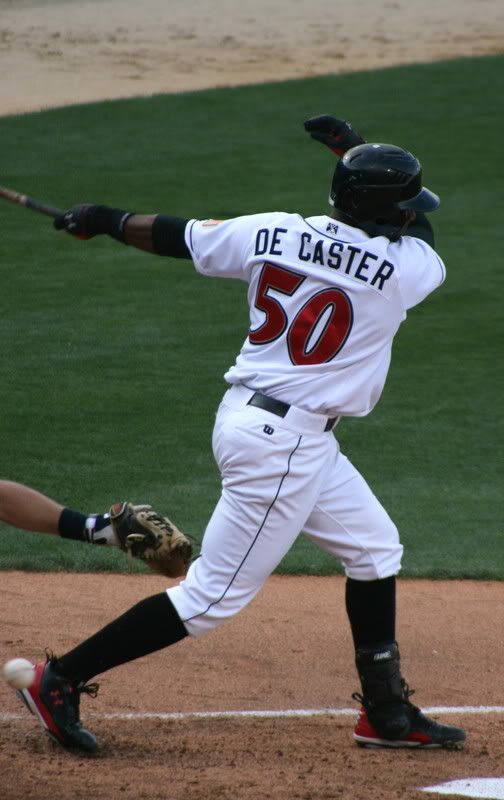 Norfolk reliever Jim Miller and CF Adam Stern set down the Indians in order in the 6th inning (three fly balls to center field, three outs). The Indians rallied again in the 7th, scoring four runs on only one hit. Miller walked Jose Hernandez, struck out Michael Ryan, walked Brad Eldred, struck out Adam Boeve, and hit Luis Matos with a pitch to load the bases. Then came the one hit of the inning — a long fly ball down the right field foul line by Yurendell de Caster (photo) for the grand slam. It was a controversial homer, as the Tides insisted that it had been on the outside of the foul pole. First base umpire Jamie Roebuck was running down the foul line towards the outfield as the ball sailed out, so it would seem that he had a good view of it. The three umpires huddled, and came out of the huddle agreeing that it was a home run. More arguement ensued, particularly from Tides' pitcher Jim Miller, who got ejected as he was exiting for the showers anyway.
"I was just hoping the ball would stay fair", said de Caster in an interview after the game. "It made me happy to see the first-base umpire point and say it was inside the foul pole. It's been a long time since I've hit a home run, and I'm glad it helped us win the game…. Hopefully, this grand slam gets me going, because I haven't shown what I'm capable of doing over these last six games."
Reliever Steve Green came in to get the last out of the 7th inning, and also pitched the scoreless 8th, giving up a lone hit to Jose Hernandez.
Indians' reliever Juan Perez also pitched the 7th inning. He walked the lead-off hitter Eider Torres, and then Perez assisted 1B Brad Eldred in executing a double play which erased Torres. With Torres on first base, Jon Knott lifted a pop foul toward the Tides' first base side dugout. As Torres ran for second base, Eldred raced over and caught the pop foul just in front of the dugout. Then he turned and realized that Torres was at second base, at about the same instant that Perez saw Torres there too. Perez raced for first and caught Eldred's throw before Torres could get back, for an unusual double play.
Jonah Bayliss pitched a perfect 8th inning for the Indians, then started off the 9th inning with a double by Luis Montanez, a single by Luis Hernandez, and a walk to DH Tike Redman to load the bases with no outs. Eider Torres hit a sacrifice fly to score Montanez, and then Bayliss ended the game with a fly out by Mike Cervenak and a strikeout by Jon Knott.
Bryan Bullington earned the win, for his 10th of the season. Jim Johnson took the loss for Norfolk, his 8th of the season. Brian Bixler, Jose Hernandez, and Brad Eldred all had two hits for the Indians.
Indians' hitting gem of the game: Four home runs–
A solo homer by Adam Boeve.
Back-to-back homers, a two-run homer by Michael Ryan, and a solo homer by Brad Eldred.
And the coup-de-gras, a grand slam by Yurendell de Caster — who broke his 0 for 22 streak with this home run.
Indians' defensive gem of the game: In the bottom of the 2nd inning, with runners on the corners and only one out, Tides' SS Luis Hernandez hit a sharp grounder to his counterpart, Tribe SS Brian Bixler, who started a double play, Bixler to Don Kelly to Brad Eldred. The double play ended the inning and prevented another run from scoring. The Indians also turned a 5-4-3 (Jose Hernandez to Kelly to Eldred) double play the next inning and the 3-1 (Eldred to Perez) double play in the 7th.
NOTES:
Roster moves:
RHP Marty McLeary, who was designated for assignment last week, has re-signed with the Pirates to play with the Indians (just what he had been doing). He is expected to start Friday night's game.
LHP Sean Burnett has been officially placed on the Disabled List.
RHP Luis Munoz has been assigned back to the Altoona Curve, as was expected after his spot start yesterday.
RHP Ricardo Rodriguez was signed by the Pirates as a minor league free agent and assigned to the Indians. Rodriguez had been pitching for AAA Albuquerque this season, where his record was 2-4 with a 6.43 ERA in 14 appearances. He was released by the Florida Marlins organization on June 24th. He was with the Indians for today's game.
Streaky:
Brian Bixler extended his hitting streak to 11 games with a double and a triple in tonight's game. He is leading the International League with 9 triples, and he has 14 doubles.
Go Tribe!
Read More