boxscore (photos by NancyZ )


Shane Youman (photo) seems to like the number zero. He especially likes to see it in his opponents' line on the scoreboard. So tonight, he put a lot of those zeros on the Charlotte Knight's line — zero runs, in all 9 innings, as the Indianapolis Indians shut out the Knights 2-0 at Knights' Stadium. Youman pitched 8 innings, giving up just 4 hits and 2 walks while striking out 6 batters, to earn his second win of the season and drip his ERA to 4.81. After the game, Youman had this to say about his win: "This win means a lot because I've been battling all season. I'm the first to admit the results haven't been there, but I feel like I'm throwing the ball much better now. I will continue to push myself because I want to get better each time I head to the mound."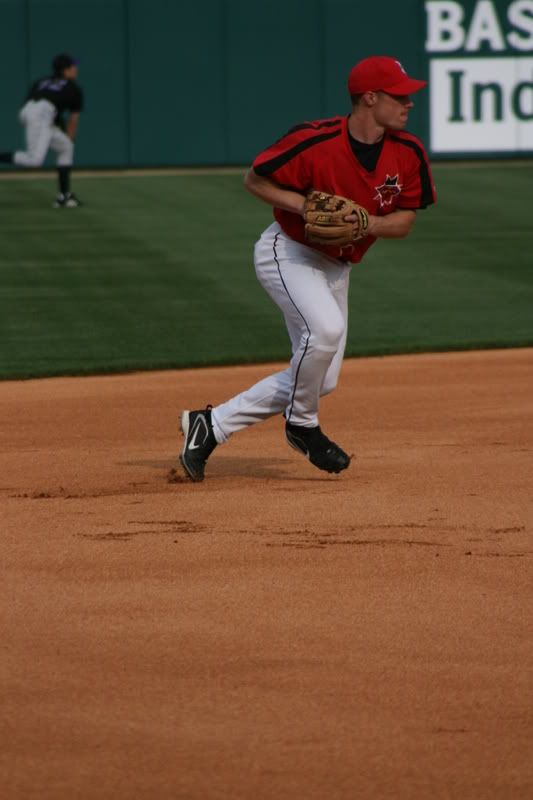 The first inning didn't start out looking like it was going to go Youman's way. Knights' 2B Jason Bourgeois led off the bottom of the 1st inning with a single to left, and moved to second base when LF Casey Rogowski walked. But Youman settled down and struck out DH Brian Anderson. Then 1B Craig Wilson grounded to shortstop, where Tribe SS Brian Bixler (photo) scooped up the ball and tossed it to 2B Luis Ordaz, who turned it and fired to 1B Jose Hernandez for the inning-ending double play.
"(Shortstop) Brian (Bixler) started a huge double play to get me out of the first inning, and that gave us some momentum", said Youman. "Fortunately I was able to settle down and focus on the task at hand. I feel like my concentration was good during all eight innings tonight."

Youman came back in the bottom of the second inning and gave up one walk to C Wiki Gonzalez. He was left stranded as Youman made short work of three of his teammates. Gonzalez was the last base runner Charlotte managed to get for the next 5 innings, as Youman set 16 Knights down in order. The Knights got a man as far as second base in the 8th inning, when CF Ryan Sweeney singled and then moved to second on Youman's wild pitch. Once again, though, Youman handled three other Charlotte batters easily, for another scoreless inning.
"After the eighth inning, (Manager) Trent (Jewett) asked if I could finish the game", said Youman. "I told him I thought I could."
Youman did go out for the 9th inning, but started the inning by giving up back-to-back singles to Jason Bourgeois and Casey Rogowski. At that point, Trent Jewett decided that Youman had had enough and it was time for reliever Franquelis Osoria to finish the game for him.
"It's tough when you have to leave in that situation", said Youman, "but Trent made a good call to get Franquelis (Osoria). Our bullpen has really picked up the starting pitchers this year, and Franquelis did a nice job to preserve the win tonight."
Osoria did just that, and on only 9 pitches. DH Brian Anderson struck out, 1B Craig Wilson grounded out, and SS Tomas Perez flied out to end the game. Osoria earned his fourth save of the season.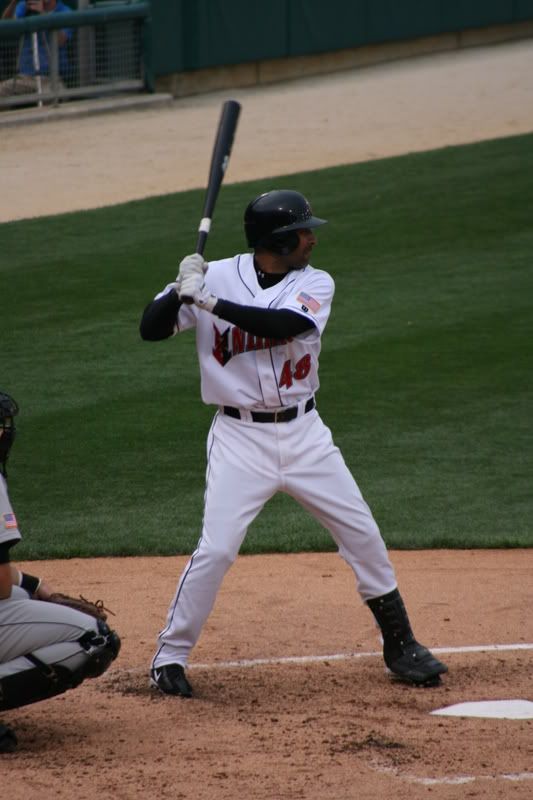 Charlotte's starter Lance Broadway kept the Indians scoreless for the first three innings. In the top of the fourth inning, 1B Jose Hernandez (photo) lifted a long fly ball over the left center field wall for a solo home run.
It turned out that the homer was the only run the Tribe would need, but they did add an insurance run in the 6th inning. LF Yurendell de Caster led off the inning with a walk, and he advanced to third base when RF Brad Eldred grounded out to first base. 1B Jose Hernandez was intentionally walked. Then 3B Russ Johnson grounded an RBI single into left field to score de Caster.
Carlos Vasquez came in to relieve Broadway in the 7th inning. Vasquez pitched two innings, giving up only a single to DH Einar Diaz in the 8th inning. Mike MacDougal pitched the 9th inning for Charlotte, setting down the Tribe batters in order. Broadway took the loss for the Knights, his second of the season.
The Charlotte pitchers held the Tribe to 5 hits in the game. Besides Hernandez's homer, Johnson's RBI single, and Einar Diaz's single, Luis Ordaz doubled, and Brian Bixler singled.
Indians' hitting gem of the game: Jose Hernandez's solo home run in the 4th inning.
Indians' defensive gem of the game: Shane Youman and Franquelis Osoria combined to pitch nine shutout innings.
NOTES:
Don't forget to vote for the Indians for the International League All-Star team. Look for the place to click for voting at either of these two sites:
www. indyindians.com
www.milb.com
Go Tribe!
Read More