boxscore (photos by NancyZ)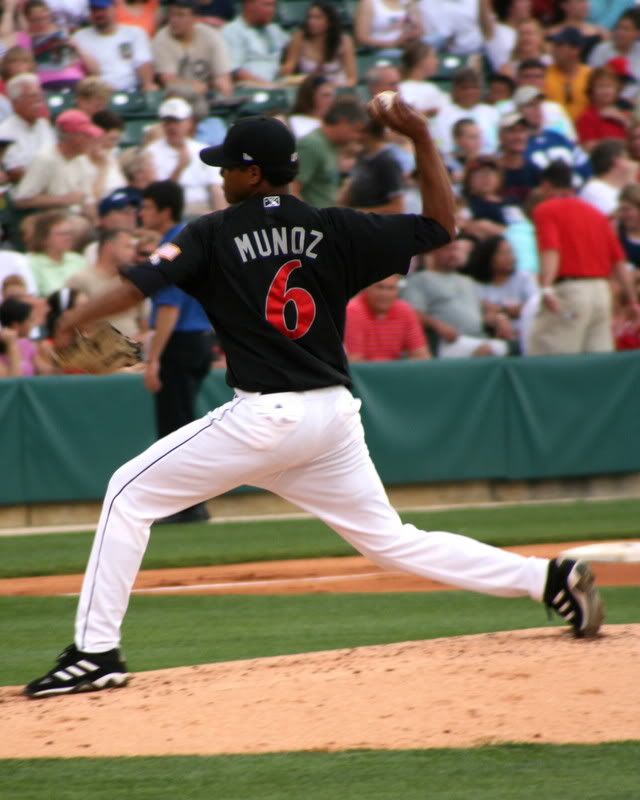 The Indianapolis Indians and the Louisville Bats got the holiday fireworks off to an early start tonight in front of a sell-out crowd at Victory Field. Each team hit back-to-back home runs in the first inning, to get the game off to an exciting start. The Indians hung on to win, by a score of 4-3, just as the rain started to fall, delaying the more traditional Fourth of July fireworks that were scheduled to follow the game.
Indians' starter Luis Munoz (photo) was called up from Altoona in order to make this start. He had a 8-4 record in 16 appearances (14 starts) with the Curve, with a 3.36 ERA. In 85.2 innings, Munoz had given up 7 homers and 19 walks, and had struck out the opposition 60 times. Tonight Munoz started the game by getting Bats' LF Jeff Keppinger, the league's leading hitter with a .373 batting average, to fly out to right field. SS Pedro Lopez bounced a single into left field, but he was quickly erased when Munoz picked him off first base. Then the first round of fireworks started. 1B Joey Votto lifted a long fly ball just over the left field wall for a solo home run. 3B Aaron Herr was up next, and he also homered, just over the 405′ mark in right-center field. Munoz ended the inning by striking out 2B Mark Bellhorn.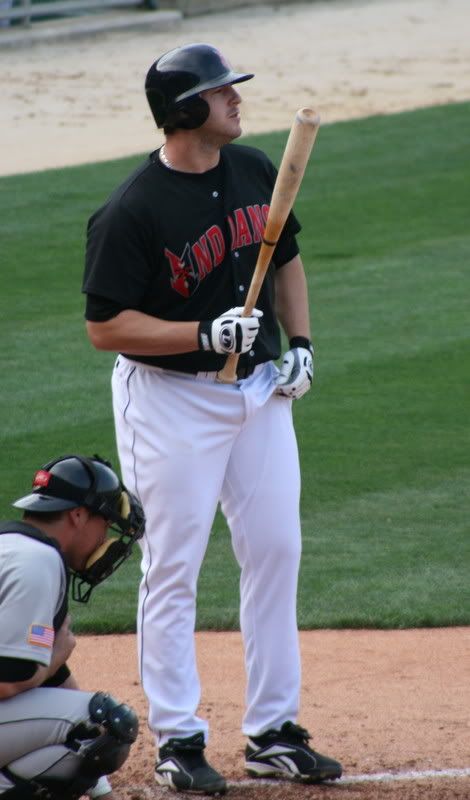 The Indians wanted their share of fireworks, though. RF Don Kelly led off the bottom of the first against Louisville starter Richie Gardner with a walk. LF Michael Ryan singled into right field, moving Kelly to third base. C Humberto Cota dropped a little ground ball to the area between the pitcher's mound and third base. By the time Bats' 3B Aaron Herr could get to it, he had no time to get either Kelly heading for home, or Ryan heading for second base. Cota was thrown out at first, but he got the RBI as Kelly scored. 1B Brad Eldred (photo) then blasted a two-run homer over the left field wall. 3B Russ Johnson (photo below) followed with his own homer over the left field wall. That put the Indians up 4-2.
The Bats came right back in the 2nd inning. Munoz first struck out CF Dewayne Wise, then hit C Ryan Hanigan with a pitch, and walked RF Chris Dickerson, advancing Hanigan to second base. Pitcher Richie Gardner put down what he'd hoped would be a sacrifice bunt, but Munoz quickly scooped up the ball and fired to Russ Johnson at third base, forcing out Hanigan. With Dickerson on second and Gardner on first, Jeff Keppinger singled into right field, bringing Dickerson around to score, cutting the Indians' lead to one run. The inning ended when Pedro Lopez flied out to short center field.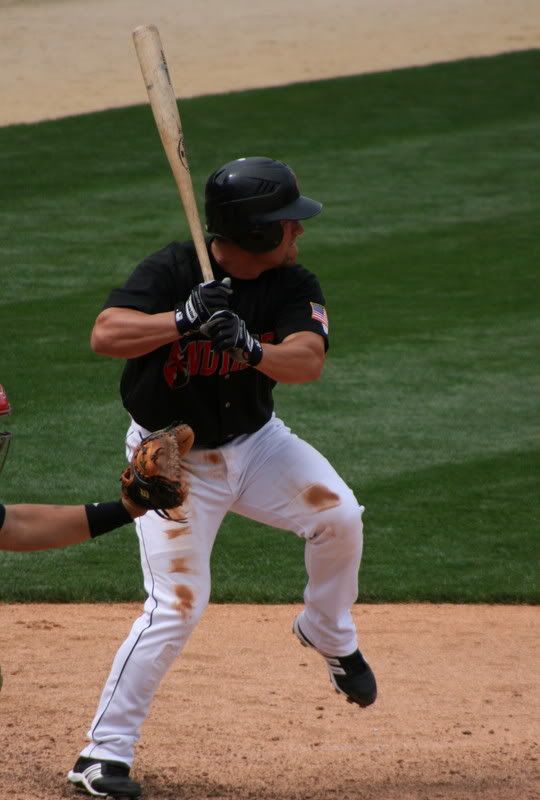 That was all the fireworks that Munoz intended to put up with, though. Over the next four innings, he allowed three hits and no walks, while striking out 5 Louisville batters. Two of the base runners were left stranded. The third, Chris Dickerson, who had singled and moved to second base on a wild pitch, was picked off second base by Munoz. Munoz threw a total of 89 pitches (59 strikes) over 6 innings, giving up 7 hits and 3 runs, with one walk and 7 strikeouts.
Josh Sharpless pitched a perfect 7th inning for the Tribe, including two strikeouts. Franquelis Osoria pitched the last two scoreless innings, allowing only one hit, a double to Joey Votto (his third hit of the night), while striking out three.
Louisville starter Richie Gardner pitched 5 innings. He gave up only one hit, a single to Brad Eldred, over the second, third, and fourth innings. The Tribe threatened in the 5th inning. RF Don Kelly singled up the right field line and SS Brian Bixler singled into left field, moving Kelly to second base. LF Michael Ryan hit a screaming line drive that looked like it was about to go deep into right field — until 1B Joey Votto made a leaping catch. With the play right in front of him, Bixler was able to see what had happened and get back to first base quickly. Kelly was running away from the play, though, and wasn't able to get back to second base before Votto's throw, and he was out on the double play. Humberto Cota struck out to end that inning.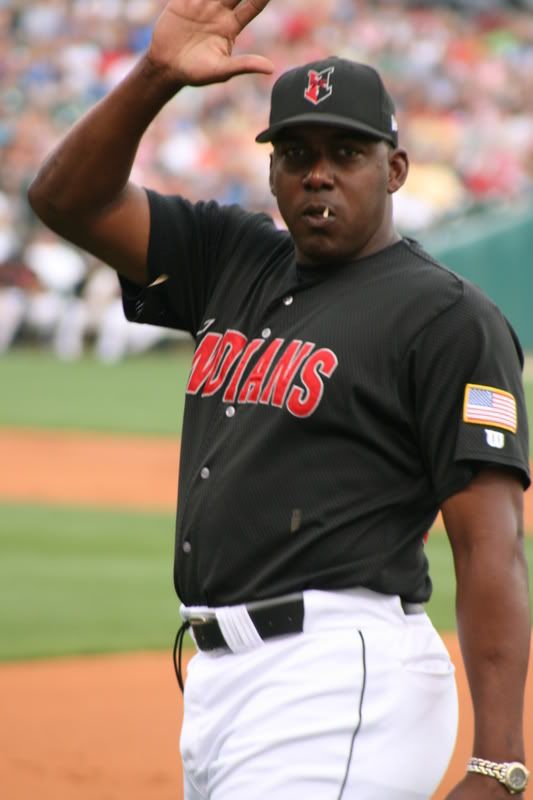 (Photo: Indians' hitting coach Hensley "Bam Bam" Meulens — photo by NancyZ)
Gardner finished his outing after 5 innings, giving up 4 runs on 7 hits and one walk, with 5 strikeouts. Lefty reliever Billy Bray, on a rehab assignment from the Cincinnati Reds, took over for Gardner. Bray gave up a walk in the 6th inning, while striking out three other Tribe batters. Kirk Saarloos pitched a perfect 7th inning for the Bats, and Jason Kershner came in to finish it off, giving up one lone hit to Brad Eldred in the 8th.
Luis Munoz celebrated his first AAA-level appearance with his first AAA win. Franquelis Osoria recorded his 9th save. Gardner took the loss for the Bats. The Tribe's victory keeps them still 2 games behind first-place Toledo, who also won tonight. It also pushes the Bats down 1.5 games behind the Indians, in third place.
Indians' hitting gem of the game: Brad Eldred and Russ Johnson with back-to-back home runs in the first inning. Eldred went 3 for 4 for the Tribe, including his 7th homer of the season for the Tribe, plus 2 RBI. Johnson went 1 for 4, with his 5th homer of the season.
Indians' defensive gem of the game: Luis Munoz's, in his very good first outing with the Tribe, picked off two base runners: Pedro Lopez off first base in the first inning, and Chris Dickerson off second base in the 4th inning.
NOTES: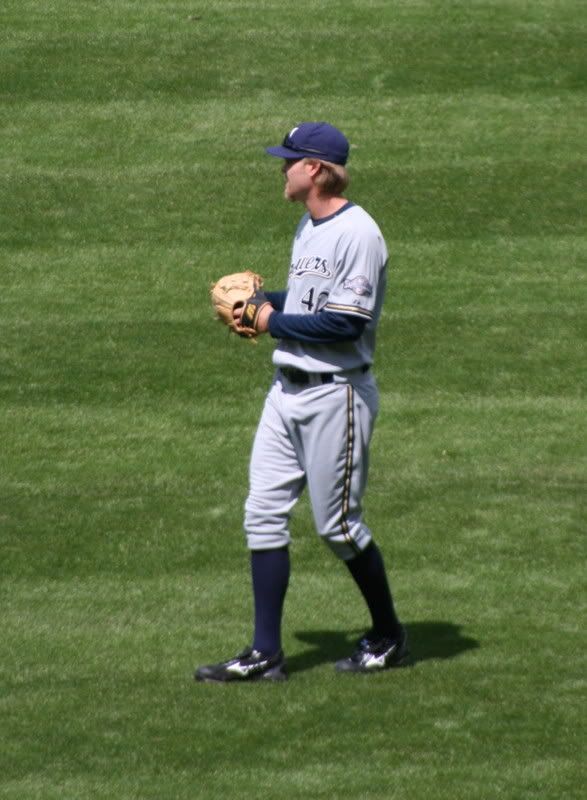 Roster Move:
Luis Munoz was brought up from Altoona (obviously).
Streaks:
Brian Bixler extended his hitting streak to 10 games with his single in the 5th innings.
Former Indianapolis Indian (2004) Corey Hart (photo), now playing outfield with the Milwaukee Brewers, currently has a 20-game hitting streak.
Michael Ryan has now put up 12 hits in his last 15 games.
Happy Independence Day:
The 7th inning stretch rendition of "Take Me Out To the Ballgame" was sung by members of the 176th Finance Division from the Indiana Guard, taped and sent from Iraq.
Go Tribe!
Read More