boxscore
The Indianapolis Indians got off to a good start, but came up short in extra innings, losing to the Scranton/Wilkes-Barre Yankees 4-3 this evening in Scranton.
Indians' starter Sean Burnett pitched 7 innings, giving up 3 runs (all earned) on just 6 hits, while walking 3 and striking out 3 batters. The runs he gave up came one at a time. In the bottom of the 2nd, Burnett gave up a double to Yankees' DH Shelley Duncan, and a triple to SS Alberto Gonzalez which scored Duncan. Two innings later, a walk to Duncan, a double by RF Bronson Sardinha, and another walk to Gonzalez loaded the bases. 2B Angel Chavez grounded out to first base, scoring Duncan. In the 5th inning, LF Kevin Reese doubled and 1B Andy Phillips singled. A sacrifice fly by Shelley Duncan scored Reese. When Sean Burnett left the game, the score was tied, and his strong effort only earned him a no-decision.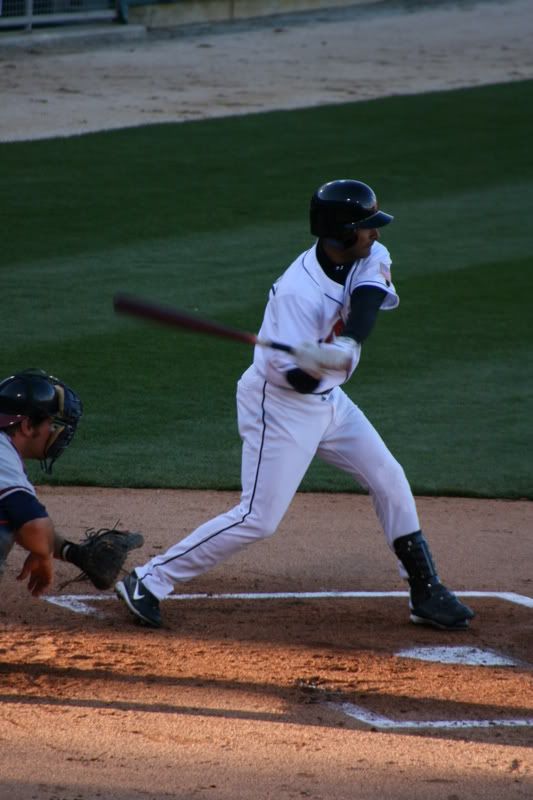 The Indians also scored runs using the one-at-a-time method. CF Rajai Davis led off against Scranton starter Chase Wright with a walk. Davis got into scoring position by stealing second, for his league-leading 25th stolen base of the season. A single by SS Brian Bixler scored Davis. The Indians added another run in the second inning. DH Jose Hernandez (photo by NancyZ ), in his first at bat after coming off the disabled list, lifted a home run over the right field wall. Hernandez was also responsible for the Tribe's run in the 4th inning, when he pulled the ball over the left field wall for his second home run of the game and his third of the season.

Yankees' Chase Wright pitched 5.1 innings, giving up three runs on 7 hits, while striking out 4 Indians' batters. He was relieved by Chris Britton, who held the Indians to only one hit over 2.2 innings. He struck out 3 batters. Former Indian Jim Brower, who was released by the Pirates' organization in April and quickly signed by the Yankees' organization, entered the game to pitch the final two innings. He struck out 5 of the 6 former teammates he faced.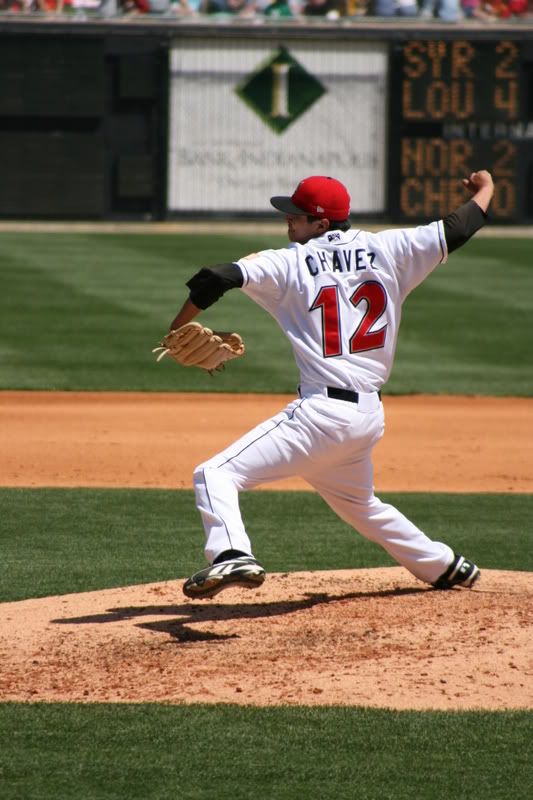 Jesse Chavez (photo by NancyZ ) relieved Tribe starter Sean Burnett, and Chavez kept the Yankees in check, pitching perfect 8th and 9th innings. With the score tied and the starting pitchers out of the game, both teams entered the late innings looking for a chance to score — and not finding opportunities. Indians' 3B Russ Johnson singled in the top of the 8th, but was stranded on base. He was the only batter to reach base for either team in the 8th and 9th innings. Then Jim Brower struck out the side in the top of the 10th inning.
Indians' Chris Hernandez relieved Jesse Chavez to begin the bottom of the 10th. Yankees' CF Kevin Thompson led off with a single to left field. He advanced to second on Kevin Reese's sacrifice bunt. Hernandez struck out Andy Phillips for the second out, and then intentionally walked Shelley Duncan, who had already had a double and scored two runs. Then Chris Basak singled under 3B Russ Johnson's glove and into left field to score Thompson from second base for the winning run.
Chris Hernandez took the loss for the Tribe, his third of the year. Jim Brower got the win, also his third of the season.
Indians' hitting gem of the game: Two home runs by Jose Hernandez, both solos, one to right field and one to left field. Hernandez had been on the Disabled List for a couple of weeks with a hamstring injury and was reactivated just this morning.
"I didn't expect to play when I woke up this morning," said Hernandez. "Nick (Green) ended up getting sick, so Trent (Jewett) activated me and pencilled me in as the DH. It always feels good to get back in the line-up when you've been out for two weeks.
"The first two at-bats felt great. My first homer was a fastball fading away, so I went opposite field and hit it over the right field wall. My second homer was a 3-2 straight change, up in the zone, and I made good contact with it."
Indians' defensive gem of the game: Sean Burnett got into and out of trouble in the 7th inning. Omar Santos started off the inning with a double to center field, and then moved to third base on a wild pitch. With that baserunner perched on third, Burnett got Kevin Thompson to pop out to 3B Russ Johnson in foul territory right next to third base. Then Kevin Reese grounded out to 2B Luis Ordaz, and Andy Phillips grounded out to SS Brian Bixler to end the inning, leaving Santos stranded on third.
NOTES:
Rajai Davis increased his hitting streak to 13 games. Michael Ryan's hitting streak stands at 8 games, as he was not in the lineup tonight.
Rajai Davis's 25 stolen bases lead the league. Brian Bixler also stole second base tonight, giving him 7 steals in 7 attempts on the season.
Go Tribe!
Read More