boxscore (photos by NancyZ)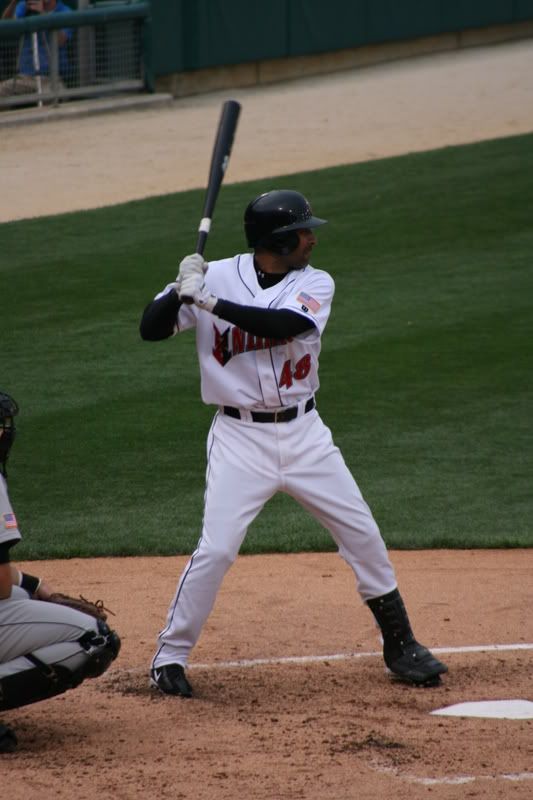 Remember those big wooden sticks? Rounded things? Kind of knobby on one end? The general idea is to use them to hit the little white ball with red stitches (not the really little white ball with dimples). The Indians' problem tonight was that only Jose Hernandez (photo) remembered that part. The Indians were one-hit by three Durham Bulls' pitchers tonight, and shut out, losing to the Bulls by a score of 5-0 at Durham Bulls Athletic Park in Durham, NC.
Durham starter Jeff Niemann pitched 6.1 shutout innings, giving up only one hit, to DH Jose Hernandez in the Indians' half of the 4th inning. But the next two batters struck out, to end the inning and leave Hernandez stranded on first base. Niemann gave up three walks to Tribe batters. CF Luis Matos and 3B Russ Johnson each walked, and then each stole second base. Matos advanced as far as third base on a fly out by LF Michael Ryan, but neither Matos nor Johnson were able to score. Jose Hernandez also walked, but was erased with a double play. SS Nick Green was hit by a pitch, but he was forced out at second base on a fielder's choice to end the inning. Those were all the baserunners the Indians could muster during the game.
Niemann also struck out 8 Tribe batters as he earned his 6th win of the season. He was relieved in the 7th inning by Scott Dohmann, who pitched 1.2 innings without giving up a hit, and striking out one. Chad Orvella pitched the 9th inning, also without giving up a hit, and he struck out two Tribe batters. That's a total of 11 strikeouts for the Indians' hitters. Each of the tribe batters except Jose Hernandez and Luis Ordaz struck out at least once.
The sad fact about the Indians' pitching tonight: the Tribe pitchers struck out a total of 12 Bull's hitters — one more than the number of Tribe batters struck out. That's 45% of the outs in this game coming as strikeouts.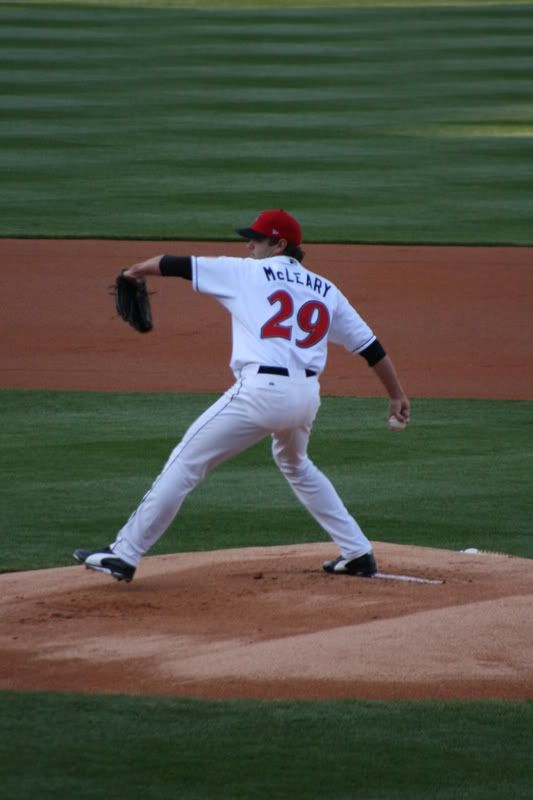 Indians' starter Marty McLeary (photo) struck out 9 in his 5.1 innings. He got through the first two scoreless innings while giving up only one hit, a double to Bulls' 3B Joel Guzman. But then in the third inning, with one out, McLeary walked C Michel Hernandez. 2B Elliot Johnson tripled to center field to score Hernandez. Johnson scored on a sacrifice fly by former Indianapolis Indian (2005) Jorge Velandia. That put Durham ahead by a score of 2-0.
Durham put two more insurance runs up in the 6th inning. Jorge Velandia walked and stole second base, and DH Justin Ruggiano also walked. McLeary got 1B Brent Butler to strike out. Then another former Indian (2006), LF Chris Richard, singled into center field to score Velandia. That was the end of McLeary's outing. Reliever Mark Corey came in for only his 5th appearance of the season, the 4th in relief. Joel Guzman hit a sacrifice fly to score Velandia, but then CF Dustin Mohr grounded out to third base to end the inning.
McLeary threw 103 pitches as he was pinned with his 2nd loss of the season. He gave up 4 runs, all earned, on 3 hits, with 4 walks. Mark Corey finished the 6th inning, going 0.2 innings without giving up a hit. Brian Rogers entered the game in the 7th inning. He gave up one run on one hit, when DH Justin Ruggiano smashed a triple deep into right field, and then scored on Brent Butler's sacrifice fly. Rogers also struck out three batters.
"We didn't play well in the series finale at Charlotte, and we didn't play well tonight", said manager Trent Jewett after the game. "We're 65 games into the season, and these are the first back-to-back losses where we weren't in either game. It's frustrating to have a pair of lopsided losses like this, but the nice thing about this game is that you get to do it all over tomorrow. We'll try to get this one out of our minds, and get ready for the final three games of this series."
Indians' hitting gem of the game: Not much to choose from — has to be Jose Hernandez, who managed to figure out Jeff Niemann enough to get one hit from him.
Indians' defensive gem of the game: Twelve strikeouts by McLeary and Rogers. That ties the season record for strikeouts in one game — the Indians also did it on May 4th, in Pawtucket. McLeary's 9 strikeouts is one more than John Wasdin had on Tuesday — the highest number of strikeouts for one individual Tribe pitcher in a game this season.
NOTES:
Sean Burnett threw in the bullpen yesterday, and it went well. He has been on the DL with left elbow tenderness, but could be back soon if tomorrow's bullpen session goes as well as yesterday's did.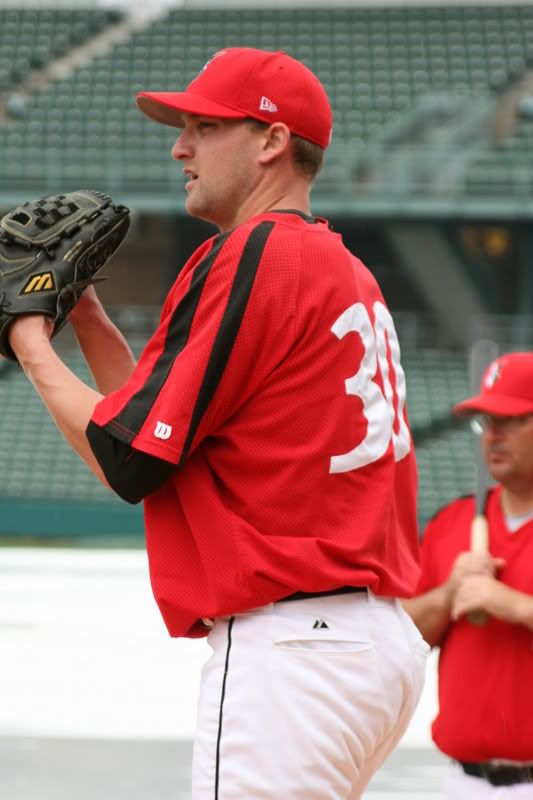 The Pirates announced this afternoon that pitcher Shawn Chacon will be moved from the starting rotation and will return to the bullpen. John Van Benschoten will be promoted to Pittsburgh on Saturday (not before) and will start the Pirates' game against the Chicago White Sox in Pittsburgh. Michael Tejera will start Friday's game against Durham for the Indians, which Van Benschoten had been scheduled to start.
C Humberto Cota's 10 days after being designated for assignment is up today. Discussion at the ballpark today revolved around what Cota would do — report to Indianapolis? refuse the assignment and become a free agent to see what other teams might be interesting? Still no word on the answer.
The Pirates have already signed 19 of their draft picks from last week. First round pick Daniel Moskos has not yet signed, but negotiations are going well.
Go Tribe!
Read More