boxscore (photo by NancyZ)
The Indianapolis Indians left 11 base runners stranded and made two errors tonight, as they lost to the Columbus Clippers by a score of 7-5 at Cooper Stadium in Columbus, Ohio. The Tribe out-hit the Clippers, 12 hits to 9, but couldn't get the runners around to score. The loss combined with a win by the Toledo Mud Hens drops the Indians to 3 games behind the Mud Hens in the International League West standings.
Columbus led off the scoring tonight, against Indians' starter Michael Tejera. In the bottom of the 1st, with one out, 2B Brent Abernathy grounded a double into left field. Two batters later, LF Michael Restovich lifted a homer over the left field wall. Abernathy and Restovich were trouble for Tejera again in the 3rd inning, though they switched hits: Abernathy hit a solo home run, and then Restovich hit a double. Larry Broadway followed the double with a walk, putting runners on first and second with two out. Tejera then struck out RF Abraham Nunez to end the inning and leave the runners stranded.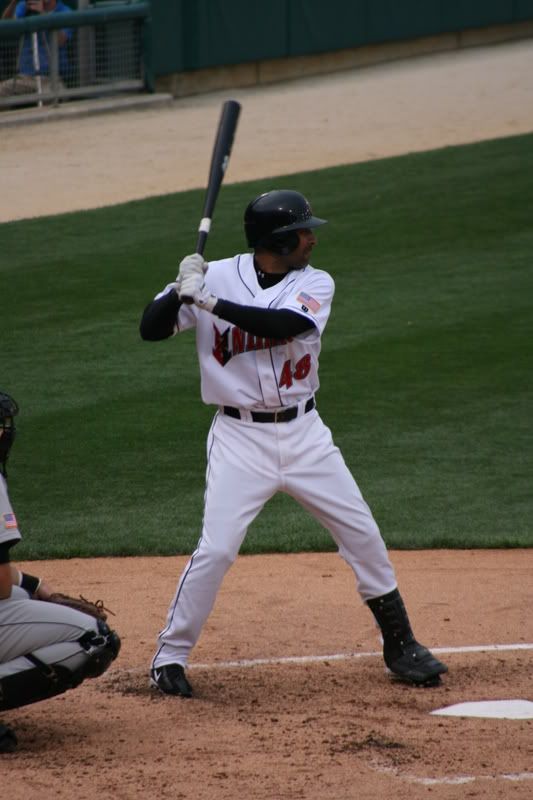 The Indians scored in the second inning, taking advantage of two Columbus errors. 3B Jose Hernandez (photo) hit a single into left field, which Clippers' LF Restovich missed. Hernandez ran all the way to third on the two-base missed catch error. When the relay throw from SS Melvin Dorta went wide of third base, Hernandez popped up from his slide, and headed for home, scoring on the throwing error.
The Tribe added another run in the 4th inning. 3B Jose Hernandez walked, and LF Michael Ryan and 2B Luis Ordaz (photo below) hit back-to-back singles, loading the bases with one out. Pitcher Michael Tejera grounded to 2B Abernathy, forcing out Ordaz at second. When Ordaz slid into second base, he disrupted the relay by SS Dorta covering second, so that the throw to first was late. Tejera was safe at first, and he got credit for the RBI when Hernandez scored.
The Clippers put up another run in the 6th inning, when 1B Larry Broadway smashed a homer to straight-away right field. That put the Clippers up by two runs.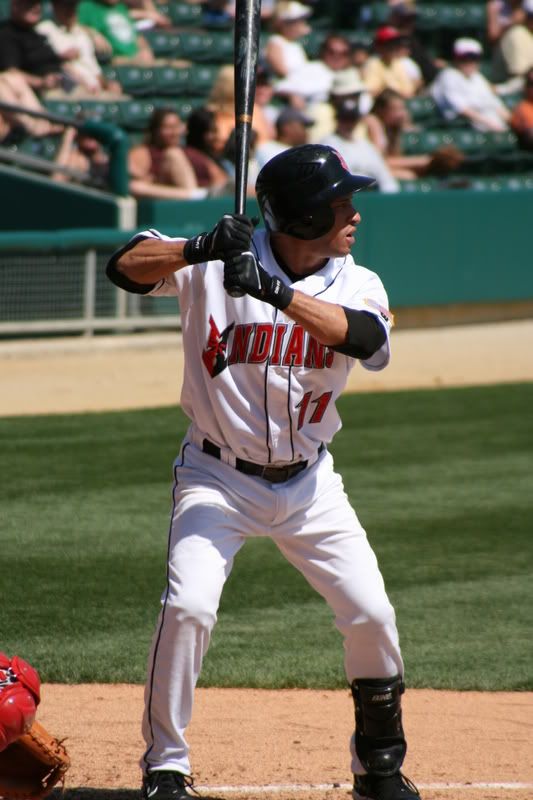 Starter John Lannan pitched 6 innings for the Clippers. He gave up 8 hits, and allowed two runs, only one of which was earned (Hernandez's run in the second inning was unearned). He walked one and struck out three. Reliever Alex Morales came in to pitch the 7th inning. CF Matt Kata led off the inning by working a walk, and he stole second base. 1B Brad Eldred also walked, on four pitches. Jose Hernandez hit a long fly into right field for a double, scoring Kata. Eldred was held up at third base, as the throw in from RF Nunez was very quick and on target. That was all for Morales, though, and Edward Valdez entered in relief. C Humberto Cota grounded to Clippers' 2B Brent Abernathy, who bobbled the ball. Cota was safe on the error, and Eldred scored to tie the game.
Michael Tejera was also relieved after 6 innings. He gave up 4 runs on 6 hits, including 3 homers, and 3 walks, while striking out 3 batters. Brian Rogers came in to start the 7th inning for the Tribe. Rogers seemed to have trouble throwing strikes. He walked SS Manny Alexander, got CF Bernadina out on a sacrifice bunt which moved Alexander to second base, and then walked Brent Abernathy. That was enough for manager Trent Jewett, and lefty Juan Perez replaced Rogers. Perez quickly got the second out of the inning by striking out 3B Kory Casto. LF Restovich grounded to Jose Hernandez at third, and the ball skipped off Hernandez's glove for an error, allowing Alexander to score an unearned run and giving Columbus the lead again, 5-4. A ground out to first base by Larry Broadway ended the inning.



The bottom of the 8th saw the Clippers adding two insurance runs. With one out and Juan Perez still pitching, C Brandon Harper doubled into left field. Brandon Watson, who returned to the Clippers during the game from a stint with the Washington Nationals, reached first when Tribe SS Brian Bixler fielded his grounder but threw wide to first base. The throw sailed into the Clippers' dugout, and Harper scored, and Watson moved to second base. Manny Alexander doubled, scoring Watson. Alexander was caught stealing third and Bernadina was called out on strikes, but the Clippers were ahead 7-4.
The Indians rallied in the top of the 9th inning, but fell short. Yurendell de Caster singled into center field, and went to second base on defensive indifference. Humberto Cota (photo) hit a liner to right-center field that bounced over the wall for a ground-rule double, scoring de Caster. But that was all the Tribe could get, as Russ Johnson pinch hit for Juan Perez but struck out to end the game.
Juan Perez pitched 1.2 innings, giving up 2 runs (only 1 was earned) on 3 hits, with 2 strikeouts. Brian Rogers, who was responsible for one unearned run in the 7th inning, was charged with the loss, his first of the season. Edward Valdez, who pitched 1.1 scoreless innings for the Clippers, was credited with a blown save, but also got the win, his second of the season. Chris Booker (who named to the International League All-Star team), who pitched the final inning for the Clippers, got the save, his 21st of the season.
Luis Ordaz went 3 for 4 with a double. Jose Hernandez got 2 hits, including a double and an RBI, and Yurendell de Caster also had 2 hits. "I feel great at the plate", said de Caster after the game. "I've been putting in a lot of extra work this year, and I think that's helped. I'm swinging at better pitches, and I'm trying to use the entire field."
Indians' hitting gem of the game: Jose Hernandez, who went 2 for 4, scored twice, and had an RBI. But the best part was the run he scored in the second inning, when he singled, ran to third on a catching error, slid into third, then had to get up and run home when the Clippers made another error. That's like an inside-the-park home run with a slide in the middle of it.
Indians' defensive gem of the game: In the bottom of the 3rd inning, Rogearvin Bernadina bunted, and the ball went toward first base. Brad Eldred charged to field the bunt, turned and made a perfect throw to first base. Michael Tejera is a very good fielder, and he covered first base, in perfect position at exactly the right time to take the throw for the out.
NOTES:
Roster Moves:
Reliever Jonah Bayliss reported to the Indians today. He was available to pitch, and even started warming up at one point, though did not get into the game.
Reliever Kevin Gryboski, who was just taken off the DL two days ago, was put back onto the DL today, to make room for Bayliss.
Injury Report:
The Pittsburgh Post-Gazette reported today that Nyjer Morgan had the cast removed from his hand/thumb yesterday. He has gone to Bradenton, where he will begin rehab, and according to the P-G, he could be ready to return to the Indians in about 2 weeks. (Isn't that kind of quick?)
OF Luis Matos was out of the game tonight, because his neck is bothering him.
Yurendell de Caster, who missed a few games due to back pain, was back in the line-up, but that doesn't mean the back pain is gone. He's still got it, but he's trying to play through it.
All-Star Comments:
The three Tribe players who will be going to Albuquerque for the AAA All-Star game in two weeks: Bryan Bullington, Yurendell de Caster, and Brian Bixler.
Brian Bixler's comments when he heard he was named to the All-Star team in his first season at the AAA level:
"I was really happy. It's a great honor. But it's not the end of the season yet… I need to keep working and stay strong."
Was he surprised to be named to the team?
"A little bit. There are so many good players… any time I'm mentioned along with these guys, it's an honor."
This is Bixler's second time on a league All-Star team. Last year he was named to the High-A Carolina League All-Star team, and the night of the game, after the game was over, he was promoted to AA Altoona.
This is Yurendell de Caster's first time to be named to an All-Star team. His versatility on the field surely contributed to his being on the team. "I'll do whatever is needed to help my team win", he said. "I'm fine with anywhere (manager) Trent (Jewett) puts me. I can play first, second, third, or the outfield. I can hit at different spots in the batting order. That's my game — I try to be as versatile as possible."
It is Bryan Bullington's second time on as an All-Star. He was an All-Star on the Eastern League team when he was playing for Altoona in 2004.
Streaking:
Michael Ryan extended his hitting streak to 8 games with a hit in the 4th inning.
Brian Bixler doesn't have a streak, but he has hit in 10 of his last 12 games.
Go Tribe!
Read More