boxscore (Photos by NancyZ)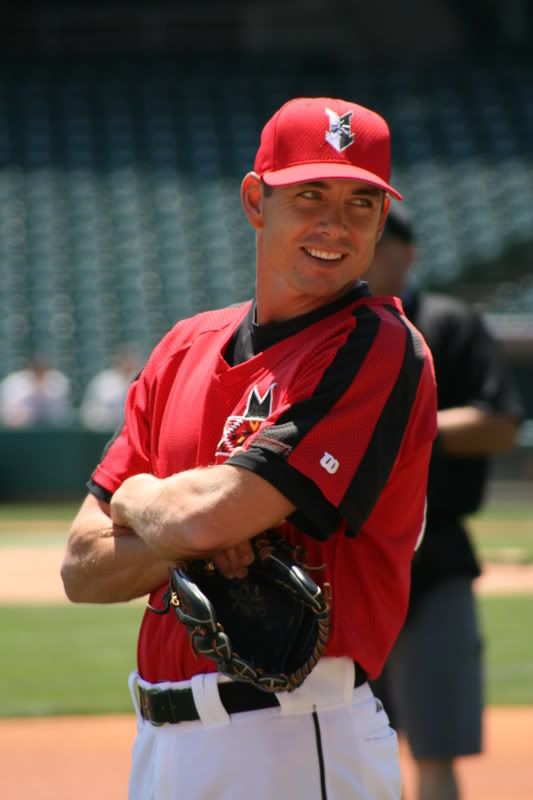 What did the best job of keeping the Charlotte Knights from scoring this afternoon? It was the rain. When it started raining in the middle of the 6th inning at Knights' Stadium, the score was 13-2, and the Knights had scored in every inning but the first. Then they capped it off with an 8-run 5th inning.
"It was just one of those days", said manager Trent Jewett after the game. "They're hard to explain. Unfortunately, when you play 144 times, you're going to have results like this every now and then. We've been on the positive end of a few 10-run games this year, so you have to take the good with the bad. We will enjoy a day off on Wednesday, and get back to work on Thursday."
Indians' starter John Wasdin took the loss for the Tribe, pitching 4.1 innings. He gave up 7 runs (all earned) on 11 hits. The bright spot was that he struck out 8 batters, including 3 strikeouts of Knights' SS Tomas Perez. In fact, Tribe pitcher Juan Perez also struck out Tomas Perez once. Wasdin's record is now 1-1, and his ERA ballooned to 8.31.
Wasdin had a little trouble in the first inning, but was able to get out of it. He hit 3B Jason Bourgeois with a pitch, and Bourgeois moved to second base on a wild pitch by Wasdin. He advanced to third base when CF Ryan Sweeney singled into right field. But Wasdin struck out DH Ernie Young and SS Tomas Perez to end the inning without a run scoring.
It was after that inning when the big trouble started. The Knights scored in three straight innings on home runs. They first got on the board in the bottom of the 2nd inning. 2B Kenny Perez singled into right field, and RF Kenny Kelly lifted a 3-1 pitch over the center field wall for a 2-run homer. Charlotte added two more in the 3rd inning, on another home run. 3B Jason Bourgeois grounded a double into left field, and CF Ryan Sweeney blasted one over the right field wall for another 2-run homer. In the 4th inning, Kenny Kelly led off the inning with his second home run of the game, this time to right field. This was a solo homer, and it made the score 5-0.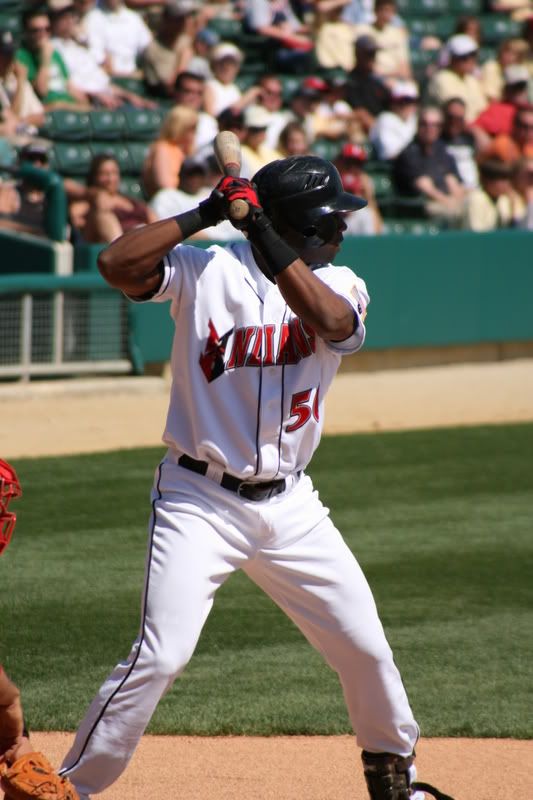 Knights' knuckleball-throwing Charlie Haeger held the Indians to two hits over the first 4 innings. In the top of the 5th inning, with two out, C Einar Diaz reached first base on a fielding error by Knights' 3B Jason Bourgeois. 2B Luis Ordaz walked, and SS Brian Bixler was hit by a pitch to load the bases. RF Yurendell de Caster (photo), owner of the highest batting average in the International League, lined a single into left field, to score Diaz and Ordaz. The rally ended quickly, though, as de Caster was thrown out trying to steal second base.
Charlotte came right back in a disastrous 5th inning — batting around, and chasing Tribe starter John Wasdin from the game. With one out, Wasdin gave up back-to-back singles to 1B Casey Rogowski and 2B Kenny Perez. That was the end of the day for him, as left-hander Juan Perez came in for relief. Juan Perez was greeted by another pair of back-to-back singles, to RF Kenny Kelly and C Gustavo Molina. Kelly's single brought in Rogowski, making the score 6-2. LF Scott Podsednik smashed a grounder off Tribe 1B Brad Eldred's glove and into right field, scoring Kenny Perez and Kenny Kelly. When Tribe RF Yurendell de Caster launched a wild throw back into the infield, Molina advanced to third base and Podsednik to second base. Molina scored on Jason Bourgeois' single and Podsednik scored on Ryan Sweeney's double. DH Ernie Young capped things off with a 3-run homer, the Knights' fourth homer of the game. That gave the Knights 8 runs in the inning, and a 13-2 lead.
Trent Jewett complimented the Knights in earning a series split. "You have to give Charlotte credit because they won this series finale in pretty decisive fashion. They excelled in every phase of the game today. We, on the other hand, didn't do too many things well. We spotted them five runs. Then, the wheels completely fell off the wagon in the fifth. It was a combination of clean hits, obvious errors, and some balls that could've been scored either way."
Rain interrupted the game in the middle of the 6th inning. After a delay and consultation with weather radar, it was decided to declare the game finished. That gave Charlotte's starter, Charlie Haeger the win, his 3rd of the year. The Tribe managed only three hits off Haeger, by Yurendell de Caster, Brad Eldred, and Luis Matos. Their two runs were unearned. Jason Bourgeois, Ryan Sweeney, and Kenny Kelly each had three hits for the Knights.
Indians' hitting gem of the game: Yurendell de Caster's two-RBI single in the top of the fifth inning. Trent Jewett couldn't say enough about his team's versatile player. "Yurendell is such an important piece to this puzzle because he can do so many things. It's great to have Yurendell when you're the one filling out the line-up card every day. He can play first base, second base, third base, left field or right field. Yurendell can hit almost anywhere in the line-up, and he can hit for both average and power. He's been one of our most consistent performers over the past three years, and we're looking forward to big things from him during the second half of this season."
Indians' defensive gem of the game: John Wasdin struck out 8 Charlotte batters in 4.1 innings of work. That's 2/3 of the outs in the first four innings.
NOTES: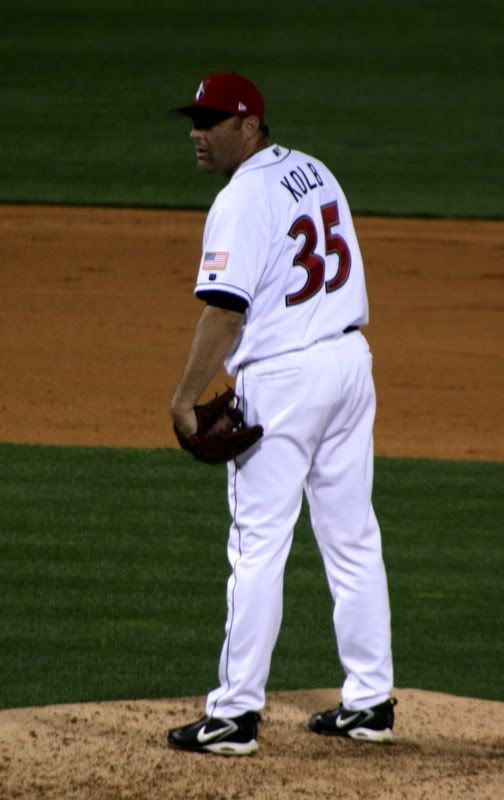 Roster moves:
Reliever Dan Kolb has been called up to the Pittsburgh Pirates. Kolb has appeared in 18 games for the Tribe, going 20 innings. He has given up 19 hits and 9 walks, with 16 strike outs. He has a 2-1 record with 4 saves, and a 3.18 ERA. Kolb spent three weeks last month on the DL because of a hamstring problem. Since returning, he has pitched in 5 games (5.2 innings) and given up 5 runs — 2 in one game and 3 in another game, and earned one win and one save.
Someone will have to be sent down to make room for Kolb, and someone will have to be removed from the 40-man roster to make room for him there too.
Since the Indians already had a roster position open prior to Kolb's promotion, they reactivated RHP Mark Corey from the DL. Corey has been on the DL since May 17th. He has pitched in 4 games for the Indians, one start and 3 in relief, for a total of 8.1 innings. His ERA is 3.81, with no wins, losses, or saves.
There are still murmurs that Franquelis Osoria might be joining Kolb soon.
Injury reports:
Bryan Bullington's shoulder discomfort is now being attributed to general arm fatigue. He is expected to miss one start.
Sean Burnett is still on the sidelines, but he threw yesterday on flat ground, and today from the bullpen mound. He might be able to return to the starting rotation by the end of the month.
Record:
Charlotte scored 8 runs in the 5th inning. The Indians' previous record for number of runs allowed to an opponent in an inning was 6, against Richmond on April 22nd.
Go Tribe!
Read More