boxscore (photos by NancyZ )


(photo: Rajai Davis crosses the plate after his home run )
Three Indianapolis Indians hit solo homers today to lift the Tribe to a 5-2 win over the Charlotte Knights at Victory Field this afternoon. Rajai Davis hit his 4th homer of the season, Brian Bixler hit his third, and Luis Ordaz hit his first homer of the season, all to left field, where the wind was blowing out. Starter John Van Benschoten got the win to put his record at 6-3, Franquelis Osoria earned his third save of the season.
In a display of the Indians' players versatility, not one of the starting nine played in the same position as yesterday's starting nine. There were some changes in personnel — C Einar Diaz and DH Michael Ryan did not play at all yesterday, and of course, there was a different pitcher. Today Jose Hernandez was playing first base instead of Brad Eldred, who was playing right field. Second baseman Luis Ordaz and shortstop Brian Bixler were back at their usual spots, as opposed to the swap they had yesterday (Ordaz at shortstop and Bixler at second ). Nick Green was at third base instead of right field. Yesterday Luis Matos was in center field and Rajai Davis was in left field; today they had swapped back to their more usual positions, with Davis in center and Matos in left.


(photo: Luis Ordaz crosses the plate with his solo home run. )
Rajai Davis led off the bottom of the 1st inning in style for the Tribe, by taking Knights starter Vladimir Nunez's fourth pitch over the left field wall and into the grass berm for a solo home run. "I didn't want to do too much in my first at-bat", said Davis after the game. "To be honest, I was just looking to put the ball in play. Fortunately, I was able to get the barrel of the bat through the strike zone on an inside fastball."
That single run was looking very big for awhile — it was the only run scored for the first 4.5 innings. Nunez held the Indians in check after Davis's homer, giving up only two more hits and one walk over the first 4 innings. He also struck out 5 Tribe batters in those 4 innings.
In the bottom of the 5th, Luis Ordaz and Brian Bixler got in on the home run fun. Ordaz led off the inning by hitting a long fly over the middle part of the left field wall, for his first homer of the season. When he got back to the dugout, of course, he was not greeted by high-fiving teammates. Everyone remained sitting quietly — until Ordaz had put his bat away and started to walk along the bench. Then his teammates all started laughing, and congratulated him.



(photo: Manager Trent Jewett congratulates Brian Bixler as he circles the bases on his homer. )
Einar Diaz was next to bat in the 5th inning, and he ripped a double into the gap in left-center field. With Rajai Davis at the plate, Knight's C Wiki Gonzalez's threw to second in an attempt to pick Diaz off base. But Diaz took off for third base as Gonzalez threw, and the throw was off target and into center field. Diaz made it to third on the stolen base, and then came home on the throwing error, for the Indians' third run of the game. Davis flied out to short left field, bringing Brian Bixler to the plate. Bixler smashed a line drive into the grass berm above left field for the second home run of the inning.
Nunez lasted 6 innings, giving up those 4 earned runs on 6 hits, with 2 walks and 6 strikeouts. Andrew Sisco, a 6'10″ reliever, pitched a scoreless 7th for Charlotte. The Indians scored an insurance run off him in the 8th inning, though. Jose Hernandez proved that he had not used up all the hits in his bat last night, slamming a double to the 418 ft sign in left-center field. He scored on Nick Green's single up the middle, for the Tribe's 5th run.


(photo: Brian Bixler steals second base in the first inning. )
Besides home runs from Davis and Ordaz, Brian Bixler went 3 for 4 in the game, with a homer and 2 singles. Einar Diaz went 2 for 3, with a single and a double.
Charlotte batters were not as fortunate. They posted only 6 hits, two each by 2B Jason Bourgeois and C Wiki Gonzalez, and one each by CF Ryan Sweeney and DH Ernie Young. Indians starter John Van Benschoten (photo below ) pitched 5 scoreless innings, while scattering 5 hits and striking out 5 batters. In the 6th inning, a walk to DH Ernie Young and a two-run homer by C Wiki Gonzalez scored the Knights' only runs of the game.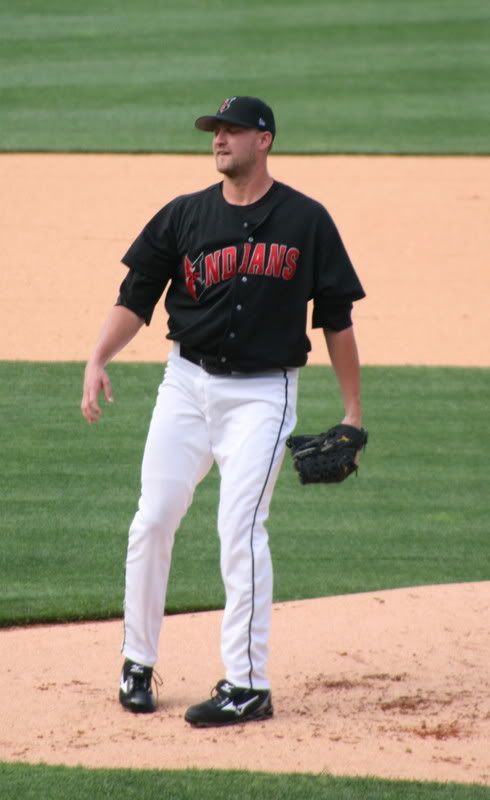 CF Rajai Davis praised Van Benschoten after the game:
"'Johnny V' had great stuff today. He was throwing strikes, and challenging the Charlotte hitters. As a position player, that's all you can ask of your starting pitcher. His ability to throw strikes always keeps the seven guys behind him in the game. 'Johnny V' had several quick innings today, and that helped our offense stay in a rhythm.
"We go out and try to win every game, but I think this team expects to win when 'Johnny V' is on the mound. We're fortunate to have a lot of talented pitchers on this staff, and he's no exception. We go through our pre-game routines with a lot of confidence when it's John's day to pitch. He's given this team a lift at several points during the season, and that's what he did again today."


After the homer by Gonzalez, Van Benschoten walked RF Kenny Kelly, and then made a wide throw to first in an attempt to pick off Kelly. The ball went all the way to the wall and appeared to get hung up in the rolled-up tarp or some other piece of equipment and was ruled unplayable, so Kelly was able to advance only to second base. Van Benschoten then threw three pitches to 3B Gustavo Molina — a strike, and then two balls, with the third pitch nearly getting away from C Einar Diaz. At that point, in the middle of the at-bat, manager Trent Jewett jumped up off his bench and had pitching coach Jeff Andrews signal to the bullpen as Jewett went out to the mound. Van Benschoten was relieved in the middle of the at-bat, in favor of Franquelis Osoria (photo ). Osoria threw two more pitches, and Molina ground out to third base. Osoria remained in the game and pitched three perfect innings, to finish the game and earn his 3rd save.


Indians' hitting gem of the game: Once again, three homers, by Rajai Davis, Luis Ordaz, and Brian Bixler. Ordaz's was the most fun, though, since it was his first of the year, and since his teammates teased him by pretending not to notice that he'd hit one. Ordaz also hit one home run in each of 2005 and 2006, with the Durham Bulls. In 2004, also with the Bulls, Ordaz hit 3 homers.
Indians's defensive gem of the game: In the bottom of the second, Casey Rogowski lifted a long fly ball to right-center field. Brad Eldred, playing right field for the first time on this homestand, ran back and toward center field, and made the catch right in front of the wall, then ran into the wall and tumbled to the ground, but managed to hold onto the ball for the out. (see photos )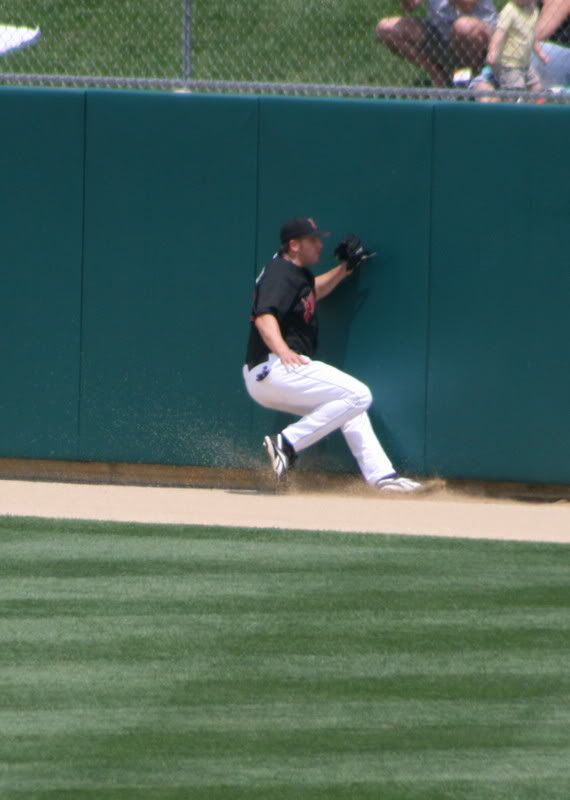 NOTES:
Streaks:
Rajai Davis extended his hitting streak to 21 games. Said Davis in the post-game interview: "I've really trusted my abilities over these past three weeks. I've gone to the batter's box with the mentality that the opposing pitcher is not going to throw it by me. I've also been focused on consistently hitting the ball to right field. I've been trying to stay back on the breaking pitches, so I can take them the opposite way."
Davis's streak ties the record set by Eduardo Perez for the longest hitting streak by an Indians player in the Victory Field era. In 1996, from April 12th – May 9th, Perez had a hit in 21 straight games. In 1991, Todd Haney had a 20 game hitting streak with the Indians.
Einar Diaz extended his hitting streak to 8 games.
Columbus's Brandon Watson also extended his hitting streak today to 31 games.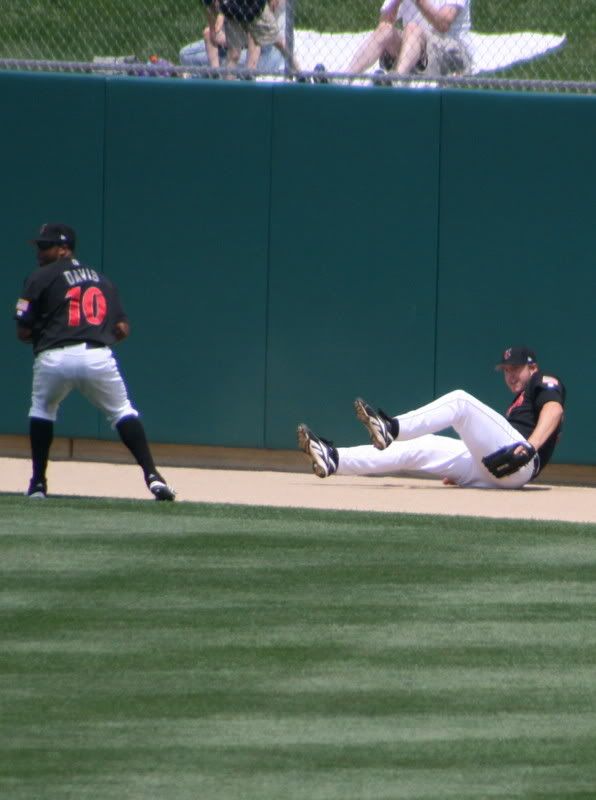 Homers:
The Indians have now hit 13 homers in the last 6 games. They only hit 9 home runs in the month of April.
This was the third time this season that the Indians have hit two home runs in the same inning (Ordaz and Bixler today ). It also happened just last week, on May 31st (Davis and Eldred ), and on May 14th (Aguila and Ryan, back-to-back ).
Injuries:
Masumi Kuwata has a bruise on his left arm/wrist where he got hit by a come-backer in his debut yesterday, but he is ok, and it should not interfere with future outings.
Yurendell de Caster, who came out of the game after 5 innings 3 days ago, has not played since. He has some back soreness.
Vote for your Indians to be on the International League All-Star team! Fan votes will count for 1/3 of the total vote. Media votes will also count for 1/3, and team managers, coaches, and general managers will have a 1/3 vote. You may vote a maximum of 25 times between now and June 22nd.
vote here
Go Tribe!
Read More