boxscore (photos by NancyZ )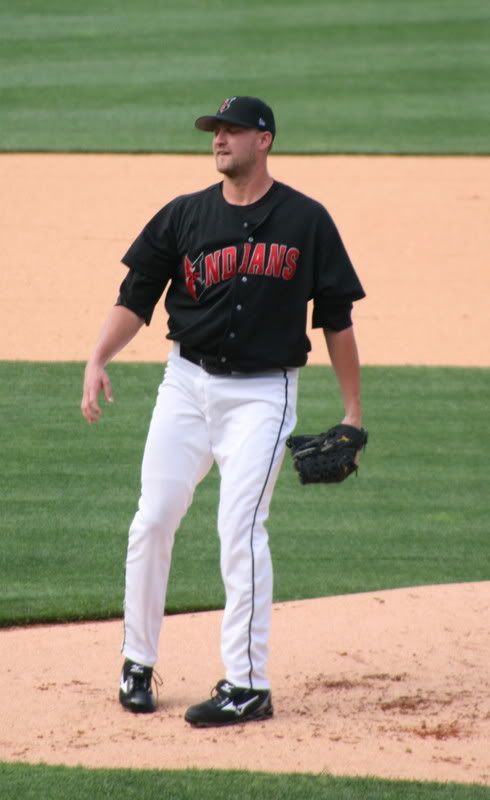 The Indianapolis Indians had hoped to be able to sweep this four-game series with the Rochester Red Wings, but they ran into a wall last night — a wall named Nick Blackburn. Blackburn went the distance for the Red Wings with a four-hit shutout for his second win of the season. He struck out 4 Indians and did not walk any.
"Tonight was a disappointing result, but I'll be pleased any time we go 9-3 on a 12-game homestand", said Indians manager Trent Jewett after the game. "We are asking a lot of our position players right now. It's pretty much been the same guys out there night in and night out. We're getting a consistent effort from everyone on the roster, and that's what you're looking for when you sit in my chair."
Indians' starter John Van Benschoten, the team's Player of the Month for May, got into trouble of his own making in the top of the first inning. He walked Red Wings' SS Alexi Castilla to start the game, and then threw an errant pickoff attempt, sending Castilla to third base. CF Denard Span grounded out to second base, and Castilla scored.
That was the only run the Red Wings needed, though they added two insurance runs in the 4th inning. With one out, LF Garrett Jones walked, and was thrown out attempting to steal second base. 1B Glenn Williams also walked, and back to back singles by 2B Matt Tolbert and 3B Tommy Watkins loaded the bases. Another single by RF Trent Oeltjen brought in both Williams and Tolbert. The inning ended when C Korey Feiner ground into a force out.
Van Benschoten gave up only 4 hits in his 4 innings pitched, for 3 runs (only 2 were earned ). He walked 3 and struck out 4 batters. Reliever Brian Rogers pitched three scoreless innings, giving up only one hit to the first batter he faced, Alexi Castilla. Michael Tejera pitched a perfect 8th inning for the Tribe, and Dan Kolb pitched the 9th inning. Kolb hit one batter (Tolbert ) but retired the other three batters he faced. Van Benschoten took the loss, pushing his record to 6-4, and his ERA to 2.73.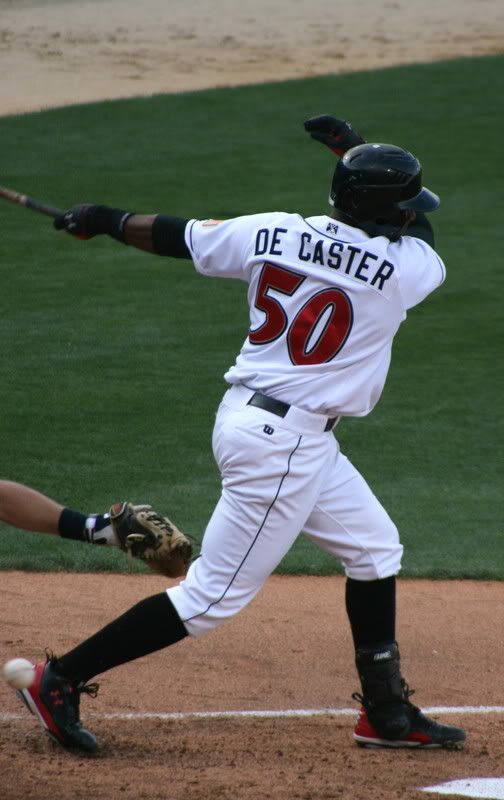 Meanwhile, the Indians could not get much started against Blackburn. 1B Yurendell de Caster (photo ) had two hits, including a ground-rule double to the right field wall in the 9th inning. LF Nick Green and 2B Luis Ordaz also had singles. None of the hits, nor the one batter (Ordaz ) who reached on an error by Wings' 2B Tolbert, came in the same inning. No Indians batter got further than second base.
Manager Trent Jewett on Blackburn's performance: "It was certainly a terriffic outing for Blackburn. He threw a heavy fastball, got ahead of most hitters, and didn't walk anyone. He read our bats very well, and he did a nice job holding the few runners we got on base."
Indians' hitting gem of the game: Yurendell de Caster's double in the 9th inning, the only extra-base hit for the Tribe.
Indians' defensive gem of the game: In the top of the 3rd inning, Einar Diaz made a stunning play on a bunt by Denard Span. The bunt landed just a bit in front and to the third base side of home plate. Instead of waiting to see if it would go foul, Diaz pounced on it, whirled, and fired to first base, in time to get the fast-running Span out at first.
NOTES:
Roster move– OF Chris Aguila has been placed on the Disabled List, retroactive to Tuesday. This clears a roster spot, and Carlos Maldonado, who has been on the DL with a broken bone in his left hand, is expected to be able to return within the next few days. Maldonado broke the bone on May 5th, when he was hit on the hand by a pitch. He has been taking batting practice and catching bullpen sessions, and is very close to being ready to play again.
Go Tribe!
Read More