boxscore (Photos by NancyZ)


It started out like the previous two games between the Indianapolis Indians and the Pawtucket Red Sox: two teams battling, going up by one run, tying it up, going up by another run or two, tying it up again. Then the Indians broke it open with three runs in the 8th inning, and this time didn't let the Red Sox catch up. The Indians beat the Red Sox 6-3 this afternoon at Victory Field.
Pawtucket starter Jon Lester kept the Indians scoreless for the first two innings, giving up only one walk to C Humberto Cota. The Indians first hit and first run came in the 3rd inning, as LF Michael Ryan (photo) led off the inning with a rocket shot just inside the right field foul pole for a solo home run.
"[John] Lester is a tough pitcher, so I just tried to react to the pitch as best I could", said Ryan after the game. "I put a good swing on the ball and, luckily, it wrapped just inside the foul pole."


The Red Sox came right back in the top of the 4th inning. Lead-off hitter LF Bobby Scales tripled all the way to the 418′ mark in left-center field. He scored easily when 1B Jeff Bailey grounded out.
The Indians took the lead again in the 5th inning. Michael Ryan smashed another long ball, this one to center field. At first, it looked like it was going over the wall like his first hit, and PawSox CF Jacoby Ellsbury wasn't running back very fast. Then the swirling wind came into play, and Ellsbury suddenly picked up his speed. He made a leaping catch just in front of the wall — and then the ball popped out of his glove when he crashed into the wall, allowing Ryan to reach third base safely. Einar Diaz, with the DH duties today, walked to put runners on the corners. CF Luis Matos (photo, with hitting coach "Bam Bam" Meulens) popped a gentle single into left field, to bring home Ryan and break the tie. SS Brian Bixler walked, and RF Yurendell de Caster came to the plate with the bases were loaded with no one out. De Caster grounded to shortstop to start a double play, but Diaz, who had been on third base, was still able to score, to put the Indians up by two runs. The inning ended when Brad Eldred hit a foul pop toward the Indians' dugout.



Indians' starter Michael Tejera (photo) , in his 6th and longest start of the season, took the Tribe into the 7th inning. He gave up only three hits and one walk scattered over the first 6 innings, and only one of those runners (Scales) came around to score. Tejera walked 1B Jeff Bailey to start the 7th inning, and then struck out RF Brandon Moss. At that point, he had thrown 101 pitches (59 strikes), and his afternoon's work was done. Josh Sharpless came in to relieve Tejera. Sharpless first walked C Kevin Cash, and then got DH Michael Tucker to tap a grounder right back to him — which allowed the base runners to move to second and third bases. 3B Chad Spann lined a single into left field, scoring both Bailey and Cash, to tie the game again. A quick ground out by SS Alex Prieto ended the inning.
Reliever Mark Corey pitched the top of the 8th for the Indians. He got into some difficulty with two outs, when LF Bobby Scales singled into left-center, and the next two batters, Jeff Bailey and Brandon Moss both walked to load the bases. But Corey calmly got pinch-hitter David Murphy to hit a pop up to Tribe 2B Luis Ordaz, getting out of the jam without allowing a run to score.
Pawtucket's Edgar Martinez entered the game in relief of starter Jon Lester in the 6th. Martinez pitched to three batters in each inning. In each inning, he allowed one batter to reach base — Luis Ordaz on a walk in the 6th, and Luis Matos by being hit on the jersey in the 7th. In each inning, though, the respective Luis was thrown out trying to steal second base.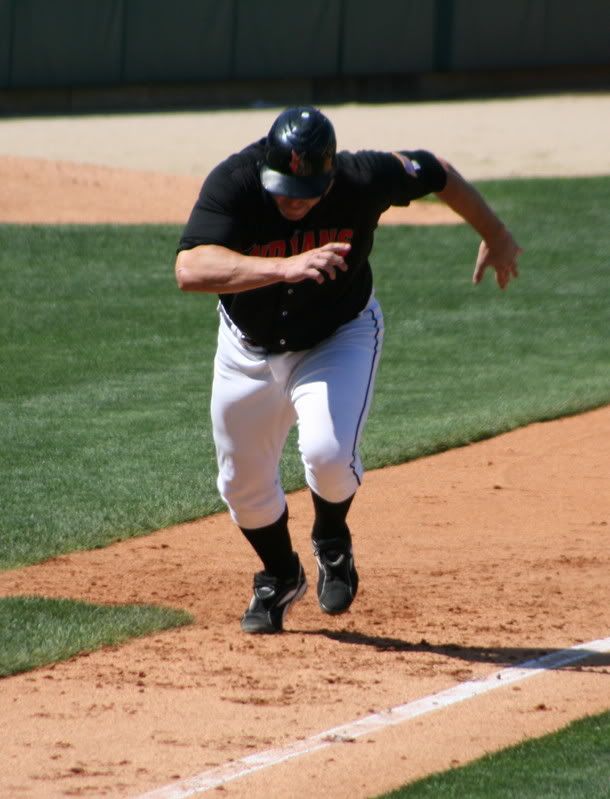 In the bottom of the 8th, the Indians got tired of the see-sawing score, and took a decisive lead. The PawSox brought in reliever Bryan Corey (no relation to Tribe reliever Mark Corey), and SS Brian Bixler led off with a walk. Then RF Yurendell de Caster singled into right field, and 1B Brad Eldred loaded the bases when he was hit by a pitch, also on his jersey. 3B Jose Hernandez slapped a grounder back to the mound, which bounced off Corey's glove before bouncing over toward Joe McEwing, who had been moved from third base to shortstop. By then, the ball was moving slowly, and McEwing had to charge in to get it, so he didn't have time to turn a double play or throw home, but could only throw to first to get Hernandez. Bixler scored on the play, and de Caster and Eldred advanced to third and second bases. C Humberto Cota lined a single into center field, to score de Caster, and move Eldred to third base. Then 2B Luis Ordaz tapped a suicide squeeze bunt that bounced high toward the first-base side. Pitcher Bryan Corey caught it, but with Eldred running on the pitch (photo), Corey only had time to tag out Ordaz as he ran past, and Eldred scored. A single by Michael Ryan advanced Cota to third base, but then Einar Diaz grounded out to end the inning, with the Indians up by three runs.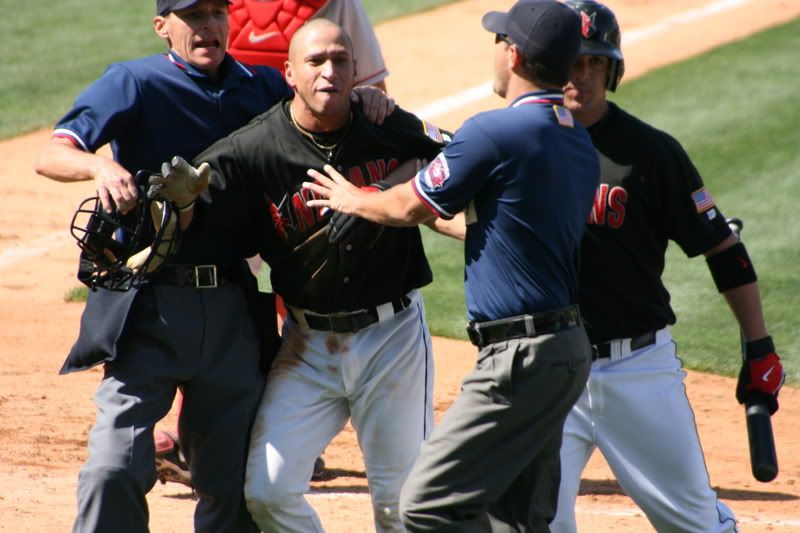 There was a moment of shouting and jawing, after Luis Ordaz was tagged out on the suicide squeeze bunt. Ordaz and Bryan Corey had a few words, and as Ordaz started walking away, more words came from the Pawtucket dugout and manager Ron Johnson came out of the dugout toward Ordaz. Other players intervened quickly, however, and nothing more came of it.
Brian Rogers started pitching the 9th inning for the Tribe, but his control seemed off, and he walked the first two batters, Michael Tucker and Chad Spann. One more reliever, Franquelis Osoria, who had pitched two innings yesterday, was brought in to replace Rogers.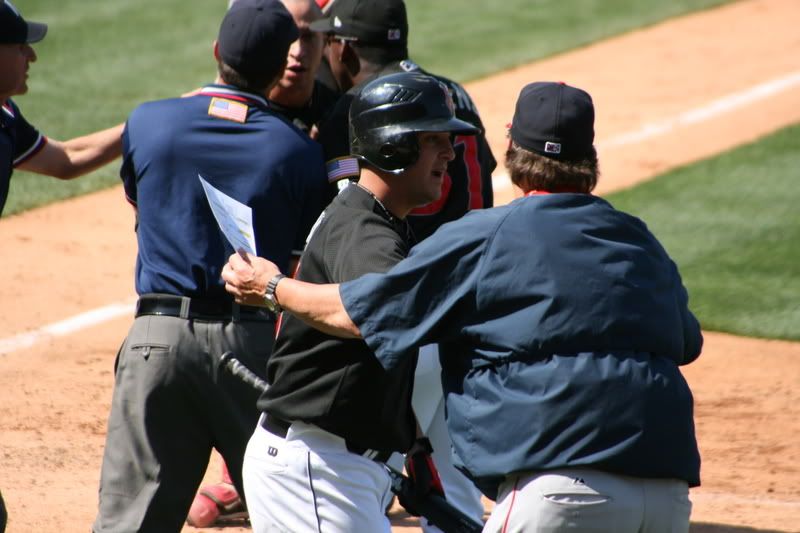 George Kottaras, who had entered the game in a defensive change in the 8th inning, smashed a screaming liner toward right field –caught by Brad Eldred as he leapt into the air. Eldred quickly took three steps to touch first base and double off Spann, and then threw to second base, and almost caught Tucker off base too. Jacoby Ellsbury ended the game when he grounded out to second base.
Corey and Corey were the pitchers of record — Indians' Mark Corey got the win, his first of the season, and Pawtucket's Bryan Corey took the loss, his 4th of the season. Franquelis Osoria recorded his 6th save of the season.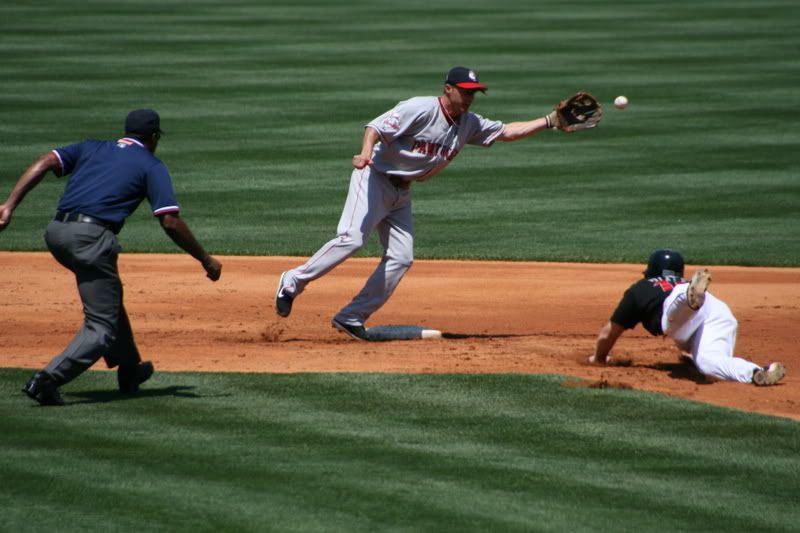 Indians' hitting gem of the game: Michael Ryan, who was only a double short of hitting for the cycle. He hit a homer just inside the right field foul pole to start the scoring in the 3rd inning, a triple in the 5th inning, and a single in the 8th. Three hits, two runs scored, and one RBI. What was different today for Ryan? "I've been seeing pitches better and swinging the bat stronger. I've been putting in a lot of extra work with [hitting coach Hensley] "Bam Bam" [Meulens]. Hopefully, I will catch fire and continue to help this team win."
Indians' defensive gem of the game: Brad Eldred's unassisted double play in the 9th inning — which was nearly a triple play.
NOTES:
Who do you think has been the Indians' MVP for the first half of the season? Go here and let me know your opinion by clicking on the 'comments' button.
Don't forget to vote for the Indians to be members of the International League All-Star team! Voting ends on Friday. Go to either of these to vote:
www.indyindians.com
www.milb.com
Go Tribe!
Read More