boxscore (photos by NancyZ )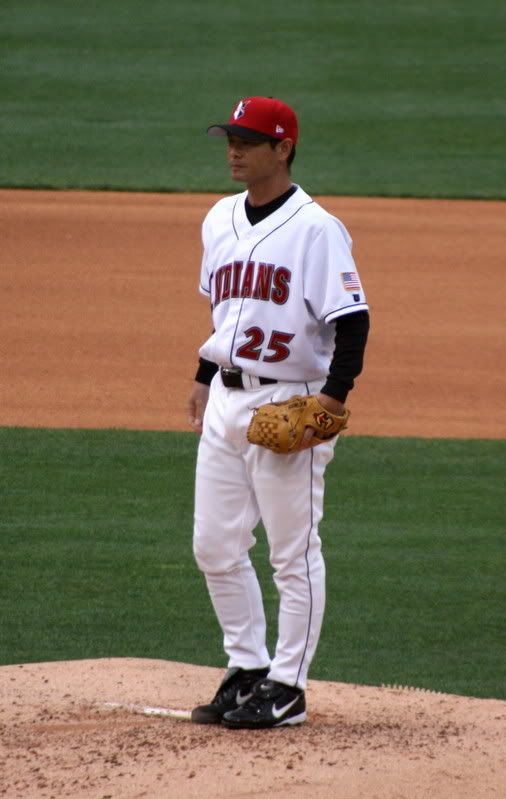 more background information on Kuwata
Masumi Kuwata has seen the start of his dream: to pitch in the US. It wasn't the major leagues, but it was the US, and it was baseball, and he went off the field with a big smile on his face.
Kuwata (photo ) pitched one inning, the 4th, in the Indianapolis Indians' 9-5 win over the Charlotte Knights at Victory Field on Saturday night. John Wasdin, on a rehab assignment from the Pittsburgh Pirates after spraining his right thumb, started the game for the Indians. Wasdin pitched three innings, throwing 51 pitches. He started off with two scoreless innings, and gave up a lone double to former Pirate Craig Wilson in the second inning. There was a little trouble in the 3rd inning. With one out, Knights' C Gustavo Molina blooped a single into short right field that fell in when there seemed to be some communication difficulties between the middle infielders and the outfielders. 2B Jason Bourgeois followed with a line drive double to center field, which moved Molina to third. A ground out to second base by SS Tomas Perez scored Molina. 3B Josh Fields smacked a single to left field to score Bourgeois. Wasdin ended the inning by striking out LF Craig Wilson, leaving the Knights with two runs, and a tied score.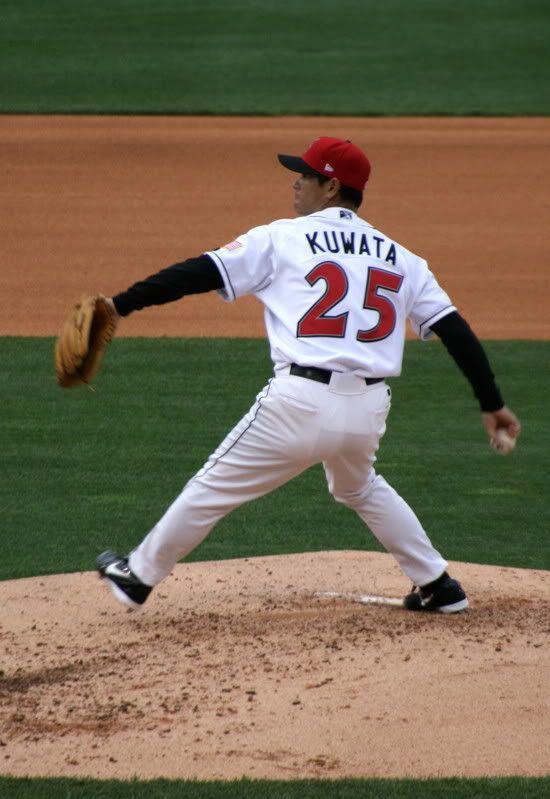 Masumi Kuwata (photo ) had been warming up in the bullpen as Wasdin was pitching in the third inning. His bullpen throws were quick, one right after another with very little pause between them. He strolled to the mound after the end of the 3rd inning, as if he were trying to be inconspicuous, and since the between-inning entertainment, a menagerie of team and corporate 'mascots', were dancing around on the dugouts and in the foul territories around home plate, many people in the park probably didn't even see the change in pitchers. But when the mascots got out of the way, and the players were on the field, the stadium announcer, made sure everyone heard: this is Masumi Kuwata, and he's a very big deal in Japan, and now he's HERE, with our Indians.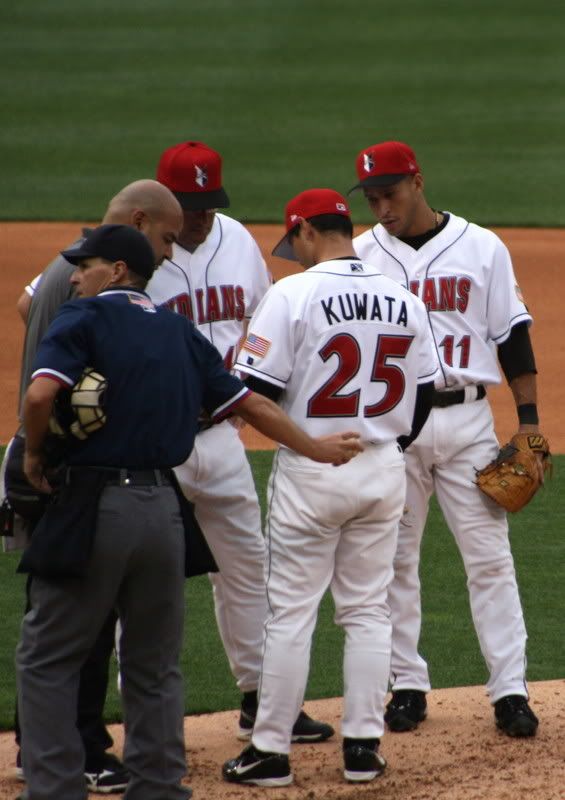 Kuwata threw 10 pitches. His first was a ball, then a called strike on Knights' CF Ryan Sweeney. Sweeney hit the third pitch, a comebacker that bounced off Kuwata's glove hand and rolled over towards second base, where no one could reach it, for an infield hit. Manager Trent Jewett and trainer Jose Ministral joined C David Parrish and Kuwata on the mound, to examine Kuwata's left hand. Kuwata kept nodding — presumably saying that he was ok — and he was given the opportunity to throw a few pitches to see if he was going to have a problem. After just one pitch, he nodded again: yes, he was fine. Then he proved that he was indeed fine, by striking out DH Ernie Young, and then throwing to first base to catch Ryan Sweeney off base. 1B Casey Rogowski flied out to center field to end the inning.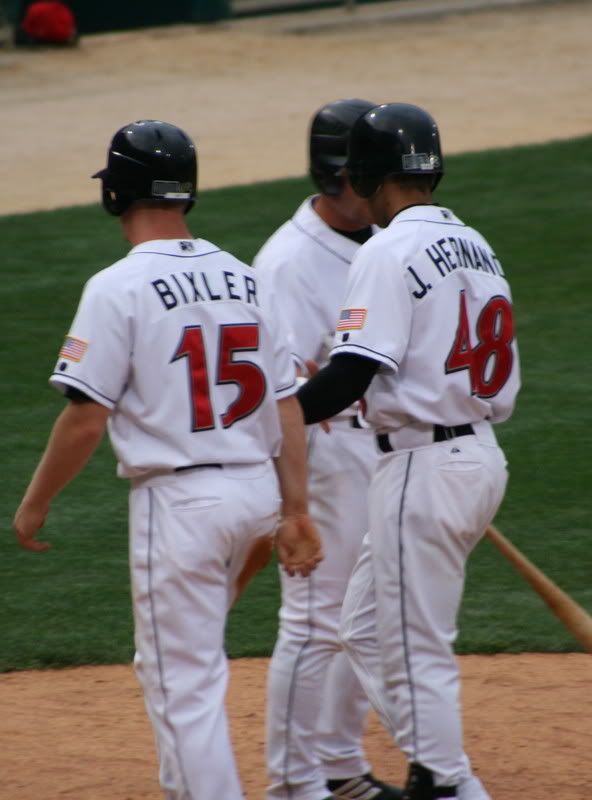 (Photo — Jose Hernandez is congratulated after his home run.)
Meanwhile, the Indians were working against Charlotte's knuckleball starter, Charlie Haeger. The Indians' hitters had looked at a few knuckleballs from manager Trent Jewett during batting practice before the game. So, despite the waggles and drops and shifts of Haeger's pitches, they were able to get 5 hits and 5 runs, plus 4 walks from Haeger in his 5 innings. Jose Hernadez led the attack, getting on base 5 times in 5 at-bats, with a single, a double, a home run, a walk, and being hit by a pitch.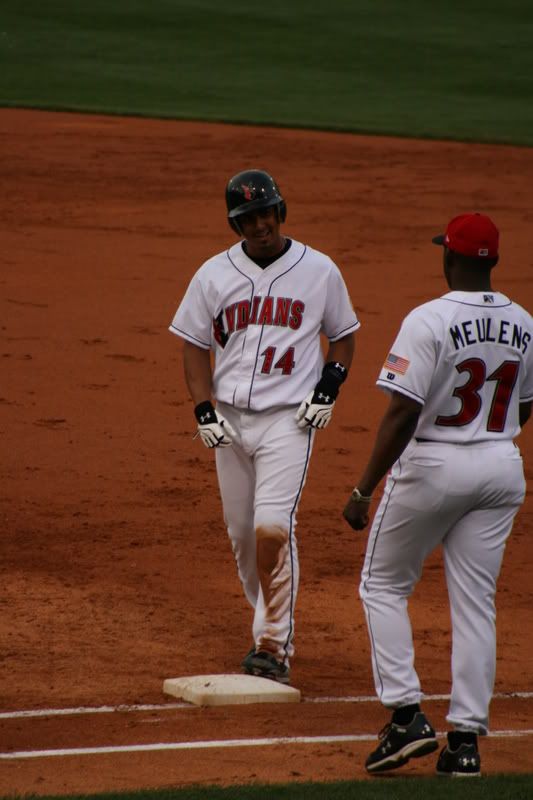 The Indians got two runs in the second inning, when CF Luis Matos (photo ) singled to center field, and advanced to second on SS Luis Ordaz's walk. C David Parrish smoked a double into center field, scoring Matos, and moving Ordaz to third. LF Rajai Davis's grounder to shortstop plated Ordaz. With the score tied going into the bottom of the third, 1B Brad Eldred led off with a single up the middle. He advanced to second on a walk to Jose Hernandez, and took third after the tag when 3B Russ Johnson flied out to the base of the wall in deep center field — just a couple of feet from being a home run. RF Nick Green's sacrifice fly scored Eldred easily. The Tribe added two more in the 5th inning. 2B Brian Bixler walked and stole second base, and when Knights C Gustavo Molina's throw sailed into center field, Bixler took third (photo below ). Minutes later, Hernandez launched a two-run homer into right-center field.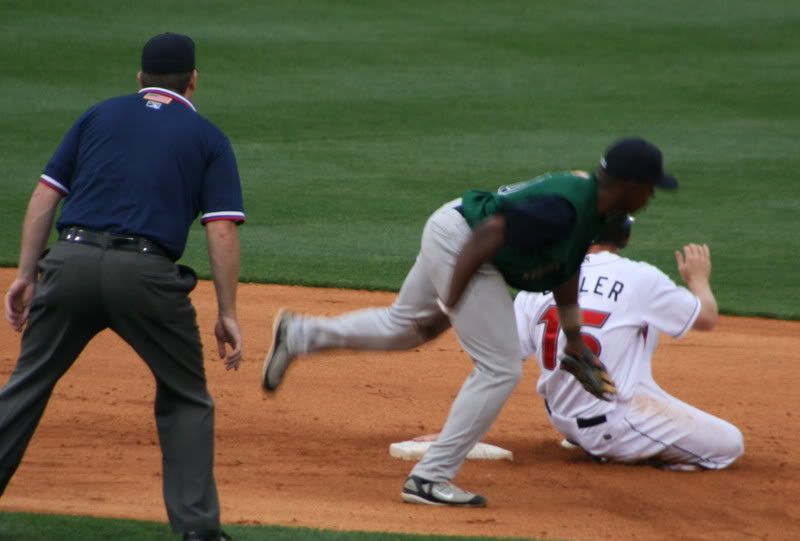 That was the end of knuckleballer Haeger. Reliever Paulino Reynoso entered the game in the 6th inning. With two out, C David Parrish (photo below ) lifted one over the left field wall for a homer, his second in his month with the Tribe. Reynoso also gave up singles to Rajai Davis and Brian Bixler, but they were left stranded on base.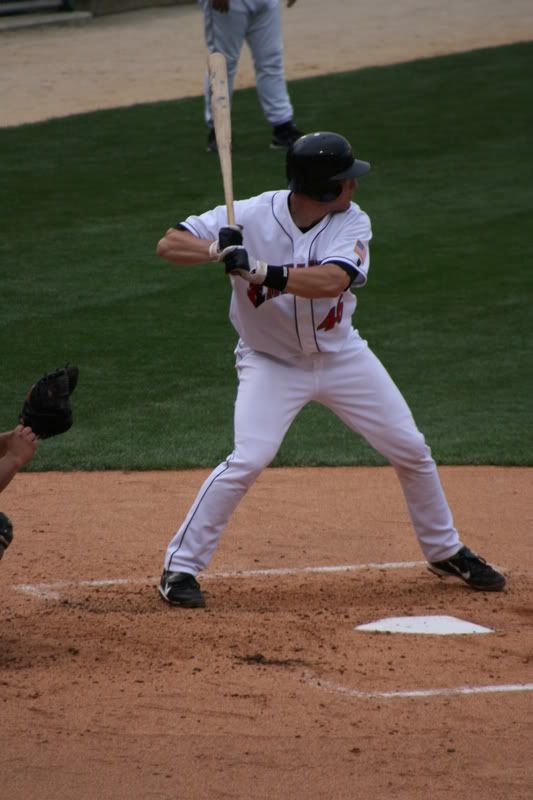 The 7th inning did not start well for Reynoso. Jose Hernandez led off with a double into the right-center field gap. After a fly out to Russ Johnson, Nick Green, Luis Matos, and Luis Ordaz hit consecutive singles. Green's scored Hernandez, and Ordaz's scored Green. Reynoso was sent to the showers, and left-hander Carlos Vasquez was brought in. He got David Parrish to ground out, but then walked Rajai Davis on 4 pitches to load the bases. A wild pitch to Brian Bixler allowed Matos to score easily, as it took a few seconds for Knight's C Molina to find the ball after it got past him. Bixler grounded out to end the scoring there, with the Indians ahead 9-2. Vasquez did not have an easy 9th inning either, as he hit Hernandez and walked Russ Johnson, but he kept the Indians from scoring any further runs.
While the Indians' batters were busy scoring runs, pitcher Michael Tejera was busy keeping the Knights from scoring any of their own. Tejera pitched 4 scoreless innings, scattering 3 hits and striking out two. He was aided by some excellent fielding by middle infielders Brian Bixler and Luis Ordaz, who had swapped their usual positions for this game: Bixler, who is usually the shortstop, was playing second base, and Ordaz left his usual second base to play shortstop. The swap didn't seem to bother either one, as both ranged easily to either side and covered second base flawlessly.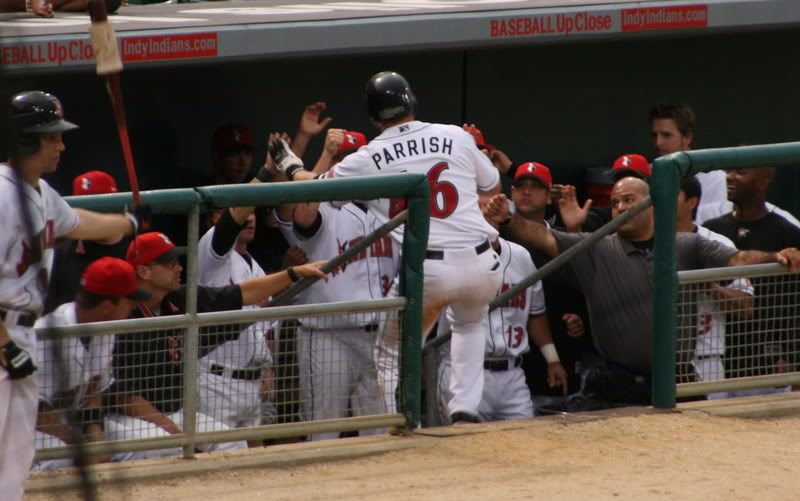 (Photo — Indians congratulate teammate David Parrish on his home run. )
The Knights attempted a come-back in the 9th inning, but fell short. With reliever Dan Kolb pitching, the first 3 batters reached base. Ryan Sweeney singled, Ernie Young was hit by a pitch, and 1B Casey Rogowski also singled to load the bases. Kolb struck out LF Kenny Kelly, but then Gustavo Molina looped a single to center, which scored Sweeney. Jason Bourgeois also singled, and Young scored. Tomas Perez's fielder's choice grounder to shortstop scored Rogowski, and moved Molina to third, but got Bourgeois out at second. Josh Fields then hit an easy grounder to shortstop Luis Ordaz for the quick flip to Brian Bixler covering second for the final out.
Indians' hitting gem of the game: Jose Hernandez, going 3 for 3, and getting on base in all 5 at-bats, with a homer, a double, and a single.
Indians' defensive gem of the game: Middle Infielders Brian Bixler and Luis Ordaz. In the 6th, with Craig Wilson at the plate, and a defensive overshift on, there were three infielders between second and third bases. Bixler, playing second, was positioned behind and to the left field side of the second base bag. Wilson grounded a ball to the right side of second base, close to where Bixler would normally play. No problem — Bixler just zoomed over behind second base, scooped the ball bare-handed, and fired to first in time for the out. In the 8th inning, Ordaz hustled around to scoop up a slow hit, to get the toss off to Bixler covering second. They did the same thing twice more in the 9th inning. And, in the 8th, Bixler ran over behind first base to catch a short pop fly there.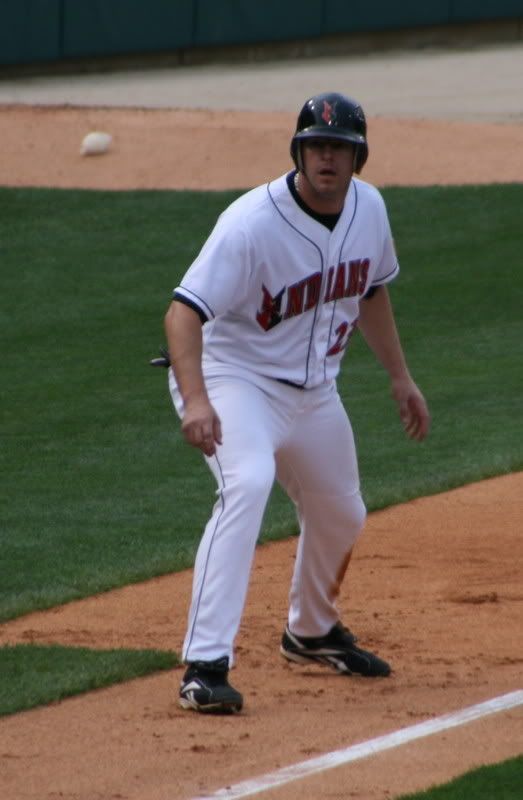 (Photo — Brad Eldred leads off third base in the 3rd inning. )
NOTES:
Streaking:
Rajai Davis's single in the 6th inning pushed his hitting streak to 20 games. This is the longest hitting streak of Davis's career and the second-longest hitting streak currently running in the International League. Brandon Watson of the Columbus Clippers has a 30-game hitting streak.
Other fun stats, part I:
Russ Johnson has reach base safely, with either a hit or a walk, in all but 3 of the 44 games he has played in for the Tribe.
Other fun stats, part II:
The Indians have hit 10 home runs in this homestand (6 games so far ), and they put up only 9 homers in the entire month of April.
Other fun stats, part III:
Brian Bixler stole second base twice in the game, for his 9th and 10th of the season. He still has not been caught stealing this season.
A new Tribe fan is born:
Marty McLeary and his wife welcomed their newborn son this weekend. Mom and baby are doing well.
Lou Collier, former Indianapolis Indian (2000 – 2001 ), who we saw a few weeks ago playing with the Ottawa Lynx, has announced his retirement after 14 years in baseball.
INF Brent Lillibridge, a former Pirates' farmhand who was traded to the Atlanta Braves' organization in the Pirates' deal for Adam LaRoche, has been promoted from the AA Mississippi Braves to the AAA Richmond Braves. The Richmond Braves will be in Indianapolis at the end of June.
Go Tribe!
Read More