Just for something different to do — a live blog of the game between the Indy Indians and the Buffalo Bison.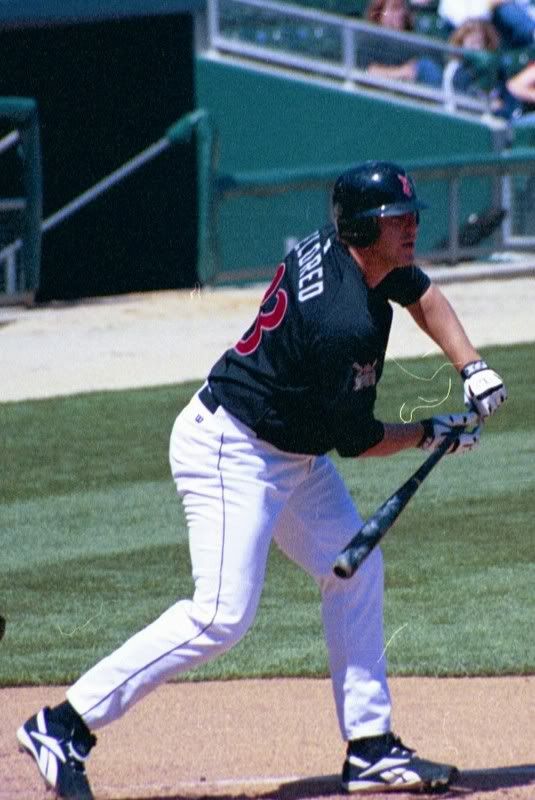 Pre game notes:
Humberto Cota's rehab assignment has ended, and he has gone back to Pittsburgh. To make room for him on the roster, Pittsburgh has sent us Brad Eldred ( photo by NancyZ ) — who has been doing pine duty and not getting very many at-bats– only 7 AB's in the past three weeks. He's going to need lots of at-bats to get himself back into a groove. A few homers would be nice for the Tribe too. To make room for Eldred on the Tribe roster, the Indians will place RHP Mark Corey on the DL.
Pitching matchups:
Bryan Bullington for the Indians : 6-1, 2.40 ERA
Sean Smith for the Bison: 3-1, 1.78
Indians' Lineup:
Rajai Davis, CF
Brian Bixler, 2B
Yurendell de Caster, 1B
Chris Aguila, LF
Michael Ryan, DH
Russ Johnson, 3B
Luis Matos, RF
Nick Green, SS
Einar Diaz, C (former Bison )
Bisons' lineup:
Franklin Gutierrez, RF
Luis Rivas, SS
Ben Francisco, CF
Keith Ginter, 3B (former Indian, briefly )
Jason Cooper, DH
Ryan Mulhern, 1B
Trent Durrington, 2B (former Indian, 2004 )
Brad Snyder, LF
David Wallace, C
The Bison are wearing pink hats today — they must have been rained out last Sunday? The pink hats are to benefit the Susan G. Komen Foundation, supporting breast cancer research. Last night they wore camouflage caps for Armed Forces Night.
A gloomy-looking gray day, 52 degrees, in Buffalo. Not very many people in the stands (on milb.tv)
Top of the First Sean Smith pitching
Davis– 0-2 count, Rajai fouling off a few; Rajai bloops a single to left field, that the shortstop and left fielder can't get to.
Bixler — yup, there goes Rajai stealing second, his 23rd in 30 attempts. He made it easily, and the throw was to the first-base side.
Bixler still up — a pick-off attempt but Rajai gets back just in time. Rajai is making Smith nervous. A fake to second. Another throw to second. Bixler might be feeling neglected here.
Bixler — 3-2 count now, and fouling off a few. Swing and miss — struck out swinging on one in on his hands. 1 out
De Caster — Rajai still dancing around at second base. 3 strikes, out swinging, as Rajai moves to third…. and Wallace's throw is in the dirt and goes into the Indians' dugout…. no, wait, Rajai going back to second….??… ok, it's inadvertent interference when De's backswing interfered with the throw to third, so Davis goes back to second. 2 out
Aguila — 2-2 count, strikes out swinging 3 out
So, Smith gives up a hit and then strikes out the side.
bottom of the 1st Bryan Bullington pitching
No pink bats to go with the pink hats.
Gutierrez — has a 17 game hitting streak, though 16 of those were before he was called up to Cleveland; he just came back to the Bison yesterday and got a hit. Lined out to short, with Bixler catching it on the fly at his ankles. 1 out
Rivas — first pitch popped out to Davis in CF 2 out
Francisco– quick fly out to Matos in RF. An easy one for Bullington. 3 out

Top 2nd
Ryan — another strike out, Smith's 4th in a row. 1 out
Johnson — flyout to centerfield 2 out
Matos — 1-2 count and fouling some off; easy fly out to right field 3out
Bottom 2nd
Ginter — 4 pitch walk
Cooper — bouncing to Bixler, and a throw to de Caster, low and to his right, but De said in the pre-game interview that he's become very comfortable picking those throws from whereever they come. Ginter to second 1 out
Mulhern — strike three, though it bounced at the plate, and Diaz has to throw to first, pretty easy; Ginter still at second; 2 out
Durrington — a swing, and Durrington's bat goes flying back to the backstop; 3-2 count; strike three looking 3 out
Top 3rd
Green — fly to centerfield, carried all the way to the track 1 out
Diaz — 3-2, a pitch high and tight that Einar had to back away from; another foul ball; grounder that went under Ginter's glove and into left field. He just didn't get down far enough, and probably should have had that one. No error, though — Einar gets the hit.
Davis — pop up in the infield, Ginter calls off Smith and tries to atone by making this catch. Diaz stays at first. 2 out
Bixler — 1-2, fouling off again; another view of the stands — this would be perfect for little Buffalo kids who want souvenirs, as Bixler is providing a lot of foul balls, and there aren't many people to compete for them in the stands. Bixler swings and misses for Smith's strikeout #5. 3 out
Bottom 3rd
Snyder — first pitch goes all the way to the warning track in center field, and Rajai catches it over his shoulder with his back to the infield. 1 out
Wallace — called strike, called strike, swinging strike 2 out
Gutierrez –comebacker to Bullington, easy throw on to de Caster at first; another easy inning for Bullington. 3 out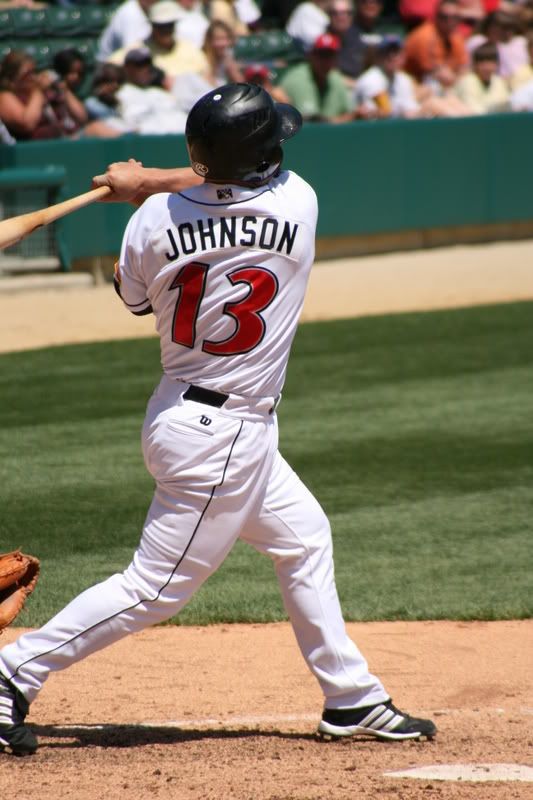 Top 4th
light misty rain falling
de Caster — fly out to right field 1 out
Aguila — double line drive to center field
Ryan — strike out 2 out
Johnson — smashed a stand-up double into the Left-center gap, scoring Aguila for an RBI (photo by NancyZ )
Matos — bounces a grounder to short, thrown out at first. 3 out; Indians 1, Bison 0
Bottom 4th
Rivas –2-0 count, slammed a ball to the wall, still going, Rajai Davis leaps — and can't catch it. Home run.
Francisco — grounds first pitch to left field for a single
Ginter — singles a liner to left field, moving Francisco to 3rd.
Cooper — walk, loading the bases with no outs.
A visit to the mound by Einar Diaz
Mulhern — plunked! Bullington hits Mulhern on the left hip (?maybe arm?), forcing in Francisco. Bases still loaded. Not that I want to see players get hit, but a hit batter only gets to first, and only makes one run score, as opposed to a double or more…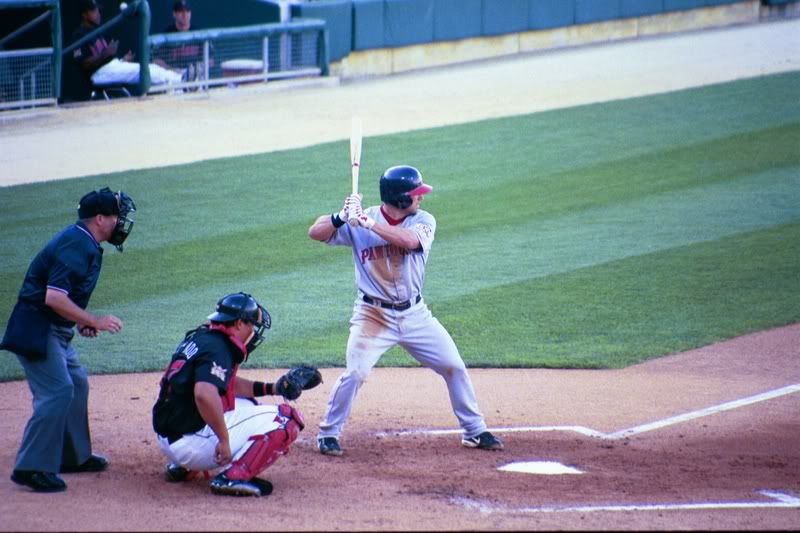 Durrington (photo by NancyZ ) — well, I spoke too soon. Durro blasts a triple into the rightfiield corner, and Matos has to track it down. Durrington runs fast, so he gets to third and three runs score (Ginter, Cooper, Mulhern). still no outs, Buffalo with 5 runs.
Snyder –former teammate of Bullington at Ball State. Grounder to first, with infield drawn in, de Caster fields it backhanded, and steps on first, while making sure Durrington stays put at third. 1 out
Wallace — grounder to third, Johnson looks at Durrington, and fires to first; de Caster catches it and looks at Durrington again. Durrington isn't stupid — he stays put. 2 out
Gutierrez — two long fouls to first base stands, then inside pitch, high and tight…. nope, it didn't hit him, just the handle of the bat, and so it's a foul ball; another foul, that looked like it hit Einar's foot; more foul balls. Bullington is racking up the pitch count here. Finally! Gutierrez lifts one to center field, an easy play for Rajai Davis. 3 out, Indians 1, Bison 5
Top 5th Smith still pitching, rain stopped
Green — high pop fly toward the dugout… no, Wallace runs over to try, but it's out of reach. A swing and a miss on the next pitch– strike out. 7 K's for Smith. 1 out
Diaz — first pitch grounded down the left field line for a double.
Davis — Another pop fly in foul territory. Wallace has this one, just to the side of the dirt around home plate. 2 out
Bixler — high pop, just into short right field, Durrington goes back and has it easily behind first base. 3 out
Bottom 5th Bullington still pitching
Rivas — liner to Aguila — he had to take one step to the side and it was right to him. 1 out
Francisco — strike out, Bullington's 5th 2 out
Ginter — double down the left field line
Cooper — grounder to second, broken bat; Bixler has an easy play to first 3 out
Top 6th someone warming up in the Bison bullpen
De Caster — single to right field, near the foul line
Aguila — 3-2 count, fly out to right center; De Caster stays at first. 1 out
Ryan — works a walk. De Caster to second. That's it for Sean Smith –5.1 innings, 1 run, 6 H, 1 BB, 7 K.
Matt Miller comes in to relieve Smith. A submariner-type delivery.
Johnson — four pitch walk. De Caster to third, Ryan to second.
Matos — 3-2 count; strikeout swinging 2 out
Green — bases still loaded; Josh Sharpless starts warming up in the bullpen; 2-2 count, strikeout swinging. 3 out
Bottom 6th Bullington still pitching, though Sharpless continues to work in the bullpen.
Mulhern — pop out to de Caster in foul territory in front of the dugout 1 out
Durrington — bunt attempt goes foul; another foul; Bullington comes up short in his delivery, but since no one is on base, it isn't a balk; bouncing grounder to short, easy play for Green, throwing to de Caster. 2 out
Snyder — strikeout, Bullington's 6th. 3 out, Indians 1, Bison 5
top 7th Bubbie Buzachero comes in to relieve; Miller's line: 0.2 innings, 0 hits, 0 runs, 1 BB, 2K.
Diaz — pop out to SS Rivas at the foul line behind third base 1 out
Davis — grounder right to Ginter at third, easy play. 2 out
Bixler — fly ball to right center. 3 out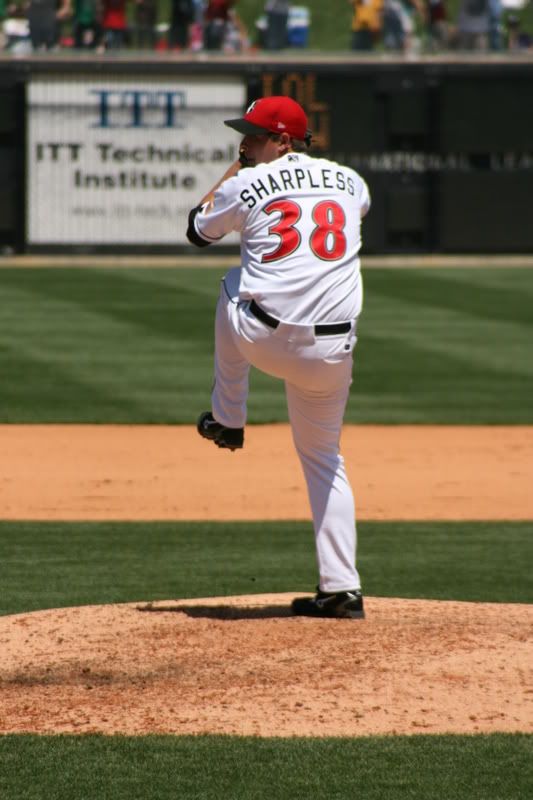 Bottom 7th Sharpless in to pitch (photo by NancyZ ); Bullington's line: 6 IP, 5 H, 5 R (all earned), 2 BB, 5 K. Five good innings, and one awful inning.
Wallace — greets Sharpless with a homer to left field on an 0-1 pitch. Aguila ran a little way, then just stopped and watched it sail way over his head. Wallace's second HR of the season.
Gutierrez — double down the line into left field, extending his hitting streak to 18 games.
Rivas — grounds a single to center, Davis got there but couldn't get his glove down and the ball gets by him. Gutierrez scores. Rivas moves to third on the error by Davis.
Francisco — sacrifice fly to center field. Fielded cleanly, but Rivas scores (unearned run, at least at this point). 1 out
Ginter — pops up, Johnson makes an easy catch, just into foul territory next to third base. 2 out
Cooper — another pop fly to Johnson, who runs back to the bullpen to make the catch next to the bullpen mound. 3 out Indians 1, Bison 8
Top 8th Juan Lara in to pitch for Bison; Buzachera goes one inning, 0 runs, 0 hits, 0 BB, 0 K.
de Caster –strikes out swinging 1 out
Aguila — high fly down the right field line, caught right on the foul line at the warning track. 2 out
Ryan — singles into right field.
Johnson — line drive to right center, but right to Gutierrez 3 out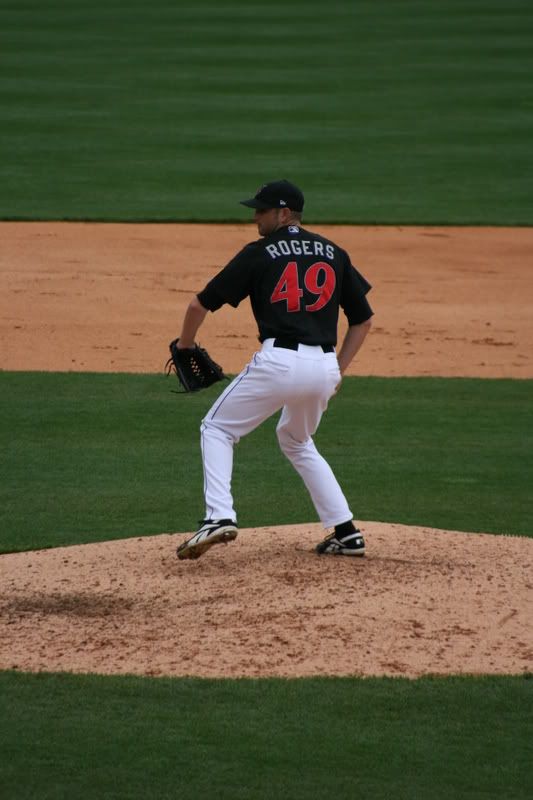 Bottom 8 Brian Rogers in to pitch for the Tribe (photo by NancyZ ); Sharpless: 1 IP, 3 H, 3 R (two earned), 0 BB, 0 K;
Mulhern — grounder to de Caster, who throws to Rogers covering first 1 out
Durrington — 1-2 count, strikeout swinging 2 out
Snyder — 3- pitch strikout swinging 3 out, Indians 1, Bison 8
Top 9th Mike Koplove now pitching for Buffalo; Lara went one inning, 1 H, 0 R, 0 BB, 1 K.
Matos — lines out to left fielder. 1 out
Green — strikeout swinging 2 out
Diaz — last chance; grounder to shortstop, easy play to first, to end the game. 3 out, Indians 1, Bison 8
Rogers' line: 1 IP, 0 H, 0 R, 0 BB, 2 K
Koplove's line: 1 IP, 0 H, 0 R, 0 BB, 1 K.
The Bison scored 8 runs on 8 hits; they left only 3 runners on base, and made no errors. Buffalo's offense was led by Luis Rivas, who went 2 for 4 with two RBI; Keith Ginter, who went 2 or 3; and Trent Durrington, who hit a tremendous triple to clear the bases and knock in three runs. Starter Sean Smith got the win, his 4th.
The Indians scored one run on 7 hits, with 8 left on base, and one error. Einar Diaz went 2 for 4, and Rajai Davis, Yurendell de Caster, Chris Aguila, Michael Ryan, and Russ Johnson had one hit apiece. Johnson had the only RBI for the Tribe. Starter Bryan Bullington took the loss, his second.
The Indians and Bison have each won one game in this 4-game series.
No word on when Brad Eldred will join the team, and he has 72 hours to report. But, the sooner he gets with the team, the sooner he can get into games and get at-bats.
Indians' hitting gem of the game: Russ Johnson's RBI double to score Aguila, and give the Tribe a (temporary) lead.
Indians' offensive gem of the game: In the 4th inning, after Trent Durrington's triple, Bryan Bullington settled down to get the next three Bison out (grounder, grounder, fly out ) and leave Durrington stranded on third.
Go Tribe!
Read More