boxscore (photos by NancyZ )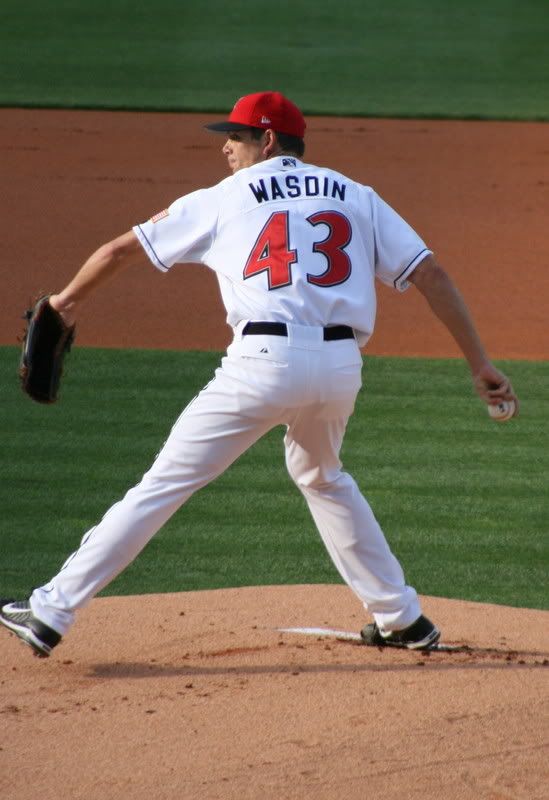 The Indianapolis Indians extended their winning streak to a season-best six games, with an 8-3 win over the Rochester Red Wings at Victory Field this evening. The two teams combined for a total of 23 hits and took advantage of a stiff breeze blowing out to left field for a total of three home runs. Indians starter John Wasdin (photo ), on a rehab assignment from the Pittsburgh Pirates, got the win in his second start for the Indians. Rochester's starter Jeremy Cummings suffered the loss, his 4th of the season.
Wasdin got off to a rough start in the top of the first inning. With two outs, Red Wings' DH Doug Deeds grounded a single up the middle, and LF Garrett Jones followed with a home run over the left field wall, to give the Red Wings a 2-run lead. Wasdin got out of the inning when 1B Glenn Williams popped up a short fly ball to Tribe C Einar Diaz. The Red Wings got right back at it again in the top of the 2nd, when C Matthew LeCroy led off with a double off the center field wall. He moved to third when 3B Tommy Watkins grounded to second base. RF Trent Oeltjen got the RBI when he singled to right field to score LeCroy.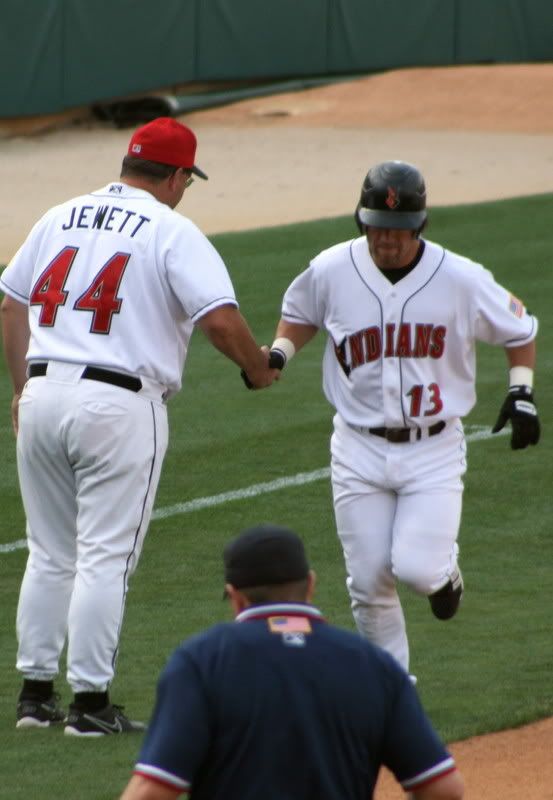 The Indians were not to be outdone, though, and they came right back in the bottom of the 2nd. Lead off hitter DH Russ Johnson (photo ) ran the count full on Rochester's starter Jeremy Cummings. On the 6th pitch, Johnson popped up a foul ball, which headed back toward the stands behind the Red Wings' 1st base side dugout. Wings' C Matthew LeCroy seemed to assume that the foul ball was going to go back into the stands, so he didn't chase after it. At the last second, though, it looked like the ball might fall onto the field after all — but LeCroy had waited too long, and his last-second rush didn't get him there in time. Instead of one out, Johnson had another life at the plate. He took the next pitch up and over the left field wall for a solo home run. CF Luis Matos took Cummings' next pitch into right field for a double. Matos advanced to 3rd base on Cummings' wild pitch. RF Michael Ryan flied out to short right field, but too short for Matos to score. 2B Luis Ordaz lifted a single to right field, to score Matos. C Einar Diaz hit a hard grounder to third, which moved Ordaz to second base, though Diaz was out at first. LF Nick Green's single lined into center field easily scored Ordaz, to tie the score.



The Indians broke the tie in the bottom of the 3rd. 1B Yurendell de Caster led off with a double off the top of the right-center field wall. Russ Johnson doubled down the right field line to score de Caster. Then Luis Matos (photo ) added his homer over the left field wall to bring in two more runs.
John Wasdin scattered three hits over the next 3.2 innings, while holding the Red Wings scoreless. He pitched a total of 5.2 innings, with 67 pitches, and did not give up any walks. He was relieved by Masumi Kuwata with two outs and a runner on second base in the 6th inning. Kuwata ended the inning by striking out Glenn Williams.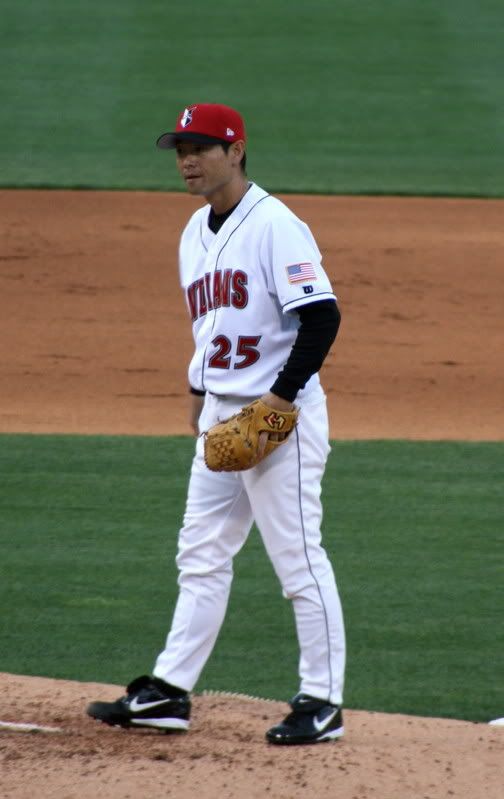 Kuwata (photo ) pitched 2.1 innings in his 3rd outing with the Indians. He faced a total of 8 batters, and allowed only one hit. He threw 25 pitches, 16 of which were strikes. Juan Perez pitched the 9th inning for the Tribe. He gave up two hits before retiring the side. Red Wings' Matt Tolbert, who went 5 for 5 yesterday, continued his hitting trend by going 2 for 4 with a double today. Garrett Jones and Matthew LeCroy also went 2 for 4.
The Indians got to Jeremy Cummings one more time in the 5th inning. Jose Hernandez led off with a single up the left field line deep behind third base, and he beat out the throw to first base. He advanced to third when Cummings' pickoff attempt sailed wide of 1B Glenn Williams. Russ Johnson walked, and was erased when Luis Matos grounded into a double play. That play allowed Hernandez to move to third base.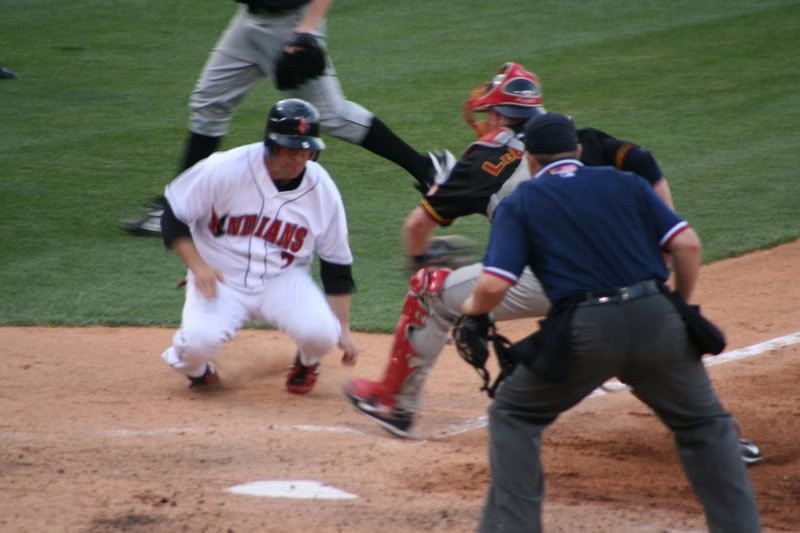 Michael Ryan lined a double that bounced off the right field wall, to easily score Hernandez. Luis Ordaz followed with a single to right field, and Ryan came around third and headed to home. Wings' RF Trent Oeltjen's throw to the plate was on target, though, and Ryan was thrown out at home to end the inning.
Cummings was relieved by Julio DePaula, who pitched two perfect innings in the 6th and 7th. Rochester's closer Bobby Kennedy came in to pitch the 8th inning. He allowed the Tribe one more insurance run, when Luis Matos singled into left field and stole second base. Matos advanced to third on Michael Ryan's second hit of the game, and scored on Luis Ordaz's sacrifice fly.
Matos went 3 for 4 with a single, a double, and a homer. The double was his 16th of the season. Russ Johnson and Luis Ordaz both went 2 for 3, and Yurendell de Caster and Michael Ryan went 2 for 4.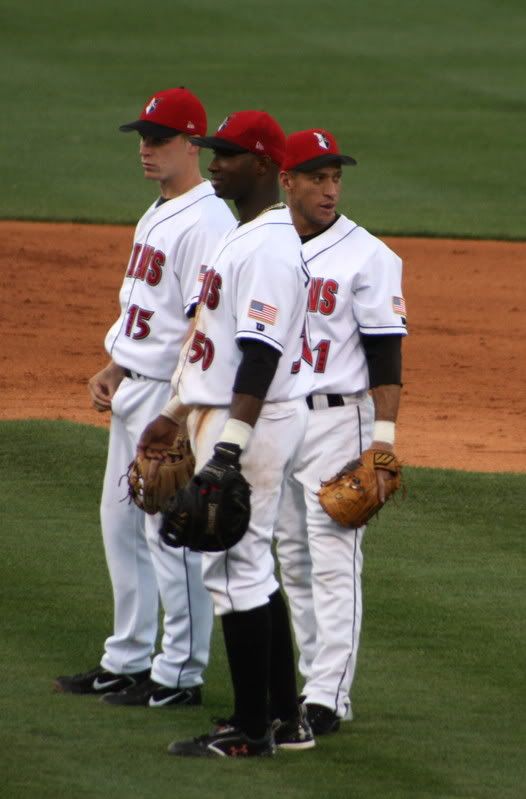 (photo — Brian Bixler, Yurendell de Caster, and Luis Ordaz )
Indians' hitting gem of the game: Luis Matos and Russ Johnson both hitting a double and a homer, to put the Indians ahead to stay.
Indians' defensive gem of the game: Einar Diaz made two outstanding plays. In the top of the 4th, Glenn Williams hit a pop foul ball that headed toward the Indians' dugout. C Einar Diaz didn't make the same mistake Matthew LeCroy had made earlier. He raced over and reached into the Tribe dugout to make the catch as he slammed into the (padded, luckily ) railing. If he'd gone over the railing, he'd have landed in manager Trent Jewett's lap. In the next inning, Trent Oeltjen dropped down a little bit of a bunt right in front of home plate. Diaz jumped out and turned 180 degrees so that he was facing back towards home plate when he picked up the ball, then he FIRED the ball to Yurendell de Caster at first base, just in time to get Oeltjen.
NOTES: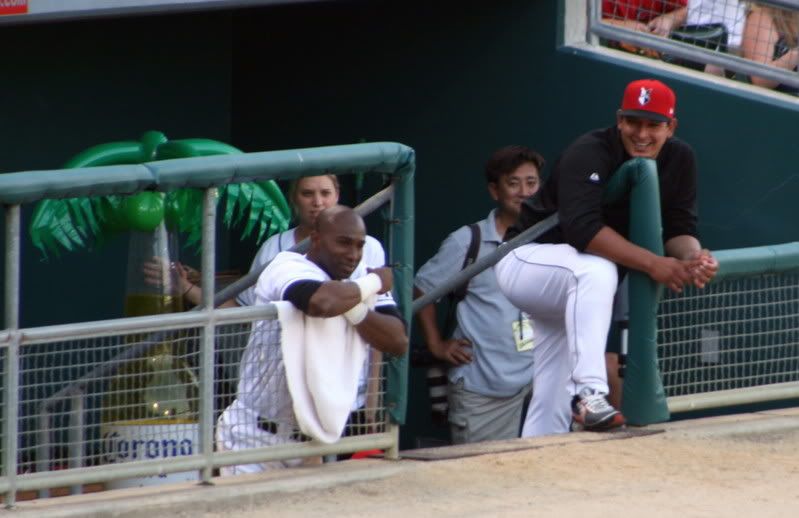 (photo — Carlos Maldonado seems to have his own palm tree in the dugout. )
Brian Bixler was featured in a story in the Indianapolis Star today. Bixler went 0 for 3 tonight with a walk, but it ends his 7-game hitting streak. On this homestand, he has had 11 hits, including a double, 3 triples, and 2 homers, with 5 RBI, and 10 runs scored.
With one game left, the Indians have hit a total of 16 home runs on this homestand. They have hit 9 homers already in the month of June. They hit only 7 homers in all their previous home games.
John Van Benschoten was named Indians' Player of the Month for May. He was presented with a watch in a ceremony before the game.
The Pirates' first-round pick in the MLB first-year player draft today was Daniel Moskos, a 21 year old junior at Clemson University. Moskos is a left-handed pitcher who is mostly a reliever, though he has made some starts also. Look for him to play with Clemson against Mississippi State in the NCAA Super Regionals on Friday (June 8th ) at noon EDT.
For Uncle Pete: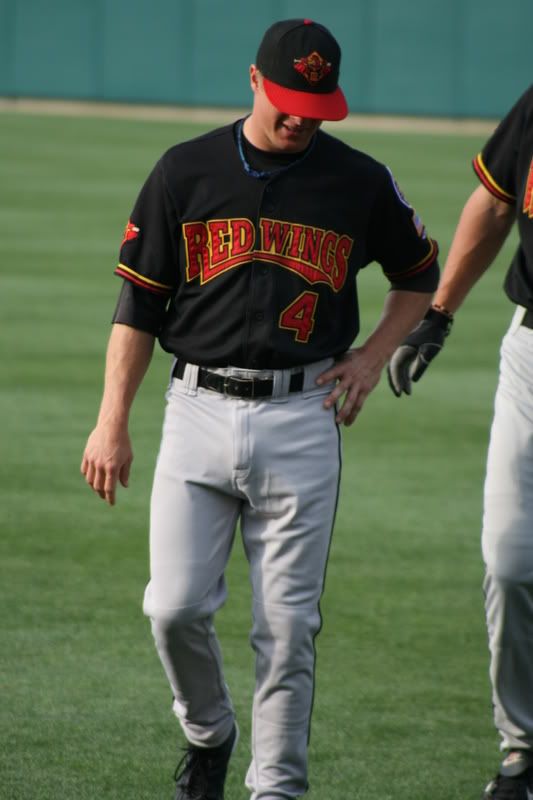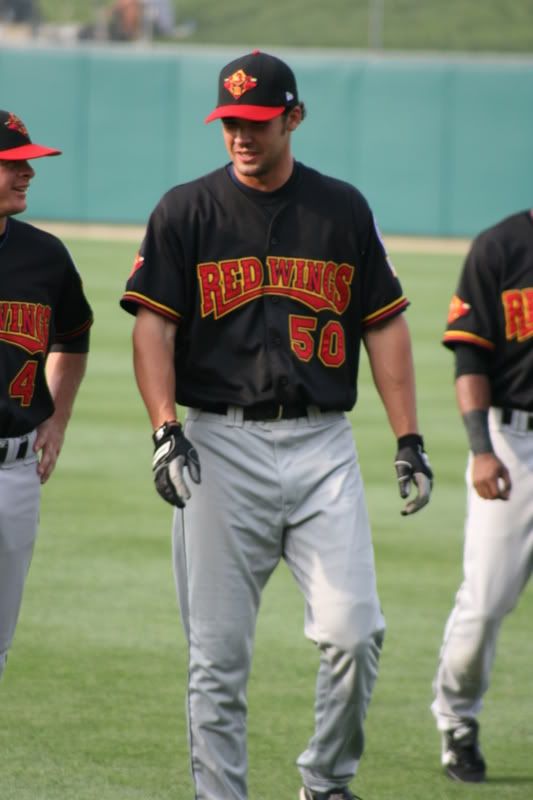 Rajai Davis led off the Pirates game with a triple this afternoon, for his first major league hit this season.
Go Tribe!
Read More