boxscore (photos by NancyZ )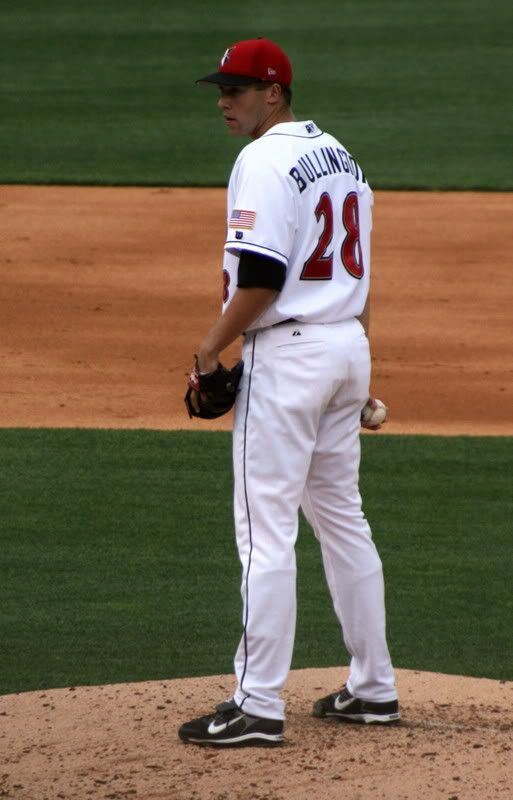 Combine eight innings of superior pitching by Bryan Bullington with four home runs by Indianapolis Indians' batters, and what do you get? A 10-2 Indians win over the Buffalo Bison, and Bullington's 8th win of the season. His record is now 8-2, with a 2.60 ERA.
Bullington (photo ) pitched masterfully, throwing 97 pitches over those 8 innings, and giving up only 4 hits and 2 earned runs, walking two, and striking out 5. He also hit one batter with a pitch. For 6 of his 8 innings, Bullington faced the minimum three batters. The rare Bison batter who reached base on a walk, or by being hit by a pitch, or with a hit, was quickly removed from the base paths. Bison LF Jason Cooper walked, but was thrown out trying to steal second base. DH Shin-Soo Choo got a hit, but he was forced out at second in a fielder's choice by 1B Keith Ginter. The throw to first was just barely late, or else Ginter would have been out too in a double play. But Bullington got the next batter, Cooper, to ground into a double play to erase Ginter also. SS Hector Luna reached base when he was hit by a pitch, but he too was caught in a double play. Cooper walked again in the 7th inning, and that time he was left on base — the first base runner the Bisons left on base, and the only one during Bullington's innings.
The only time Bullington found trouble was in the 3rd inning. With one out, RF Brad Snyder scorched a grounder past the diving Tribe 1B Brad Eldred and into right field for a hit. A home run just inside the left field foul line by CF Ben Francisco accounted for the Bisons' only runs in the game.
"They're [Buffalo] a good hitting team, and it's a challenge anytime you have to face them" said Bullington in the post-game interview. "They got me good a couple weeks ago when we were at their place [Dunn Tire Park in Buffalo]. I was ready to go tonight and wanted to get them back."
Dan Kolb, fresh off the disabled list, relieved Bullington to pitch a scoreless 9th inning.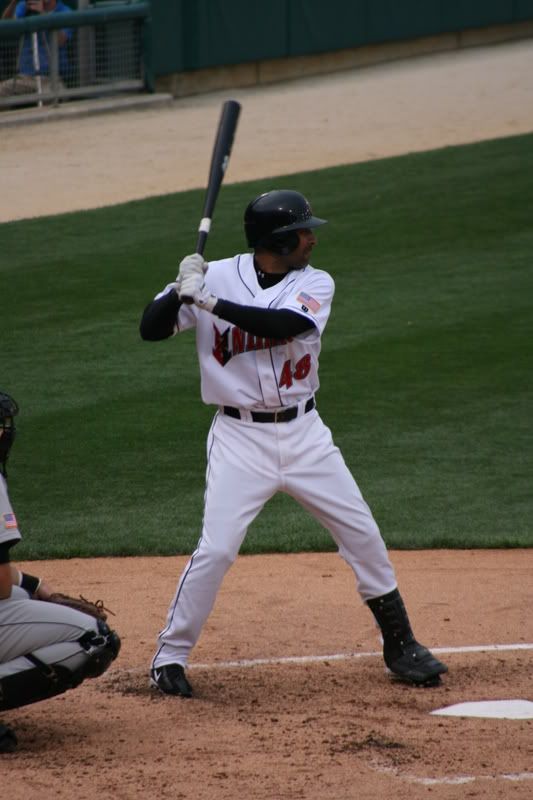 Bison starter Sean Smith entered the game with a 5-1 record, having won his last 5 decisions, with a 2.38 ERA. He was named the International League Pitcher of the Week two weeks ago. However, he did not appear to impress the Indians' batters. In the bottom of the 1st, Smith got the first two outs, and then gave up 5 consecutive hits before he could make the third out. Tribe 3B Yurendell de Caster singled to right field, and 1B Brad Eldred followed with a single to left field. RF Michael Ryan singled to right field, scoring de Caster. That brought up DH Jose Hernandez (photo ), who launched a home run to left field that bounced at the top of the grass berm near the flag poles, bringing in Eldred and Ryan. LF Luis Matos grounded a single into left field, though he was stranded on base when 2B Luis Ordaz flied out to left field to end the inning. At the end of one inning, the Tribe was leading by 4-0.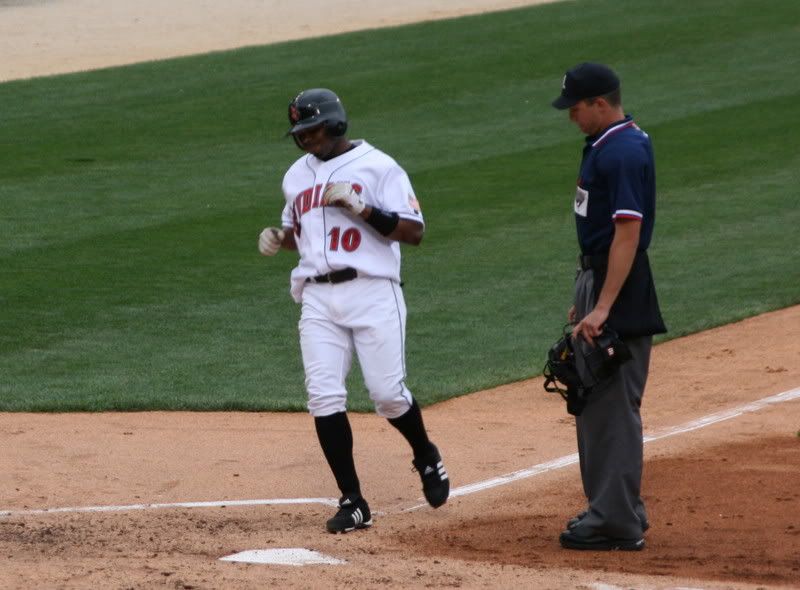 In the second inning, with one out, Rajai Davis tapped a bunt that bounced at the plate and then dribbled along the first base line, right where Rajai was trying to run. Davis inadvertently kicked the ball, and was immediately called out by the home plate umpire. But Davis and Tribe manager Trent Jewett immediately protested, saying that the ball was foul first, so it shouldn't have mattered that he touched it with his foot. The umpires had a brief conference, and decided that Davis and Jewett were right, and the bunt had been foul.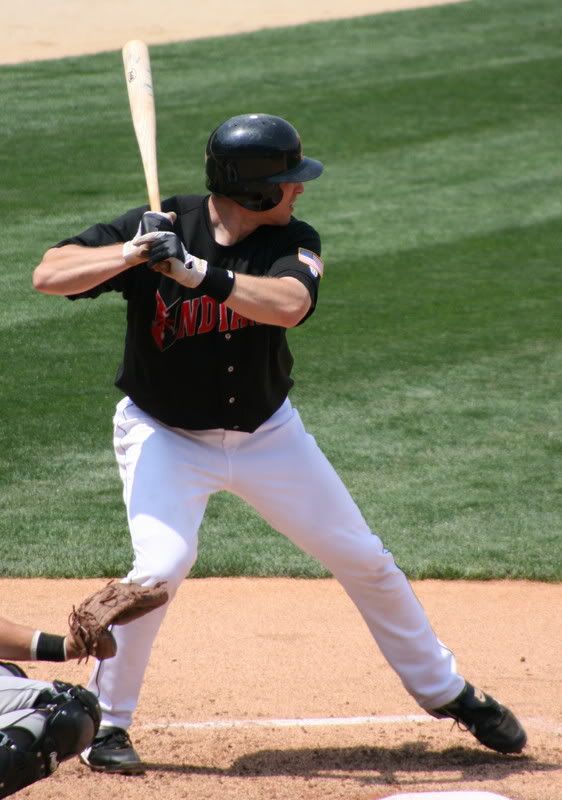 There was no counter-argument from the Bison. That gave Davis another life at the plate, and he promptly responded by blasting the next pitch over the wall in left-center field, for his third homer of the season. (photo above — Davis crosses the plate on his solo homer ) The next pitch from Smith hit SS Brian Bixler. 3B Yurendell de Caster hit a pop fly to right field for the second out. Then 1B Brad Eldred (photo ) smashed a monster home run to left field that hit the right-hand flag pole (the one with the City of Indianapolis flag, closest to center field ) about a third of the way up the pole. It was the Indians' third homer of the game, and brought the score to 7-0.
The Tribe added another run in the 4th inning, when C Einar Diaz took Sean Smith's first pitch into the berm along the left field foul line for his first home run of the season. (photo — Trent Jewett congratulates Einar Diaz as he circles the bases )


Sean Smith lasted only 5 innings for Buffalo, throwing 92 pitches in those 5 innings. He allowed 8 runs, all earned, on 9 hits, with one walk and two strikeouts. Rich Rundles, just up from AA Akron, made his AAA debut with the Bison, entering the game in the 6th inning in relief. He got the first out in the 6th, and then gave up a double down the left field line to Einar Diaz, and a triple to the deepest part of left-center field to SS Brian Bixler (photo below, Trent Jewett congratulates Brian Bixler on his triple ), which scored Diaz, pushing the score to 9-2. It was Bixler's fifth triple of the season.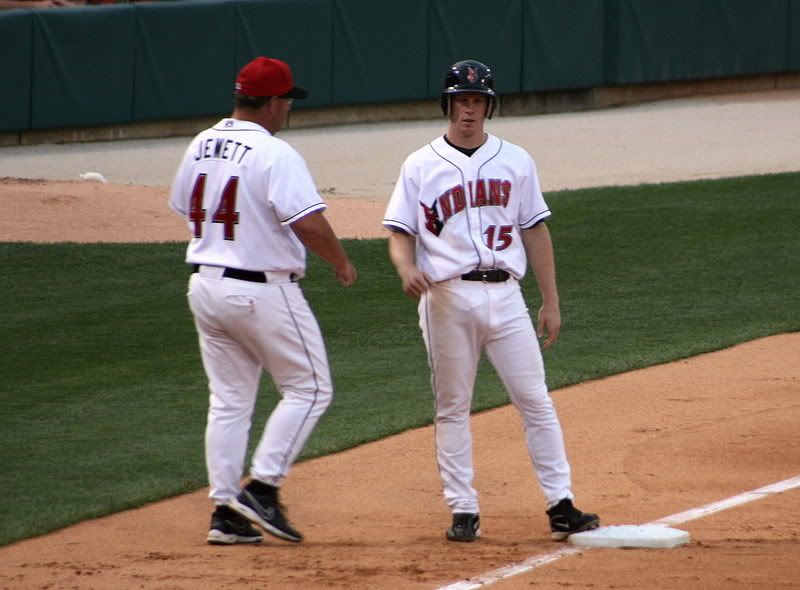 The Tribe scored one more time in the 8th inning. With two out, Einar Diaz made his third hit of the game, and the third one to go screaming down the left field line. This one bounced off the glove of the Bison 3B Andy Marte, who could not quite get there, for a single. Rajai Davis must have thought that left field line looked inviting, because he followed with a nearly identical smash that also bounced off Marte's glove. This one earned Marte an error, and Davis was safe on first. Brian Bixler joined the hit parade with a single to left-center to load the bases. That brought up Russ Johnson, who had taken over for Yurendell de Caster at third base in the top of the 6th inning. Johnson worked the count full, and fouled off one more, before taking an outside pitch for the walk. That forced in Diaz with the final run, for a score of 10-2.
Einar Diaz went 3 for 4 with a double and an RBI for the game. Brian Bixler, Brad Eldred, and Jose Hernandez each had two hits for the Tribe. All the starters but one (Luis Ordaz ) had at least one hit.
"Home runs pick everybody up", said Bullington. "Hitting is definitely contagious, and when you get everybody going early, it certainly makes for a good night.
"My teammates really swung the bats tonight, and that was a good win for us."
Superior pitching and long bombs — a great combination.
Indians' hitting gem of the game — too easy: four home runs, by Jose Hernandez, Rajai Davis, Brad Eldred, and Einar Diaz. They accounted for 7 of the Indians' runs.
Indians' defensive gem of the game — again, too easy: Bryan Bullington's 8 innings, giving up only 4 hits and 2 runs. Six of those innings were three up-three down. He wanted to get them back for the last time he pitched against the Bison in Buffalo, and he certainly did.
NOTES:
Roster moves:
Sean Burnett was placed on the Disabled List, though the reason was not specified.
Dan Kolb came off the DL, and he pitched a scoreless 9th inning. His hamstring is doing fine.
Masumi Kuwata is expected to be activated on Friday. The Japanese media entourage has already started to appear at Victory Field, and a section of the upper deck behind home plate has been designated the media overflow section.
Rajai Davis again extended his hitting streak. It now stands at 18 consecutive games with a hit. He also continues to lead the league with 27 stolen bases.
An interesting pitcher-batter match-up in this game: Tribe pitcher Bryan Bullington vs. Bison RF Brad Snyder. They were teammates at Ball State University, where Snyder was one year behind Bullington. Bullington won this match, though. Snyder singled in the 3rd inning and scored, but Bullington struck him out in the 5th inning, and got him to ground into a double play in the 8th inning.
Don't forget to vote for our Indians on the AAA All-Star ballot, beginning on Friday June 1st. (today!) Go to www.indyindians.com
or www.milb.com
to look for the place to vote.
Go Tribe!
Read More