boxscore (photos by NancyZ)


Indians' 3B Russ Johnson (photo ) had two singles and an RBI double to lead the Tribe to a 4-3 victory over the Rochester Red Wings at Victory Field tonight. All three of Johnson's hits came off Rochester starter Dave Gassner, and Johnson went 3 for 4 overall. Indians' starter Bryan Bullington took the victory, his league-leading 9th win of the season.
The Indians' batters reached base in all but one inning, and put up a total of 10 hits. Their first scoring came in the 3rd inning. With two outs, SS Brian Bixler (photo below ) slammed a double off the right field wall. DH Yurendell de Caster, in the lineup for the first time in several days, hit his second single of the night, a looper into center field, which scored the speedy Bixler.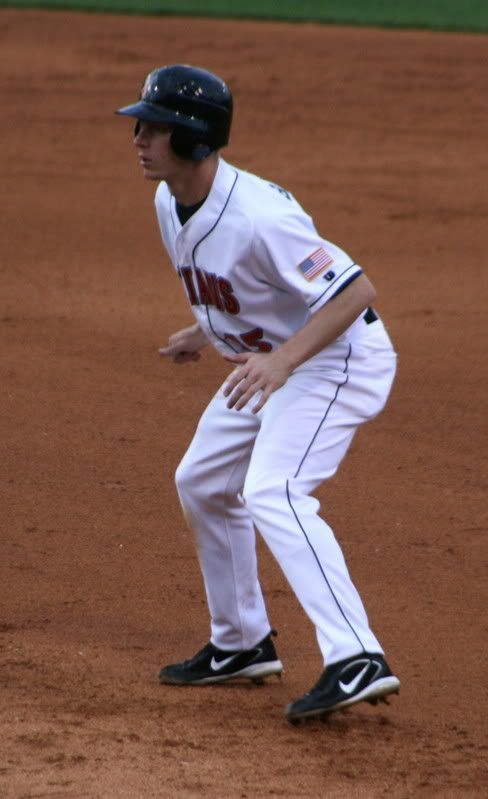 The Tribe added insurance runs in the 5th inning, courtesy of Johnson and his taste for Gassner's pitching. C Einar Diaz led off the inning by being hit by a pitch. LF Nick Green struck out, and then SS Brian Bixler was walked on 4 straight pitches. Then Gassner repeated the cycle: Yurendell de Caster struck out looking, and 1B Jose Hernandez also walked, to load the bases. Russ Johnson came to the plate, and ran the count full, before smashing a bases-clearing double to center field. That brought in Diaz, Bixler, and Hernandez, giving the Indians 4 runs.
"I just wanted to put a good swing on the ball when the count became three and two", said Johnson after the game. "He [Dave Gassner] threw a change-up over the middle of the plate and sometimes a miracle happens in front of the bat. I happened to find the right spot of the bat, and the right gap on the field."
That inning was the last for Gassner. He threw 99 pitches in his 5 innings, giving up 7 hits and one walk, and striking out 5. Reliever Julio DePaula pitched the last two innings for the Red Wings, giving up 3 hits and a walk. The Tribe threatened in the 7th, but could not score. Nick Green walked, but was forced out at second when Brian Bixler ground into a fielder's choice. Bixler stole second base, and moved to third on Jose Hernandez's single. They were stranded on base, though, when Russ Johnson made his only out in the game, a sharp liner to center field.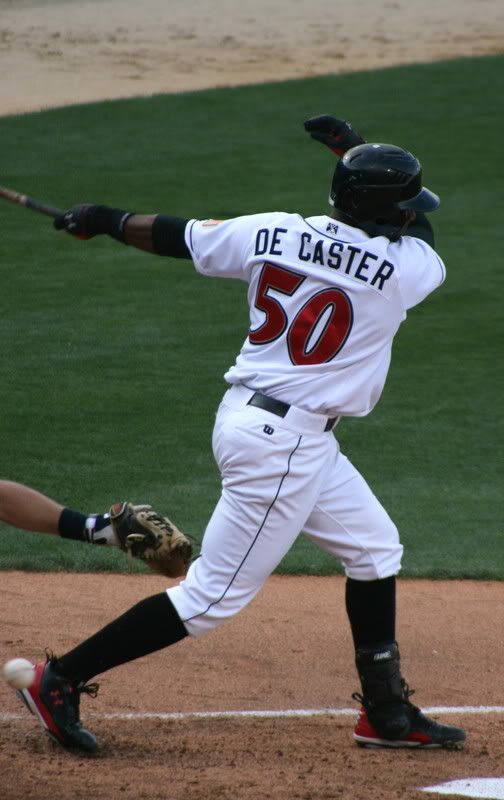 The Indians also had two hits in the 8th inning, a double by CF Luis Matos and a single by 2B Luis Ordaz. That put runners on the corners with one out, and the Indians thinking that an insurance run would look good. But Einar Diaz ground into a double play to end the inning and the threat.
In addition to Johnson going 3 for 4 with 3 RBI's, the Indians' bats were led by 2 for 4 attacks by Yurendell de Caster (photo ) and Luis Matos. De Caster also had the other RBI for the Tribe. Four of the Indians hits were doubles: 2 by Matos, one by Johnson, and one by Bixler.
.

(Photo: Russ Johnson and Einar Diaz check on Bryan Bullington, after a ball hit off his leg. )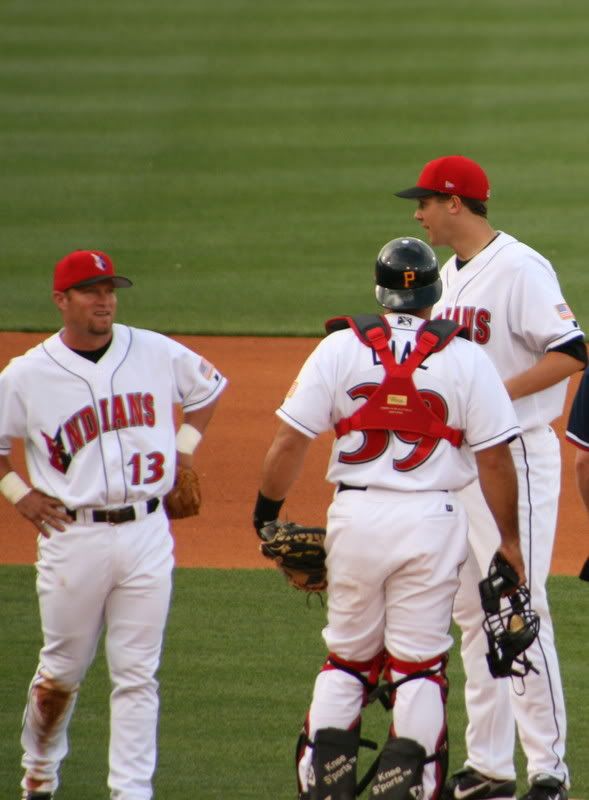 Indians' starter Bryan Bullington had another excellent outing. He scattered 6 hits and 2 walks over 6 innings, while striking out 5 Red Wings' batters. He was assisted by some strong infield work behind him. In the third inning, SS Brian Bixler dove to snatch a ground ball by Rochester SS Alexi Castilla that was about to go into the outfield. He popped up to his knees and fired to first in time to get Castilla out. A bobbled ball in the 5th inning, off the bat of CF Denard Span proved to be a dramatic play. Span grounded the ball to Jose Hernandez, who was playing a short way off first base. The ball bounced from his glove, hit his foot, and bounced behind Hernandez. Hernandez quickly located the ball and got to it to pick it up, as pitcher Bryan Bullington realized that Hernandez was having trouble and ran over to cover first base. The throw from Hernandez to Bullington was just in time to get Span.
Bullington gave up only 3 runs, all in the 6th inning. Rochester's 2B Matt Tolbert led off the inning with a rising homer to the right field berm. The next batter, DH Doug Deeds, walked on 4 straight pitches. A line drive out to center field by LF Garrett Jones accounted for the first out. Then 1B Glenn Williams smashed another homer to right field, a bit to the left and deeper than Tolbert's, to bring in 2 more runs. C Matthew LeCroy came up next, and grounded a single up the middle. Bullington got out of the inning without further damage, when RF Trent Oeltjen grounded into a dramatic double play, Bixler to Ordaz to Hernandez. Bullington did have a small scare in the 4th inning. 1B Glenn Williams hit the first pitch he saw right back at Bullington. The ball bounced off Bullington's leg and towards second base. Trainer Jose Ministral came out to check on him, but Bullington was laughing and said that he was fine. He took one warm-up pitch to be sure, and then he went back to pitching — and struck out C Matthew LeCroy and got RF Trent Oeltjen to end the inning.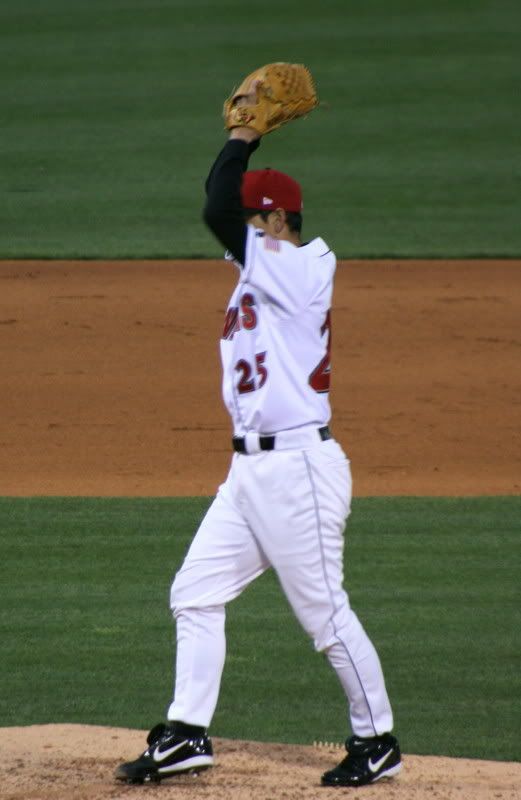 The Indians used three relievers to finish the game after Bullington exited: Jesse Chavez pitched the 7th, Masumi Kuwata handled the 8th, and Dan Kolb ended the game by taking care of the 9th. Each of them pitched one scoreless inning, and each gave up one lone hit. Chavez struck out two, and Kuwata struck out one and got two fly ball outs. Kuwata threw 13 pitches, all of them strikes. Because he was varying his pitch speed so much, the Rochester batters seemed to be a bit bewildered. Russ Johnson, in his post-game interview, had an explanation: "It is extremely tough for a hitter to adjust from an 87 mph fastball to a 68 mph curveball, because there is so much deception involved. It's going to be tough for hitters to adjust if Masumi keeps throwing like he did."
Indians' hitting gem of the game: Russ Johnson's hit attack, two singles and a double in four at-bats, with three RBIs. He also had two hits yesterday, when he went 2 for 4. "I've been trying to find my stroke all year long, and I finally found it tonight", said Johnson. "When you find that stroke, you want to ride the wave as long as you can. Sooner or later, the wave is going to crash on the beach and you'll have to swim back out to find another one."
Indians' defensive gem of the game: The Brian Bixler to Luis Ordaz to Jose Hernandez double play in the 6th inning. It was a tricky double play to turn, and it ended the Red Wings' rally.
NOTES:
The newest Pittsburgh Pirate, Rajai Davis, was in the Pirates' starting line-up tonight, playing centerfield. He led off the game with a walk, and then went 0 for 3, with two fly outs and a ground ball that became a double play.
With Davis's roster spot vacated, INF Chris Truby was activated off the DL.
Einar Diaz's 9 game hitting streak ended tonight, as he went 0 for 3, and was hit by a pitch.
Brian Bixler has a 6 game hitting streak. His stolen base tonight was his 12th in 12 attempts.
The Indians have stolen third base 20 times this season.
Don't forget to vote for your Indians for spots on the International League All Star Game! Go to www.milb.com or www.indyindians.com and click on the spot to vote.
Go Tribe!
Read More