boxscore (Photos by NancyZ)
How about another live blog tonight? The Indians are in Durham to face the Bulls in the third game of a four game series. The Bulls have won the first two games of the series, with their pitching dominating the Tribe batters.
Line Ups:
Indians:
Matt Kata RF
Brian Bixler SS
Yurendell de Caster LF
Brad Eldred 1B
Jose Hernandez DH
Russ Johnson 3B
Luis Matos CF
Nick Green 2B
Carlos Maldonado C
Pitching — Shane Youman (2-5, 4.76 ERA)
For Durham Bulls:
Elliot Johnson 2B
Jorge Velandia SS
Justin Ruggiano RF
Joel Guzman 3B
Brent Butler 1B
Chris Richard LF
Dustin Mohr DH
Josh Johnson C
Jeremy Owens CF
Pitching Mitch Talbot (5-5, 4.86 ERA)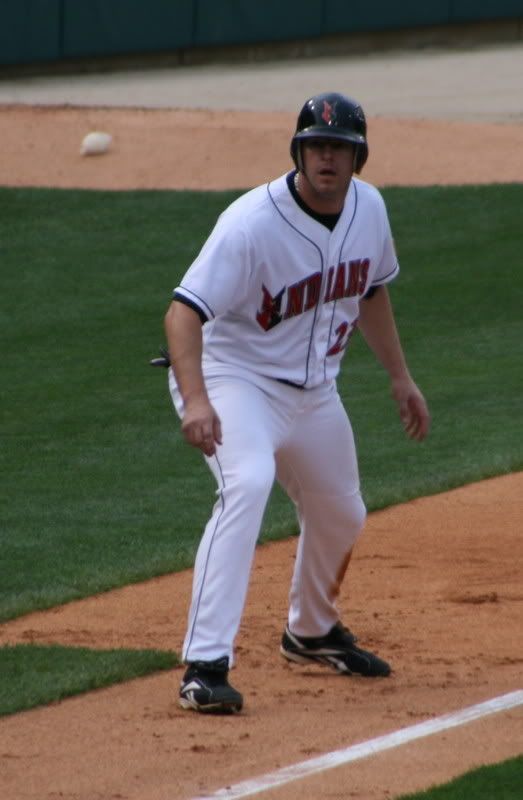 Indians 1st Inning
Kata — grounds out to first on 1-0 pitch
Bixler –strikes out swinging (called strike, foul, foul, swinging strike
de Caster — full count, then walks
Eldred (photo)– his grandma is here from Tennesee to watch him play tonight; full count, including some throws over to first. A line drive single into right center for Grandma! And De moves to third base.
Hernandez –strike out. score: 0-0
The Indians are wearing some old-timey (retro) uniforms, all with high socks. Some of them have other team names on the front. Hernandez is wearing one that says "Baltimore" on the front. Not sure what that's about. OK, the Bulls have weird uni's on too. Former Indian Velandia is wearing a jersey that says "ABC" on the front.
Bulls 1st inning
E.Johnson — strikes out swinging
Velandia– soft liner to Eldred at first, caught just in fair territory
Ruggiano –strike three again 0-0
OK, Howard Kellman says that both teams are wearing old Negro League uniforms, all different teams and all different numbers. Shane Youman, the only African-American in the Indians line-up tonight, apparently is quite knowledgeable about the Negro Leagues' history. Manager Trent Jewett and hitting coach Bam Bam Meulens are both wearing their jerseys un-tucked. No, they aren't being sloppy — this is how some of those old-style jerseys were cut and meant to be worn. Howard says the players were excited to be able to wear these uni's and were having a blast looking them over and picking which ones to wear.

Tribe 2nd
Johnson — grounds out to the pitcher
Matos–swinging strike out
Green –double into right field, just inside the line, and scoots away from RF Ruggiano.
Maldonado– grounds out to SS 0-0
Meanwhile in Pittsburgh — John Van Benschoten started out by setting the White Sox down in order in the 1st inning. In the second, with one out, JVB gave up a walk to Jermaine Dye and a single to Alex Cintron, then a ground out to Rob Mackowiak scored Dye for the first run. A double by Josh Fields scored Cintron.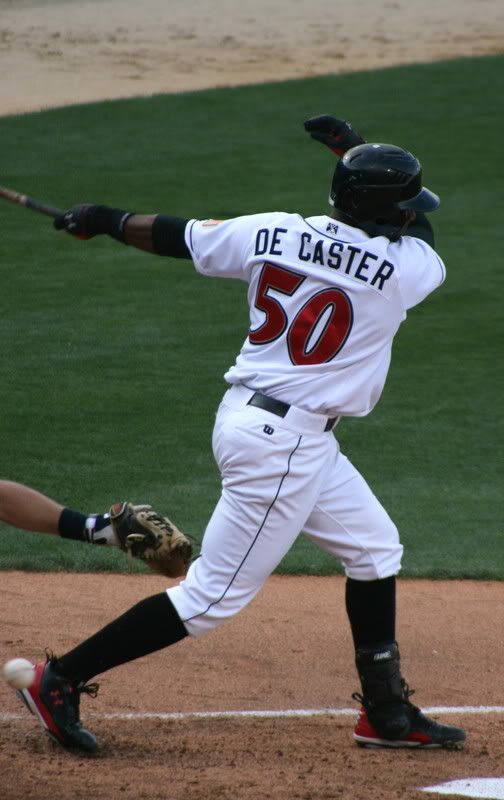 Bulls' 2nd
Guzman –ground out, Bixler to Eldred
Butler– pops out to Eldred near the mound
Richard — flies out to De in left field 0-0
Tribe 3rd
Kata — long fly out to the warning track in center field
Bixler –called out on strikes
De Caster –base hit grounded up the middle
Eldred –Another hit for Grandma! a single grounded into left field; men on 1st and 2nd
Hernandez — strikes out swinging 0-0
Columbus's Brandon Watson got two hits tonight, to extend his hitting streak to 42 games. That ties a 95-year-old International League record set by the Rochester Hustlers' Jack Lelivelt in 1912.
Bulls' 3rd
Mohr — singles on the first pitch, into center field
JJohnson –strikeout swinging
Owens –double off the left field wall, also on the first pitch; men on 2nd and 3rd.
EJohnson–strikeout swinging (Youmans's 4th K) 0-0
In Pittsburgh, JohnnyV put the ChiSox down in order in both the 3rd and 4th innings. He also has 4 strikeouts. He also struck out in his own plate appearance. The Pirates have scored one run, making it 2-1 in the 4th.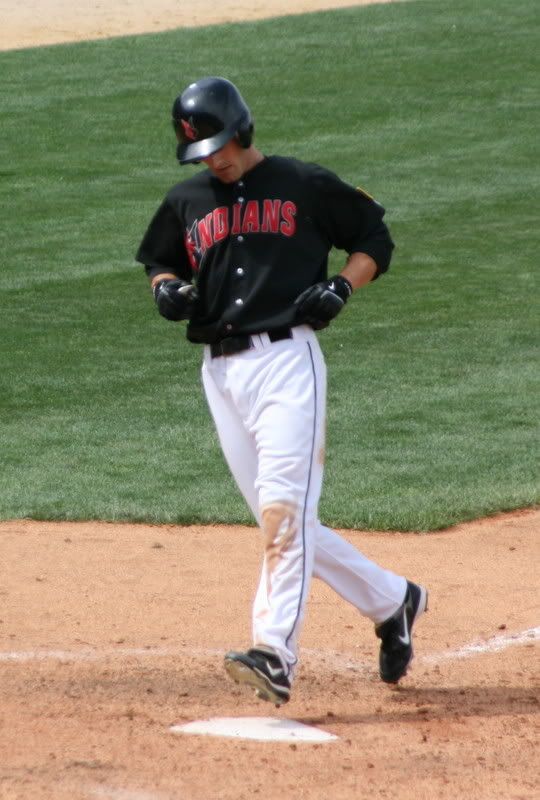 Tribe 4th
Johnson — flies out to center field
Matos –grounded out to second
Green (photo)–SOLO HOME RUN!!!! Bounced off the top of the wall and into the seats in right field. Oh, the Bulls are trying to say that it should be a ground rule double because it didn't go over the yellow line at the top of the wall… or was it fan interference?? The umpires confer — they confirm, or at least don't decide to change, the home run call.
Maldonado — walks
Kata–a liner ripped down the right field foul line, but just barely foul — a long strike — grounds out to pitcher (Tribe 1, Bulls )
Bulls' 4th
Ruggiano–grounds out to short
Guzman — lines a come-backer right at Youman, who reached his right/glove hand out to the side and snagged it before it hit the ground
Butler–popped first pitch up to Nick Green at second. Eight pitches, three outs. (Tribe 1, Bulls 0)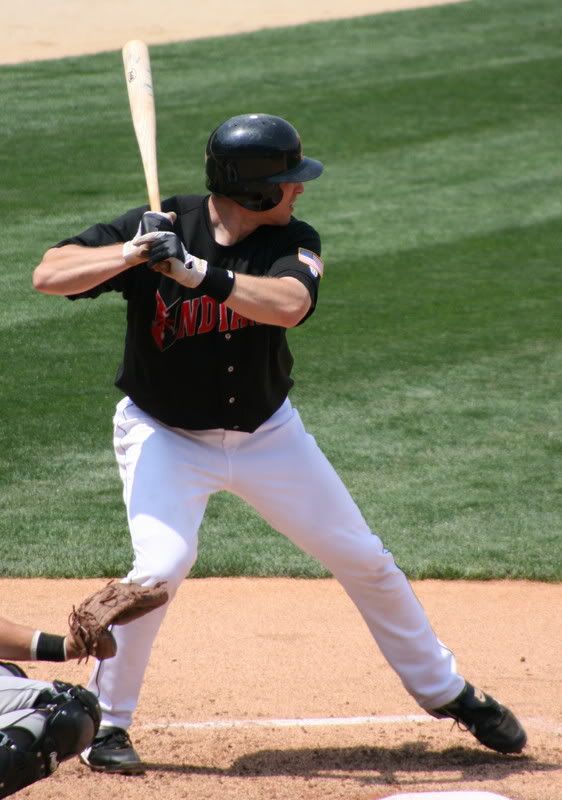 Tribe 5th
Bixler– Liner to the first baseman who dove to make the catch, but pitcher Talbot was late getting over to first base, probably because he thought the ball was going to get through; Bixler is fast, so he got to first base before Talbot could –infield single, but mental error.
De Caster– several throws over to first base trying to get Bixler caught off; now Bix did try to steal, but De fouled the pitch off;
grounded a 6-4-3 double play, started by former Indian Jorge Velandia. That's the way Velandia played when he was here with the Indians too, so it's not like we should be surprised.
Eldred (photo) –A HOME RUN FOR GRANDMA!!! Please, Grandma, come to more of the Indians games. You appear to be good luck for Brad.
That's the end of Talbot, who has pitched 4.2 innings, with 102 pitches (wow!), giving up 2 home runs plus 5 other hits, and walking 5 and striking out 5.
He is replaced by Richard De Los Santos
Hernandez–a little dribbly hit along the third base line that doesn't go foul, for an infield hit
Johnson –strikes out looking
In Pittsburgh: JohnnyV gave up a walk but left him stranded on base in the 5th inning. In the top of the 6th: a double by Iguchi, a pop out by Pierzynski; Konerko hits into a fielder's choice/run down, with Iguchi getting out and Konerko ending up on first base; then a walk to Jermaine Dye. That's all for John Van Benschoten, as John Grabow comes in for relief. Van Benschotens's line: 5.2 innings, 94 pitches, 2 runs on 3 hits, 3 walks, and 4 strikeouts. If the Pirates come back to win, he can't get the win. If they lose, he could get the loss.
Bulls' 5th
Richard– called out on strikes
Mohr — strike out swinging (6 for Youman)
JJohnson — popped out to shortstop (Tribe 2, Bulls 0)
Tribe 6th
Matos — grounds out to third
Green — also grounds out to third
Maldonado –ground out, with the ball first hitting De Los Santos and then bouncing over to Velandia, who throws on to first just in time to get the not-all-that-speedy Maldonado (Tribe 2, Bulls 0)
Bulls' 6th
Owens– strikes out swinging; apparently the Bulls are free-swingers, who average 9 strikeouts per game; this is Youman's 7th
EJohnson–double down the left field line, into the bullpen and over to the stands where a fan reached over and touched it
Velandia — pop out to right field
Ruggiano –looped into right field for an RBI single, and Elliot Johnson scores; Jeff Andrews makes a brief trip out to the mound for a few words with Youman — a very few words.
Guzman– grounds out to Bixler, who stays with a nasty hop, makes the barehand catch and toss to second, to force out Ruggiano at second and end the inning. (Tribe 2, Bulls 1)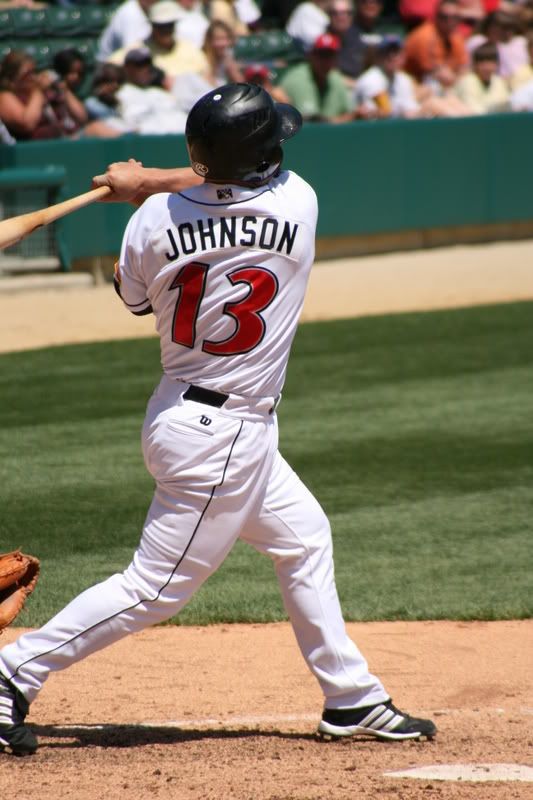 Tribe 7th De Los Santos pitching
Kata– his first hit with the Indians! He smashed a grounder to the infield side of first base, which the first baseman Butler dove for. But the ball bounced off his glove — and right to second baseman Elliot Johnson. But then Johnson threw wide to first base, and Kata was safe.
Bixler– several pick-off attempts, but Kata keeps getting back safely. Pitch hits Bixler square on the left shoulder — he's been hit by the pitch 9 times this season, leading the club. Bixler isn't hurt — he quickly jogs down to first base. Men on first and second.
de Caster — pop out to left field
Eldred — first pitch — flies out to right field. Did Grandma go to get a snack?
Hernandez — walks to load the bases with two out
Johnson(photo) –bouncer through the infield into right, for an RBI single — Kata and Bixler score (RBI's #27 and #28 for Russ); Hernandez reaches third as the throw home is not in time to get Bixler as he slides in. Two out and men on first and third.
Matos –lines a single into left field, and Hernandez can easily trot home; RBI # 20 for Luis, and men on first and second
Pitching change — De Los Santos is out (2 IP, 4 hits, 3 runs, 1 BB, 1 K), and Jon Switzer enters.
Green –flies out to Velandia in short left field. (Tribe 5, Bulls 1)
In Pittsburgh, in the 8th inning, White Sox 5, Pirates 1, with Dan Kolb pitching.
Bulls' 7th Youman still pitching
Butler– fly out to Matos in center field
Richard –swinging strike out (Youman's 8th)
Mohr — full count, swinging strike out (Youman has reached the Bull's average of 9 strikeouts) (Tribe 5, Bulls 1)
Tribe 8th Switzer pitching
Maldonado — called strike three
Kata– batting lefty now, against the lefty Switzer; pops out to left center field
Bixler –swinging strikeout, chasing an outside pitch (Tribe 5, Bulls 1)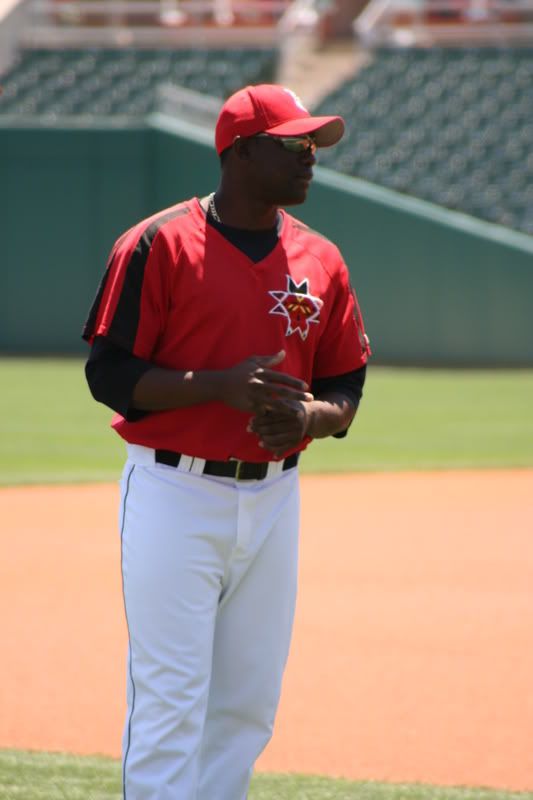 Bulls' 8th Youman still pitching, around 85 pitches so far
JJohnson — struck out looking (10 for Youman)
Owens — single to left field, his second hit of the game
EJohnson — lined into right field for a single, Owens gets around to third base
That's all for Youman, who has thrown 95 pitches, 68 for strikes. A very nice game for Youman — 7.1 IP, 6 hits, 1 run, zero walks, 10 strikeouts. Franquelis Osoria enters in relief.
Velandia — swinging bunt, along the third base line, Osoria grabs it and fires to first just in time to get Velandia. Two out, runners on second and third.
Ruggiano– first pitch is a ground ball to Bixler at shortstop, on to first for the third out. (Tribe 5, Bulls 1)
Tribe 9th Switzer still pitching
de Caster — fly out to center field
Eldred — fly out to left field just in front of the warning track; 3 for 5 on the night
Hernandez –fly out to center field (Tribe 5, Bulls 1)
Bulls' 9th Franquelis Osoria pitching
Guzman — singles into center field
Butler– strikes out looking
Richard– single into left field, men on first and second.
Mohr –DOUBLE PLAY to end the game! The first pitch is hit right to Green who is standing right on second base as he fields the ball. Green fires to first for the final out.
Final score: Tribe 5, Bulls 1
Shane Youman was credited with the win, his 5th. His record is now 3-5, with a 4.44 ERA. Franquelis Osoria got his 5th save of the season. He went 1.2 innings, giving up 2 hits and no runs, with one strike out.
The Indians had 11 hits in the game, with everyone in the lineup but Maldonado getting at least one. Brad Eldred led the hit parade with 3 hits, including a homer. Nick Green had two hits, a double and a homer. After the game, Eldred talked about his hitting tonight: "Before the game, I talked with [hitting coach Hensley] "Bam Bam" [Meulens] about getting comfortable in the batter's box. I concentrated on that in each of my at-bats tonight, and it definitely helped. Hopefully, it will carry on to the next game…. I have tweaked my batting stance a little, and I am seeing the ball better. I am now crouching a little, and trying to get closer to eye level with the ball. That change in approach has definitely helped me."
Starter Mitch Talbot took the loss for the Bulls, his 6th of the season. He gave up 2 of the Indians' runs, and De Los Santos gave up the other 3. Switzer finished the game for the Bulls, going 2.1 innings, and striking out two, while not giving up any hits or walks. Elliot Johnson and Jeremy Owens each had two hits for the Bulls.
The Indians have now won their 40th game of the season, for a 40-27 record. Durham's record is 34-35.
Indians' hitting gem of the game: Brad Eldred, going 3 for 5 in front of his Grandma (and probably other family members too), including a home run.
Note to Brad's Grandma — Please come to lots more of the Indians' games!
Indians' defensive gem of the game: Shane Youman's terriffic 7.1 innings pitched, including 10 strikeouts, plus Franquelis Osoria's finishing it up and making it look easy, including fielding a swinging bunt and firing to first base to get out Jorge Velandia.
Final in Pittsburgh: White Sox 6, Pirates 1
John Van Benschoten did get the loss, having given up the first two runs to the Sox in his 5.2 innings pitched. John Grabow pitched 1.1 innings, and gave up 2 runs on 2 hits, including a homer to Josh Fields. Dan Kolb pitched one inning, and gave up one run on 2 hits, and Tony Armas also pitched one inning and gave up one run on two hits. Rajai Davis started in center field, since Chris Duffy injured his hamstring last night. Rajai went 1 for 4, with a single. Ryan Doumit caught the game, and he went 2 for 4, with an RBI. His batting average is now .328.
NOTES:
C Humberto Cota and reliever Josh Sharpless will be joining the Tribe when they return to Victory Field on Monday.
Because this still leaves the bullpen short, reliever Mike Nannini was promoted from Altoona to Indianapolis for a few days. Nannini is a 26 yr old righty, who has appeared in 14 games with the Curve this year. His record is 1-1, no saves, with a 4.95 ERA. In 20 innings pitched, he's given up 20 hits and 11 earned runs, with 5 walks and 19 strikeouts. He last pitched on Tuesday, so should be available any time this weekend.
Go Tribe!
Read More