boxscore
Indianapolis Indians' infielder Nick Green thought he was having a good day when he smashed a solo home run over the left field wall at PNC Field in Scranton, PA. His day got quite 'grand' in the 5th inning, when he hit another one over the left field wall, but this time with the bases loaded. His grand slam capped off a 6-run 5th inning, as Green led the Indians to a 8-5 win over the Scranton/Wilkes-Barre Yankees.
"Today was a lot of fun," said Green after the game. "It's really nice to have a game like this, especially when you're in the first week with a new team. Often times, players put too much pressure on themselves when they're in this type of situation. Everyone wants to fit in — both on and off the field. I've just been taking one game at a time, and it's been a good first week for me."
Green joined the Indians just last week, after spending the past several weeks in extended spring training in Bradenton, FL, where he had been rehabbing after a case of turf toe. In 6 games with the Tribe, Green has put up 6 hits in 21 at-bats, with 3 doubles and 3 RBI. Today, Green had 3 hits in 4 at bats, with those two home runs and 5 RBI, raising his batting average to .360.
"I was looking for the first good pitch to hit," Green said. "Things worked out for me individually, and things worked out for us as a team."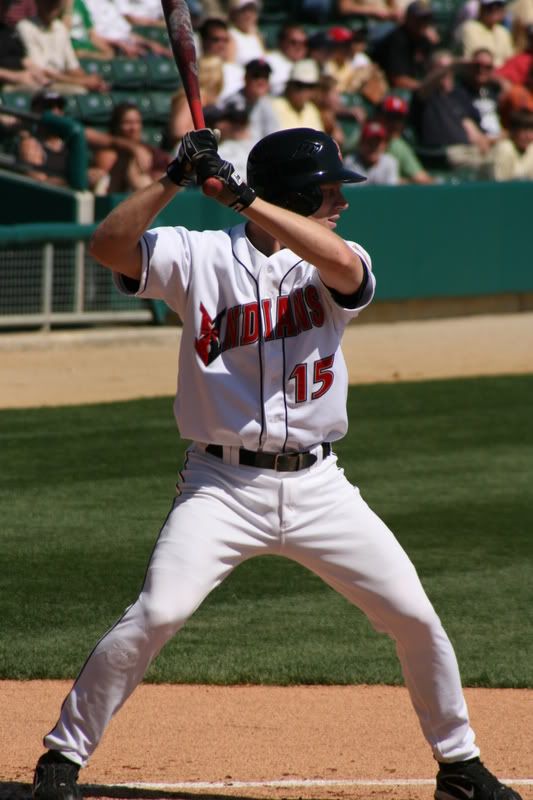 Things did indeed work out well for the Indians, as they started off quickly in the first inning. CF Rajai Davis led off against Yankees starter Steven Jackson with a single, and then stole second. It was Davis' league-leading 24th stolen base of the season. SS Brian Bixler (photo by NancyZ ) grounded back to pitcher Jackson, who whirled and caught Rajai Davis in the middle of the base path, unable to get back to second and unable to reach third. While Davis was stalling in the run-down, Bixler slid safely into second base. DH Yurendell de Caster was up next, and he lined into left field for a single, moving Bixler to third. 1B Brad Eldred then doubled to left, scoring Bixler for the Indians' first run of the game. In the top of the second, with one out, Nick Green hit his solo homer, increasing the Indians' lead to 2-0.
The Indians' big inning came in the 5th, when they sent 9 batters to the plate and scored 6 runs. Rajai Davis and Brian Bixler led off with back-to-back triples, and Davis scored on Bixler's triple. Two ground outs followed, by Yurendell de Caster and Brad Eldred, but neither grounder allowed Bixler to score. RF Michael Ryan and LF Chris Aguila added back-to-back singles, the first scoring Bixler, and the second moving Ryan to third. That sent the Yankees' Jackson to the showers, and Ben Kozlowski entered the game in relief. Aguila stole second, and then 3B Russ Johnson walked to load the bases. Next up was Nick Green, who cleared the bases, for 4 RBI and a total of 6 runs in the inning.
That was all the scoring for the Indians in the game. Yankees starter Steven Jackson pitched 4.2 innings, giving up 6 runs, all earned, on 11 hits. Ben Kozlowski, who relieved Jackson, went 3.1 innings, giving up 2 runs on 2 hits. Charlie Manning pitched the last inning for Scranton/W-B, a scoreless inning, with one run and one walk.
Besides Nick Green, Rajai Davis also had three hits for the Tribe, and Brian Bixler and Michael Ryan had two hits and an RBI each.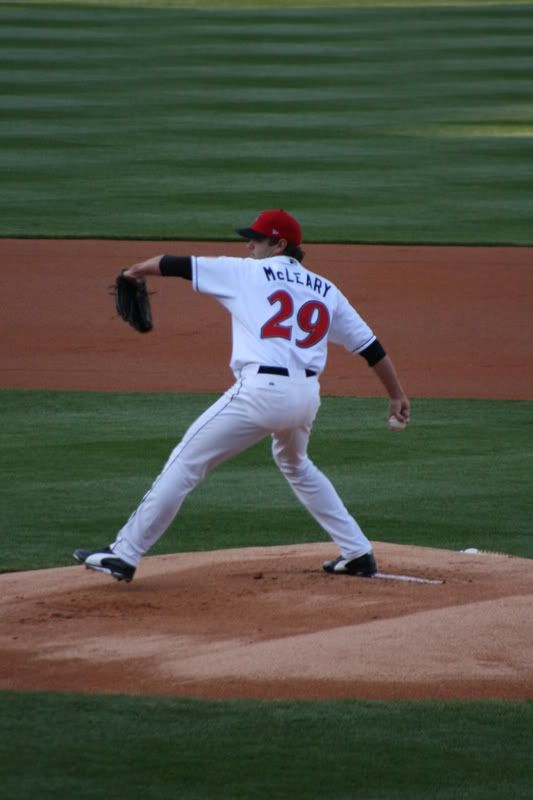 Meanwhile, Indians' starter Marty McLeary(photo by NancyZ ), in his first appearance since returning from the Pirates, pitched three solid innings. McLeary gave up only 2 hits and 3 walks, and hit one batter, but gave up no runs. He was on a loose pitch count, though manager Trent Jewett and pitching coach Jeff Andrews would have liked to see McLeary go 4 or 5 innings. McLeary didn't have much trouble with the Yankees until the top of the 4th, when Yankees' 2B Andy Phillips singled, and then 1B Eric Duncan and DH Shelley Duncan both walked. At that point, McLeary had thrown 71 pitches, and his day was finished.
Michael Tejera entered the game to relieve McLeary with bases loaded in the fourth. He quickly got RF Bronson Sardinha to loft a fly ball to left field, which LF Chris Aguila easily caught. Yankees' 2B Andy Phillips, who had been on third base, tagged up and headed for home, but Aguila threw a bullet home, where C Einar Diaz tagged out Phillips, for a double play. The next batter, 3B Chris Basak grounded to short for an easy third out, and the Indians were out of the inning without a run scoring.
The Yankees started nibbling away at the Indians' lead in the bottom of the 5th, though. Two doubles, one by SS Angel Chavez and one by CF Kevin Thompson, pushed across Chavez for the Yankees' first run. One inning later, Tejera gave up back-to-back walks to Bronson Sardinha and Chris Basak. Angel Chavez followed with his second double of the game, scoring both Sardinha and Basak.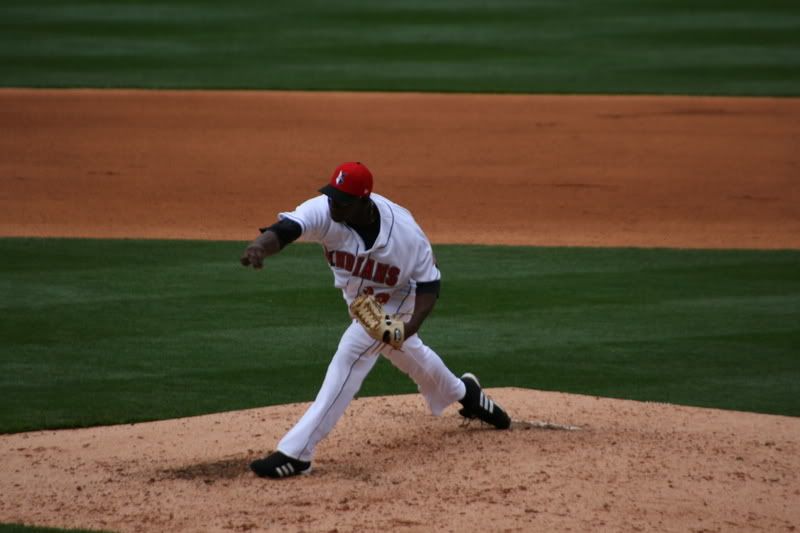 With one out in the bottom of the 7th, Tejera hit LF Kevin Reese with a pitch, then gave up a single to Andy Phillips and a walk to Eric Duncan to load the bases. That ended Tejera's outing, and Franquelis Osoria (photo by NancyZ ) entered the game in relief, with the bases loaded just like they were when Tejera entered the game. Osoria was greeted by Shelley Duncan's line drive single, scoring Reese. Osoria then induced Bronson Sardinha to bounce a grounder right back to him, and the quick throw back to Einar Diaz at home forced out Phillips. Chris Basak slapped a grounder to third, where Russ Johnson scooped it up and threw to Nick Green at second forcing out Sardinha for the third out.
Tejera pitched a total of 3.1 innings, giving up 4 earned runs on 4 hits, while walking three and striking out one. He got the win, his second of the season. Osoria pitched 1.2 innings, and gave up one run on two hits. The one run came in the 8th inning, when Angel Chavez hit his third double of the game, moved to third base on a ground out, and scored on a sacrifice fly by Kevin Reese. Juan Perez pitched a perfect 9th inning for the Tribe to end the game.
Indians' hitting gem of the game: Clearly, Nick Green, with his solo home run and grand slam home run, for a total of 5 RBI.
Indians' defensive gem of the game: Chris Aguila's catch of Bronson Sardinha's fly ball in left field, followed by a perfect throw to home plate, to get Andy Phillips out for a double play. Nick Green on the defense today: "Our defense certainly helped us get out of some jams today. Sometimes people forget about all of the little things that can help you win a baseball game. We stayed focused on every pitch, every at-bat, and every inning. It was nice to see Aguila come up with that double play in the fourth inning, and the rest of our position players got the job done too."
NOTES:
Rajai Davis increased his hitting streak to 12 games, and had his 13th multi-hit game of the season.
Michael Ryan increased his hitting streak to 8 games, the longest he's had in the past few seasons.
Einar Diaz stole second base in the 8th inning, his second stolen base of the season. No more dissing Einar's baserunning!
Nick Green's grand slam was the Indians' second grand slam of the season. The first came off the bat of Ryan Doumit, on April 17th in Norfolk.
Marty McLeary will be leaving the team for a few days, so that he can be with his wife who is expecting to be delivering their baby any time.
Go Tribe!
Read More