boxscore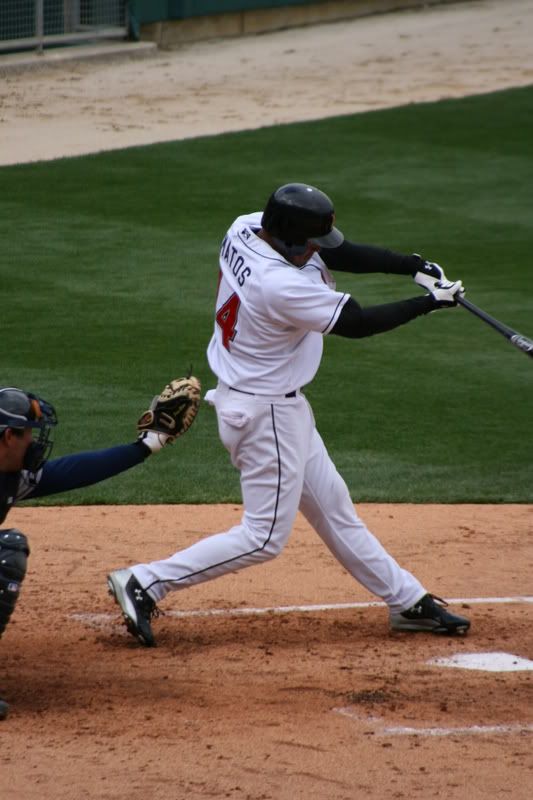 The Indianapolis Indians had a big 3rd inning tonight, and then held on as Buffalo tried to come back, keeping the win for the Tribe, by a score of 10-9. This ends the series in Buffalo with a split, and also gives the Indians a split so far on this road trip with 4 wins and 4 losses.
The Indians opened the scoring in the top of the 2nd inning. With one out, back-to-back singles by LF Luis Matos (photo by NancyZ ) and 2B Luis Ordaz put runners on the corners. 3B Nick Green got an RBI when he grounded to second, and was safe when Bison 2B Hector Luna missed fielding the ball, and Matos scored.
The Bison came right back in the bottom of the inning with three consecutive hits. With two out, 2B Hector Luna singled, and 1B Ryan Mulhern doubled to center, allowing Luna to score. DH Brad Snyder hit another single, scoring Mulhern.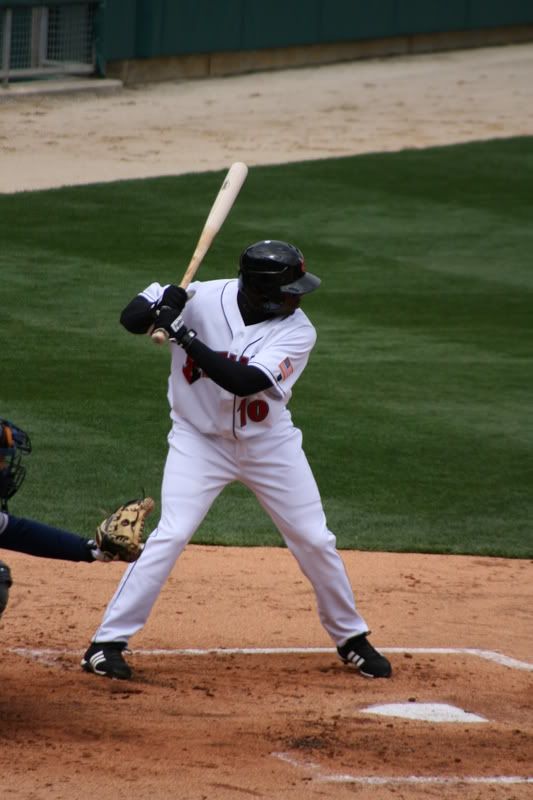 (Rajai Davis hit a 3-run home run — photo by NancyZ )
The Tribe came back with a fury in the top of the 3rd, sending 13 batters to the plate, for the Indians' highest scoring inning of the season. SS Brian Bixler led off with a double to right field. DH Yurendell de Caster singled, and the speedy Bixler came all the way around to score (1). 1B Brad Eldred lifted a fly ball to center for the first out. RF Michael Ryan singled, moving de Caster to second, and then de Caster scored on Luis Matos's single (2). Luis Ordaz hit his first triple of the year, which scored Ryan and Matos (3 and 4). Nick Green recorded the second out by grounding softly to second, as Ordaz held at third base. C David Parrish walked, putting runners on the corners again. Rajai Davis hit his second home run of the season, a bomb to the scoreboard above the left field wall, for three runs (5, 6, and 7). Brian Bixler came up again, and this time he walked. De Caster got his second hit of the inning, a double to left field that moved Bixler to third. Eldred singled up the middle just out of the second baseman's reach, scoring both Bixler and de Caster (8 and 9). At this point, Bison starter Aaron Laffey had been tormented enough, and he was relieved by Jim Ed Warden. Warden got Michael Ryan to pop a fly to center field for the third out. The final total was nine hits in the inning, lifting the score to 10 – 2.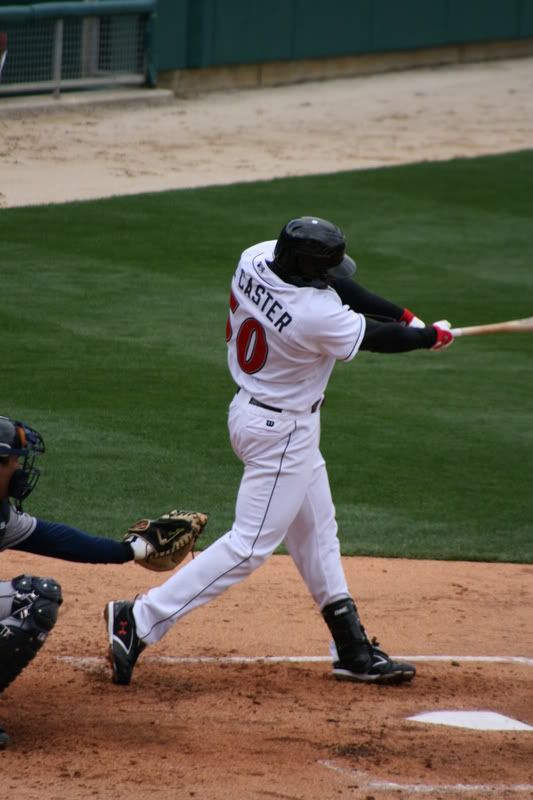 (Photo — Yurendell de Caster had an outstanding night at the plate — photo by NancyZ )
Buffalo kept battling, though, and chipped away at the Indians' lead. In the bottom of the third, they scored one more run on a double by SS Luis Rivas and a single by LF Shin-Soo Choo. In the next inning, Ryan Mulhern reached base safely when Tribe 3B Nick Green missed the pick up on a grounder. Brad Snyder followed with a single, and both runners advanced a base when C David Parrish had a ball get past him to the backstop. David Wallace grounded out to third, short enough so that the runners held. But the next ground out, by Franklin Gutierrez, went to second base, and allowed Mulhern to score. A solo home run in the 6th by DH Brad Snyder added another run, making the score 10-5.
The Bison had a rally in the 7th inning. Reliever Jesse Chavez came in for Tribe starter John Van Benschoten, and Chavez was unable to record an out. Shin-Soo Choo singled, then Ben Francisco and Keith Ginter both walked to load the bases, and Hector Luna singled to score Choo. Chavez was sent to the showers, with Josh Sharpless coming in to try his hand. Ryan Mulhern lined a single to center, scoring Francisco, and keeping the bases loaded. A walk to Brad Snyder forced in Ginter for the next run. Former Indian Trent Durrington entered the game as a pinch hitter for C David Wallace, and he ground into a double play, allowing Luna to score and Mulhern to go to third, but at least getting the two outs. Sharpless then got Franklin Gutierrez to strike out on a foul tip that C David Parrish held on to for the third out. Sharpless pitched the last two innings, allowing only one hit in the 8th, but no further runs, as the Indians held on to win.
Indians' starter John Van Benschoten pitched 6 innings, giving up 9 hits and 5 runs (4 earned ). He got credit for the win, making his season record 4-3, with a 2.90 ERA. Jesse Chavez pitched to 4 batters in the 7th inning, and all four of those batters came around to score earned runs. Josh Sharpless earned his third save of the year, pitching 3 scoreless innings.
Buffalo's starter Aaron Laffey, went only 2.2 innings, giving up 12 hits and 10 runs, all earned, to take his second loss of the season. The Bison used three relievers, none of whom gave up any runs. Jim Ed Warden, who relieved Laffey, pitched 2.1 scoreless innings, giving up 2 hits and 2 walks, while striking out 5 Tribe batters. Buddie Buzachero pitched 3 innings, giving up only one hit, and Juan Lara gave up one hit in the 9th inning.
All of the Indians' batters contributed to the offensive attack. Everyone but David Parrish had at least one hit, and Parrish walked twice and scored. Rajai Davis and Yurendell de Caster led the Indians' offense with 3 hits each, including Davis's 3-run homer. Brian Bixler, Luis Matos, Luis Ordaz, and Nick Green each had two hits. Ben Francisco and Wayne Snyder each had three hits for the Bison.
Indians' hitting gem of the game: Rajai Davis's 3-run home run to left field in the 3rd inning.
Indians' defensive gem of the game: In the 5th inning, with runners on first and second and only one out, Bisons' Ryan Mulhern grounded into a double play to end the inning: SS Brian Bixler scooped up the grounder, and threw to 2B Luis Ordaz, who threw to first as he was being up-ended by the baserunner. That made his throw go down into the dirt, but 1B Brad Eldred was able to pick it out of the dirt to make the play, for the inning-ending double play. The Tribe also made 2 other double plays during the game.
NOTES–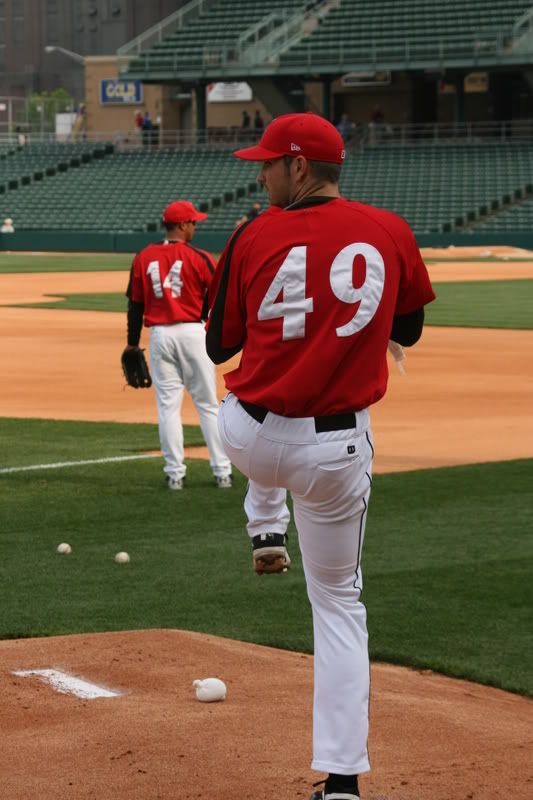 Roster moves:
RHP Reliever Brian Rogers (photo by NancyZ ) was promoted to the Pittsburgh Pirates after yesterday's game. He will be joining the Pirates on the road in St. Louis. The 24-year-old has appeared in 15 games with the Indians this season, and has 2 saves and a 1.35 ERA. He has given up 10 hits in 20 innings, with 8 walks and 16 strikeouts.
Matt Peterson, who has been with the Indians for only a week, was sent back to Altoona today. Peterson had appeared in 3 games with the Indians, pitching 4.1 innings, and giving up 3 hits, 1 earned run, 5 walks, with 3 strikeouts, for a 2.08 ERA.
With Marty McLeary returning to the Tribe and the starting pitching rotation, Michael Tejera will move to the bullpen.
From Dejan Kovacevic in the Pittsburgh Post-Gazette:
Masumi Kuwata, the Japanese pitcher whose right ankle was severely sprained in spring training, has completed three bullpen sessions and one live batting practice while rehabilitating in Bradenton, Fla. There remains no timetable on when he might be assigned to a minor-league affiliate.
Streaking:
Rajai Davis extended his hitting streak to 11 games.
Michael Ryan extended his hitting streak to 7 games.
Go Tribe!
Read More